UK and Europe weather forecast latest, November 20: Icy temperatures with downpours and windy conditions to cover Britain
Britain is forecasted to cope with icy temperatures with downpours and windy conditions. Meanwhile, showers and rain set to batter in southern Italy and western Greece and are fair in central Europe and Iberia.
UK's weather forecast
According to Express, the icy temperatures will coincide with downpours and windy conditions. Forecasters even predict parts of Scotland could see snow showers overnight. The unsettled wintry conditions look set to continue through Thursday and Friday, before settling slightly this weekend in southern parts of the country.
NetWeather's senior forecaster Nick Finnis said: "A cold front will sweep eastwards today, bringing rain followed by winds turning northerly briefly tomorrow, bringing much colder conditions than of late with wintry showers in the north."
"Cloudy, windy, wet and turning milder on Friday. The weekend is looking mild and breezy, cloudier with chance of rain or showers in the north, but southern areas are looking mostly dry and brighter."
Weather maps show the west of the UK turn blue on Wednesday afternoon, as temperatures plunge. Mr Finnis says winds will pick up speed tonight, especially around coastal fringes of Scotland, Northern Ireland, NW England and Wales.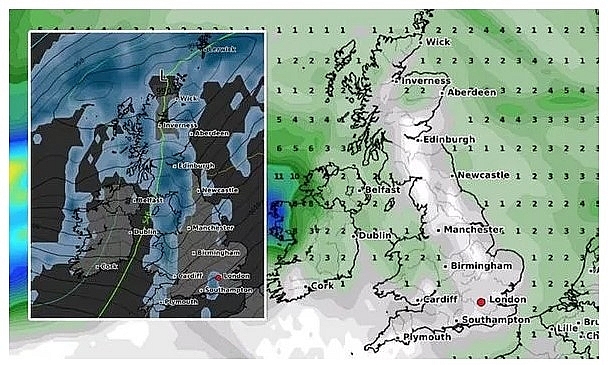 WxCharts has forecast Britain to see temperatures plunge within hours (Image: WXCHARTS)
He said: "The wind will drive showers southwards across northern then central areas through the night. And as much colder air digs south in the north, showers turning wintry over Scotland, with snow over the hills."
"Southern areas of England and Wales staying mostly dry with clear spells and chillier than recent nights."
The Met Office also forecast a cold night is in store, characterised by "severe gales" and showers. The forecasters warn Thursday will appear markedly colder, as a strong northerly wind drives showers southwards. The mercury will struggle to reach the double digits across the country, with weather maps showing northern parts are set for temperatures below freezing.
Charts show Scotland will get very cold at midday, with temperatures of -1C forecast. This is then expected to fall to -2C in the evening. When accounting for windchill the temperature will feel more like -4C, according to WxCharts.
Scattered rainfall is forecast through Thursday and during the night, making way for slightly milder and calmer conditions for the last working day of the week. But Mr Finnis warns rainy conditions are still expected. Mr Finnis said: "A cloudy, windy but milder day on Friday, with outbreaks of rain spreading east across most areas."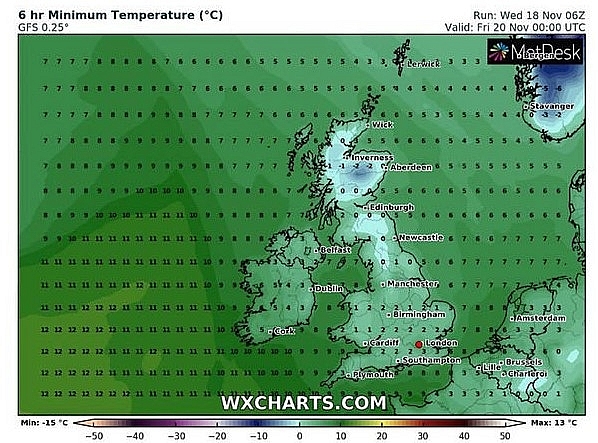 Temperatures will hit sub-zero levels in the coming days (Image: WXCHARTS)
"Rain easing across SW England and Wales in the afternoon, rain perhaps heavy and persistent across western Scotland. Temperatures returning back to double figures for most, reaching 10-13C."
Met Office forecasters have also issued a warning for wind and rain on Thursday as Britain braces for the brutal cold snap.
Wind speeds are expected to reach 70mph when the polar blast arrives with the peak of the fierce gusts and showers peaking on in around 24 hours time.
The weather experts have put much of Scotland on a yellow weather warning with around eight inches of rain expected on higher ground.
Speaking today a Met Office forecaster told Express.co.uk: "Winds are expected to strengthen for a time this evening and overnight."
"A swathe of stronger winds is expected to move southwards across parts of coastal Scotland and Northern Ireland and it is likely that some places may see gusts of 60 to 70 mph for a time."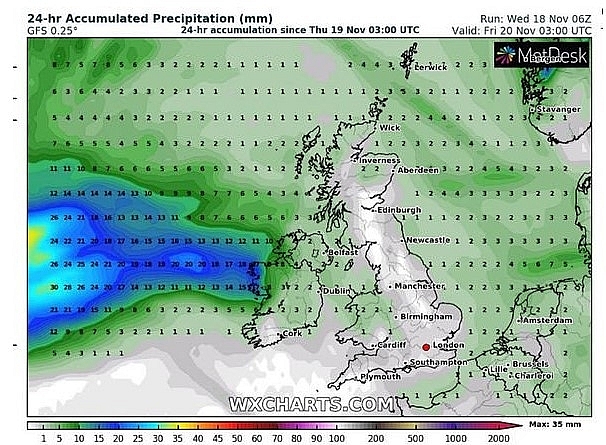 The rain will affect Wales and Scotland worst (Image: WXCHARTS)
On November 20
According to Weather Online, fonts passing east through Ireland and the UK on Friday. These bring lots of cloud and periods of rain, most of them patchy. More persistent rain affecting northwest England and western Scotland, heaviest here too. It is going to be breezy too with very little change through the day though it does tend drier for most by evening. Tending to become milder too in the evening after a cool start. Highs at 7 to 11C.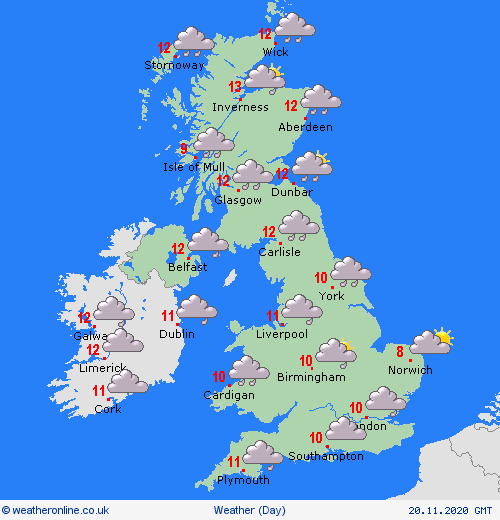 Photo: Weather Online
Europe's weather forecast
Rain over the far northwest of Spain on Wednesday. Faid for most of Spain and Portugal with more sunshine, Weather Online reported.
Staying fair across much of the central Mediterranean and Italy. Some rain in the far south of Italy with showers for Sicily. Heavy rain in western Greece, thundery showers in eastern Greece. Dry with plenty of sunshine in Turkey.
Sunny and dry over most of France, but some rain in the far northwest. Breezy with fair weather across the Low Countries and Germany. Poland also looks dry with sunny spells too. Staying fair across Hungary and Austria as well as Switzerland, more sunshine here.
Breezy for Denmark and southern Sweden, a risk of gales. Further wind and some rain in the Baltic States. Windy with dry weather for Finland. Some patchy rain in central Sweden. Norway will have some heavy rain in the south, snow affects northern areas.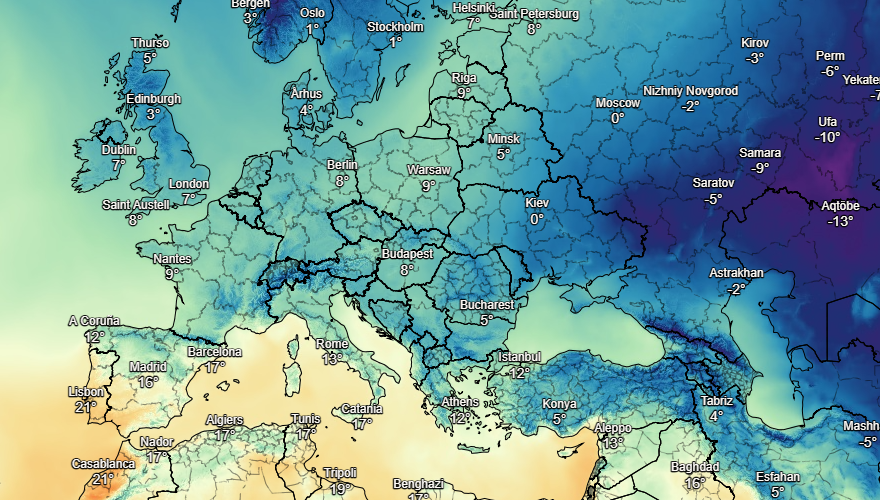 Photo: Stirimeteo
The BBC presenter said: "It's still relatively mild though, 14 degrees in Stockholm. But this is a cold front, and that's going to be sweeping its way in Wednesday night and into Thursday across Europe. Colder northwesterly winds will follow with temperatures dropping by about five degrees Celsius in Paris."
Mr Fawkes said: "There's a similar drop in temperatures on the way in London. So it's certainly starting to feel a good deal colder. That colder air continues to feed into Paris, just nine degrees here through Friday."
Photo: Stirimeteo
"All those temperatures will very gradually pick up by a couple of degrees as we head into the weekend. Meanwhile in Berlin we're also going to see the cold air arrive here on Saturday with temperatures are just six degrees."
On November 20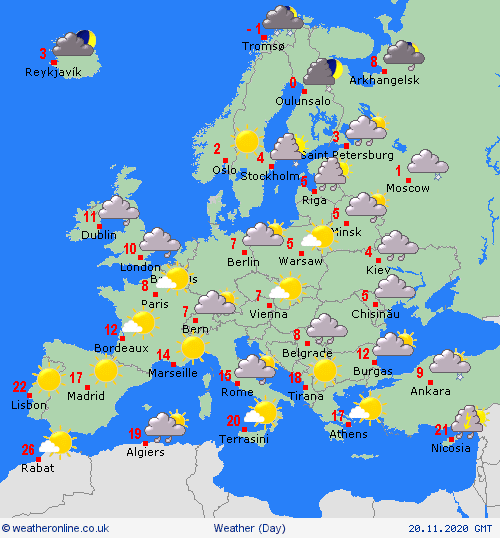 Photo: Weather Online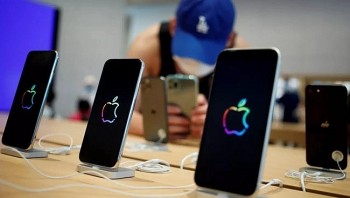 World
India exported iPhones worth $1 billion from May to September 2022, according to a Bloomberg report, but a closer look at the data shows the country is a long way from rivalling China's iPhone manufacturing chops