UK and Europe weather forecast latest, October 13: Temperatures plummet below freezing in Britain
Britain is forecasted to face up with freezing conditions while low pressure brings heavy rain to central and eastern Europe this week. Some rain in west. High pressure building over Scandinavia.
UK's weather forecast
According to Express, Britain could be hit by a massive 1,000-mile-wide Norwegian blast which would plummet temperatures well below freezing.
Temperatures in Scotland could drop to -10C next month, according to The Weather Outlook. The region is facing an "early winter" with forecasts of snow and frost.
Brian Gaze, The Weather Outlook forecaster, said an "early winter" is expected in November. He added that there could be a possibility of snow over the Scottish mountains.
He said: "It looks like an early winter, with the cards stacked in favour of a cold second half of autumn due to La Nina."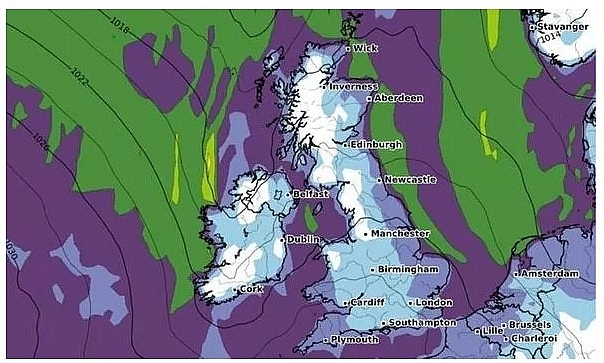 Britain could be hit by a massive 1,000-mile-wide Norwegian blast (Image: WXCHARTS)
"-10C is expected in Scotland and -7C in England by late November, with snow on Scottish mountains now, in northern England from early November and the South at risk from late November."
But before the freezing blasts takes over the UK, heavy rain is set to start Monday off as temperatures "struggle".
Luke Miall, Met Office Meteorologist, said: "Through the day the cloud will continue to invade its way eastwards."
"That rain pushes its way in bringing some heavy rain at time quite grey, quite grotty conditions a really different feel to things. But skies will brighten across western Scotland and North Ireland."
"A few showers following in here, a chilly north-westerly breeze and temperatures nationwide struggling particularly under cloud and the rain."
Temperatures on Monday will reach about 8-12C across the UK. The heavy rain will continue into Monday evening before drier conditions are set to come later in the week.
Heavy rain is set to start Monday off as temperatures "struggle" (Image: WXCHARTS)
Mr Miall added: "We keep that cloud and rain through the evening just slowly pushing its way eastwards."
"See some clearer skies coming into western areas and we keep some showers around early through this outlook period but it will turn dry later in the week."
There are currently three flood alerts in place for the UK as rain continues to wash the UK.
The Environment Agency issued the alerts for the Lower Avon and tributaries and the River Ray and its tributaries from Shipton Lee to and including Islip.
It also covers the River Evenlode from Moreton in Marsh to Cassington and the River Glyme at Wootton and Woodstock. On Tuesday there will still be some wet weather in parts as temperatures remain cold.
For Tuesday's forecast, The Met Office said: "Eastern and central parts staying cloudy and damp with some rain but brightening up in the north and west."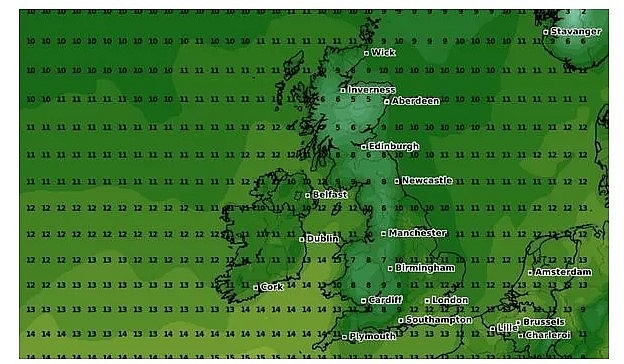 Temperatures on Monday will reach about 8-12C across the UK (Image: WXCHARTS)
"Still some showers here, particularly in the southwest. Staying cold."
Temperatures on Tuesday will remain similar to Monday with an average of 8-12C in the UK.
The Met Office added: "Showers mainly across eastern areas on Wednesday, some heavy and it will be breezy. Thursday and Friday largely dry with sunny intervals. Becoming less windy but still rather cold."
On October 13
According to Weather Online, low pressure centred toward the southeast of England produces a chilly northeasterly wind across much of Britain. Areas of rain and showers pivoting slowly across much of England and Wales, some persistent rain in places. Brighter conditions developing in the far north of England. A few showers may affect eastern Scotland, but further west it will be dry with sunshine as pressure builds here. Mainly dry for Northern Ireland too. Highs 9 to 12C.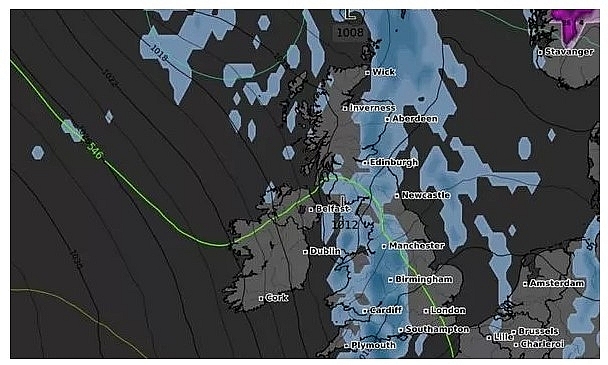 Heavy rain will continue into Monday evening (Image: WXCHARTS)
Europe's weather forecast
Low pressure over the central Mediterranean brings unsettled conditions. Heavy and thundery bursts of rain for southern Italy, Sicily, Corsica and Sardinia. Prolonged heavy rain is likely to push into the Balkan states, later western Greece. Areas toward the Black Sea stay dry and warm.
Spain and Portugal stay dry, and very warm in the southwest. Dry for southern France, although still a strong breeze. Rain moves into northwestern France. Showery conditions across central Europe, some slow-moving areas of rain for central and southern Germany. Rain also affects Hungary, Slovakia and Poland.
A general area of low pressure over Scandinavia brings a mix of sunshine and showers, locally frequent, whilst nearby escapes often dry. Much of south and western Norway may stay dry much of the day.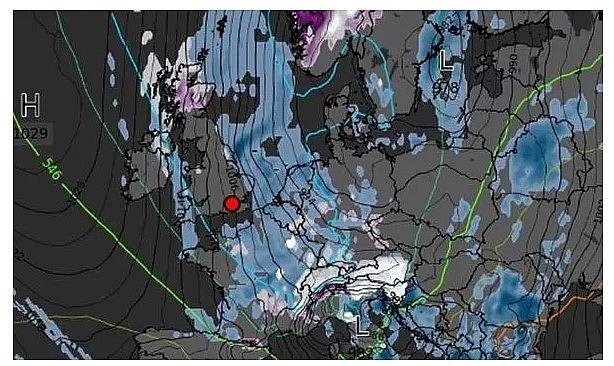 BBC Weather: Freezing cold air blasts into Europe as temperatures forced below average (Image: WXCHARTS)
On October 13
Much of Spain and Portugal will be dry, fine and warm although with cloudier skies and some showewrs in the north. The main emphasis of the heavier rainfall has now shifted towards Greece, western Turkey and eastern Europe while showers affect Italy and the islands through the Mediterranean. It should be an improving scene across the Balkan States, Weather Online reported.
Cloud and rain pushes across much of western and central France as well as the Low Countries through the day. Drier across Germany but with some showers developing here too. A largely dry day for the Alpine Countries too. Unsettled with rain across Poland.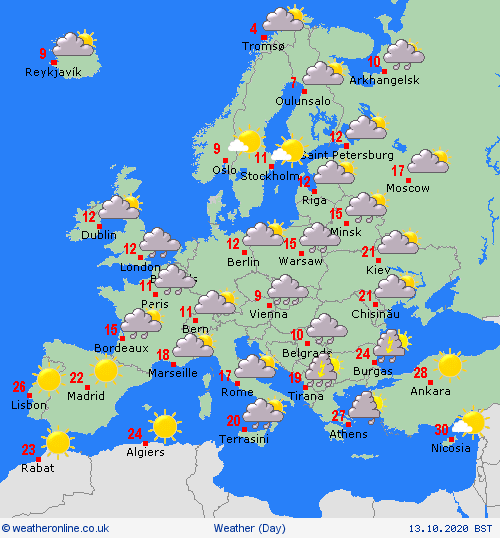 Photo: Weather Online
High pressure starts to build in across Norway and Sweden allowing for any showers to fizzle out through the day. Showers expected across much of Finland but these too should ease later on in the day. Freshening winds through the Baltics but it should remain largely dry although cloudy skies will build and some rain will affect the far south. Cloudy with some showers across Denmark.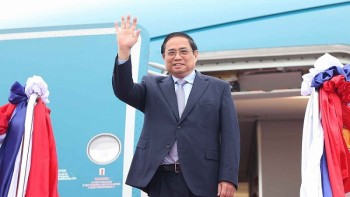 National
Vietnam News Today (Feb. 6): PM Chinh to pay official visits to Singapore, Brunei; Vietnam attends ASEAN+3 Tourism Ministers Meeting; Exports in 2023 and high demands from new generation FTAs; Digital technology to spearhead Vietnam's drive for Industry 4.0.