UK and Europe weather forecast latest, October 6: More wet and windy weather ahead of a potentially dangerous Atlantic storm
Britain is forecasted to cope with more wet and windy weather ahead of a potentially dangerous Atlantic storm. Meanwhile, staying unsettled across much of northern and central Europe and Scandinavia. Drier conditions across the Mediterranean.
UK's weather forecast
MET OFFICE forecasters have issued two amber and one yellow warning countrywide as the UK prepares to face a huge storm that poses a "danger to life".
Heavy rain and strong winds will continue to batter the UK even after Storm Alex moved on to the continent. The new warnings apply to the southwest Midlands and southern England, and areas of Fife and Moray in Scotland.
The first warning reads: "A band of rain will become slow moving and heavy across Wales, the West Midlands and into western parts of southern England. This is likely to bring flooding and some disruption to travel."
UK weather forecast: 'Danger to life' storm to blast UK with London 'in firing line' (Image: WXCHARTS)
"Many places will see 25 to 50 mm of rainfall (one to two inches), with totals of 70 to 90 mm (2.7 to 3.5 inches) expected over higher ground of Wales and southwest England as well as the potential for over 120 mm (4.7 inches) in some of the most exposed high ground of Snowdonia and Exmoor."
"The unusual wind direction associated with the rainfall will mean that the peak rainfall totals are likely to occur in some areas that are usually well sheltered and drier during unsettled spells of weather."
The second warning for Scotland will see the heavier rain restricted to higher ground. The Met Office said: "An area of rain is expected to move into Scotland from the east on Saturday morning and persist though to Sunday before clearing westwards."
"This will bring widely 40 to 70 mm (1.5 to 2.7 inches) of rain to this area with over 120 mm (4.7 inches) likely over the high ground and to flooding and travel disruption - particularly across parts of Aberdeenshire and Angus."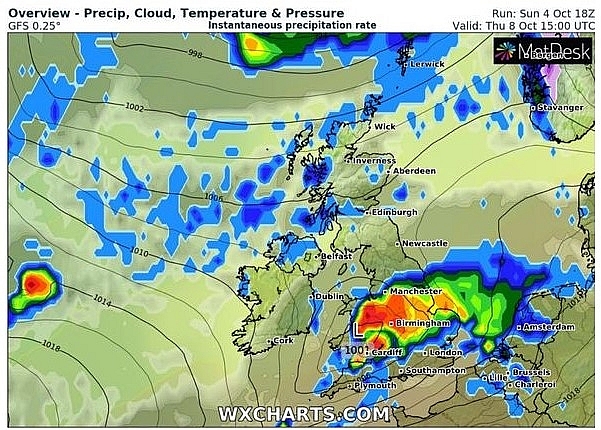 Scotland's amber warning is in place for 12 hours - from 6pm Sunday to 6am today (Image: WXCHARTS)
Besides, BBC Weather forecaster Carol Kirkwood warned Britons to brace for blustery showers this week as a new area of low pressure dominates the weather ahead of a potentially dangerous Atlantic storm barreling towards the country.
Carol Kirkwood urged Britons to get ready for some more wet and windy weather this week after Storm Alex battered the country with heavy showers and gusty winds last weekend. The BBC weather forecaster warned a new area of low pressure will dominate the weather this week ahead of a new Atlantic storm potentially reaching the UK on Thursday. She said: "The forecast for this week remains unsettled. We will have some sunny spells but it is also going to be showery."
According to WXCharts, the poor weather that has hit the country this weekend will continue until the end of this week.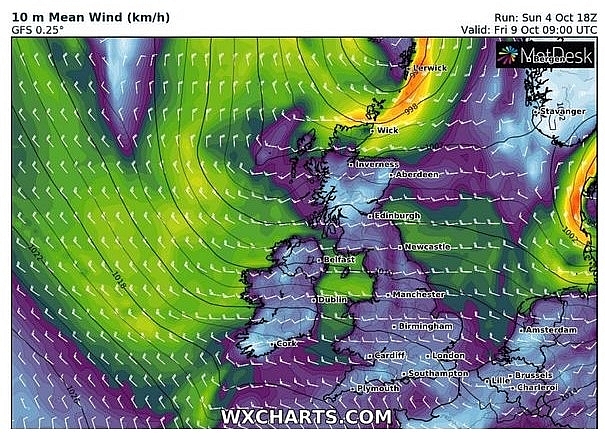 A yellow warning applies to the west (Image: WXCHARTS)
By Thursday this week, an Atlantic storm is set to smash into the UK with parts of the country seeing shower spells as well as periods of prolonged rainfall.
The Met Office said the southern and western areas are most likely to see the most frequent and heaviest rainfall. There will also be some periods of dry and calm conditions but it looks to be often windy, with a risk of gales along the west and south-western coasts.
It is expected to remain cold and there will be a potential change in the weather around mid-October. The forecaster predicted further rain and strong winds are likely, but spells of fine and dry weather could be more widespread and long-lived.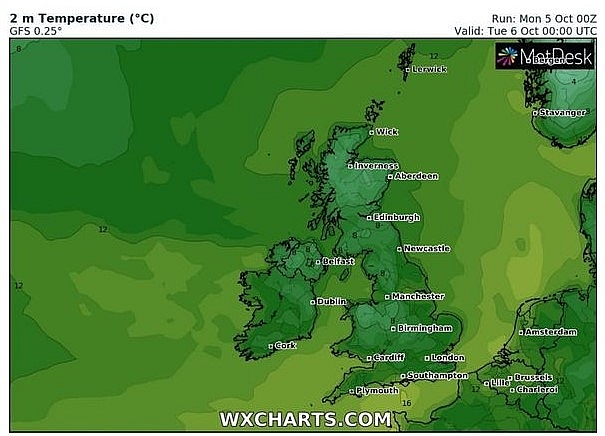 Heavy rain and strong winds will continue to batter the UK even after Storm Alex moved on to the continent (Image: WXCHARTS)
Northern parts of the country are expected to see some frost and fog during the evenings. Storm Alex - which has been affecting France - brought gale-force winds reaching 61mph to southern England on Friday.
Hundreds of roads have already been flooded due to Storm Alex and it was believed there would be around nine breakdowns per minute on UK roads. RAC Breakdown spokesman Rod Dennis warned drivers not to drive through water unless they know for sure how shallow it is.
He said this week: "Heavy rain will make road conditions miserable if not downright dangerous for drivers this weekend, and they'll need to be prepared for an ugly mix of surface spray, gusty winds and more than likely some disruption on the roads."
"Floods are also a possibility so drivers should remember never to attempt to drive through water unless they know for sure that it's shallow enough."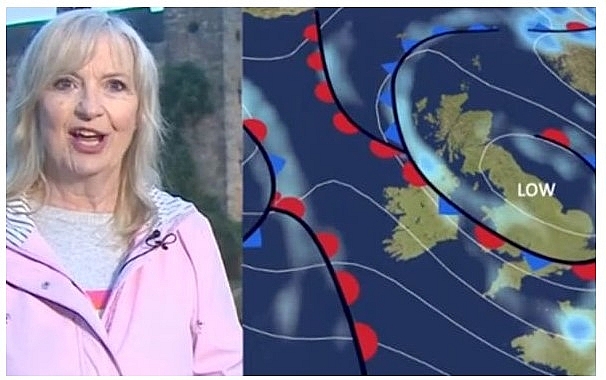 BBC Weather: Low pressure will dominate the weather this week (Image: BBC)
"For drivers who are unlucky enough to breakdown in the horrid conditions, our patrols will be working around the clock to get them moving again."
The last time amber warnings were issued for rain was back in March when the country braced itself for heavy rain.
On October 6
According to Weather Online, the low pressure centre sits over Scotland on Tuesday. It will be a blustery day across much of England, Wales and Ireland where there will also be showers, these potentially merging into longer spells of rain at times. Some sunny spells too. Lighter winds further north with more in the way of drier and brighter conditions although western areas will still be prone to showers. Highs at 11 to 16C.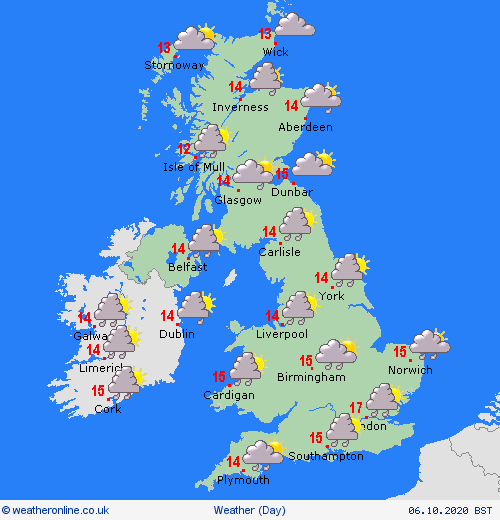 Photo: Weather Online
Europe's weather forecast
According to Weather Online, rain affecting northern and northwest Spain and Portugal will ease and gradually clear through the day. Dry and fine elsewhere here. Showers possible across the easternmost Balearic Islands but an improving day here. Scatters or longer spells of rain affecting Italy and the surrounding islands. Largely dry across Greece but cloud will build in the north later. Dry and fine across Turkey.
Another unsettled day across much of France with the heaviest of rain and brisk winds affecting the northern regions. The Low Countries will see rain spread in from the west with strengthening winds here too. This rain will later affect west Germany. Drier further east. Heavy rain will ease over the Alpine countries first thing leaving sunny spells but also showers about. Dry to start for much of eastern Europe, but rain will become more widespread through the afternoon.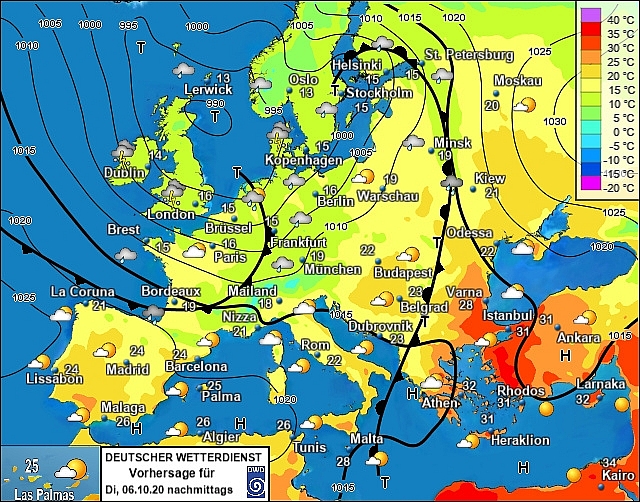 Photo: Stirimeteo
A potentially bright start for Denmark but turning cloudy with some outbreaks of rain later. Breezy too. A band of heavy rain over south Norway, Sweden and Finland will ease while pushing northwards through the day. Dry and fine across the northern half of Scandinavia. Largely dry with sunny spells over the Baltic region but it will turn cloudier later with rain pushing up from the south.
On October 6
Largely dry and fine across Spain and Portugal, however, cloudier skies could linger over the northern coastal areas of Spain. Dry and fine for the Balearics too. Some patchy rain affecting the far south of Italy with some showers possible across the surrounding islands as well as mainland Italy but plenty of dry and sunny conditions also. Rain possibly affecting the far northwest of Greece but largely dry elsewhere. Dry and fine across Turkey.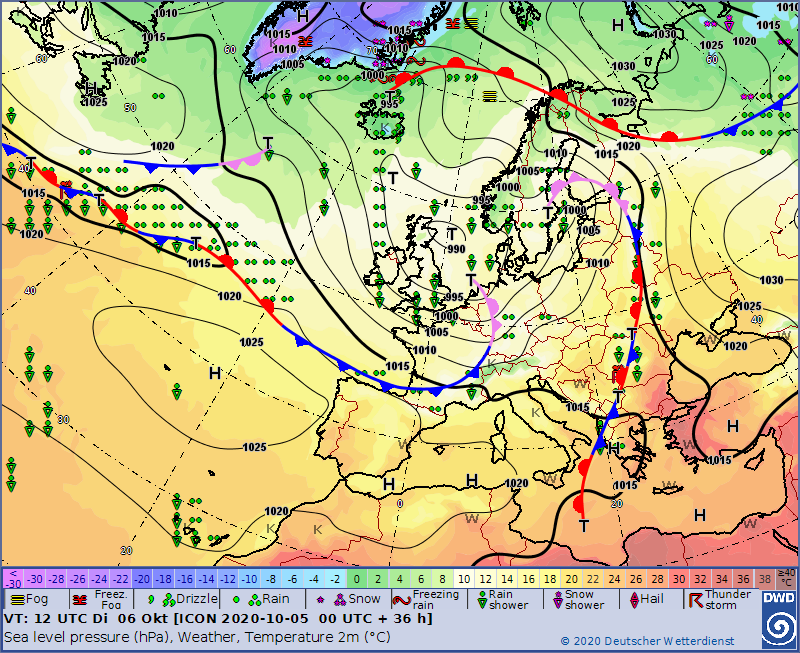 Photo: Stirimeteo
A cloudy day with a band of rain spreading across France, heavy in places. Breezy further north and west too. Unsettled across the Low Countries and Germany with showers or longer spells of rain as well as a brisk south-westerly wind.
Rain pushing into Switzerland early on. Largely dry across Austria and the Balkan States but with some scattered showers affecting this region. Some patchy, light rain in the north and west of Poland but drier elsewhere.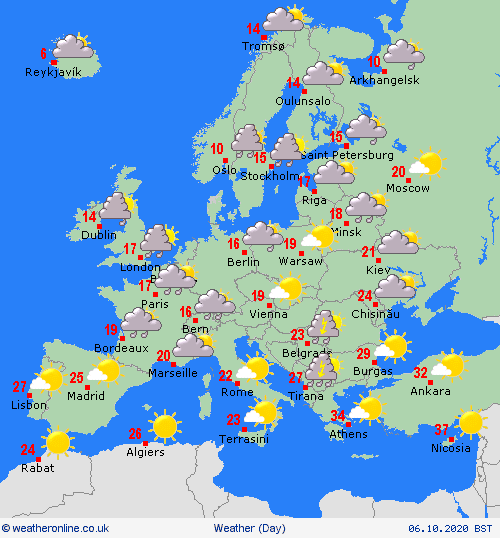 Photo: Weather Online
Becoming increasingly unsettled across Scandinavia as a extensive band of rain spreads from south to north through the day. Not particularly cold as winds will be from a southerly direction although they are expected to strengthen, particularly across the Baltic States where there will be sunny spells and blustery showers once the rain clears first thing. Heavy rain affecting northern Denmark first thing before clearing to see a day of sunny spells but also plenty of blustery showers.