UK and Europe weather forecast latest, October 11: Torrential rain leading to weekend of flooding to hit Britain
This weekend, Britain sets to face up with flooding resulting from torrential rain. Meanwhile, heavy showers across northern Europe but fine to the south with sunny spells.
UK's weather forecast
According to Express, flood alerts are in place this weekend as rain is set to hit much of the UK during Saturday afternoon. The wet weather comes as high and low-pressure systems clash over the British Isles, forcing cold and wet winds down from the north, Met Office maps show. At the time of writing, there are 11 flood alerts across the UK, issued by the Government's flood warning information service.
In addition, temperatures are set to sit just above freezing across Britain in the early hours of this morning as autumn sets in. Despite the flooding alerts, Met Office meteorologist Alex Deakin said Britons could expect "a drier weekend compared to last weekend".
However, he added the country should not "expect much warmth" as that northerly wind brings a "real chill". He added: "Some rural spots certainly close to freezing. So a chilly old start to the weekend."
"It will cloud over a little bit across parts of the south but at the same time the cloud will break up in a few places so it'll be a mixture of bright or sunny intervals and showers come the afternoon, with a few heavy ones possibly across parts of eastern England."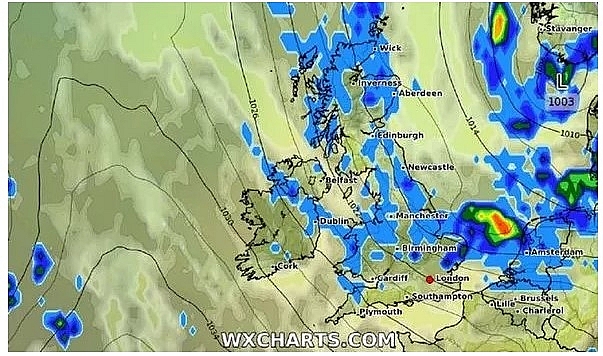 A weather map showing scattered rain on Saturday afternoon (Image: WX Charts)
"There's that brisk breeze still blowing which means the showers will move through so you're never too far from a brighter spell – but also that brisk breeze bringing a chill."
Temperatures across the UK on Saturday afternoon will range between 10 and 14 degrees – 10 in the north of Scotland with 13 and 14 more common in the south of England, according to Met Office maps.
The showers are set to push south-eastwards across England and Wales today, meaning they should ease from the west and northwest later in the day. Showers in northern Scotland will persist throughout, while elsewhere it may be drier but cloudy.
Coastal areas should expect "blustery" through the evening, according to the BBC, which added Saturday "will bring a bright and dry start for most, with cloud thickening later. Any lingering showers will clear by the afternoon.
"Rain will begin to edge into north-western areas in the evening."
Maps show a cold start to Sunday morning (Image: WX Charts)
Mr Deakin added the cold wind could ease by Sunday, when showers will also begin to lighten. Temperatures across the UK on Sunday afternoon are set to be largely similar to this afternoon. However, it may feel slightly warmer due to less wind and rain.
Outlook for the next Monday
For Monday and the start of next week, the BBC's Darren Bett said: "Instead of those northerly winds, we look to the Atlantic; we've got some weather fronts coming in from the west."
"So, much more cloud around on Monday. We've got outbreaks of rain steadily pushing eastwards. After a dull and damp day and a cold start across eastern areas of the UK, temperatures may struggle to get into double figures."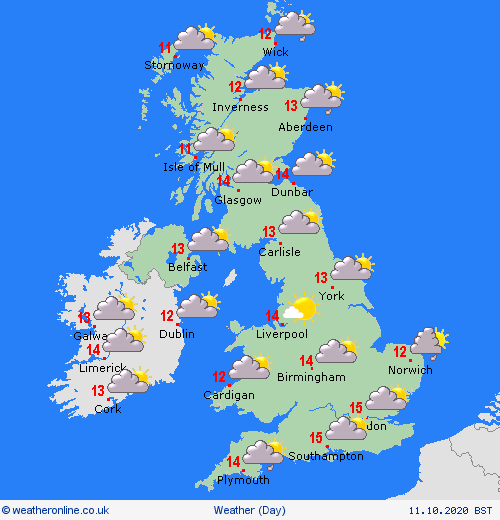 Photo: Weather Online
The Met Office's pollen forecast has now stopped due to Britain being out of pollen season. Forecasting is due to resume in March 2021.
Europe's weather forecast
Looking ahead to the weekend, weather-wise in Europe the northwest will stay unsettled with rain and showers, according to BBC meteorologist Chris Fawkes. However, the presenter noted that an area of cloud pushing its way eastwards has been spotted as a weather front. He warned that this is going to be bringing some rain to many areas.
Mr Fawkes told viewers: "We'll get about 10 to 20mm from this weather system. So the rain won't be massively heavy but there'll be a few heavy bursts from now and then."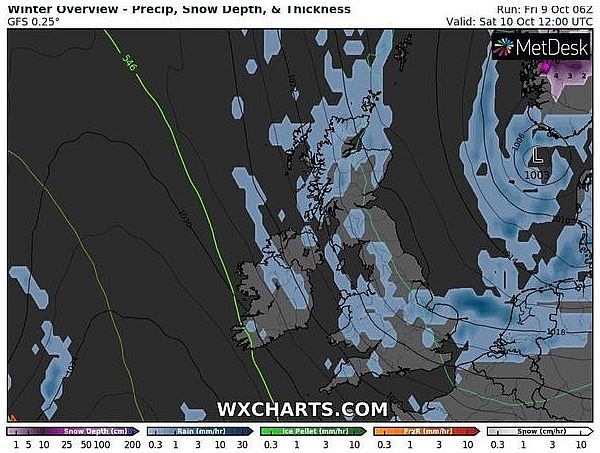 UK snow forecast: An Atlantic chill will push over the UK (Image: WXCHARTS)
"To the northwest, we'll see those showers really roll in. Some of them will be really quite heavy across parts of Belgium, the Netherlands, northern Germany and Denmark."
He continued: "There'll be a risk of some thunderstorms mixed in with those showers."
"For southeast Europe, it's dry and settled with plenty of sunshine around. It will still be warm, although not quite as hot as it has been for the likes of Turkey and Cyrpus."
"Further northwards, we'll see cooler air working its way in with plenty of showers."
The weather presenter added: "There'll be showers there in the forecast for Copenhagen with highs of 11. Stockholm will experience similar temperatures, maybe with some lengthier outbreaks of rain for a time here."
"On into Sunday, our area of low pressure will move a little bit further eastwards."
Mr Fawkes said: "This will push the rain into Finland and western most areas of Russia as well. But Moscow will stay dry and mild with temperatures around 16 degrees."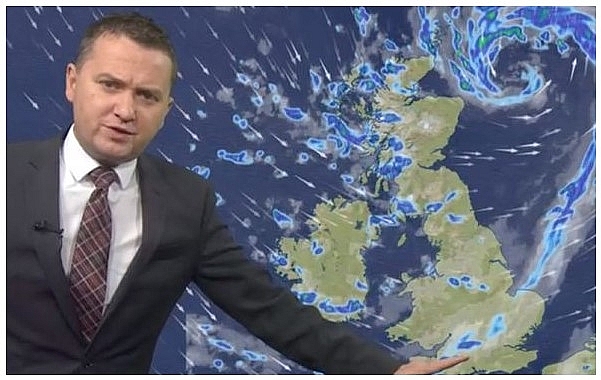 BBC Weather: Hail showers set to hit north of the country (Image: BBC)
"Heavier rain will work into parts of Croatia and Bosnia and Herzegovina as well. Over the next few days, in Paris it stays relatively cool, there will be some showers around from time to time."
"In Kyiv, bright skies with some sunshine with temperatures into the high teens and low 20s, which is quite mild."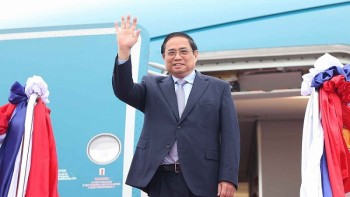 National
Vietnam News Today (Feb. 6): PM Chinh to pay official visits to Singapore, Brunei; Vietnam attends ASEAN+3 Tourism Ministers Meeting; Exports in 2023 and high demands from new generation FTAs; Digital technology to spearhead Vietnam's drive for Industry 4.0.