UK and Europe weather forecast latest, October 10: Freezing air as "first snow" to batter Britain
Britain is to face up with freezing air as "first snow" while low pressure brings cool, unsettled conditions to northern and western parts of Europe.
UK's weather forecast
Thermometers are predicted to fall below 0C overnight this weekend, according to WXCHART's latest temperature models. The maps show swirling freezing Atlantic air pushing over in a westerly direction. According to the charts, temperatures in the early hours of Saturday morning will fall below freezing in central Scotland.
Into next week, bitterly-cold air is expected to move in again, with overnight temperatures on Wednesday falling to near freezing in some parts of northern Scotland, northern England and central parts of Wales, according to minimum temperature charts by Netweather.
It comes as the Met Office confirmed wintry showers across some parts of the UK. They tweeted: "A cold front is bringing some sharp bursts of rain across parts of southeast Wales this morning."
"Meanwhile heavy showers behind cloud with rain are packing into the northwest, some of these heavy and wintry over the Scottish mountains."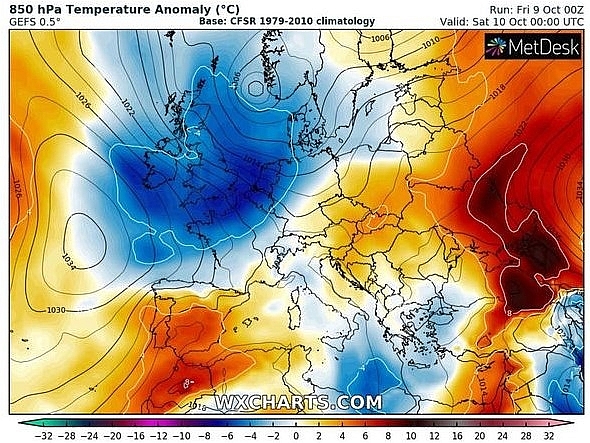 UK snow forecast: Temperatures will drop to freezing lows (Image: WXCHARTS)
BBC Weather forecaster Simon King predicted more wintry weather after the first sprinkling of snow settled in the hills of Scotland last night.
He tweeted: "First bit of snow has arrived on Anoch Mor, Roybridge in the Highlands. Could be further wintry showers through today on the peaks of Scottish mountains."
Weather Outlook's Brian Gaze warned of lingering cold weather over the coming days, as temperatures will average single figures in the north.
He said: "Friday starts with a band of rain in northern England and northern Wales."
"Through the day it steadily pushes southeastwards and fragments. By the late afternoon it clears from the south east. Brighter conditions follow but showers become widespread and in the northwest they will be heavy."
"Over the Scottish mountains sleet or snow is possible. Temperatures range from 8C (46F) in the north to 13C (55F) in the south."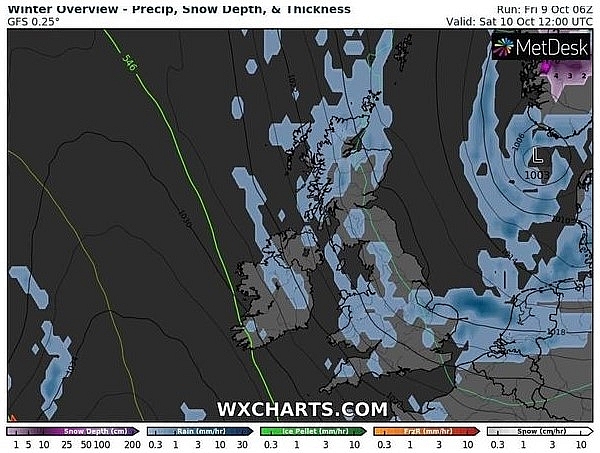 UK snow forecast: An Atlantic chill will push over the UK (Image: WXCHARTS)
Jo Farrow at Netweather also forecast a new Atlantic low to push towards the UK at the start of next week, which will lead to more chilly weather.
She said: "A cold start on Sunday but fine with super autumn sunshine."
"There is some uncertainty for East Anglia, maybe Lincolnshire and East Yorkshire with a band of cloud and showery rain lurking nearby over the North Sea."
"It could plague eastern England on Sunday and bring quite a different day. The cloud fills in during Sunday, but it stays fair and bright still with a cool breeze."
"Nippy again on Sunday night but an Atlantic low looks to move in for Monday bringing rain from the west, blustery winds but also milder air briefly."
"The chill will be back by Tuesday as the winds swing round to the north."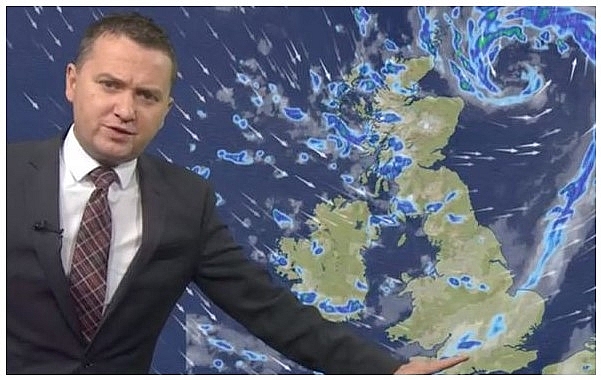 BBC Weather: Hail showers set to hit north of the country (Image: BBC)
On October 10
According to Weather Online, morning across the country on Saturday. They will be sunny spells but also some showers. The showers will be heavier and most assistant across Northwest Scotland and also across the north and west of Wales.
More eastern and southern areas will see fewer showers with better spells of sunshine. This afternoon seems little change with further showers in the north and west and less of them in the south. Feeling cold in the wind. Showers in Ireland as well as some sunny spells. A fresher northwest wind with highs at 10 to 14C.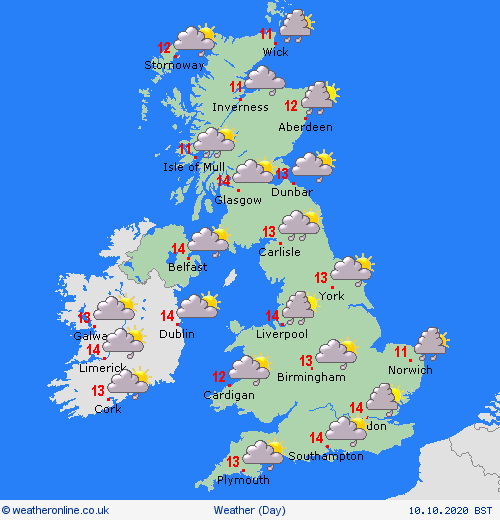 Photo: Weather Online
Europe's weather forecast
Looking ahead to the weekend, weather-wise in Europe the northwest will stay unsettled with rain and showers, according to BBC meteorologist Chris Fawkes. However, the presenter noted that an area of cloud pushing its way eastwards has been spotted as a weather front. He warned that this is going to be bringing some rain to many areas.
Mr Fawkes told viewers: "We'll get about 10 to 20mm from this weather system. So the rain won't be massively heavy but there'll be a few heavy bursts from now and then."
"To the northwest, we'll see those showers really roll in. Some of them will be really quite heavy across parts of Belgium, the Netherlands, northern Germany and Denmark."
He continued: "There'll be a risk of some thunderstorms mixed in with those showers. For southeast Europe, it's dry and settled with plenty of sunshine around."
"It will still be warm, although not quite as hot as it has been for the likes of Turkey and Cyrpus. Further northwards, we'll see cooler air working its way in with plenty of showers."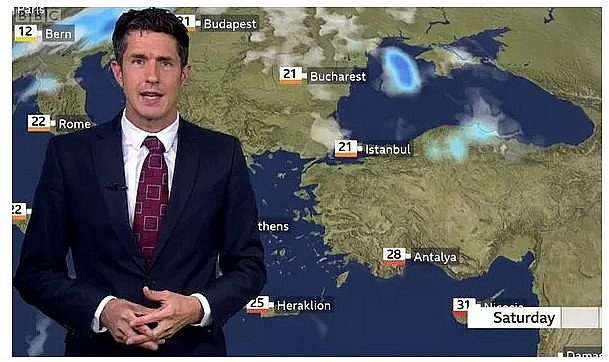 'For southeast Europe, it's dry and settled with plenty of sunshine around.' (Image: BBC)
The weather presenter added: "There'll be showers there in the forecast for Copenhagen with highs of 11. Stockholm will experience similar temperatures, maybe with some lengthier outbreaks of rain for a time here. On into Sunday, our area of low pressure will move a little bit further eastwards."
Mr Fawkes said: "This will push the rain into Finland and western most areas of Russia as well."
"But Moscow will stay dry and mild with temperatures around 16 degrees. Heavier rain will work into parts of Croatia and Bosnia and Herzegovina as well. Over the next few days, in Paris it stays relatively cool, there will be some showers around from time to time."
"In Kyiv, bright skies with some sunshine with temperatures into the high teens and low 20s, which is quite mild."
On October 10
According to Weather Online, patchy outbreaks of rain continue to affect northern parts of Spain. These becoming locally heavy and thundery to the northeast and spreading across the Balearic Islands later. Staying dry and fine for the rest of Spain and for Portugal. Dry and fine for much of Italy though outbreaks of rain develop to the north later which may be locally heavy. A dry and sunny day for Greece and Turkey with isolated showers affecting Black Sea coastal regions at times.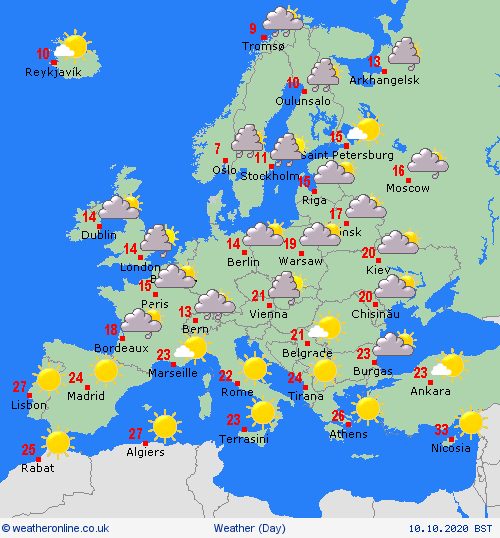 Photo: Weather Online
A front brings rain to southeast France, Switzerland, southwest Germany, Austria, the Czech Republic and across much of Poland with the exception of the far southeast on Saturday. To the northwest of this are brighter conditions with a scattering of showers for northwest France, the Low Countries, and, later, northwest Germany. A mostly dry and fine day for Slovakia and Hungary with rain arriving to the far west later.
Breezy with outbreaks of rain for Denmark, southern Sweden and southern Norway. This locally heavy over Sweden. After a dry start to the day rain spreads from the west across the Baltic States while patchy outbreaks of rain develop over Finland as well as northern portions of Sweden and Norway.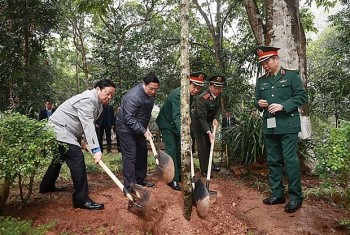 National
The Prime Minister launches a tree planting festival in Ba Vi on New Year of Cat.