UK and Europe weather forecast latest, October 21: Storm Barbara threats Britain with strong winds and torrential rain.
Heavy snow is forecasted to batter Europe while storm Barbara set to threat Britain with strong winds and torrential rain.
UK's weather forecast
Storm Barbara has been named by Spanish meteorologists and is expected to cause upheaval to Portugal and Spain before tracking towards the UK. The Met Office has cautioned development of the system is "relatively uncertain" and so Storm Barbara is being watched closely.
Strong winds and torrential rain will hit Spain and Portugal in the coming days, before later hitting the UK. For now, the Met Office has said Storm Barbara will potentially bring hales and rain to the "extreme south-east of England".
However, alerts for rain are in place for another system - which is expected to bring heavy downpours to Ireland, Northern Ireland, west and South West of the UK.
Met Office Chief Meteorologist, Frank Saunders, said: "Tomorrow (Tuesday) a low-pressure system, separate to Storm Barbara, will cross Ireland and Northern Ireland bringing gale or even severe gale-force winds to some exposed parts of the west and South West of the UK.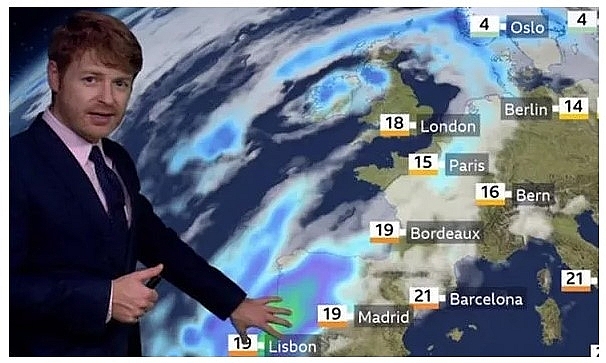 BBC Weather has warned stormy conditions will spark heavy rainfall in Portugal (Image: BBC)
"As we look ahead to the rest of the week, we are expecting rain or showers for many areas on Wednesday, possibly heavy and blustery in the South East.
"It will be quieter on Thursday but more unsettled from Friday, with spells of wet and windy weather moving in from the west."
On Tuesday, Met Office yellow weather warnings for rain are in place across Central, Tayside & Fife, Highlands & Eilean Siar, SW Scotland, Lothian Borders and Strathclyde until 9am.
The forecasters warn: "Spells of rain, heavy at times, will persist through most of Monday before clearing on Tuesday morning."
Rainfall totals of "0.7 to 1.5 inches (20 to 40mm) of rain will fall quite widely, while two to 2.9 inches (50 to 75mm) is expected over the more mountainous areas."
"Over a few mountains, most likely in Argyll, as much as 2.9 to 3.9 inches (75 to 100mm) of rain may fall."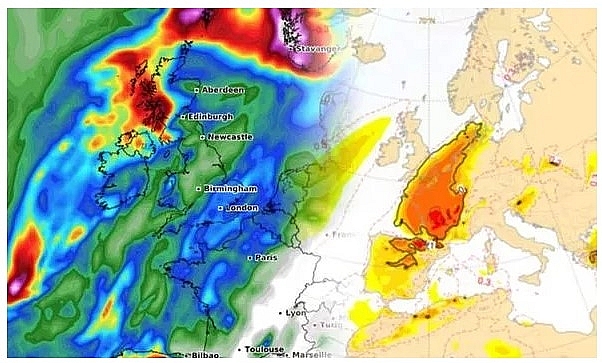 Storm Barbara tracker: When will Storm Barbara hit UK? Fierce winds to batter Britain (Image: WXCHARTS/ MET CHECK)
Elsewhere, according to Netweather rain or showers will become more widespread on Tuesday, and much of the UK will see a windier day too.
Netweather forecasters write: "A spell of heavy rain looks to spread northeast across England on Wednesday with showers elsewhere."
On October 21
According to Weather Online, low pressure is in control of the weather across the UK and Ireland on Wednesday. Wet through central and southern England as well as East Anglia, this could be heavy at times too. Rain in Scotland, mostly central and northern areas. Cloudier for another places, a few spots of showery rain here and there with only fleeting brighter spells. Breezy in northwest Scotland. Highs at a very mild 18C in the southeast, 10C in northwest Scotland.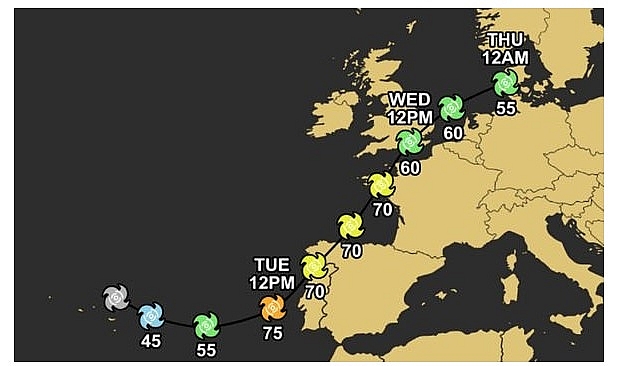 Storm Barbara tracker: By midday on Wednesday trackers show Barbara may bring wind and rain to the south of England (Image: METCHECK)
Europe's weather forecast
BBC WEATHER has warned stormy conditions will spark heavy rainfall in Portugal on Tuesday as the system moves towards the UK. It comes as some areas in Europe are bracing for "heavy snow".
BBC Weather's Tomasz Schafernaker said Portugal and Spain will be the worst affected by Storm Barbara but Britain and Northern Ireland are expected to see rain by the end of the week. In central Europe, temperatures are above average with Berlin expected to hit double figures. Mr Schafernaker said: "Stormy weather on the way for Portugal and parts of Spain as well."
"Here we have Storm Barbara forming. It's been named by the local weather services in southwestern parts of Europe. Very heavy rain is affecting parts of Portugal and then we think a weaker storm will be moving across France and in the direction of the UK."
"We think the worst of the weather will be in the south near that Iberia coast."
Conditions across central and eastern Europe will remain largely dry and sunny.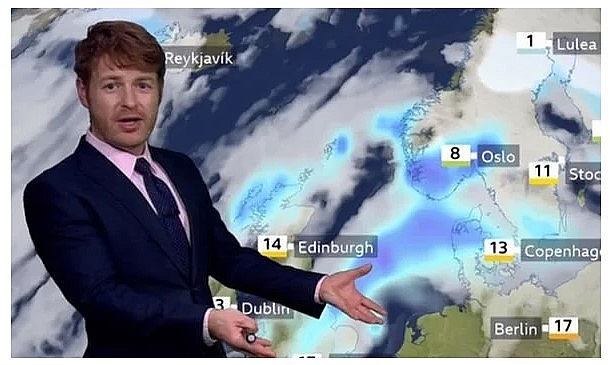 Britain and Northern Ireland are expected to see rain by the end of the week (Image: BBC)
Mr Schafernaker continued: "All this stormy weather is helping to push warmth in the south so we can see double figures for Belin mid-week. Heavy snow is also affecting Norway and Sweden."
The Met Office issued a yellow rain warning across areas in Northern Ireland and Scotland on both Monday and Tuesday, meaning areas could see flooding. Gusts of 40mph are expected over the Irish sea, while up to 60mm of rain could fall, rising to 80mm in mountainous regions.
Luke Miall, a meteorologist at the Met Office, said: "Well there's a turbulent week of weather ahead, it is starting to look wetter and windier".
Mr Miall went on: "Going into Tuesday the rain will start to push towards Wales the southwest of England, with most of the UK seeing rain at some point."
"The winds will be much stronger on Tuesday with heavier showers in Northern Ireland and Scotland."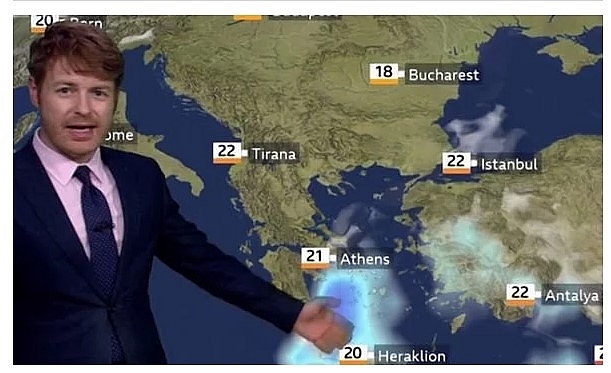 BBC Weather's Tomasz Schafernaker said Portugal and Spain will be the worst affected by the storm (Image: BBC)
He said this was due to a spell of high pressure and air being dragged in from the Mediterranean. Wednesday is expected to be the warmest day this week, with some areas seeing 18C (64.4F) temperatures.
On October 21
A wet day in Portugal Scattered showers central Spain. Fair in the east of Spain with good spells of sunshine. A fine day through Corsica and Sardinia as well as Italy after morning mist and fog clears. Greece should be fine with more sunshine here. Showers, some heavy in southern Turkey but fine to the north, Weather Online reported.
Rain and showers in the north and west of France. fair in the east and souther. Cloud and rain in the Low Countries as well as northern Germany. Poland should be dry with sunny spells. The rest of Germany will be dry and breezy. Fair through Austria and Hungary as well as Switzerland with more sunshine here.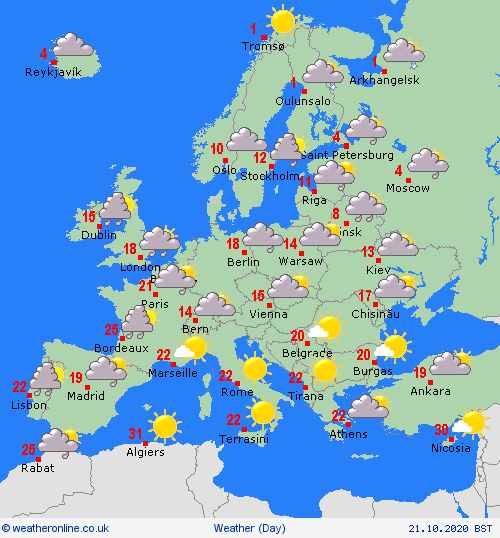 Photo: Weather Online
Windy and wet in Denmark. Brighter for the Baltic States but some rain in Finland. Breezy with some showery rain in Sweden. Norway will have some showery rain at times.