UK and Europe weather forecast latest, October 15: Parts of Britain to experience frost as temperature plummets
Cold temperature with frost at parts shall smash Britain while unsettled with heavy rain and showers are forecasted to batter in central Europe, cold for all.
UK's weather forecast
According to Express, Britain is set to be bitterly cold as temperatures continue to plummet bringing frost to parts of the country.
But the UK will see a welcome return to sunny weather as heavy rain begins to ease off through the week. High pressure will bring plenty of sunshine in many places in the UK with some outbreaks of showers.
Aidan McGivern, Met Office Meteorologist, said: "Brighter skies are on their way with sunny spells expected on Wednesday, albeit with a few showers particularly across central and eastern parts of the country."
BBC Weather's Ben Rich said some parts of Scotland will "get very close to freezing".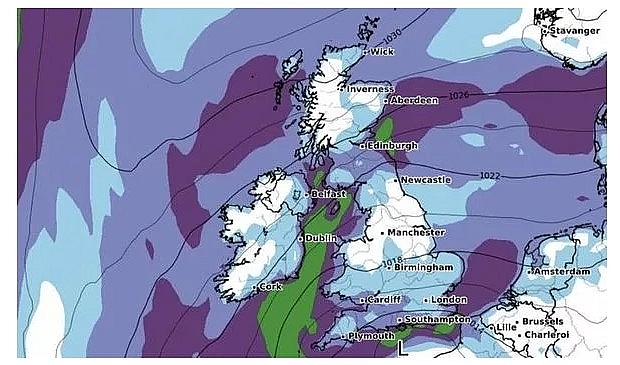 Britain is set to be bitterly cold as temperatures continue to plummet bringing frost (Image: WXCHARTS)
Mr McGivern added: "As we start off Wednesday there'll still be some rain or showers especially for Northern Ireland and the central belt but it will brighten up fairly widely."
Sunny spells breaking out but there will be a few patches of rain which continue to bring risks of flooding.
The Environment Agency has put one flood warning in place and five flood alerts for certain parts of the UK on Wednesday due to yesterday's heavy downpours.
Mr McGivern said: "By the afternoon showers developing in central and eastern parts of the country where there will be some heavy downpours."
"But it's in the west where we keep the best of the sunshine and 15 or 16C will feel quite pleasant with lighter winds compared to Tuesday. Although we keep a brisk and cold wind near the North Sea coast."
Overnight on Wednesday, skies are set to clear for many parts of the UK. This will bring cooler temperatures and patches of frost in the north of England.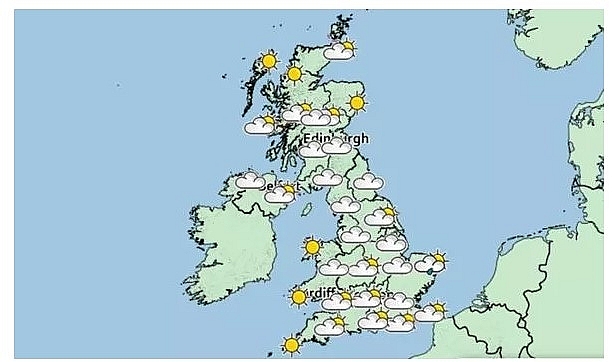 The UK will see a welcome return to sunny weather (Image: MET OFFICE)
Mr McGivern added: "With clear skies and with light winds temperatures will fall away, touch of frost in the north and the west perhaps one or two fog patches as well first thing Thursday."
"However, for Thursday many places start off with plenty of sunshine thanks to high pressure which is building in that high centre to the north of the UK."
"We keep an easterly breeze which will bring cold air our way and so it's not going to be a particularly warm day on Thursday. We'll start off with a few frost and fog patches but for many it's a bright day and a dry day."
An early winter is forecast to strike the UK this year due to La Nina.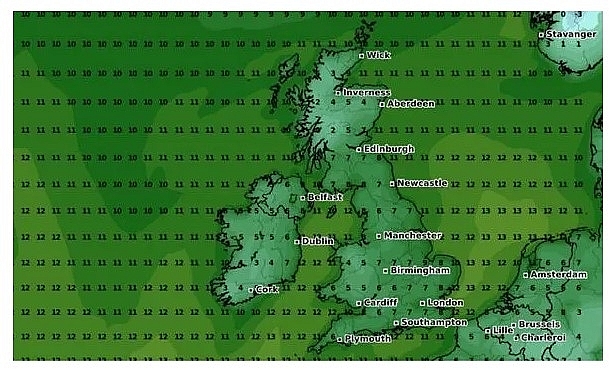 Temperatures on Wednesday morning will bring a brisk start (Image: WXCHARTS)
Weather Outlook forecaster, Brian Gaze, said: "It looks like an early winter, with the cards stacked in favour of a cold second half of autumn due to La Nina."
La Nina takes place when the sea surface temperatures in the central and eastern Pacific are below average.
Adam Scaife, Met Office professor, has said La Nina has a significant impact on Britain's weather.
He said: "In late autumn and early winter it historically promotes high pressure in the mid-Atlantic, which stops Atlantic weather systems from delivering mid-air to the UK, and therefore can allow cold conditions to intensify."
On October 15
According to Weather Online, high pressure to the north of Scotland on Thursday with an east to northeast flow across the UK and Ireland. There will be broken cloud and a risk of some spots of rain, mostly in central and eastern areas. Tending to be brighter in western England and Wales as well as western Scotland. Eastern Ireland will be bright with some sunny spells, but increasing cloud and rain as well as stronger winds in western Ireland. Temperatures at 8 to 12C for most, 14C in western Ireland.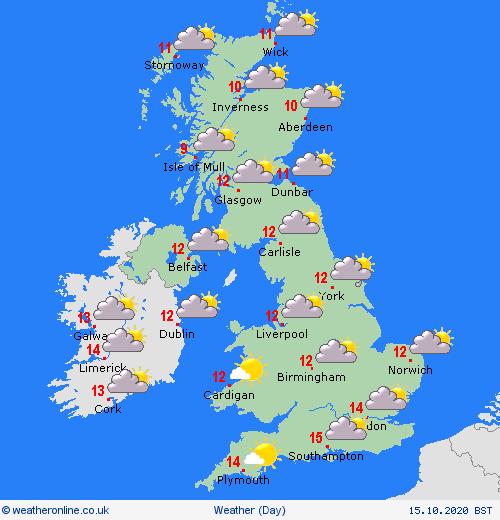 Photo: Weather Online
Europe's weather forecast
Heavy showers affecting the northern coasts of Spain today. Fair, dry and chilly in central and southern areas as wel as through most of Portugal. Heavy showers in the Balearics. Rain some of it heavy and thundery affecting Corsica and Sardinia. Further rain in central and northern Italy, fair to the south. Greece will be fair with plenty of sunshine here. Staying fair across Turkey.
Cold in France. There will be showers in the far south. Rain in northern France, heavy in the northeast. Windy and cold across much of the Low Countries and Germany with periods of showery rain. Further rai and wind in northern Poland, fair central and eastern Poland. Hungary should be fair with sunny spells as well be Austria. Switzerland will have some showers in the west.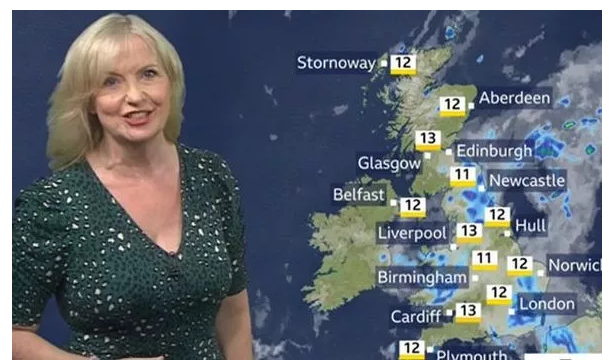 BBC Weather: Carol Kirkwood warns of freezing plunge for UK as frost ices over country (Image: BBC)
Windy through Denmark but fair with sunny spells. Windy too across the south of Sweden. Showers in the Baltic States and staying windy. Fair for Norway with sunny spells. Staying fair in Norway with sunshine for many areas but some showers in northern Norway.
On October 15
According to Weather Online, showers in northern Spain. Dry and fair elsewhere with good spells of sunshine in Portugal and Spain. Scattered showers in the Balearics. Heavy showers and thunderstorms are possible in Italy. Greece and Turkey should be fair with lots of sunshine and warm conditions here.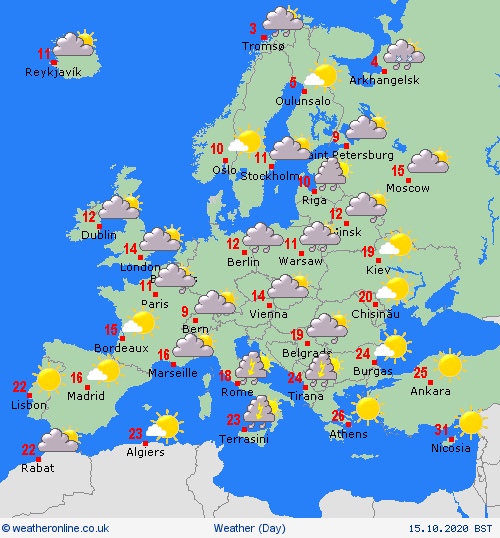 Photo: Weather Online
Chilly in France with a mix of sunshine and showers. Staying chilly over the Low Countries and northern Germany, Heavy showers in central and southern Germany. Poland will have a mix of sunshine and showers too. Heavier rain in Austria, Hungary and Switzerland.
Cold and breezy with sunny spells in Denmark. Breezy with some sunshine across Sweden/ Bright in the Baltic States and dry but breezy and bright for Finland. Sweden should also be bright with sunny spells although some showers in the north.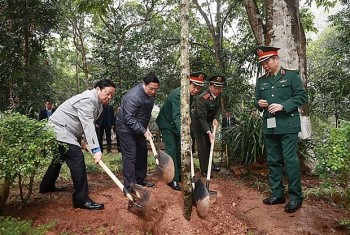 National
The Prime Minister launches a tree planting festival in Ba Vi on New Year of Cat.