UK and Europe weather forecast latest, October 17: Cold temperatures to cover Britain with dry weekend
Britain is forecasted to cope with frost air covering across the country with dry conditions for this weekend. Meanwhile, heaviest rain shifting more over eastern Europe.
UK's weather forecast
According to the Met Office this weekend the weather is expected to be "mostly dry" with some "light rain or showers", particularly in central and northeastern parts of the UK. But from the start of next week, UK weather maps show there is a lot of wet weather in the forecast.
This weekend the Met Office forecast it will be "rather chilly" for much of the UK.
WXCHARTS maximum temperature maps show the hottest temperatures in Wales and England on Saturday will be around 10 to 11C. In Scotland, maximum temperatures will hover between 5 and 8C, and temperatures could reach around 9C in Northern Ireland.
On Sunday the Met Office forecast: "Isolated showers but most places dry and bright Sunday."
But next week the weather takes a turn towards wet and rainy weather, according to the latest forecasts. The Netweather long-range forecast states a "clash of air masses" and "low pressure" will set the tone for next week's weather.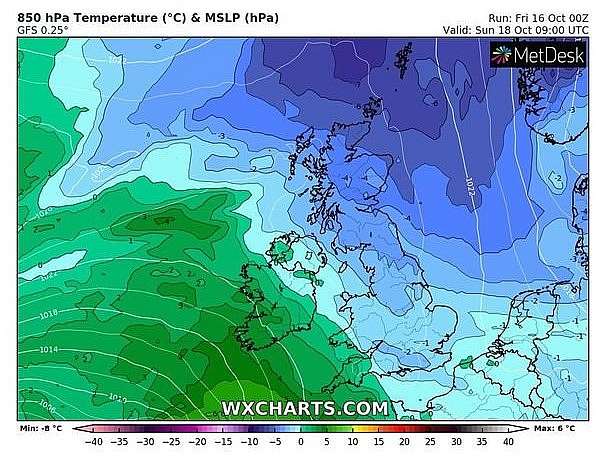 UK weather: This weekend will be rather cold for most places in the UK (Image: WXCHARTS)
The forecast reads: "Extensive blocking to the north of Britain, Arctic air coming down from the north and warm tropical maritime air coming up from the south-west will result in a clash of air masses and in low pressure dominating the weather."
"The 19th will probably be a relatively quiet and fairly cold day with plenty of dry sunny weather for most western parts of the UK, but with cloudier skies and some scattered showers near North Sea coasts."
The Netweather forecast states to expect "very wet weather" in some parts of the UK in the early half of next week.
The forecast continues: "However, some very wet weather is expected to spread in from the south-west between the 19th and 21st, possibly reaching the far south-west on the 19th and spreading across many other parts of the UK on the 20th and 21st."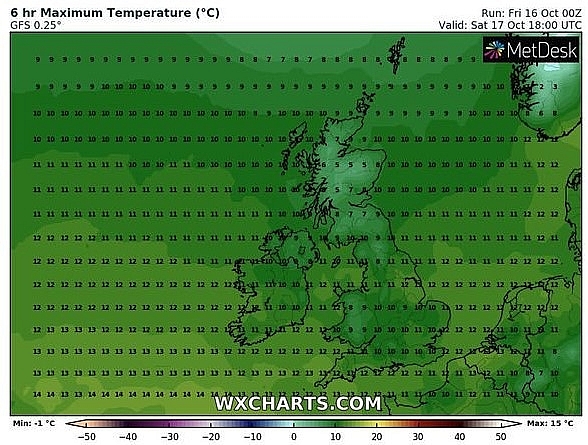 UK weather: Maximum temperature forecast for Saturday, October 17 (Image: WXCHARTS)
"There is uncertainty over how far north the rain will get, with a significant chance of the northern blocking holding strong enough to the north to keep the north and west of Scotland mostly dry and quite cold."
Despite the rain, during this time the temperatures across much of the UK could be a bit a bit warmer than expected.
Netweather add: "Temperatures will rise above the seasonal normal in most parts of England and Wales and Northern Ireland, especially by night, but in Scotland it will remain colder than average."
WXCHARTS maps, which use data from MetDesk, also show a wet picture for the week ahead. While some parts of the UK may see some rain over the weekend, rainfall totals really start to build up from Monday next week.
WXCHARTS total accumulation rainfall maps show some parts of Scotland and southern England could see 42mm (1.7inches) of rain between now and Friday, October 23.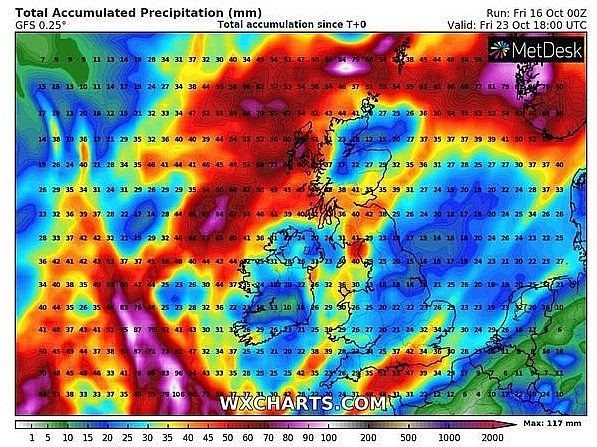 UK weather: Total accumulated rainfall totals between October 16 and October 23 (Image: WXCHARTS)
During this time much of England and Wales is expected to see between 20 and 25mm of rainfall.
Winter overview maps also suggest rain is on course for the UK, with most of England and Wales forecast to see rain on Tuesday. In their outlook for Sunday to Tuesday, the Met Office predicts that following the weekend there will be "outbreaks of rain".
The outbreaks of rain could be "heavy in places" affecting the whole of the UK over Monday and Tuesday.
On Saturday 17
A slack pressure flow over the UK and Ireland on Saturday. There will be areas of broken cloud with plenty of dry conditions about. Some showers still affecting eastern areas and the far north of Scotland. Cloud and some outbreaks of rain in southern Ireland and southwest England. Some sunshine to come in western Scotland and perhaps western parts of Wales. Highs at 9 to 13C.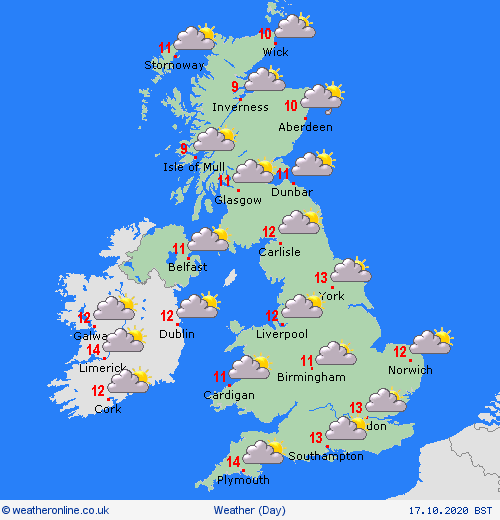 Photo: Weather Online
Europe's weather forecast
According Weather Online, plenty of sunshine across Spain and Portugalon Friday. The Balearics will also be dry with more sunshine here. Showers will affect Italy although sunny spells in between. Greece should be mostly dry and sunny. Turkey will also be dry with plenty of sunshine.
France will have a dry day once morning mist and fog has cleared. Dry too across the low countries and western parts of Germany. The far east of Germany will have outbreaks of rain and these sharp bursts of rain will be affecting much of Poland. Hungry should be mostly dry, although rain and showers effect Austria and Switzerland.
UK weather: Much of England and Wales is forecast to see rain on Tuesday, October 20 (Image: WXCHARTS)
Denmark will be dry with sunny spells. Some showers affect Southeast Sweden, but much of the rest of Sweden will be dry with sunshine as will be Norway, although rain and snow affect the far north. The Baltic states will be dry with sunny spells and it should stay dry but rather cool in Finland.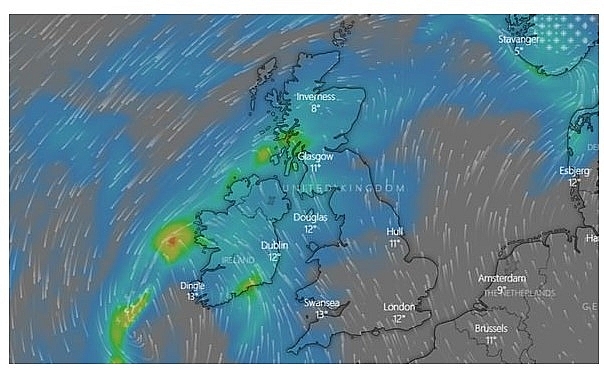 UK weather: Rain forecast map for Monday, October 19 (Image: WINDY)
On October 17
Another largely dry and fine day across Spain and Portugal, however, there could be more in the way of cloud about for northern and northwestern areas. Sunny spells but also a few scattered showers about across the Balearics. Sunny spells and showers still for Italy. Rain clearing eastern areas of Greece through the morning and will push on into western Turkey during the afternoon. Eastern parts of Turkey will remain largely dry.
A dry day over France once the mist and fog patches lift. Largely dry for the Low Countries as well as Germany but with some pesky showers about. Sunny spells and showers affecting Austria as well as Switzerland. Showers or even longer spells of rain across the Balkan States. Somewhat unsettled over eastern Europe as low pressure moves through here bringing spells of rain to some places.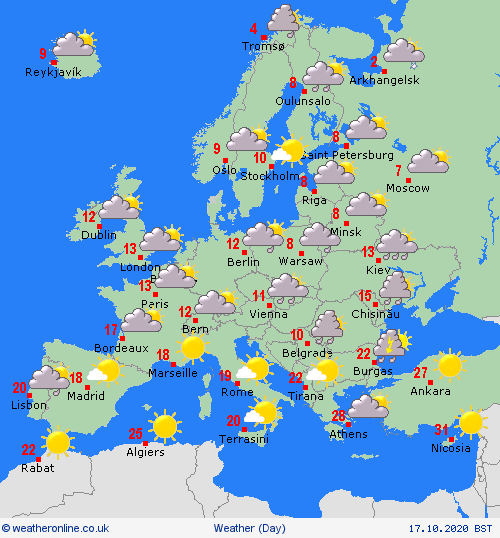 Photo: Weather Online
Turning cooler through the day on Saturday across Norway and Sweden with rain spreding from north to more central areas. Southern areas staying driest. Rain too affecting northern and central Finland and reaching parts of south Finland by the end of the day. Mainly dry with sunny spells but with some showers through the Baltic States.