UK and Europe weather forecast latest, October 18: Temperatures drop towards freezing conditions for Britain
Britain is forecasted to face with freezing conditions as temperatures plunge over this weekend while low pressure brings heavy rain to parts of eastern Europe.
UK's weather forecast
THE latest BBC Weather forecast shows UK weekend temperatures drop towards freezing conditions following an Arctic blast, ahead of torrential rain and a "touch of warmth" by Monday.
The UK will face a dramatic drop in temperatures this weekend, according to the latest BBC Weather forecast. BBC meteorologist Ben Rich warned BBC Breakfast viewers this weekend "will feel quite cold" as temperatures struggle across the country with "cloud streaming in from the north". This comes after new figures revealed that Storm Alex brought enough rain earlier this month to fill the entire Loch Ness.
Ben Rich told BBC Breakfast viewers: "It is not a bad looking weekend, it won't disrupt too many plans - but it will be quite cloudy and cold."
"Temperatures are not particularly inspiring on Saturday, ranging from 9C to 13C. There will then be a lot of cloud streaming in from the north overnight. Temperatures around 5C to 8C on Sunday morning, although some spots in Scotland particularly will get quite close to freezing."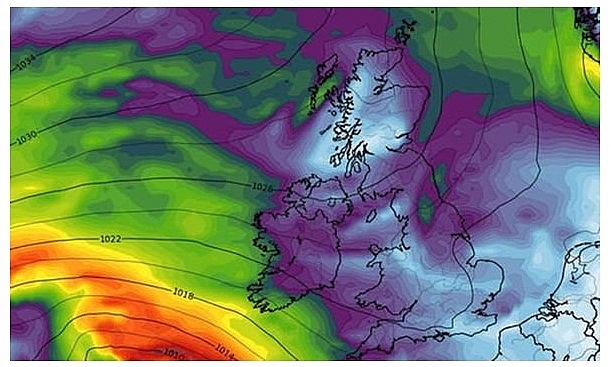 Overall temperatures will struggle to get into double digits today and tomorrow (Image: IG)
He said that Sunday will also be "another cloudy day" although a frontal system will bring in some patches of rain.
Mr Rich added: "The winds will be very light, but those temperatures will still struggle, particularly the further north you are. For Shetlands, temperatures might not get higher than 5C or 6C."
"This comes ahead of quite a big change as we head into next week. It will turn much more unsettled on Monday. We have low pressure pushing up from the southwest and another low pressure front pushing from the northwest."
"That is a recipe for more cloud and outbreaks of rain. Monday will also be quite a windy day, with the wind coming up from the south which could mean it will feel warmer."
He pointed out to host Naga Munchetty that while "it hasn't felt that cold in October yet, it is going to feel quite cool this weekend".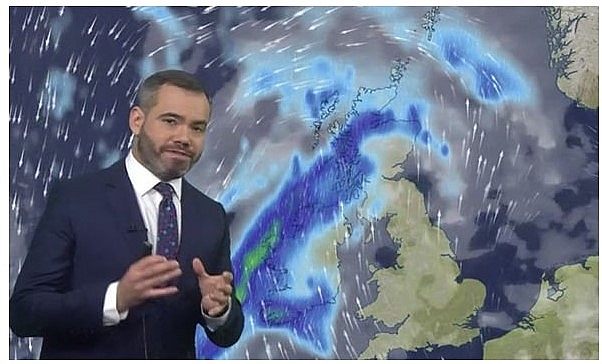 Rich said that temperatures will be a bit below the average today (Image: BBC)
Mr Rich said that temperatures will be a bit below average today but that next week, temperatures like the 17C expected in the south is a above the October average.
Overall temperatures will struggle to get into double digits today and tomorrow, with thermometers dropping as low as 5C in some parts of the country.
The Met Office has also warned of rain and frost over the coming week due to "nagging" winds.
There are currently three flood alerts in place, at River Evenlode, River Ray and the Tidal Thames riverside from Putney Bridge to Teddington Weir.
On October 18
According to Weather Online, pressure lowers from the west on Sunday with higher pressure squeezed to the southeast. A largely dry but chilly start with isolated patches of mist and fog possible in more favoured spots. A mostly cloudy day across the country with outbreaks of rain developing over parts of Ireland, Northern Ireland and Scotland as well as the northwest of England later. The best of any sun to the south. High temperatures at 8 to 13C.
Photo: Weather Online
Europe's weather forecast
Another largely dry and fine day across Spain and Portugal though patchy outbreaks of light rain affect far western areas. Sunny spells but also a few scattered showers about across the Balearics. Sunny spells and showers still for Italy. Rain clearing eastern areas of Greece through the morning and moving into western Turkey during the afternoon. Eastern parts of Turkey will remain largely dry.
A dry day over France once the mist and fog patches lift. Largely dry for the Low Countries as well as Germany but with isolated showers about. Sunny spells and showers affecting Austria as well as Switzerland. Somewhat unsettled over eastern Europe as low pressure moves through bringing spells of rain to parts of Romania, Ukraine, Moldova, Belarus and southern Poland.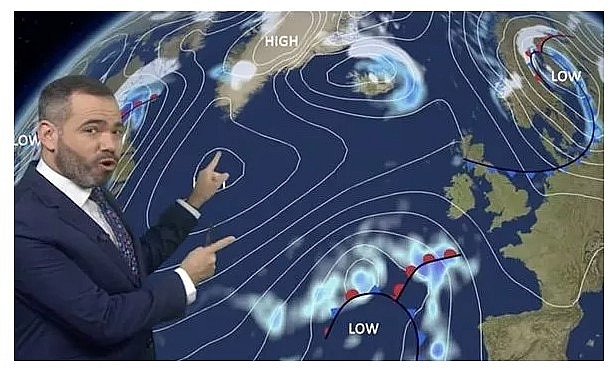 The UK will face a dramatic drop in temperatures this weekend, according to the latest BBC forecast (Image: BBC)
Turning cooler through the day on Saturday across Norway and Sweden with rain spreding from north to more central areas. Southern areas staying driest. Rain too affecting northern and central Finland and reaching parts of south Finland by the end of the day. Mainly dry with sunny spells but with some showers through the Baltic States and Denmark.
On October 18
A dry and fair day for Portugal, Spain and the Balearic Islands. The best of the sun to the east. Sunny spells and scattered showers affect Corsica, Sardinia, Sicily and Italy while Greece stays largely dry and bright. Patchy rain and cloud affect the western half of Turkey while the east is dry and sunny, Weather Online reported.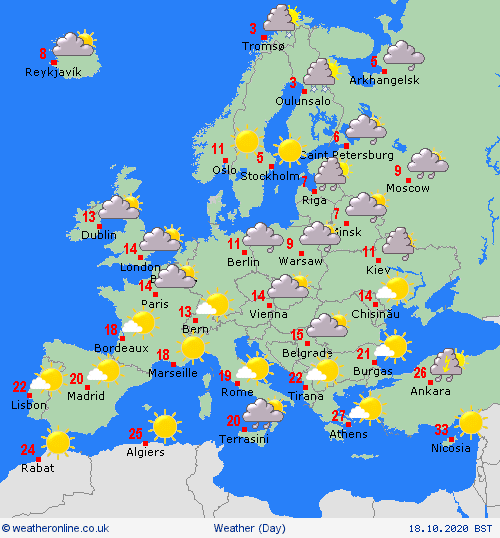 Photo: Weather Online
Mostly dry and fair for France. Cloudier to the north with isolated showers. Mostly cloudy for the Low Countries and Germany with patchy, light rain for northern areas. Dry and fine for Switzerland. Cloudy for Poland with a band of rain sweeping southeastward over the country. Cloudy too for the Czech Republic, Austria, Hungary and Slovakia with scattered showers.
Mixed for Denmark with sunny spells and scattered showers. A band of rain clears east over the Baltic States to leave a sunny afternoon here with isolated showers. An area of rain and snow swirls over northern Sweden and much of Finland while southern Sweden stays dry and fine. Dry and fine for much of Norway though showers affect coastal regions.