UK and Europe weather forecast latest, October 23: Unexpected sunshine comes in Britain as heavy showers escape
Britain is forecasted to have unexpected sunshine as showers escape. Meanwhile, rain and showers set to smash in western Europe, drier and warmer to hit in the east.
UK's weather forecast
Carol Kirkwood has predicted much more settled conditions for the UK today as the heavy rain plaguing the country finally pushes off into the North Sea and sunny spells are forecast to make an appearance.
Today's conditions will be drier for most with sunny spells, according to meteorologist Carol Kirkwood. The weather presenter told BBC Breakfast that first of all there will be some heavy rain across parts of northern and eastern Scotland. Then a "little ridge" will build in which means things are going to settle down for many across the country.
She told viewers: "The rain will continue to pull away to the North Sea. "We still have gusty winds for the west at the moment, which will ease later across the east."
"We'e got some showers dotted around the northern half of northern England, and a few sinking south across southern England. But they're the exception, rather than the rule."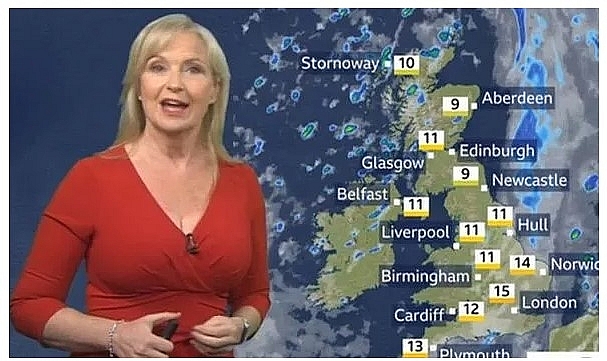 BBC Weather: Carol Kirkwood forecasts unexpected sunny bursts as heavy showers escape UK (Image: BBC)
Ms Kirkwood continued: "So there'll be a lot of dry weather and sunshine. Still quite mild in the far southeast, but temperatures falling away compared to yesterday."
"Yesterday, in Edinburgh it was the warmest part of the country at 17.3 degrees. For the temperature today we're looking at only 10 degrees."
The BBC presenter added: "Through this evening and overnight, there will be some clear skies and still a few showers around. Then we've got this next weather front coming in from the Atlantic. That's going to introduce some more rain."
Ms Kirkwood said: "Under the clear skies, the temperatures will fall away once again. It's going to be a cooler night for the bulk of the UK, away from the southeast, than we've seen for a couple of nights."
"On Friday, our weather fronts continue to move slowly from the west to the east, weakening as they do so. Quite blustery winds will come in behind them and also a fair few showers."
"We'll start with one or two showers which will push into the North Sea as our weather front approaches from the west."
'Yesterday, in Edinburgh it was the warmest part of the country at 17.3 degrees.' (Image: BBC)
On October 23
According to Weather Online, a front will bring a band of rain eastwards through eastern Scotland and much of northern and western England and Wales on Friday morning. Brighter weather follows into Ireland with sunshine and showers. More persistent showers and some rain in the far west of Scotland. A few showers in southeast England although drier overall in the east. This afternoon sees rain clearing eastern England. The brighter and drier weather reaches much of western England and Wales as well as Ireland. A few showers over western coasts and hills. Thicker cloud and rain reaching southwest England later. Highs at 9 to 12C.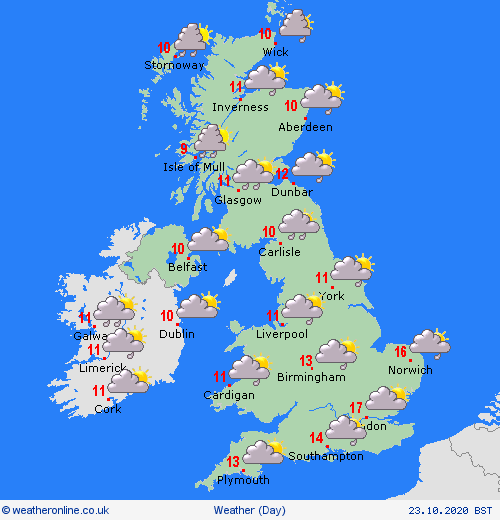 Photo: Weather Online
Europe's weather forecast
An unsettled day over Spain and Portugal. Plenty of rain and showers here, these heavy in the south and east. Lots of sunshine and dry weather through the Balearics, Corsica and Sardinia. More sunshine to come in Italy, although some mist or fog in the morning. A few showers for southern Greece and southwest Turkey. Drier elsewhere across Greece and Turkey.
Showery rain affects much of central and northern France. Drier in the south. The showers rain across the Low Countries and northern Germany. Fine in Poland with lots of sunny spells and dry weather. Plenty of sunshine for Hungary as well as across Austria and Switzerland.
Breezy with showers in Denmark. Staying breezy with some sunny spells across southern Sweden. Another breezy day in the Baltic States, wet weather in Finland, some of it heavy. This will continue over northern Sweden but the south should be dry with sunshine. Showers in southern Norway but dry to the north.
'The rain will continue to pull away to the North Sea.' (Image: BBC)
On October 23
A mostly fair day in Spain and Portugal although there will be a few showers. Fair for Sardinia but a few showers in Corsica. Italy will be fair with lots of sunshine and there will be some showers in the far north of Italy. Greece will be dry with sunshine and it should be staying dry in Turkey too with more sunshine here.
Showers and cloud in northwest France. Further rai and showers in the southeast of France but fair in central areas. Rain in the Low Countries. Germany should be mainly fair with sunny spells but some showers in the east. Further showers in western Poland but fair in the east. Hungary should have a fair amount of sunshine. Hungary will be fair in the east but rain in the west. Switzerland will have heavy periods of rain and a risk of thunderstorms.
Photo: Weather Online
Breezy with some showers in Denmark. Windy too through the Baltic States. Showers in Finland but some sunny spells here too. Further spells of sunshine in much of Sweden. Rain in Norway but fair in central and northern Norway.