UK and Europe weather forecast latest, September 25: Temperatures drop as gusts bring first frost to slap Britain
Temperatures in Britain set to plummet as fierce winds are forecasted to bring frost to slap. Meanwhile, cooler and unsettled conditions cover across most of Europe, heavy rain in central and southern areas.
UK's weather forecast
According to Express, The UK can expect its first frost of the season in northern parts of the country. Temperatures are plummeting across the country, with some areas falling into the single figures.
Tom Morgan, Met Office spokesman, said that most of Britain "is now seeing a marked change in weather". He added how temperatures will plummet from the mid-20s to 11C this week.
The UK will see below average temperatures for this time of the year with risks of frost. Mr Morgan said: "The next few days will be dominated by low pressure, with gales in the south west and rain sweeping across most parts. of the UK."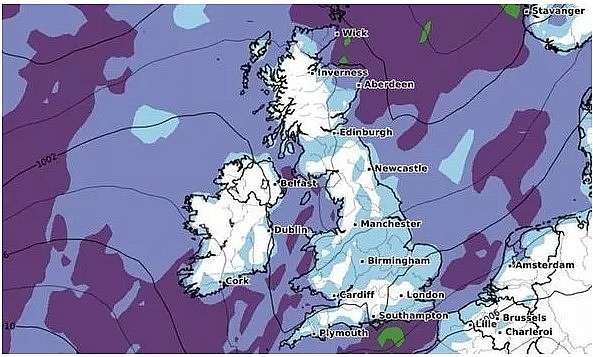 Britain will be hit by strong gale force winds and heavy rain on Thursday (Image: WXCHARTS)
He added that on Wednesday it "was more like autumn with temperatures in north western areas dropping to 11C."
But on today Britain could see its first frost of the season, according to Mr Morgan. He said Thursday will bring "strong winds and gales in south Wales and south west England". He added: "There could be severe gales with the potential for trees to come down."
An Atlantic low is bringing in the cold temperatures and heavy rain.
Jo Farrow, Netweather Meteorologist, said: "By Thursday an Atlantic low will be throwing further bands of showers over the UK with strengthening winds and gales for Ireland and south west Britain."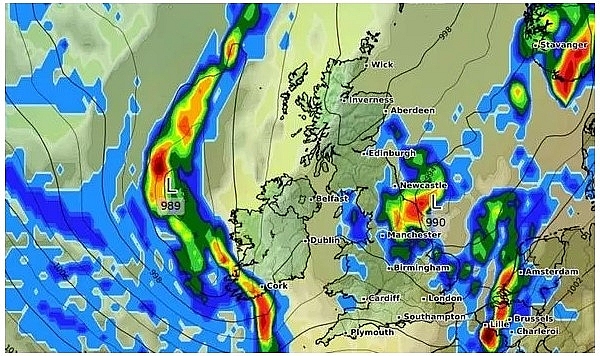 Heavy rain is set to sweep over most of the UK on Thursday (Image: WXCHARTS)
"Then colder air from the north to end the working week. This brings the risk of frost, even wintriness in showers over the highest northern peaks."
Clare Nasir, Met Office Meteorologist, said: "As we head through to Thursday certainly temperatures in single figures."
Heavy rain is set to sweep over most of the UK on Thursday. Ms Nasir added: "The rain will stall across northern counties of England, clipping the southern and eastern portion of Northern Ireland."
"And it will hang around central and northern parts of Wales. To the south of that, blustery showers which will track in on a strong wind and those showers could intensify across the southeast later on in the day."
Temperatures are plummeting across the country, with some areas falling into the single figures (Image: WXCHARTS)
By Friday, forecasters have warned that Britons will need to wear coats and hats as strong winds continue to batter the country.
Ms Farrow said: "By Friday you will be noticing the wind. A fresh chilly north to north west wind. It does ease off slowly during Friday evening but before 10pm it will feel cold, you'll need a coat and hat."
On September 25
Low-pressure is in the North Sea on Friday. This brings a strong north to north-westerly wind through eastern Scotland and eastern England, together with some showers along the coast, Weather Online reported.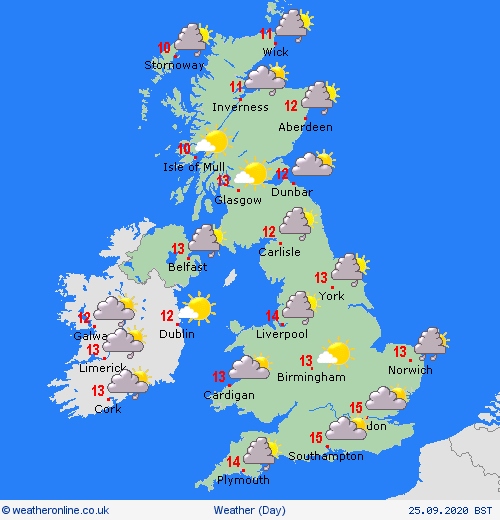 Photo: Weather Online
Much brighter to the west with long periods of sunshine. Some showers for northern and western Scotland as well as western Wales. Sunshine and scattered showers across Ireland. All areas are going to be feeling cold, especially in the wind. Highs at 9C in northern Scotland, 13C in southern England.
Europe's weather forecast
Heavy showers over northern coasts of Spain. Bright for much of Portugal but some rain in the south. More rain in central parts of Spain, although the south and much of the east is dry and bright. Showers for Corsica, dry in Sardinia.
Scattered showers in northern Italy, fair to the south. Heavier showers in Greece but fine and dry with plenty of sunshine in Turkey.
The UK will see below average temperatures for this time of the year with risks of frost (Image: WXCHARTS)
Unsettled in France with wind and heavy showers or rain in much of France. Bright in the Low Countries and dry in much of Germany. Poland will be bright and mostly dry. Some showers in western Hungary with heavier showers or rain affecting Austria and Switzerland.
Bright and breezy in Denmark. heavy rain affecting the southern half of Norway as well as southern Sweden. Bright in the Baltic States and staying dry here. Staying mostly dry in Finland as well. Some spots of rain in northern Sweden but brighter in the north of Norway.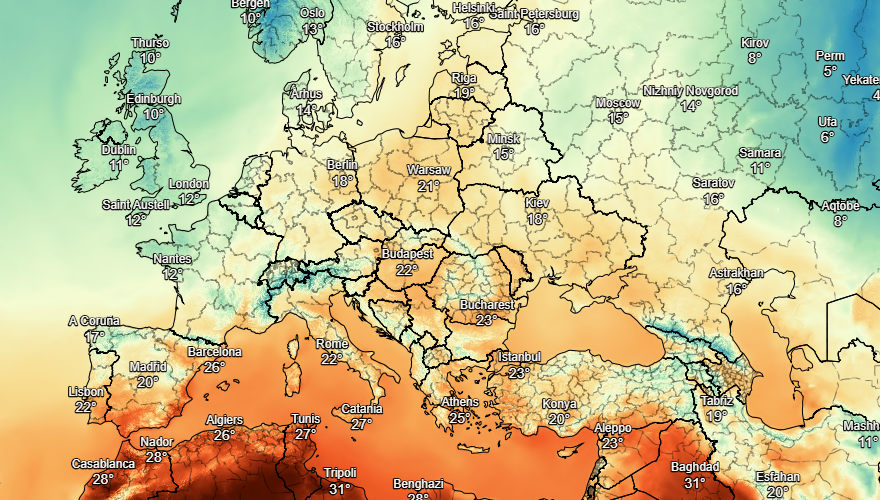 Photo: Stirimeteo
On September 25
Showers along the northern coasts of Spain. Fair across Portugal and the rest of Spain with lots of sunshine. Unsettled across Italy, Corsica and Sardinia with rain and showers, some of them heavy. Fair in Greece with plenty of sunshine and warm here too. More sunshine in western Turkey, some showers in the east.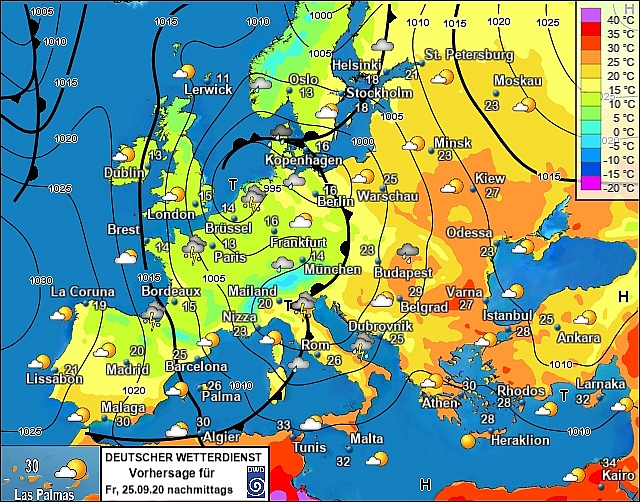 Photo: Stirimeteo
Cold in France with a mix of sunny spells and showers. Heavy showers, a risk of thundery and windy weather in the Low Countries. Western Germany will have heavier showers and cooler weather too. Further showers in southern Germany. Wet through Hungary and Austria as well as Switzerland with heavy periods of rain and feeling cold too.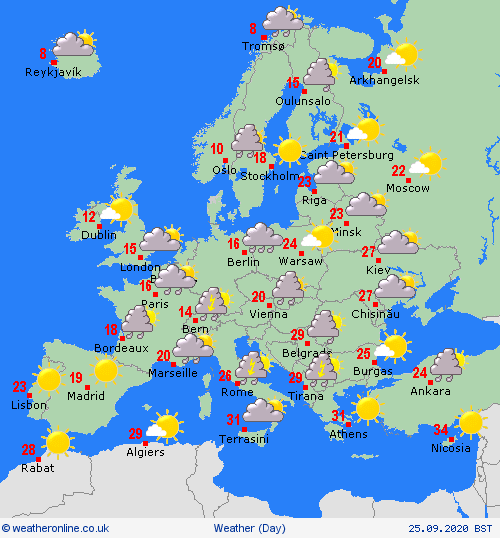 Photo: Weather Online
Sunny spells and scattered showers in Denmark. Heavy periods of rain in southern Norway and southern Sweden. Breezy in the Baltic States with some showers. Fair for the Baltic States. Staying fair in northern Sweden and northern Norway with more spells of sunshine but cooler weather here as well.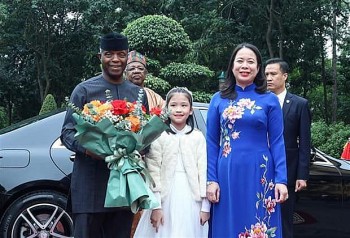 National
The two countries have strived to raise their bilateral trade to over USD 500 million and become important trade partners of each other in respective regions.