UK and Europe weather forecast latest, September 23: Britain set to bear a sharp plummet with nowhere warmer than around 16C
Temperature in Britain is forecasted to bear a sharp plummet with nowhere expected to be warmer than around 16C. Meanwhile, Europe prepares for big weather changes with rough storms battering across the continent.
UK's weather forecast
According to Express, UK temperatures are set to plummet this week after Britons enjoy just one more day of sunshine and heat.
Some places across the UK including London could see temperatures as high as 26 degrees today, the Met Office has said. However, by Thursday this maximum temperature will change drastically, with nowhere in the country expected to be any warmer than around 16 degrees.
Some areas in Britain could even start to see frost forming "widely" on patches of grass towards the weekend, the Met Office warned.
Tomorrow could also mark the beginning of the end for the regular blue skies in many parts of the country as cloud builds up in the North West.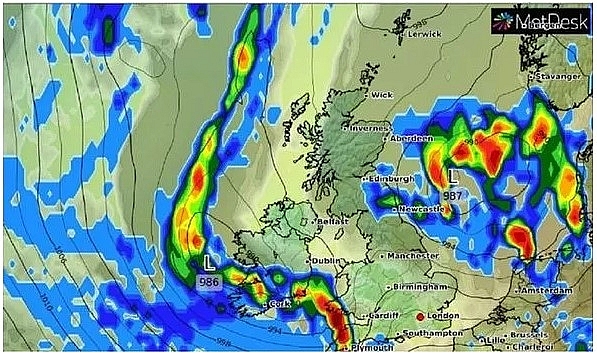 Heavy spots of rain can be seen approaching from the west between Wednesday and Thursday (Image: WX Charts)
Met Office reporter Aidan McGivern said Britain should expect "big changes" this week as the weather transitions into the Autumn season.
He said: "We lose the warmth, it turns much cooler, and we'll see a mixture of rain or showers from the second half of the week. Additionally, by the weekend some places could experience their first frost of the season."
Weather maps show the period of warmth at the start of the week is being brought in via the jet stream which is carrying areas of low pressure away from the UK. This will leave Britain with a high-pressure ridge and the sunshine and high temperatures due today.
Tuesday morning is likely to see some potentially heavy rain in parts of Scotland while cloud builds up in the North West, forecasts show.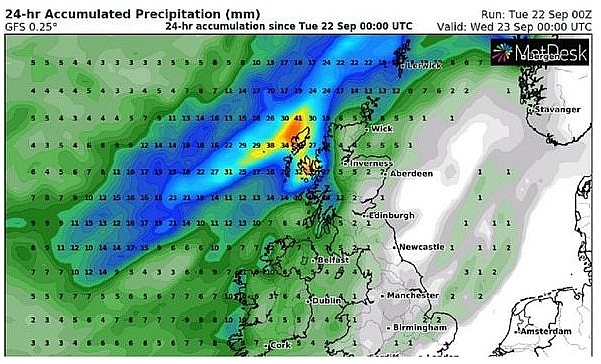 Rain could hit the northwest of Scotland between Tuesday and Wednesday (Image: WX Charts)
Further south, light wind could lead to foggy conditions to start the day off across parts of central and Southern England.
This is expected to lift in the late morning before temperatures soar throughout the day. However, Mr McGivern warned of yet more unsettled conditions further north. He said: "For the northwest of Scotland, that's where the persistent wet weather will still be."
"By Tuesday afternoon, it's just starting to appear into parts of Northern Ireland as well, and that's going to make it feel cool with the breeze picking up."
"During Tuesday night we'll see that wet weather sweep across the rest of Scotland, Northern Ireland, and then push into northern England by around midnight."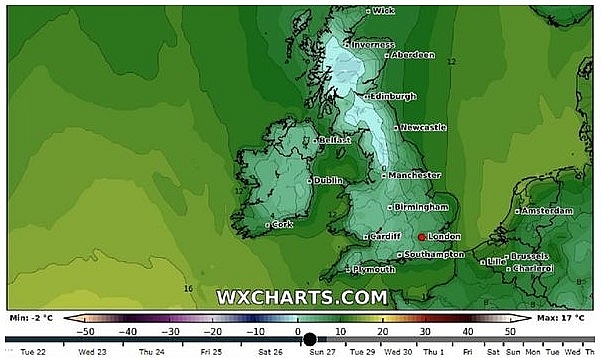 Particularly cold temperatures are predicted for Sunday on this chart (Image: WX Charts)
Wednesday day time is predicted to be "dull and damp" for much of the midlands, central southern England and East Anglia.
Showers will only worsen as the week goes on, with heavy rains expected on Thursday with the possible exception of Scotland and Northern Ireland.
It is thought the weekend could see a drier day come Saturday, though temperatures are not expected to rise much.
Meanwhile, the BBC's Kate Kinsella said from Wednesday to Thursday low pressure from the West would be "flinging" towards the British Isles, bringing "some stronger winds, some more rain, and cold fronts."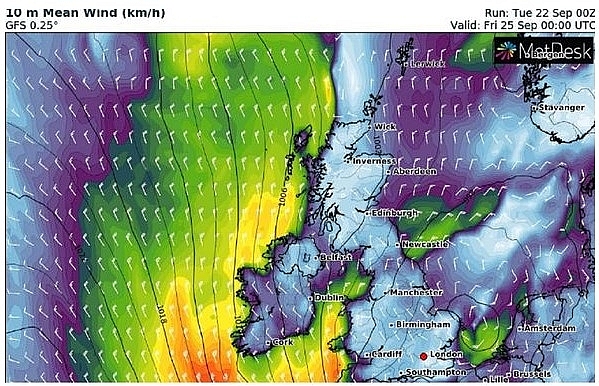 Unsettled wind shown around UK coasts this week (Image: WX Charts)
She added: "That indicated that the temperature is actually going to get that bit cooler especially as we head towards the end of the week. So tomorrow, perhaps the last of the really warm weather."
"Come Friday, we pick up a northerly breeze and that will really start to take the edge off the temperatures."
On September 23
According to Weather Online, a cloudy and wet morning across central and east England as heavier rain moves through here. Sunny spells and showers elsewhere.
In the afternoon rain still affecting parts of eastern England but largely dry across the rest of England and much of Wales as well as eastern Scotland.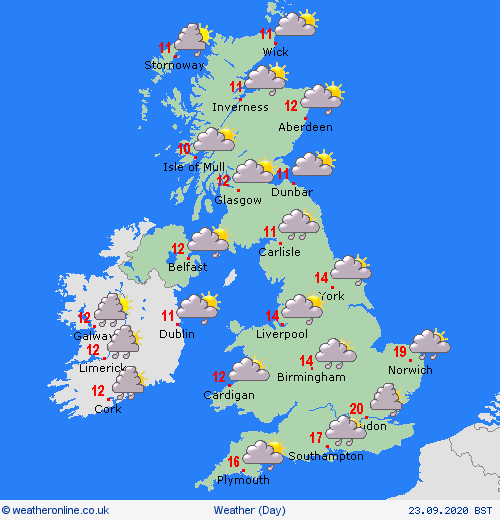 Photo: Weather Online
Further rain arrives over western Ireland later. Strengthening winds here too. A cooler day for all with high temperatures at 19 or 20C in the southeast; ranging between 14 to 17C across southern and central England; and ranging between 10 to 13C further north and west.
Europe's weather forecast
BBC Weather forecast a decided turn in conditions across Europe as cooler air enters the continent, bringing "big storms", the risk of flash flooding and plummeting temperatures with it too.
Some "big weather changes" are on the way across the western side of Europe, according to BBC meteorologist Nick Miller. Mr Miller noted that it will turn much cooler for many in the days ahead. He also said that a strip of cloud will sink its way southwards in the continent.
Mr Miller told viewers: "Behind that weather system, cooler air will arrive. Ahead of that there's still some warmth, but there's also still some big storms around."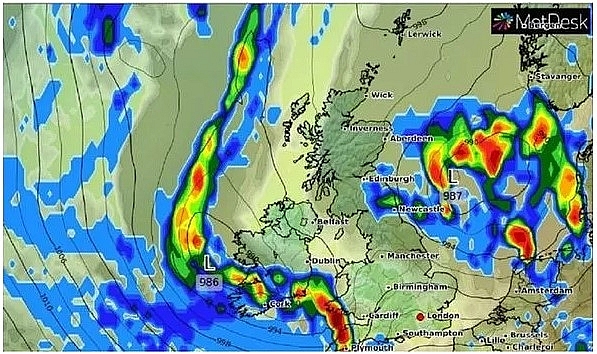 BBC Weather: 'Rough' storms battle Europe as temperatures plunge over 10 degrees lower (Image: WXCHARTS)
"These will appear through Tuesday through southern France into the Alps and parts of north and west Italy. Wherever these storms are, there is a risk of getting some flash flooding."
He continued: "Some places, particularly in France of course, have had some very rough weather over the past few days with that."
"Towards Turkey and across much of the eastern side of Europe though, it is fine and sunny for now."
"Weather systems will also be pushing into parts of Scandinavia. So initially into Norway, we're going to see a lot of rain."
The weather presenter added: "Winds will be picking up with conditions looking very windy across parts of Finland over the next couple of days."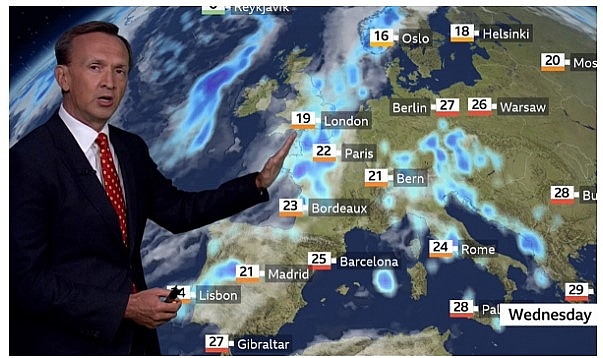 'Wherever these storms are, there is a risk of getting some flash flooding.' (Image: BBC)
"For Wednesday, there'll still be some storms around parts of Italy. This will be impacting more of the Balkans at this stage."
Mr Miller said: "That weather system is going to push its way further south and east. It of course has the cooler air behind that."
"We can see that very much for London - by Friday a high of 13 degrees. Whereas the week is starting around closer to 25. That's going to feel very different indeed. The cooler air will move in towards Berlin but some warmth will continue for Moscow, Kyiv and Athens."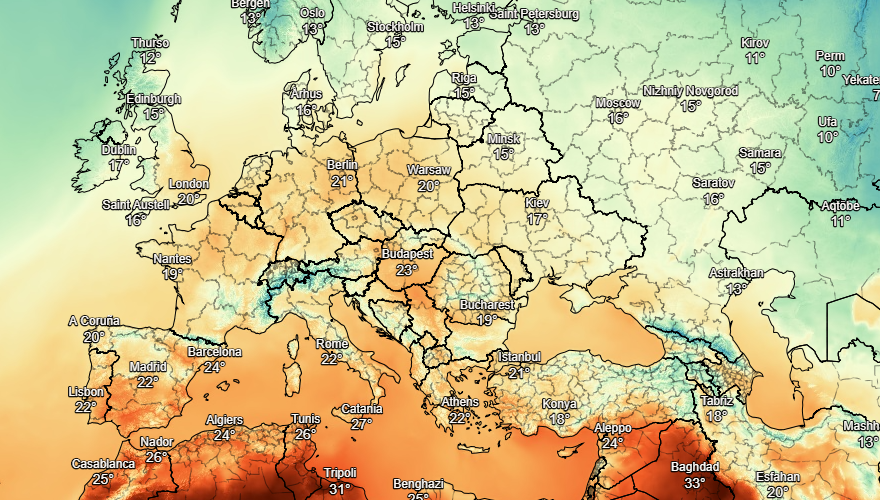 Photo: Stirimeteo
On September 23
According to Weather Online, outbreaks of rain for Portugal and western Spain on Wednesday with showers developing over northern Spain later. Staying dry and fine to the southeast. Showers continue to affect the Balearic Islands, Corsica, Sardinia, Sicily and Italy where they will largely be focussed to the west of the Appenines.
Heavy, sometimes thundery, outbreaks of rain affect the Balkans and western Greece. Cloudier for eastern Greece while Turkey should stay dry and fine.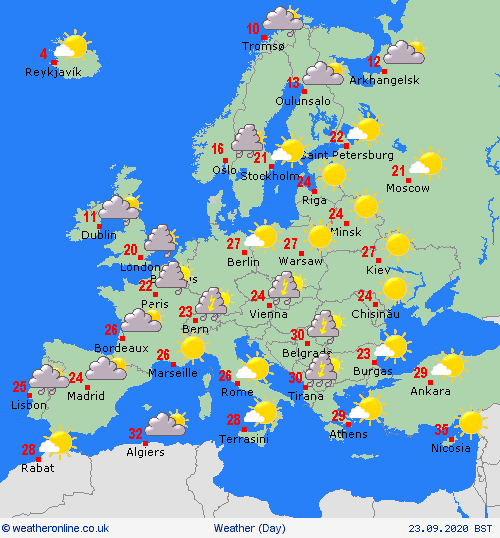 Photo: Weather Online
Outbreaks of rain spread across northwestern France and the Low Countries while afternoon showers bubble up over southern France, Switzerland, Austria, Hungary, the Czech Republic and southern Germany. Some of these will be thundery. Staying dry and fine for northern Germany as well as for Poland and much of Slovakia.
Denmark sees outbreaks of rain develop through the day, these affecting much of Norway as well as northwestern Sweden. Staying largely dry and fine for southeastern Sweden, much of Finland and the Baltic States.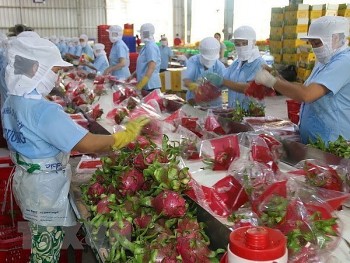 Make in Vietnam
Denmark and Vietnam strengthen cooperation in production, certification and management of organic products