UK and Europe weather forecast latest, September 16: Hot air from Africa with level 2 heat alert to bake Britain
Britain is forecasted to brace for scorching due to hot air from Africa, while temperatures will be up to 10 degrees higher than normal across Europe.
UK's weather forecast
According to Express, the UK will bake in a warm spell this week and as a result of the unseasonably hot temperatures, the Met Office has issued a Level 2 heat alert.
BBC Weather forecaster Louise Lear warned Britons hot air from Africa will continue to engulf most of the UK on Tuesday following temperatures reaching the highest level on record for September since 2016.
Whilst parts of Scotland will see temperatures drop a little, most of the country will continue to bask in up to 30C. She said: "We had the warmest September day on Monday since 2016. For many it was a case of blue skies and sunshine, it was a beautiful September afternoon."
BBC Weather: Hot air from Arica is still engulfing UK (Image: BBC)
"Jersey had the top spot with 31C, not far behind with Charlwood in Surrey and London with 29C. And the reason being this area of high pressure centred across Europe that is allowing this southerly flow to drag in some very warm air all the way from Africa."
"So we're seeing temperatures unusually high for the time of the year but things will change subtly as we go through Tuesday with weak weather fronts causing shower outbreaks for Scotland for parts of the day."
"Still relatively mild to start however, double digits across the country, but there will be some rain, not heavy persistent rain that we have seen and it will weaken as we go through the afternoon."
She added: "We keep, for many of us, dry, settled, sunny conditions, light winds and plenty of warmth to go with it."
"Temperatures again quite widely in mid to high 20s. We might see 30C perhaps nearer to East Anglia."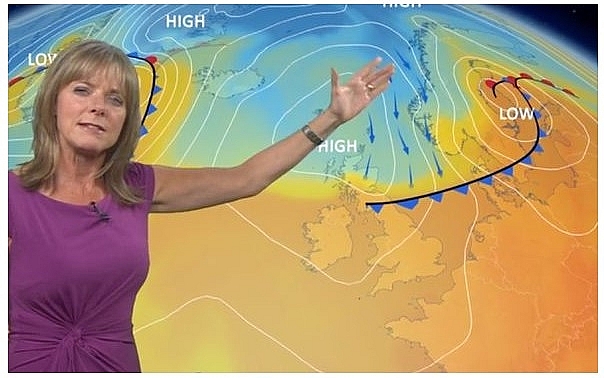 BBC Weather: Cold fronts are set to descend on UK from Wednesday (Image: BBC)
Met Office forecaster Bonnie Diamond also said sweltering temperatures are caused by a "tropical continental air pushing up from a southerly direction in combination with light winds."
The plume of heat will embrace most parts of England and Wales. In its outlook from Tuesday to Thursday, the Met Office said most places will stay "dry and warm".
The forecast read: "Many places dry and warm on Tuesday, hot across the southeast. A few showers possible in the north and west. Turning cloudier and cooler from the north Wednesday and Thursday."
However, the balmy weather is not expected to last, and weather maps show temperatures could dip to 2C in the first Autumn freeze of the season.
Weather maps from WXCHARTS show most of Scotland will have temperatures of 2C on Thursday, September 17, while northern England can expect 8C.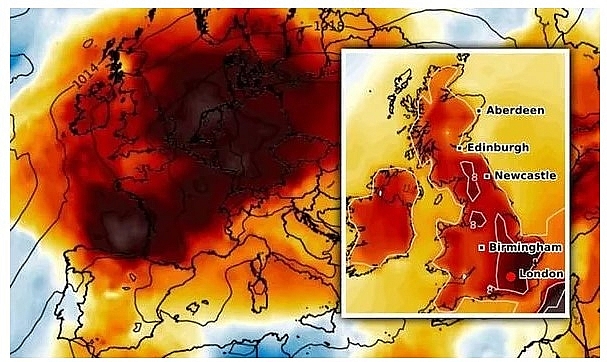 UK heatwave alert: The Met Office has issued a heat alert due to unseasonably warm temperatures (Image: WXCHARTS)
Southeastern England and Wales will see warmer temperatures of approximately 16C. In the Met Office's long-range weather forecast from September 17 to September 27, more "unsettled conditions" forecast.
The forecast said: "There is potential to see more unsettled conditions becoming more widespread across the UK at times, bringing spells of wet and windy conditions with temperatures falling closer to average."
Looking further ahead, the Met Office says confidence becomes "very low", but a changeable few weeks looks most likely.
In its forecast from September 27 to October 11: "The UK is likely to see alternating periods of relatively settled weather, bringing an increased risk of mist and fog in the morning, and more unsettled conditions, which would see typical autumnal wet and windy weather.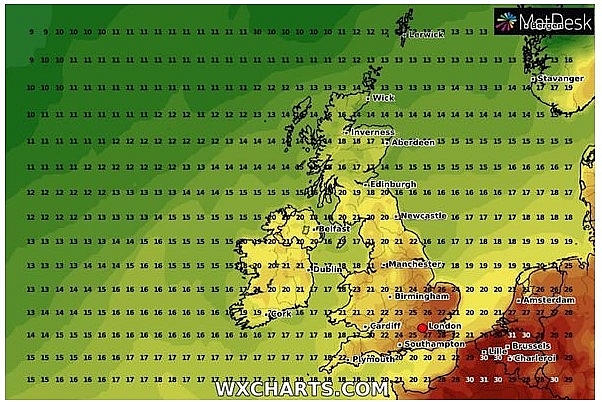 UK heatwave alert: The highest temperatures will be in the south east of England (Image: GETTY)
"Overall, temperatures are expected to average out during this period around or slightly above the normal."
"However, variations are to be expected as a result of the shifting weather systems, giving potential for both warm and cold spells."
On September 16
According to Weather Online, a weak cold front slides southwards through the UK and Ireland on Wednesday. It will bring some light rain at times but mainly just cloudy conditions as it pushes across southern Scotland in the morning and then down through England and Wales as well as Ireland in the afternoon.
Behind this high pressure starts to build across northern Scotland. Hot still in the far south with highs at 28 or 29C here. Becoming progressively cooler the further north you go with highs in northern Scotland at a much cooler 13C.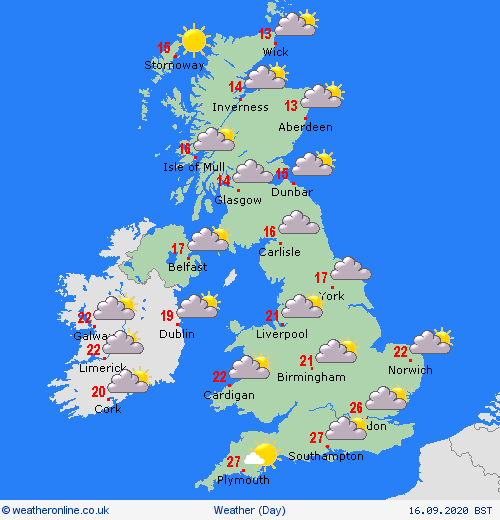 Photo: Weather Online
Europe's weather forecast
BBC Weather has warned temperatures will be up to 10 degrees higher than normal for this time of year across parts of Europe.
BBC meteorologist Sarah Keith-Lucas forecast high temperatures across Turkey, Greece and Cyprus. She added Germany, France and the United Kingdom will all expereince heat in the coming days due to an area of high pressure.
Ms Keith-Lucas said: "There is a lot of dry settled weather forecast across Europe in the coming days and heat is also going to be another story."
"Heat has been building across parts of Spain and France while pushing towards the UK as well. High pressure is keeping the temperature warm in many parts of central Europe. We have got some showers around and low pressure moving to the north of Europe."
Sarah Keith-Lucas is a meteorologist for BBC Weather (Image: BBC)
She continued: "On Tuesday it will be hot dry and sunny across Cyprus, Turkey and Greece. It will be settled and dry across the Balkans in towards central parts of Europe. Temperatures are well above average, temperatures are up to 10C above average in some places."
"That heat will push through Germany, France and some parts of the UK. Still some rain in the north west of the UK and that is going to be heading into Scandinavia too. The developing low pressure will bring windy conditions around the Baltic sea in the middle of the week."
"For many central areas that heat will ease as we head to the end of the week."
The BBC's Matt Taylor forecast that conditions will brighten for most of the UK through Tuesday despite a cloudy start across western areas.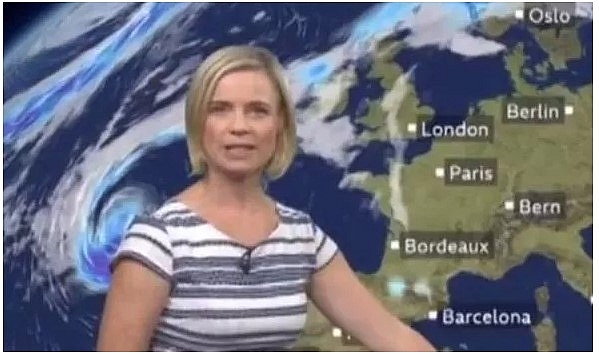 BBC Weather highlighted warm temperatures across Europe (Image: BBC)
Temperatures will slowly start to return to their seasonal average as a northeasterly moves in across the UK, bringing thermometers down to 12C in some areas.
The BBC Weather forecaster said: "Into tomorrow, there will be more cloud generally, particularly in western areas but there's not going to be as much rain."
"Here it could be actually a little more brighter tomorrow afternoon and it will be a bit warmer."
"But this all changes as we go into Wednesday, we switch our wind round for a northeasterly, that will bring low cloud across eastern parts of Scotland, northeast England, there will be some drizzle to go with that."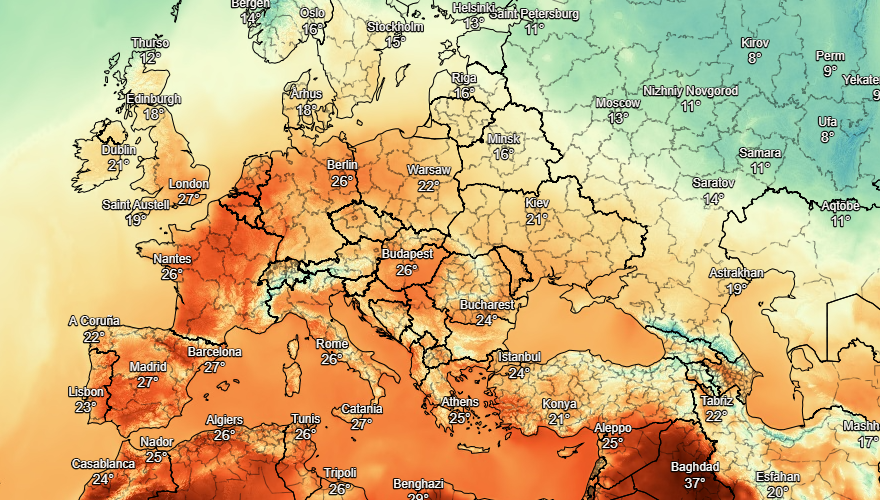 Photo: Stirimeteo
"Largely dry and bright, still around 24C in the east and south of England but it's going to be around 12C to 13C across some parts of Scotland. So after a brief upsurge in temperatures, they will be down again."
On September 16
According to Weather Online, a cloudier day for much of Iberia as an area of low pressure lies just west of the peninsula. Outbreaks of rain spread across Portugal and southern Spain later in the day. Staying mostly dry and bright for the Balearic Islands, Corsica, Sardinia and Italy though afternoon thunderstorms may bubble up here. Dry, very warm and sunny for Greece and Turkey.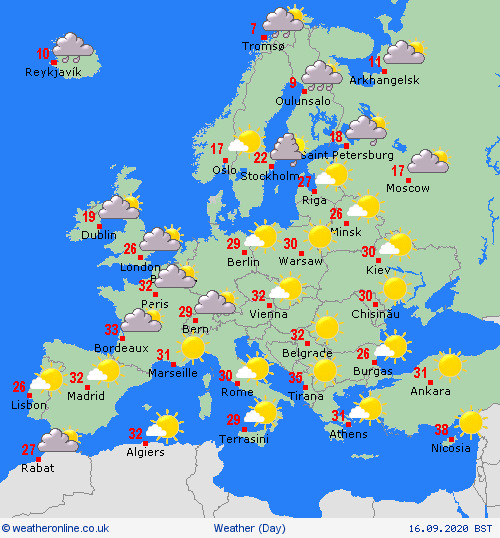 Photo: Weather Online
Although pressure generally stays high over much of central Europe, it will be a cloudier day for most countries. There will still be some good spells of sunshine across France, the Low Countries, Germany, Poland, Switzerland, Austria, the Czech Republic, Hungary and Slovakia. Afternoon showers are also expected to develop, these locally thundery, especially over the Alpine regions.
An area of low pressure passes eastward over Norway, Sweden and Finland on Wednesday bringing outbreaks of rain and strong winds to southern Norway, central Sweden and much of Finland later. This may fall as snow over higher ground in Norway for a time. Staying dry but rather cloudy for Denmark and southern Sweden. Starting dry and fair for the Baltic States but patchy light rain and showers develop here later.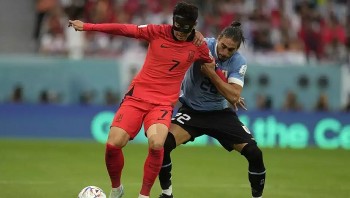 World
Both South Korea and Ghana are searching for their first wins at this year's World Cup. Ghana are facing the prospect of an early elimination from World Cup 2022 Group H when they travel to the Education City Stadium to face South Korea on Monday.