UK's weather forecast
According to Express, the cold weather will be courtesy of a new area of high pressure coming from the north-east which will gradually sweep away the area of high pressure that brought the country warm African air in the past few days.
BBC Weather forecaster Nick Miller warned Scotland, northern England and Northern Ireland will be the first to feel temperatures plummet throughout the course of Wednesday before wet and cooler weather reaches all parts of the country on Thursday.
He said: "It will feel much cooler on Wednesday, the reason is we will lose the high pressure that brought the warm air from the south, replacing it with another area of high pressure coming from a cooler direction, the north-east into those North Sea coasts on Wednesday."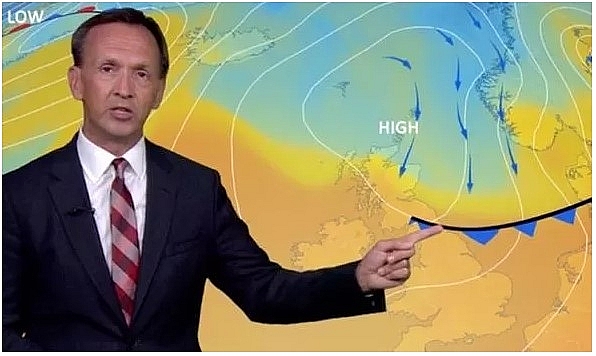 BBC Weather: Cold weather set to blast UK from Thursday (Image: BBC)
"We also have a weather front moving south with clouds, not a huge amount of rain. Before that completes its journey southwards though, a rather warm start to Wednesday morning for many of us. A little cooler by Thursday morning."
"With that weather front, clouds and a few spots of light drizzle for parts of Scotland, northern England and maybe Northern Ireland pushing further south through the day."
The Met Office has issued a level 2 heat alert until 9am on Wednesday for parts of England. The warning read: "The concurrent risks associated with COVID-19 are likely to increase the health impacts of high temperatures."
"A short period of unseasonably warm temperatures is expected, with temperatures approaching, and potentially exceeding thresholds in isolated spots. Hottest temperatures are expected Tuesday. Turning less warm through Wednesday."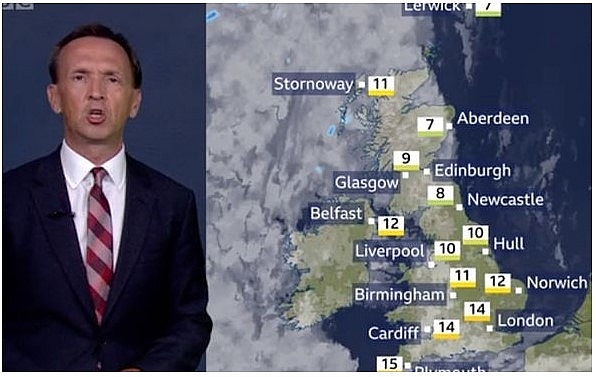 BBC Weather: Temperatures set to drop from Thursday (Image: BBC)
Cooler air is set to sweep in with cloudier skies bringing a frost to parts of the UK.
Deputy Chief Met Office Meteorologist, Chris Tubbs, said: "Thursday and Friday will be fine and dry for most as high pressure remains close to the UK."
"Whilst it'll be cooler for northern areas with temperatures close to normal and the chance of frost in rural spots overnight, it'll stay warm in southern and eastern parts of the UK with temperatures staying in the low to mid-20sC into the weekend."
But maps from WXCHARTS show a heat plume sweeping over from the Atlantic in a westerly direction as October arrives. A high pressure system will also be pushed towards southern areas of the UK during the beginning of next month, meaning there will be "a fair amount of sunshine" according to Netweather.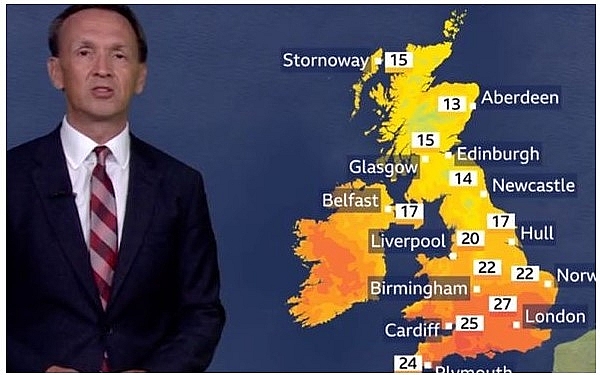 BBC Weather: Temperatures to reach 27C on Wednesday before dropping (Image: BBC)
Temperatures will also be 2C above average during October, forecasters claim.
Netweather's long-range forecast said: "Into early October there is an increasing chance of high pressure pushing in from the south and bringing mostly settled and warm weather, probably with a fair amount of sunshine for most, and a likelihood of more changeable weather holding on in the north and west of Scotland in particular."
"Temperatures will tend to be close to or just below the long-term seasonal norm early to midweek, with some cool nights midweek as the high pressure moves in and some fog patches in places, but will tend to rise above normal late in the week as there is a significant chance of southerly and south-westerly winds setting in."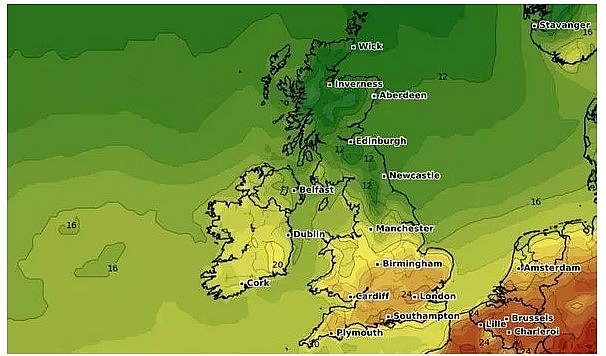 UK weather: The late summer heatwave is due to tropical air coming in from the south (Image: WXCHARTS)
"Mean temperatures are thus expected to be a little above normal overall, but only by 1C or less in most parts of the country."
"Rainfall totals are again mostly expected to be below normal, except in western Scotland, where near or slightly above average rainfall is most likely. Sunshine totals are mostly expected to be near normal in central and western Scotland, but above normal elsewhere."
On September 17
According to Weather Online, high pressure remains in control on Thursday, centred east of the UK. This will be bringing plenty of dry weather with lots of sunshine. Some low cloud may affect northwest Scotland, and a few patches of lower cloud could drift onto the coasts of northeast England at first too.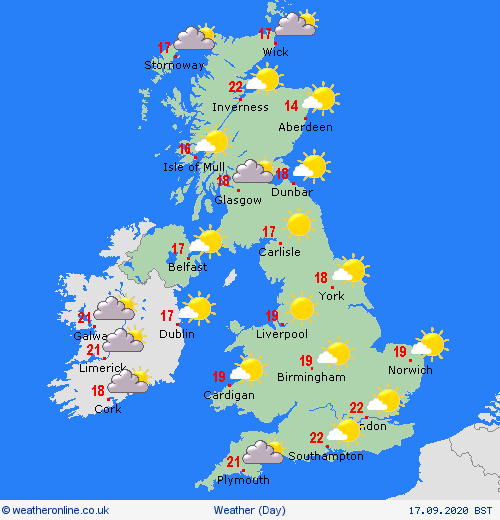 Photo: Weather Online
For most though the day is a fine one, although rather chilly to start. Highs at 22C in the far south, 20C in central Scotland, 21C in Ireland but 16C where the east breeze affects eastern coasts.
Europe's weather forecast
A cloudier day for much of Iberia as an area of low pressure lies just west of the peninsula. Outbreaks of rain spread across Portugal and southern Spain later in the day.
Staying mostly dry and bright for the Balearic Islands, Corsica, Sardinia and Italy though afternoon thunderstorms may bubble up here. Dry, very warm and sunny for Greece and Turkey.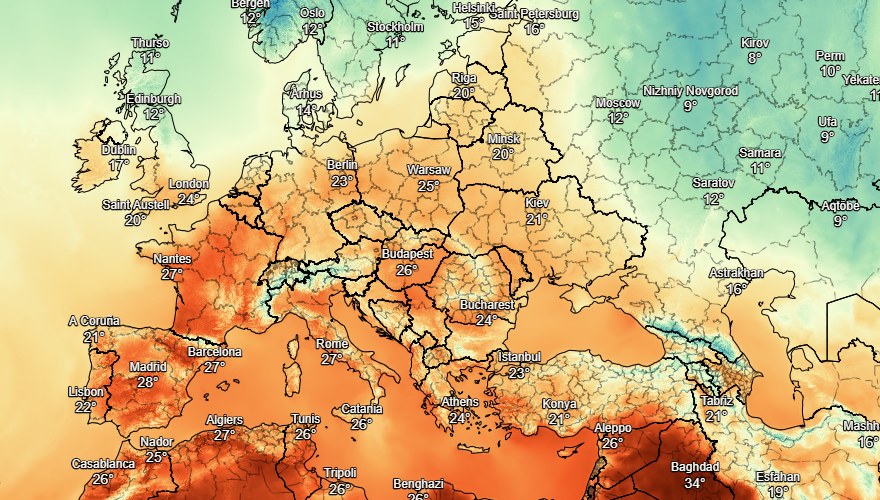 Photo: Stirimeteo
Although pressure generally stays high over much of central Europe, it will be a cloudier day for most countries. There will still be some good spells of sunshine across France, the Low Countries, Germany, Poland, Switzerland, Austria, the Czech Republic, Hungary and Slovakia. Afternoon showers are also expected to develop, these locally thundery, especially over the Alpine regions.
An area of low pressure passes eastward over Norway, Sweden and Finland on Wednesday bringing outbreaks of rain and strong winds to southern Norway, central Sweden and much of Finland later.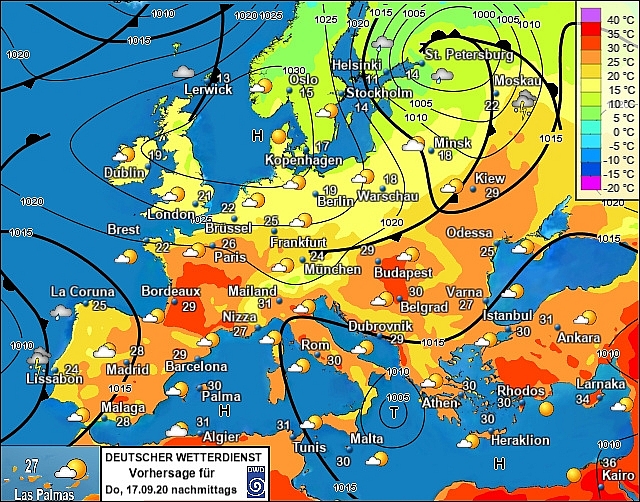 Photo: Stirimeteo
This may fall as snow over higher ground in Norway for a time. Staying dry but rather cloudy for Denmark and southern Sweden. Starting dry and fair for the Baltic States but patchy light rain and showers develop here later.
On September 17
Heavy, thundery rain over much of Portugal, central and western Spain on Thursday. Drier and hot in the east with sunshine here. More sunshine in the central Mediterranean. Showers for Italy, a few heavy, although they should be well scattered, Weather Online reported.
Greece will be wet in the west with heavy, thundery showers. Turkey should be dry with sunny spells and feeling very warm. France will be mostly fair with sunny spells, although breezy in the north. The Low Countries remain fair with sunny spells.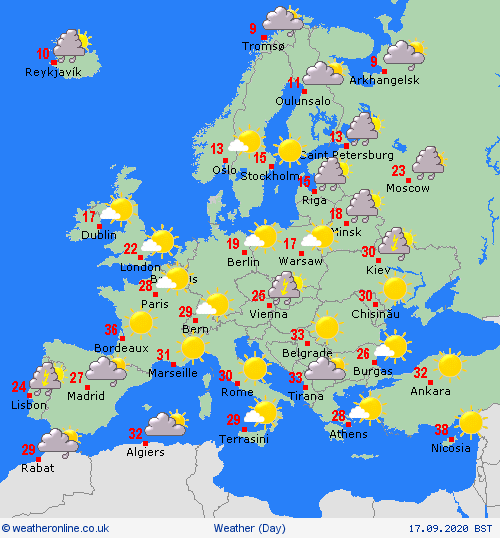 Photo: Weather Online
More sunshine to come in Germany and dry here. Remaining fair with more sunshine too in Poland. Showers extending through Austria, Hungary and into Switzerland.
Denmark should be fine and dry with plenty of sunshine here. More sunshine to come over most of Sweden thanks to high pressure here. Winds in Finland and feeling cold in the north wind. Rain in northern Norway but fair to the south.
Ruby Lee