UK and Europe weather forecast latest, September 18: Thunderstorms bring intensive winds and flooding to sweep Europe
Thunderstorm is forecasted to bring intensively winds anf flash flooding in Europe. Meanwhile, the UK will be hit by hot temperatures and set for dry and sunny weekend.
UK's weather forecast
According Express, the UK saw a scorching three-day heatwave this week as summer made its striking comeback in September. Hot temperatures will blast Britain through the weekend and into next week.
BBC WEATHER forecast a mainly sunny and dry end of the week for the UK as earlier balmier conditions give way to a widespread light breeze.
BBC Weather forecaster Matt Taylor noted the whole UK will experience a substantial temperature drop in the aftermath of a balmy start of the week. Mr Taylor said sun and dry weather will remain mostly in control from Thursday through the weekend despite the breezier conditions.
The BBC Weather meteorologist said: "A bit of breeze stirring in, particularly if you look at the forecast for today, it has brought a fresher start to many parts of the country."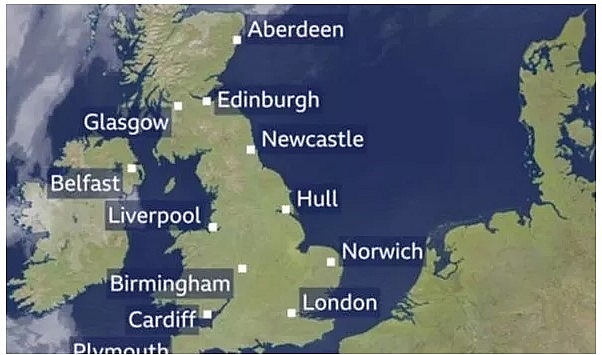 BBC Weather forecast a substantial temperature drop (Image: BBC WEATHER)
"Still with temperatures in the mid-teens across some southern parts, but single figures further north to start the day."
"Lots of sunshine to the east of the country but there is some mist and low cloud across some northern and western areas. Across the western half of England and Wales that will continue to break up through the morning, allowing more in the way of sunshine."
"But across the north and western Scotland, a thicker cloud compared to yesterday so not as much sunshine. Just a little bit of drizzle at the moment, there could be some spots of light rain later and temperatures here, actually, up a little bit on yesterday."
He added: "It could turn to 21C while further south down compared to what we saw yesterday. At the highest 21C to yesterday's 27C across parts of Dorset."
Mr Taylor said mist and fog are expected to return overnight as temperatures further lower before returning to average levels on Friday.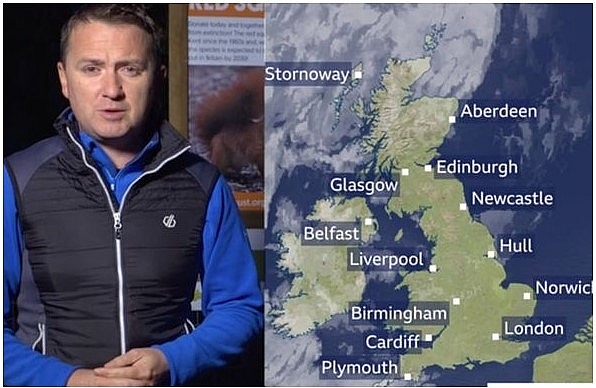 BBC Weather: Conditions will remain breezy and dry for most of the weekend (Image: BBC WEATHER)
The BBC forecaster continued: "Through this evening and overnight, a few mist and fog patches could return away from the south, there is too much breeze here. Still some thicker cloud across the northern half of Scotland, most will be dry."
"Under those clear skies it will be another fresh night - temperatures dropping back down into single figures. But the emphasis is on dry weather, that will continue as we go through into Friday, lots of sunshine to come across for most part of the country too."
"Still some cloud lingering across the north of Scotland, bringing some showers, a little bit more of a breeze. Light breeze through central areas of the UK, but in the south that breeze will pick up bringing low teens to low 20s."
The Met Office forecast a break in the dry period, with some drizzle across the north and northwest of the country. The rain is expected to ease from the weekend but some showers could develop south on Saturday evening.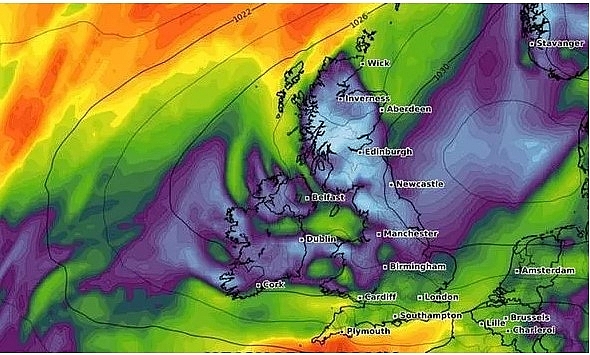 Britain will continue to be hit by unseasonably hot temperatures today (Image: WXCHARTS)
The forecast warned: "Some heavy showers in south Sunday, but sunshine for many. Mist clearing to further sunshine Monday. Remaining mainly dry with sunny spells and light winds for most at the start of next week."
They added: "Any isolated mist and fog patches each morning quickly clearing. Less breezy but still a chance of showers in the south. Temperatures around average for many though probably warm in the south."
On September 18
According to Weather Online, high pressure holds to the east as a weak front makes its way across northern Scotland on Friday. This brings cloudier skies here and patchy, mostly light, rain. Staying dry and fine for England, Wales and Ireland although becoming breezy across southern England.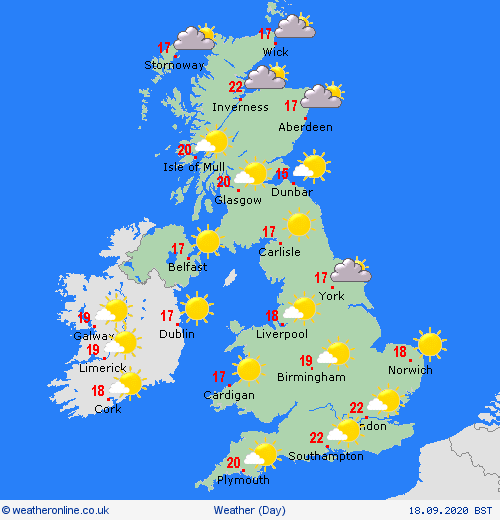 Photo: Weather Online
More cloud in the south of England too as a front approaches southwestern areas. Feeling cool in that breeze, especially in the east, but warm for most, especially in the west. Highs at 23C in southern England but 15C along eastern coasts.
Europe's weather forecast
BBC WEATHER has issued a warning regarding a "clump" of thunderstorms that have "tropical characteristics" as they become increasingly intense.
BBC Weather warned in their latest forecast for Europe, thunderstorms and extreme torrential rain are expected across the region. BBC meteorologist Chris Fawkes said flash flooding and tropical storm conditions are also set to strike across Italy and southern regions in the coming days.
"A clump of thunderstorms in the south of Italy is strengthening and becoming quite an intense system. It has a lot of warm air in the centre of the system and it has tropical characteristics to it in many respects."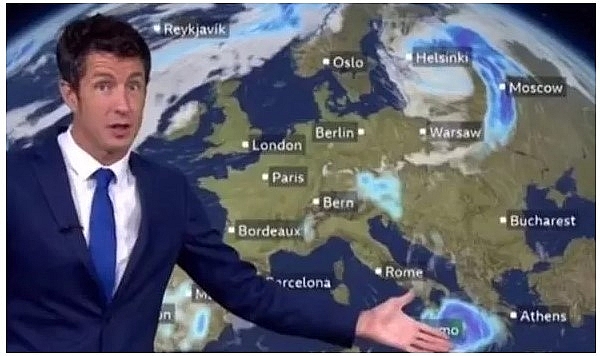 Chris Fawkes warned of thunderstorms near Italy (Image: BBC)
"It will bring some torrential rain into Greece with some potentially damaging winds."
He continued: "As that system swings through the kind of effects we are going to get will be like a tropical storm, flash flooding and some damaging winds on the way to that part of Greece."
"Further northwards we have got some sunshine in Europe, but it is not as hot as it has been in recent days."
"It is significantly cooler in Denmark and Germany as well. Into Friday we have got some thunderous storms working in across Spain and Portugal and risk of flash flooding in Greece. It looks like the weather is going to be really nasty."
Earlier today, Deputy Chief Met Office Meteorologist, Chris Tubbs, said: "Thursday and Friday will be fine and dry for most as high pressure remains close to the UK."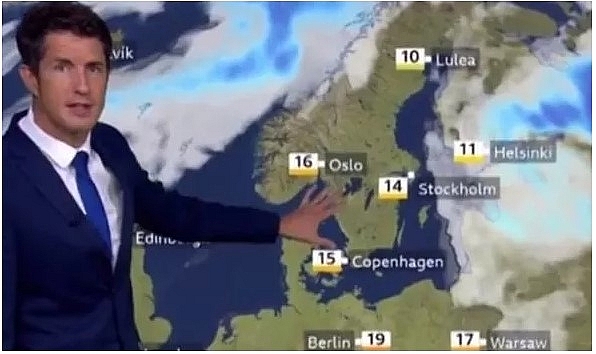 Chris Fawkes is a meteorologist for BBC Weather (Image: BBC)
"Whilst it'll be cooler for northern areas with temperatures close to normal and the chance of frost in rural spots overnight, it'll stay warm in southern and eastern parts of the UK with temperatures staying in the low to mid-20sC into the weekend."
But maps from WXCHARTS show a heat plume sweeping over from the Atlantic in a westerly direction as October arrives.
A high-pressure system will also be pushed towards southern areas of the UK during the beginning of next month, meaning there will be "a fair amount of sunshine" according to Netweather.
Netweather's long-range forecast said: "Into early October there is an increasing chance of high pressure pushing in from the south and bringing mostly settled and warm weather, probably with a fair amount of sunshine for most, and a likelihood of more changeable weather holding on in the north and west of Scotland in particular."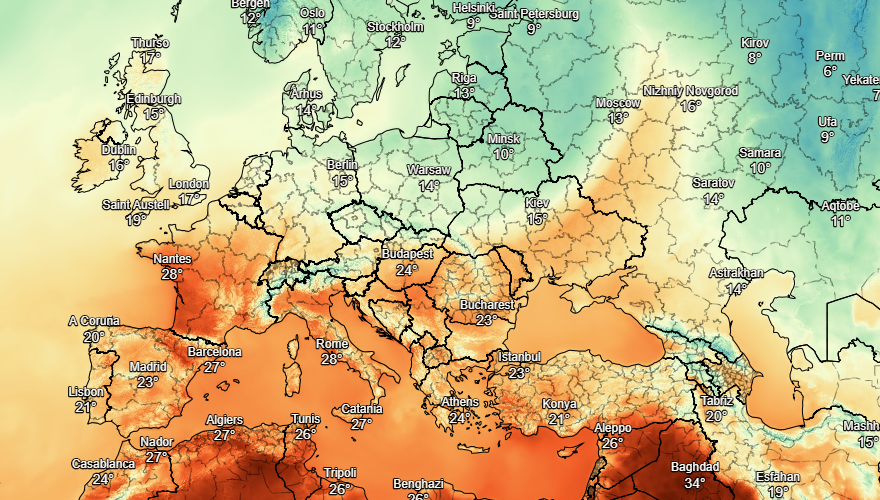 Photo: Stirimeteo
"Temperatures will tend to be close to or just below the long-term seasonal norm early to midweek, with some cool nights midweek as the high pressure moves in and some fog patches in places, but will tend to rise above normal late in the week as there is a significant chance of southerly and south-westerly winds setting in."
"Mean temperatures are thus expected to be a little above normal overall, but only by 1C or less in most parts of the country."
"Rainfall totals are again mostly expected to be below normal, except in western Scotland, where near or slightly above average rainfall is most likely. Sunshine totals are mostly expected to be near normal in central and western Scotland, but above normal elsewhere."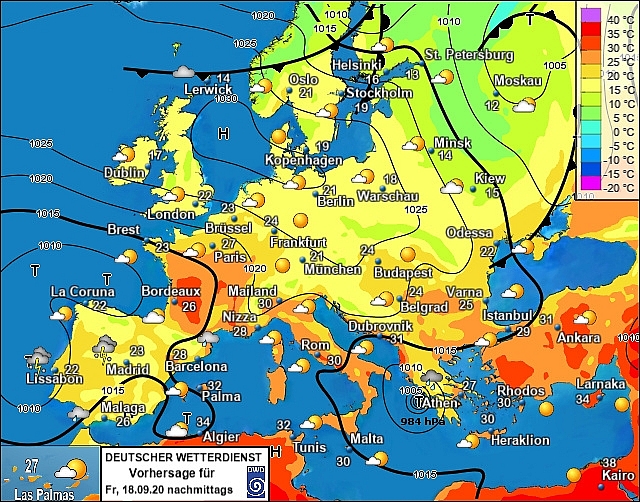 Photo: Stirimeteo
On September 18
Heavy thundery rain spreads across Spain on Friday affecting much of Iberia through the day. Some spells of sunshine develop for Portugal and western Spain, Weather Online reported.
Dry but cloudy for the Balearic Islands. Increasingly cloudy for Corsica and Sardinia too. Ealry showers fade from southern Italy to leave a dry and fine day here. Very wet and windy for southwestern Greece as a strong, tropical-like, storm comes ashore. Cloudy but dry to the north. Mostly sunny for Turkey with isolated showers.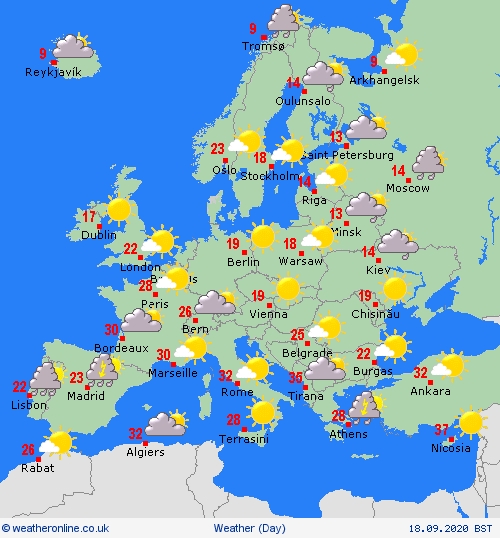 Photo: Weather Online
Cloud builds from the south over France with patchy outbreaks of rain spreading over western areas. Dry and fine for much of central Europe with good spells of sunshine for the Low Countries, Germany, Poland, the Czech Republic, Switzerland, Austria, Slovakia and Hungary.
Dry and finen with plenty of sun for Denmark and the Baltic States. Early rain clears from northern Finland leaving a dry, bright afternoon here. Staying dry and bright through Sweden too as well as southeastern Norway. Outbreaks of rain continue for northern and western portions of Norway.