UK and Europe weather forecast latest, September 3: Wet and windy week sweep across UK as Hurricane Laura's remnants
Although Hurricane Laura hit the USA last week, its remnants still bring rain and wind to cover across the UK next week. Meanwhile, "late-season heat" anf heavy rain are forecasted to sweep Europe over the coming days.
UK's weather forecast
Hurricane Laura's aftermath is going to bring a bleak week to the UK as storms, rain and wind come over the Atlantic, Express reported.
Hurricane Laura hit the southern coast of the USA last week, bringing death and destruction to a part of the world that is no stranger to complex and powerful weather systems. Described by forecasters as 'unsurvivable', thousands were forced to evacuate their homes and several people have died.
Hurricane Laura's affects are still going to be felt here, with the UK forecast for a wet and windy week up and down the country.
Hurricane Laura hit the southern coast of the USA and proceeded to track north east, eventually downgrading to a tropical storm.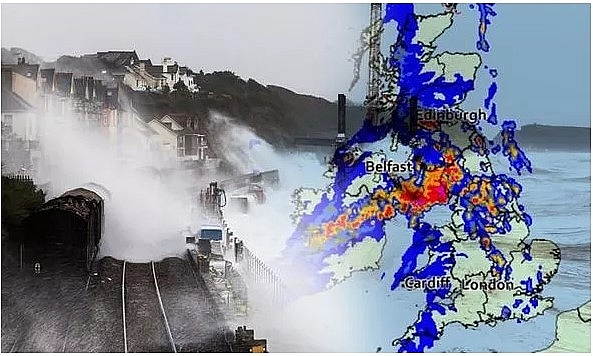 UK Weather Map: Britain is bracing for more unlucky weather this week (Image: GETTY / MET OFFICE)
As it loses its power, the storm heads over the Atlantic Ocean and toward Europe and the UK - and it's set to bring a washout to much of the UK.
Scotland and Ireland look set to bear the brunt of the bad weather starting on Tuesday, and on Wednesday, rain is going to push across the rest of the UK, with heavy outbreaks in the west and showery spells in the east.
Winds are also going to start and the country is set for blustery conditions throughout the rest of the week. Brits will see some sun but face widespread outbreaks of rain on Thursday and Friday, and the weekend will continue to see spells of unsettled weather, Mr Birkhill said.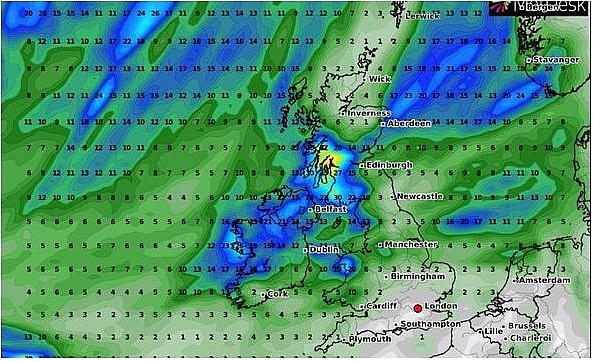 UK Storm Map: Rain and wind will mostly hit Ireland and Scotland (Image: WX CHARTS)
The mercury is also set to drop on Saturday and Sunday with maximum temperatures struggling to reach the high teens.
The south east looks set to avoid the rainfall but Nick Finnis, senior forecaster for Netweather, warned a few patches of rain could hit by early evening.
He said: "Rain gathering across the west Wednesday morning – which will be heavy across N. Ireland, western Scotland then NW England and Wales as it reaches here late morning. The rain continuing to spread northeast across northern and western areas into the afternoon, heavy in places."
The Met Office forecast for tonight reads: "Turning windy in the northwest with further rain arriving, perhaps heavy later. Dry elsewhere with variable cloud and clear spells. Turning chilly in places with a few fog patches."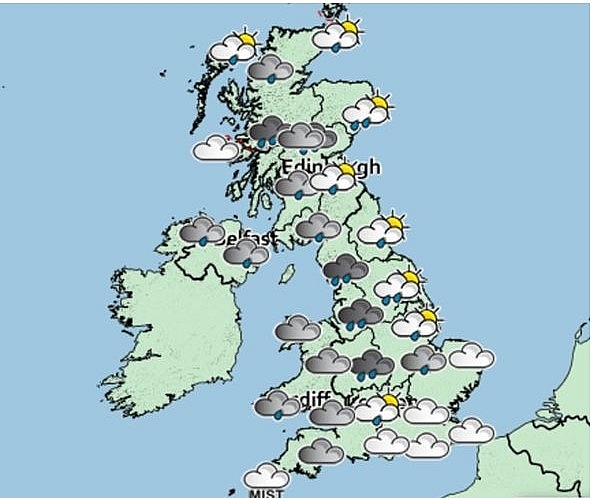 UK Storm Map: Bad weather is expected up and down the country (Image: MET OFFICE)
Wednesday will bring "outbreaks of rain in the west, heavy at times, moving steadily eastwards.
"Windy with a risk of coastal gales. Central and eastern England remaining dry and bright until the evening."
It continues: "Rain moving southeast on Thursday and Friday, followed by brighter weather with showers. Showers becoming somewhat more frequent in the northwest on Saturday. Breezy and feeling generally cool."
Meteorological summer has also ended and autumn began on September 1, in what has been a pretty miserable summer in the UK as it battles through the coronavirus crisis.
The August bank holiday weekend unfortunately brought with it rain and overcast weather, with temperatures dropping well below average for this time of year.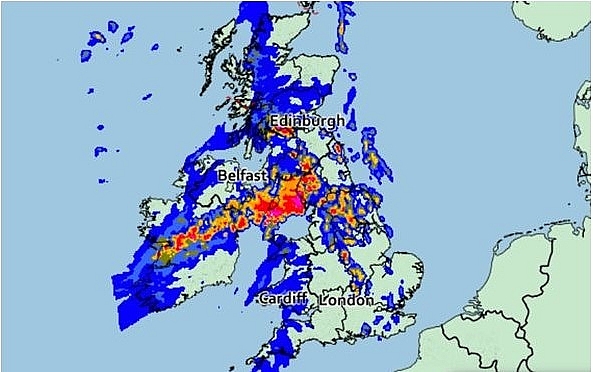 UK Storm Map: Bad weather is expected up and down the country (Image: MET OFFICE)
The low temperatures of the bank holiday weekend ended a month of "extreme" weather in the UK, which has included two named storms, a heatwave and the hottest August day recorded in 17 years.
The chilly spell is in stark contrast to last year's August Bank Holiday which was the hottest on record, as the mercury hit 33.2C at Heathrow Airport.
Europe's weather forecast
According to BBC weather forecast, meteorologist Ben Rich stated there will be cooler conditions across much of Europe, with southern regions remaining warm over the next two days. Mr Rich warned of a band of rain pushing towards Scandinavia, which is expected to bring heavy rain to Norway.
Mr Rich said: "There is some late season heat to be found at the moment towards the southeast of Europe."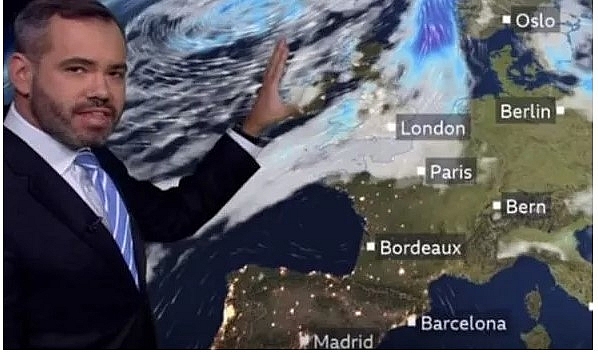 Ben Rich is a meteorologist for BBC Weather Europe (Image: BBC)
"A frontal system sliding its way eastwards will eventually introduce cooler air even into those eastern and south-eastern parts of Europe which during Wednesday will remain very hot."
"There is some particularly wet weather through Wednesday across the northwest of the British Isles. As we move out of Wednesday into Thursday that band of rain will slide its way eastwards so some heavy rain will push into Norway."
He added: "Down towards Iberia it is fine and dry and there will still be some heat on Thursday in the southeast. It will warm up for a time across Spain and western Portugal."
"There is a band of rain pushing towards Scandinavia and behind that there will be some cooler conditions returning to the British Isles."
BBC Weather Europe highlighted heavy rain coming towards Scandinavia (Image: BBC)
The dry weather in Britain will remain to start the week next Monday, before coming increasingly wet and windy towards the weekend.
Although temperatures will remain mixed, forecasters are predicting warmer conditions in the south.
Commenting on the forecast between September 7-13, the BBC said: "After a potentially dry and settled start to the week, low pressure will become the dominating feature of our weather from midweek onwards."
"The second half of the week will often be wet and windy, and with temperatures likely to close to or below where they should be for this time of year."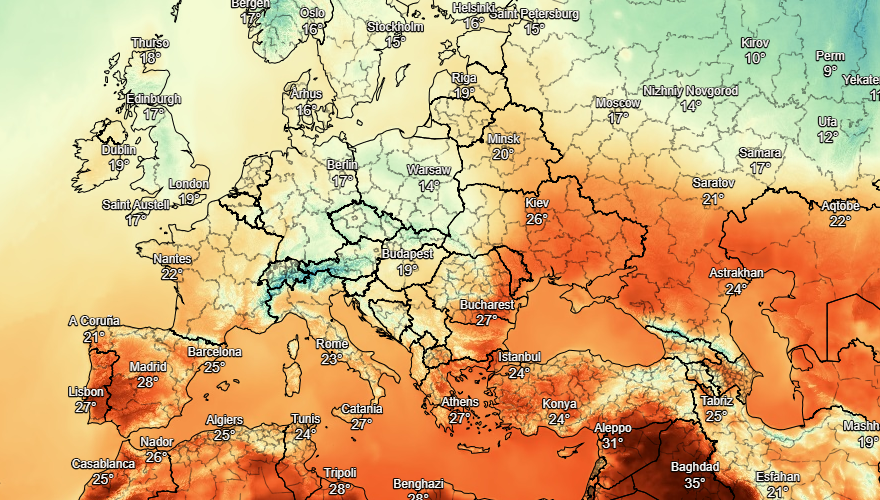 Photo: Stirimeteo
"In fact, there is the potential for a deep area of low pressure to move right across the UK, bringing strong winds and heavy rain."
"If this were to pan out, further damage and disruption could be expected, following on from recent storms, Storm Ellen and Storm Francis."
"That being said, there is a slight chance that low pressure remains away to the west of the British Isles and over the Atlantic."
"In this scenario, it would be a much drier and calmer week, and also much warmer, with a plume of warm air pushing up from the south."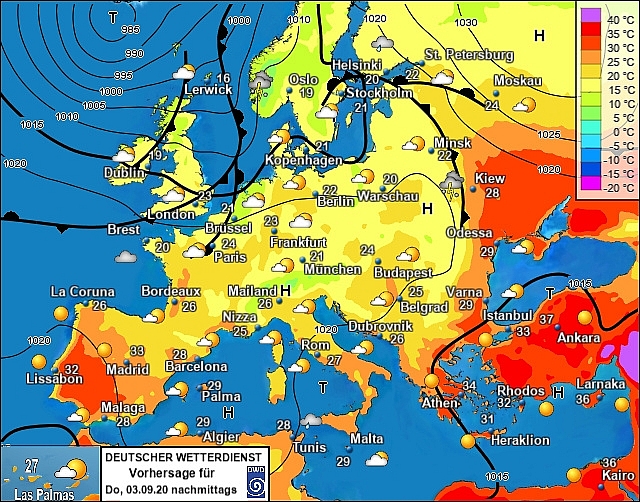 Photo: Stirimeteo
On September 3
A mainly dry and fine day for Portugal and Spain once again although with showers still likely to develop in eastern Spain. Thundery showers still expected to affect the Balearic Islands through the day and these will push across Sardinia and Corsica and head over northern and central Italy. Sicily and southern Italy should stay dry and fine thoughout. Dry conditions for Greece and Turkey.
Photo: Stirimeteo
A largely dry day across France and the Low Countires although there is the risk of some showers in places here. Germany will see sunny spells and showers. The Alpine countries will see showers or longer spells of rain at times but this should clear overnight as high pressure becomes more established. Cloudy with some showers for Hungary and the Czech Republic but mainly dry across Croatia. Unsettled with outbreaks of rain, some heavy, across northern Poland also.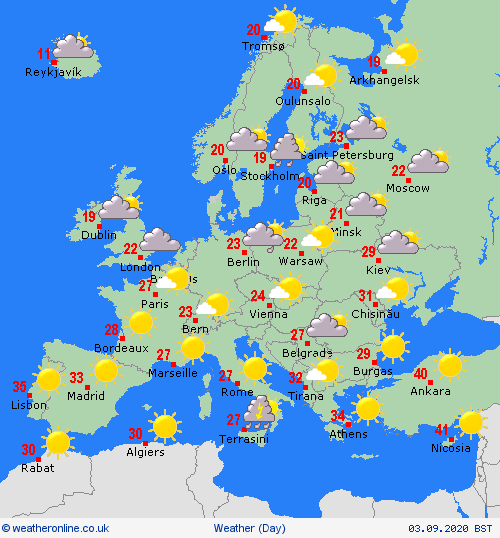 Photo: Weather Online
High pressure still influencing largely dry conditions over Scandinavia. There is the chance for some showers over southern Sweden, however, as an area of low pressure pushes through the southern Baltic States bringing outbreaks of rain and brisk winds here. Denmark will see a dry morning but some showers in the afternoon.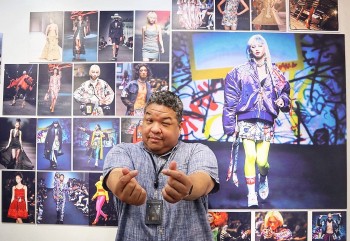 Viet's Home
Experience the striking colors and styles of Korea's fashion, captured by American photographer Dr. Michael Hurt.