UK's weather forecast
According to Express, Hurricane Laura is bringing with it dangerous winds as life-threatening storm surge is expected in the US within the next 36 hours. Hurricane warnings have been issued from Texas to intercostal Louisiana as Americans scramble to safety. Although the UK is usually unaffected by hurricanes, maps show the remnants of Storm Laura will smash into the UK next week as it travels southward.
On Monday next week, maps show winds starting to pick up along the coast of England, especially in the north and around Northern Ireland and Scotland. Winds will reach 20mph along the coast of Scotland and Northern Ireland.
UK weather: Britain will see strong winds and rainfall towards the end of next week (Image: Windy)
Into Wednesday night and early Thursday morning, winds will reach between 30mph and 40mph on the west coast of Scotland and the north coast of Northern Ireland. The remnants of Hurricane Laura will also bring heavy rainfall in these areas.
By Thursday and Friday, the rain will move inland, affecting all of Scotland, Northern Ireland and some areas of the Midlands.
Glasgow is expected to see up to 0.4 inches (10mm) of rainfall throughout the day on Thursday. Through the same period, winds will reach 20mph inland, while the coast of southern Scotland will see gusts climb between 25mph and 30mph.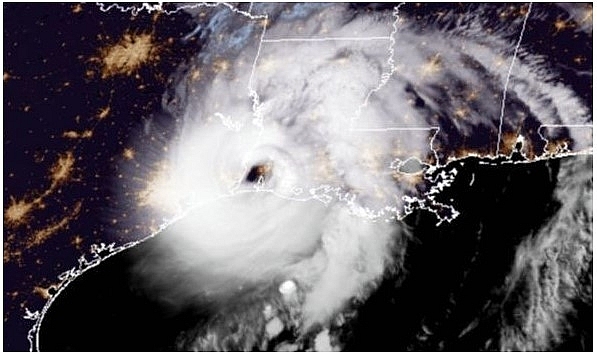 UK weather: Hurricane Laura has been upgraded to a Category 4 storm (Image: NOAA)
By Friday evening, the remnants of Hurricane Laura will have largely dissipated, although the north-west coast of Scotland will experience strong winds reaching an estimated 28mph as the weather system moves out.
At the same time, the western coast of Northern Ireland, including towns like Londonderry, will see the last of the winds before the remnants of the storm move in a northeasterly direction.
By Saturday, the leftover wind and rainfall from Laura should have calmed down, making way for a more regular weather pattern.
Laura is the most powerful hurricane to have struck the US so far this year, having made landfall at 7am BST (2am EDT) on Thursday.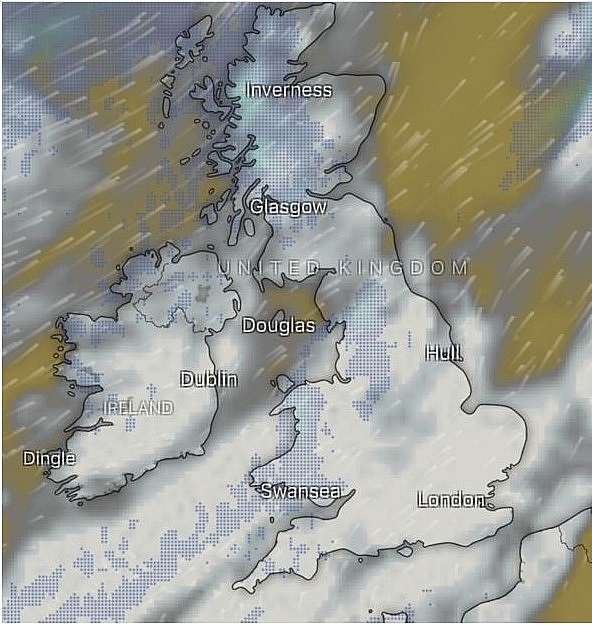 UK weather: The remnants of Hurricane Laura will dissipate into the weekend next week (Image: Windy)
As it landed in southwest Louisiana, east of the Texas border, Laura was dubbed "extremely dangerous" as the National Hurricane Centre (NHC) reported 150mph winds.
The storm grew by 90 percent in power in just 24 hours, prompting forecasters to warn even stronger winds were possible that could destroy buildings and property.
Hurricane Laura could even push a huge wall of water 40 miles inland from the ocean.
The UK is also expected to be hit by freezing temperatures this bank holiday weekend as temperatures plummet. A sudden cold spell will arrive thanks to a 500-mile-wide "polar plunge".
A long way off from the start of the month where temperatures reached 38C in some areas, this weekend, Brits can expect highs of 10 to 18C.
Met Office warnings issued: Some parts of the UK will see as much as 50mm rainfall (Image: The Weather Outlook)
The forecast range is 5C below average for this time of year. Mr Burkill highlighted this year makes a change from last year, when the bank holiday Monday was the hottest on record as the mercury climbed to 33C.
He said: "We're definitely not going to beat it this year. I would bet my house on it."
It is believed Hurricane Laura could be behind some of the freak weather patterns, causing a knock-on effect as it ramps up the jet stream.
The path and position of the stream 30,000 feet up in the atmosphere can steer areas of low pressure towards Britain, which usually means colder and stormier weather is on the way.
Europe's weather forecast
According to BBC weather forecast, Sarah Keith-Lucas forecaster warned that as Storm Francis passes, a new wet weather system is set to hit Europe from the Atlantic. She said this would bring significant rain for central and western parts of Europe. She added that over the weekend this rain would continue and some areas can expect flooding and disruption.
Ms Keith Lucas said: "Storm Francis brought quite a lot of disruption across northern parts of Europe over the past couple of days. That storm system is now easing away but we have got another area of low pressure coming in from the Atlantic."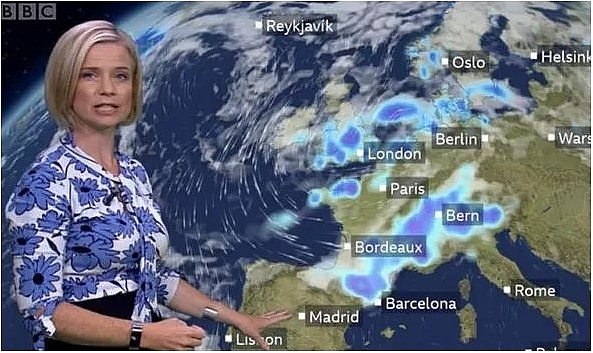 BBC Weather: Europe braces for more blustery wind and showers as Storm Francis passes (Image: BBC)
The BBC Weather forecaster noted how this new weather front will impact the countries in the west of Europe over the next few days.
She said: "It will be bringing some wet and blustery weather across parts of the UK, France as well. It is also going to be introducing cooler air."
"This will spread over Spain and Portugal over the next few days. It is also going to be bringing some particularly heavy rainfall across the Alpine region."
Ms Keith Lucas also explained that the weather would be considerably different in the south-east of Europe.
With many areas dry, Turkey, Greece and the Greek islands will reach temperatures above 30C.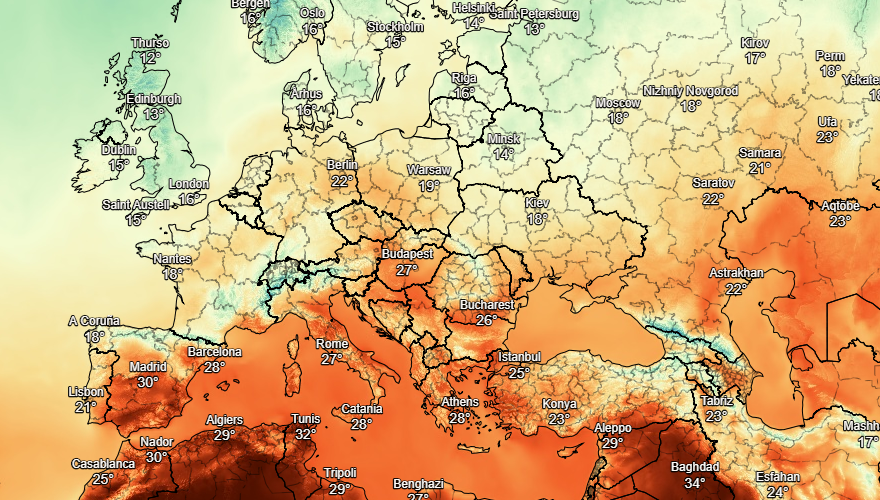 Photo: Stirimeteo
She continued: "To the south-east of that the warm air is very much in place. This is across Turkey, Greece and Italy as well with temperatures in the mid-30s here."
"Heading over to Spain and Portugal where it has been very hot over recent days we are starting to see that transition to cooler conditions through the day on Friday."
"There will also be all that heavy rain from the Pyrenees up to the Alps moving in and there could be some flooding there."
Moving into the weekend much of central and western Europe can expect an increase in downpours.
The BBC Weather forecaster added: "There will be showery weather across the UK into southern parts of Scandinavia too."
"That whole system shifts further southeast on Saturday. So this will be in northern parts of Italy and towards the Balkans too they will be seeing that heavy rain. There will be heavy showers across parts of Norway, Sweden and Denmark also."
On August 29
According to Weather Online, showers still affecting northern and eastern parts of Spain. Portugal and the rest of Spain however should stay dry and fine with sunshine. Cloud will thicken across the Balearic Islands with outbreaks of rain, some thundery expected in the afternoon here. Dry however across Sardinia and Corsica as well as across Siciliy and much of Italy although with rain, heavy at times across northern Italy. Dry and fine over Greece and Turkey.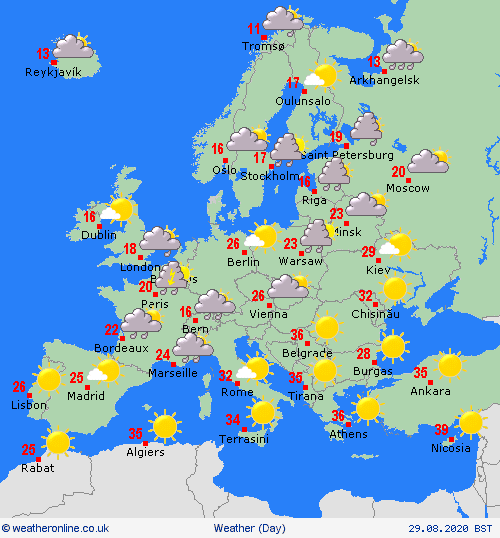 Photo: Weather Online
Another cloudy day with outbreaks of rain across France, the Low Countries as well as Germany. Windy too nearer the coasts. Heavy and thundery rain expected over Austria and Switzerland as well as parts of Hungary. Much of eastern Europe, including Poland, will be largely dry and fine.
A windy, wet and cloudy day for Denmark once again and rain will affect southern Sweden before moving into southern Finland. Sunny spells and showers across the rest of Scandinavia. Cloudy, wet and windy for the Baltic States with rain heavy at times in the morning.
Ruby Lee