UK and Europe weather forecast latest, September 2: Torrential downpour in UK to make the map turn WHITE
UK and Europe weather forecast for September 2: Weather map for the UK will turn white due to torrential rain, while a mainly dry and fine day is predicted in Europe.
UK's weather forecast
The Met Office has issued a yellow rain warning for parts of England and Scotland on Wednesday, Express reported.
Met Office spokesman Oli Claydon told Express.co.uk it will be a bright sunny start for much of the UK on Tuesday. Over the course of the day there will be an increasing amount of cloud, but it will remain dry for most parts of the UK, except for parts of Northern Ireland and western Scotland. Rain is forecast over the coming days, and WXCHARTS maps for total rainfall accumulation show some parts of the UK mapped white - indicating high levels of rainfall to come.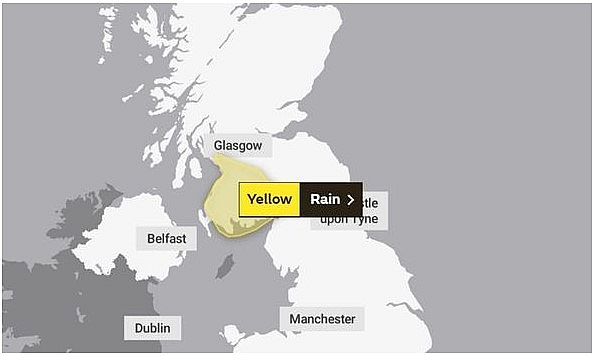 Met Office weather warning for Wednesday (Image: MET OFFICE)
The Met Office has issued a yellow rain warning affecting parts of Cumbria, Dumfries and Galloway, East Ayrshire, North Ayrshire, South Ayrshire and South Lanarkshire.
The rain warning is active from 12pm on Wednesday, September 2 until 11.59pm.
Mr Claydon said: "As we go through into tomorrow (Wednesday) there will be some rain which starts to develop in northwestern parts of England and southwestern parts of Scotland, so Cumbria and the southwestern Scotland area."
"[There will be] some fairly persistent rain moving through as we get a front moving in from the west."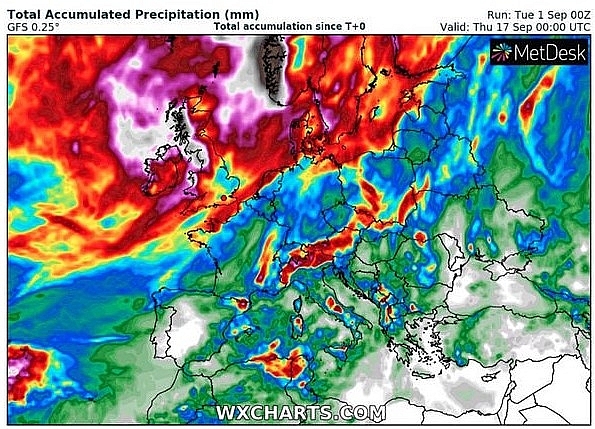 Met Office weather warning: High rainfall totals are expected over some parts of the UK over the coming days (Image: WXCHARTS)
Mr Claydon added there would be "some potentially reasonable rainfall volumes" for areas which have already seen a lot of rain, so it will be "falling on saturated ground."
The Met Office warn up to 60mm (approx. 2.5 inches) of rain could fall over some areas within the warning zone.
The warning states: "A spell of heavy rain will affect southwest Scotland on Wednesday afternoon and evening."
"15-30mm is likely quite widely with as much as 40-60mm in a few places, mainly hilly parts of Dumfries and Galloway. Drier conditions will return on Wednesday night."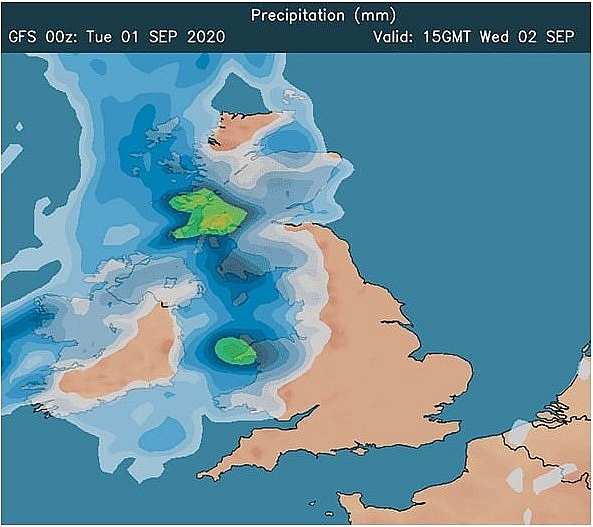 Met Office weather warning: Heavy rain is forecast for parts of England and Scotland on Wednesday (Image: WEATHER OUTLOOK)
The front moving in from the west on Wednesday is expected to move eastwards across the country, so the UK could see some more cloud and breeziness. As the front moves in there will be rain for some parts from the west throughout Wednesday.
From Thursday, for the rest of the week the weather is likely to follow a theme of "sunshine and showers", and it will be breezy in the far north.
With a showery couple of days forecast towards the end of the working week, Friday looks likely to be similar to Thursday.
There will be some persistent rainfall to the far north of Scotland but some sunny breaks elsewhere, improving by the end of the weekend.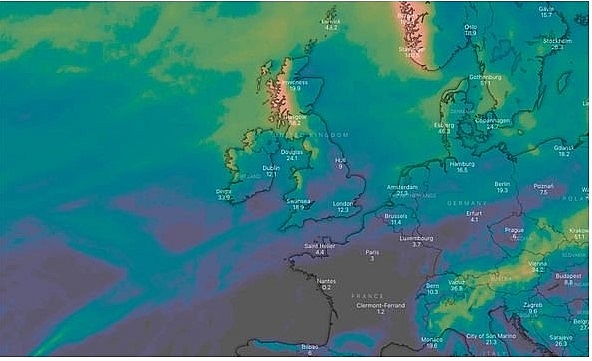 Met Office weather warning: A weather front moving in from the west will bring rain to the UK (Image: WINDY)
Over the weekend a ridge of high pressure is expected to settle things down, reducing winds and bringing some drier weather.
Again for the weekend there is widely expected to be sunshine and showers, with breezier conditions further north. Temperatures are forecast to reach the high teen's today, and in London highs of 21/22C could be possible at some points.
These sorts of temperatures are expected to be consistent throughout the week. Towards the end of August swathes of weather warnings were issued after the arrival of Storm Francis, which brought winds as strong as 78mph to some parts of the UK.
The Met Office has now named the new storm names for the 2020/21 season. From September 1, 2020, the next storm to arrive in the UK will be Storm Aiden.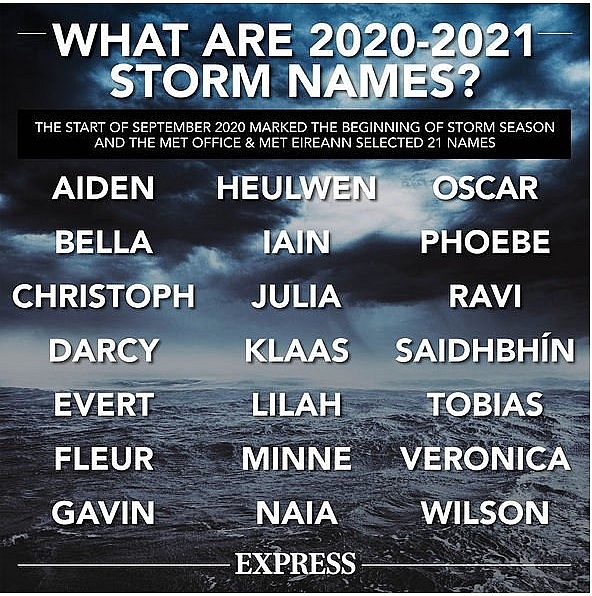 Met Office weather warning: Storm names for 2020 to 2021 (Image: EXPRESS)
Europe's weather forecast
According to Weather Online, dry across Portugal and largely dry for Spain but with some showers developing in the east later on. Dry for the Balearic Islands but cloud will build later with the risk of showers through the evening.
Some showers initally over Sardinia and Corsica but dry in the afternoon. More in the way of sunny spells for northern and central Italy with just some showers about. Dry with sunshine and hot conditions across southern Italy, Sicily, Greece and Turkey once again.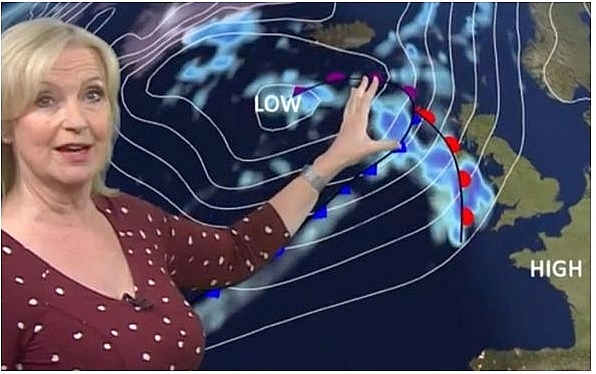 BBC Weather warned two weather fronts will be moving in across the UK in quick succession (Image: BBC WEATHER)
Largely dry for France and the Low Countries but with some showers still affecting much of Germany. Heavy rain over the Alpine countries as well as Hungary, Croatia, the Czech Republic and Slovakia should ease into the afternoon. Southern Poland will see heavy and thundery rain move in. Northern areas of Poland staying dry.
High pressure becoming established over Scandinavia and the Baltic States will bring dry and bright conditions for many on Tuesday with the exception to the far north of Norway where there will be some rain about. Denmark will see sunny spells and mainly dry just with the small risk of showers.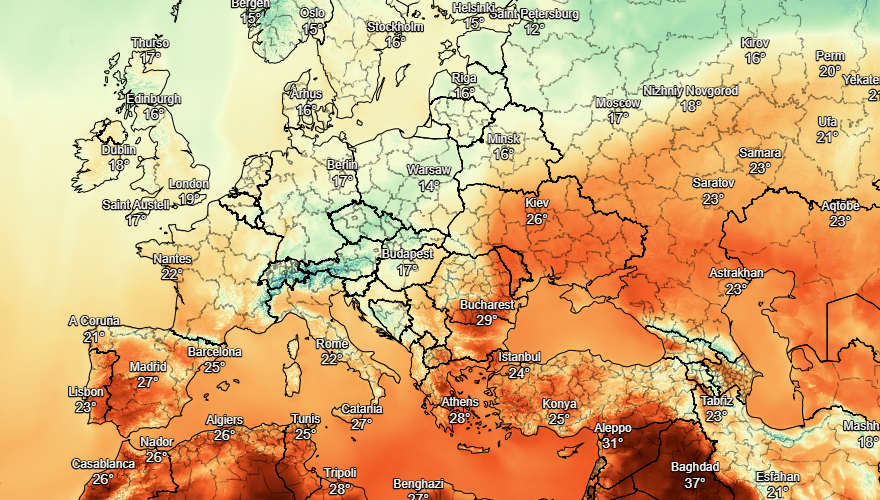 Photo: Stirimeteo
On September 2
A mainly dry and fine day for Portugal and Spain once again although with showers still likely to develop in eastern Spain. Thundery showers still expected to affect the Balearic Islands through the day and these will push across Sardinia and Corsica and head over northern and central Italy. Sicily and southern Italy should stay dry and fine thoughout. Dry conditions for Greece and Turkey.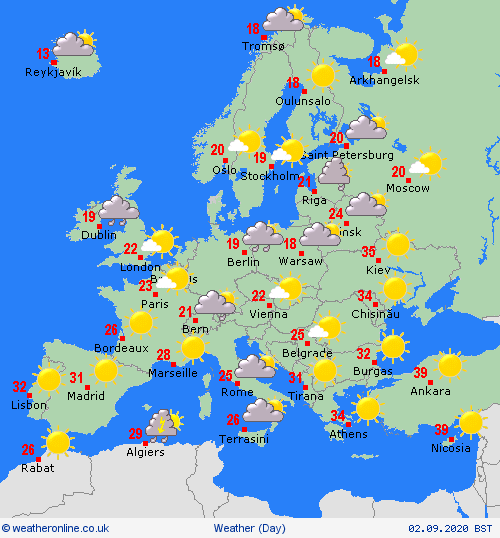 Photo: Weather Online.
A largely dry day across France and the Low Countires although there is the risk of some showers in places here. Germany will see sunny spells and showers. The Alpine countries will see showers or longer spells of rain at times but this should clear overnight as high pressure becomes more established. Cloudy with some showers for Hungary and the Czech Republic but mainly dry across Croatia. Unsettled with outbreaks of rain, some heavy, across northern Poland also.
High pressure still influencing largely dry conditions over Scandinavia. There is the chance for some showers over southern Sweden, however, as an area of low pressure pushes through the southern Baltic States bringing outbreaks of rain and brisk winds here. Denmark will see a dry morning but some showers in the afternoon.
Outlook for next 48h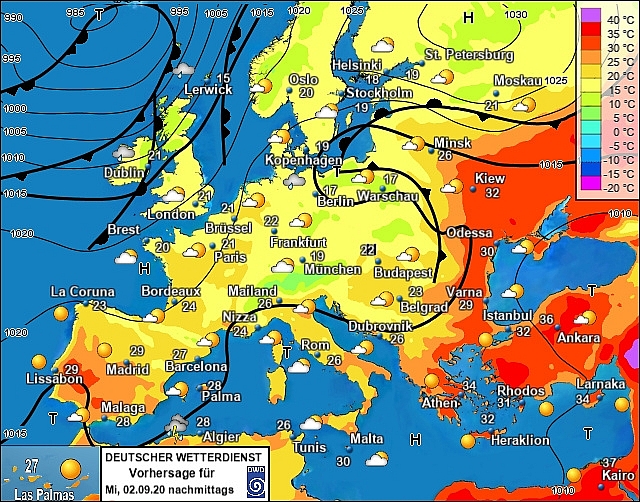 Photo: Stirimeteo