UK and Europe weather forecast latest, September 30: Atlantic storm set to bombard Britain
Britain is forecasted to bear an Atlantic storm bringing wet and windy weather to cover many parts. Meanwhile, temperatures plunge in Europe and a significant rainfall will smash across this continent.
UK's weather forecast
According to Express, the UK will be battered by an Atlantic storm bringing winds up to 70mph this week as September comes to a bitter end.
The 900-mile wide weather front will sweep across Britain bringing wet and windy weather for four days. If the strong Atlantic air crashes into the UK with enough power to signal a weather warning, then it could be the first named storm of the 2020/21 season.
Marco Petagna, Met Office Meteorologist, indicated that Storm Aiden could soon hit the country.
He said: "The Atlantic jetstream will really power up and could generate very wet and windy weather late in the week. Computer models show potential for deep areas of low pressure."
From Wednesday, a storm will bring 70mph winds with Scotland predicted to be hit the worst. Heavy rainfall is also set to come crashing in with the stormy weather.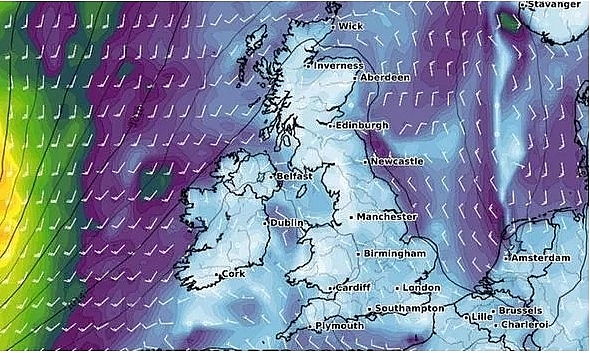 The UK will be battered by an Atlantic storm bringing winds up to 70mph this week (Image: WXCHARTS)
Temperatures are forecast to drop from the mid-teens Celsius to the very low single figures in some areas of the country.
Morning frost is expected to become common in the north and west of the UK towards the end of the week. Before Wednesday's storm hits the UK, Tuesday is expected to be a more pleasant day.
Alex Deakin, Met Office Meteorologist, said: "The weather could get very lively later this week so enjoy the relative serenity of Tuesday if you can where most places will be dry and bright with sunny spells after a bit of a chill in the air first thing."
"The main exception to the sunny skies will be across parts of eastern England, particularly East Anglia where again like at the weekend it will stay predominantly cloudy here. Finally though across eastern England we lost the cloud that was sticking around through the weekend."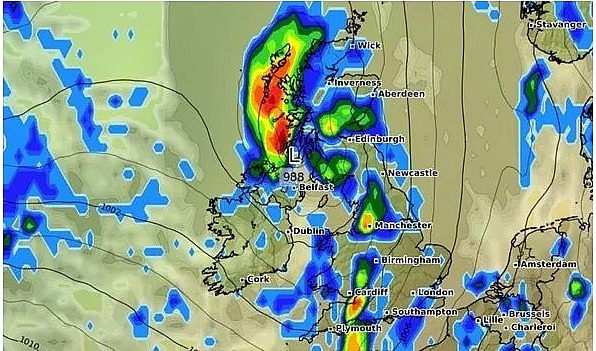 The 900-mile wide weather front will sweep across Britain bringing wet and windy weather (Image: WXCHARTS)
Mr Deakin said: "Clear skies across Scotland, some sheltered glens could get down to freezing so a chilly start."
Head of meteorological operations at the Weather Channel, Leon Brown, is expecting there to be five named storms in the Autumn and Winter of this year. Last winter there were just four named storms.
The Met Office has previously warned that this Autumn will be windier than normal.
Jo Farrow, Netweather Meteorologist, has forecasted blustery winds this week as Atlantic air edges towards the UK.
She said: "A midweek low spins in off the Atlantic, centring towards Iceland which brings a spell of rain and blustery winds over Ireland on Wednesday morning and moving over Britain through the day."
"The west coast of Scotland will see the most rain, there will be strong southerly winds through the Irish Sea."
"Eastern England won't see the rain until later in the day but everywhere becomes breezy as the southerly winds then veer to a cooler north-westerly after the frontal rain."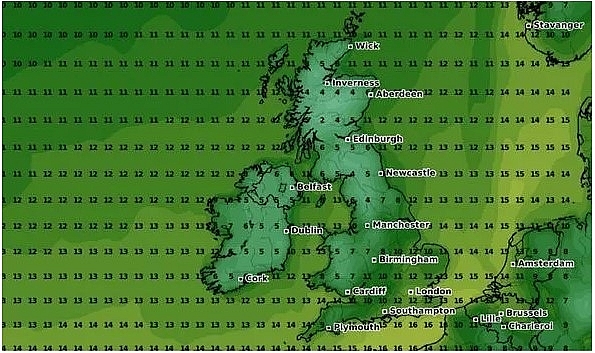 Tuesday will start will some cold temperatures in parts of the country (Image: WXCHARTS)
Thursday is expected to be brighter but temperatures are set to drop as Britain heads into the weekend.
Ms Farrow said: "Friday will see the limbering up for whatever this deep European low is going to throw at the UK for the end of the week thanks to that strengthening and buckling jet."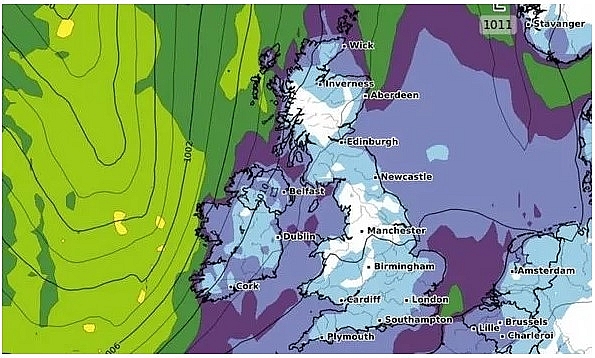 The Met Office has warned that this Autumn will be windier than normal (Image: WXCHARTS)
On September 30
According to Weather Online, a wet start for many on Wednesday but dry for eastern parts of England before rain moves in here later. Rain could be heavy for western areas and in particular across northwest Wales and southwest Scotland in this current track of the low pressure. Rain eases over Ireland and Northern Ireland later to leave a bright end to the day in the west. A few showers still possible here. Windy too in the west throughout with coastal gales possible. Highs range from 11 to 17C.
Photo: Weather Online
Europe's weather forecast
BBC Weather has forecast a significant increase in rainfall across Europe as a new weather front strikes the continent - before temperatures plunge.
BBC Weather forecaster Helen Willets said heavy rain is expected to bombard the UK later in the week. She claimed this will move in from the Atlantic Ocean and strike the UK first before spreading to other countries in central Europe. On the other side of Europe, another weather front will spark continuous showers also.
Ms Willetts said: "Autumn is truly upon us in the northwest of Europe. We will see a slight escalation in temperatures for the first couple of days."
"That continues into Tuesday and we have got further weather fronts coming in to bring wet, windy and cool air back into the north and the west."
BBC Weather: Thundery wall of rain to wash over Europe as heavy showers grip continent (Image: BBC)
The BBC Weather forecaster explained western Europe will see significant rainfall before the arrival of the new weather front during the week.
She said: "There will be some rain as well in Scandinavia, it will still be relatively warm here. The showers that we have seen across the Balkans during the course of Monday will be shifting further eastwards. There will be some real downpours around that area of low pressure."
Ms Willets noted that some of the Greek islands will hold on to the sunshine and have some warm temperatures.
Italy and Spain will also remain sunny and dry with temperatures in the mid-20s for the midweek. The forecaster continued: "19C and 20C is not too bad for late September across the London and Paris region but it will get cooler this week."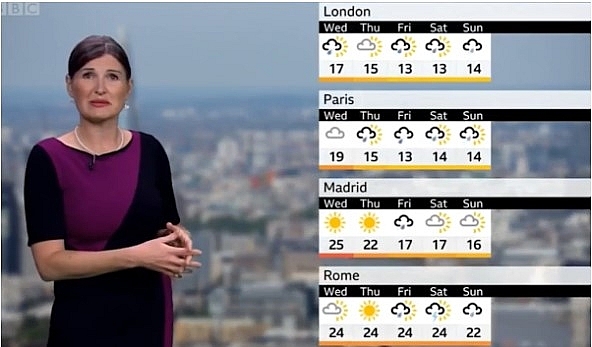 BBC Weather: In western Europe, they will also have some dry weather with both Italy and Spain remaining sunny and dry with temperatures in the mid-20s for the midweek. (Image: BBC)
"This next batch of wet weather will sweep its way in off the Atlantic into the UK and France. By that stage, we have still got the slow-moving showers across the eastern side of Europe."
"Wednesday will prove to be a fairly wet day for the United Kingdom due to this new weather front. For the UK the temperatures will fall away as we go through the week as well."
"They will fall in London, Paris and Madrid too by the weekend."
On september 30
Dry and mostly fair for Portugal and Spain though a band of heavy rain arrives to the far northwest of Spain later, Weather Online reported.
Dry and fine for the Balearic Islands and Italy though one or two showers may develop over western parts of the country later. Dry and sunny for much of Greece and Turkey though outbreaks of rain may affect Black Sea coastal parts of Turkey at times.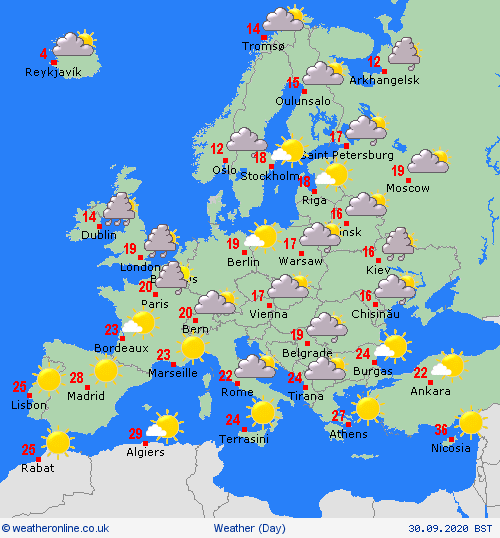 Photo: Weather Online
A cloudy start with scattered showers for the northwestern half of France, the Low Countries and western Germany with a band of heavy rain arriving over northwest France later. Dry and fine for Switzerland, eastern Germany and much of the Czech Republic. Early showers fade over Austria while an area of rain spreads into southeastern Poland, Slovakia, the western Czech Republic and western Hungary. This may be locally heavy.
Mostly cloudy with patchy outbreaks of rain for Demark and southern Norway. Mostly dry and bright for southern Sweden but cloudier further north and for Finland with isolated showers. Cloud builds over the southern Baltic States but it should stay mostly dry here with the best of the sun for Latvia.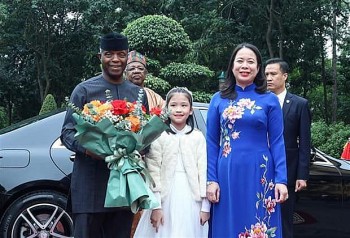 National
The two countries have strived to raise their bilateral trade to over USD 500 million and become important trade partners of each other in respective regions.