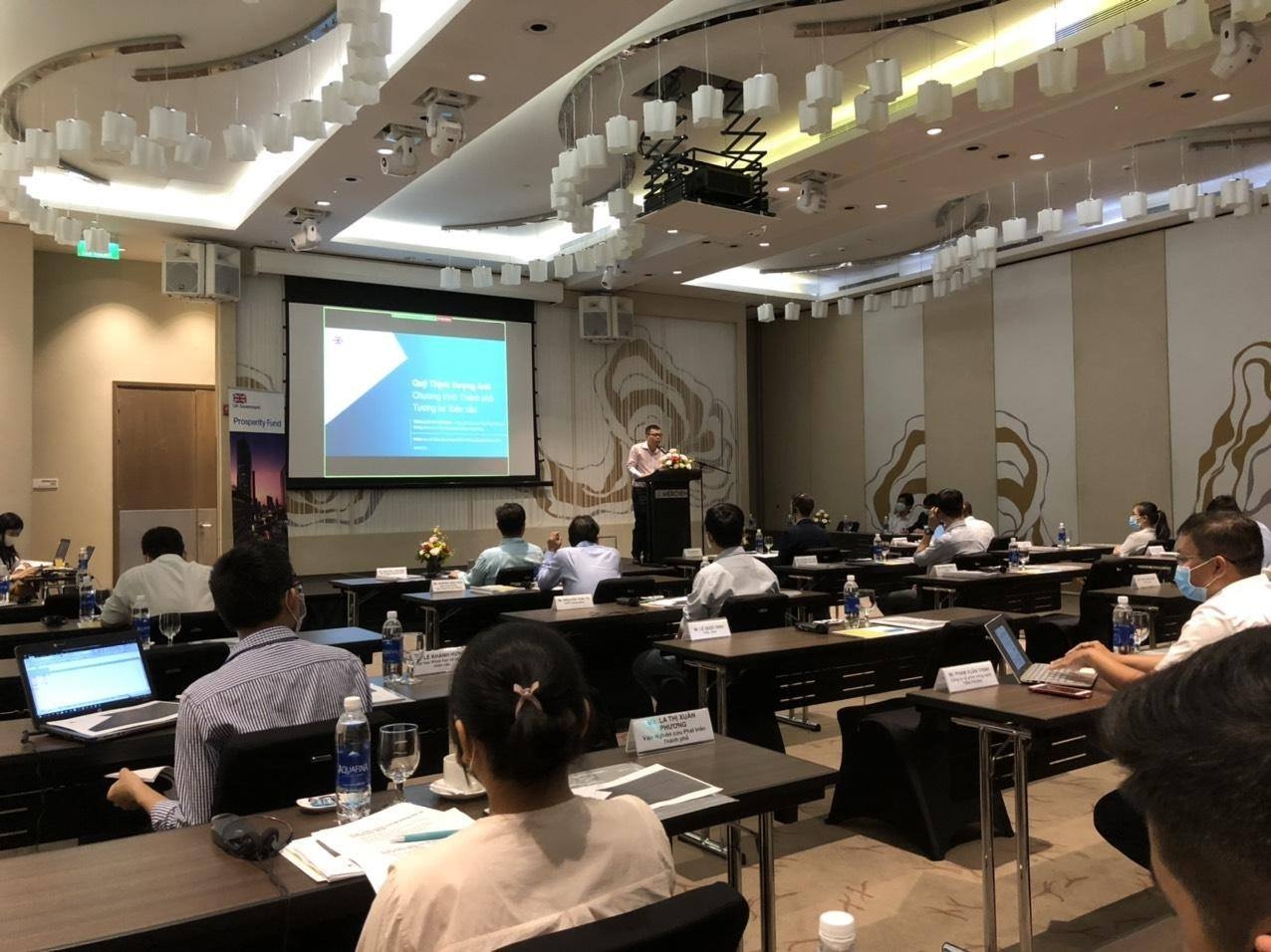 British Consulate General in Ho Chi Minh City and the Department of Transportation Ho Chi Minh City have co-organized the series of workshop "International best practices in system implementation"
Delegates at the workshop on August 4 were introduced the smart ticket system, challenges, difficulties and lessons learned from integrators that have implemented the system in the world.
Accordingly, the adoption of the smart ticket system has played an important role in the process of urban modernization in the past 20 years, from the cities that adopted it as early as London, Sydney, to new cities that have established this system recently such as Santiago or Sao Paulo. The smart ticket system has played an important role in increasing the rate of use of public transport in urban areas.
Cities that are considering adopting a smart ticket system at the present time will have the advantage of being able to choose the system architecture, contract model, administration and ticket technology.
Many lively and in-depth discussions at the workshop showed the interest of Ho Chi Minh City to build smart transportation, enhance the accessibility of the people of the city to public transport, and enhance management efficiency.
Speaking at the workshop, British Deputy Consul General to HCMC, Sam Wood emphasised the UK's commitment to cooperation and assistance to Vietnam in addressing urbanisation issues including transportation and flood control.
The smart ticketing system will help increase the rate of public transport usage in urban areas and in urban modernisation as well as improve service quality to attract more people to take bus rides, contributing to reducing congestion and traffic accidents.
The Global Future Cities Program is part of the UK's Prosperity Fund, which is implementing 30 projects in 19 cities in 10 countries around the world.
Vietnamese Prime Minister approved HCMC to participate in the UK-Global Global City Program in April, 2020.
Within the project framework, UK Government will collaborate with HCMC to improve Smart Ticketing System For Public Transports including existing bus network and future Mass Rapid Transit (MRT), Bus Rapid Transit (BRT), etc, which make the public transports more convenient and accessible.
Besides, boths side will work to develop the Geographical Information System for Drainage System. This will set a platform for authority to manage and forecast the flood in city.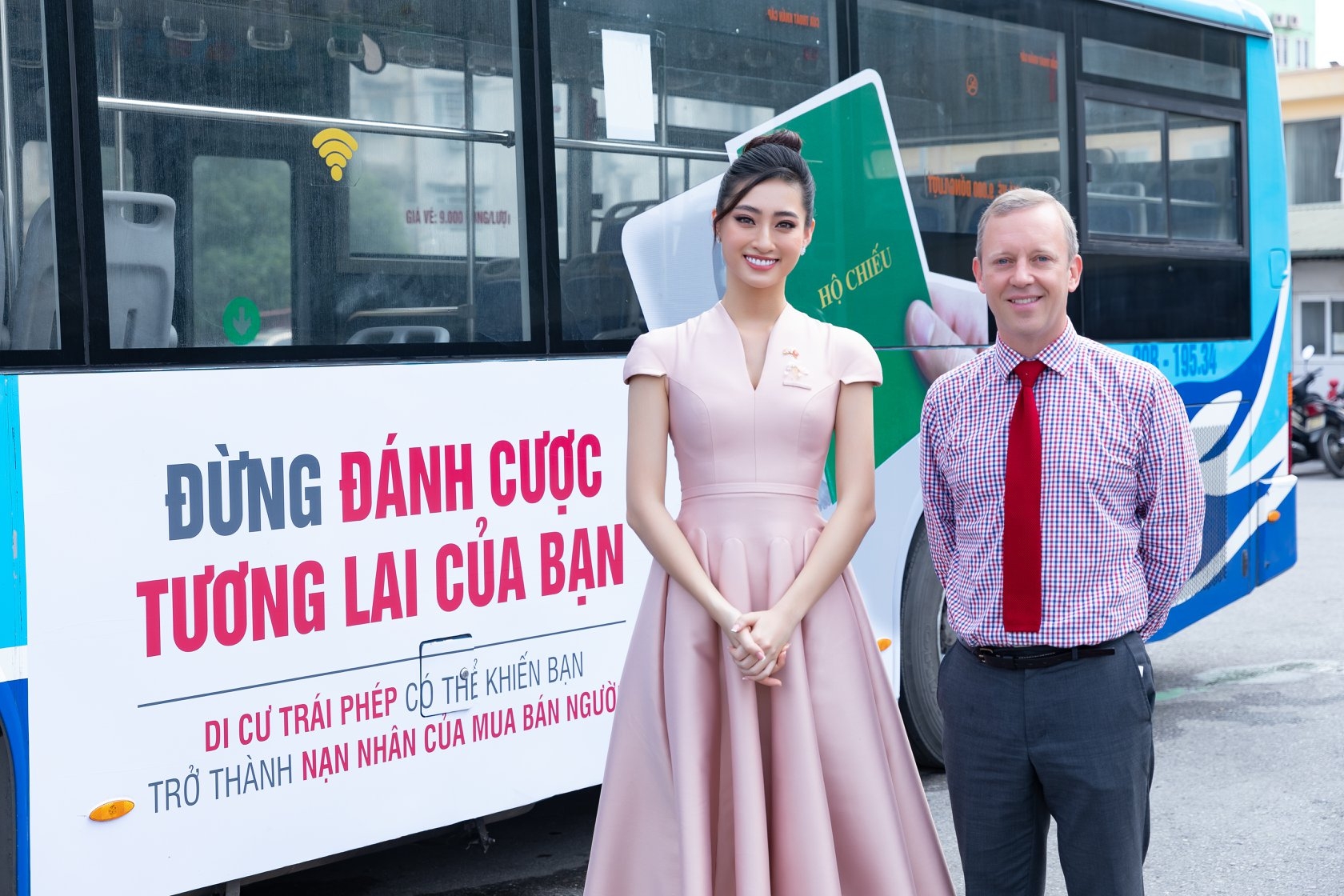 Miss World Vietnam 2019 Luong Thuy Linh and British Ambassador to Vietnam Gareth Ward at the event.
Earlier, on occasion of the World and Vietnam's Day Against Trafficking in Persons (30 July), British Ambassador to Vietnam Gareth Ward, Colonel Nguyen Minh Hieu from Vietnam's Ministry of Public Security and Miss World Vietnam 2019 Luong Thuy Linh joined in unveiling the slogan spreading a message of "Don't gamble with your future. Illegal migration can turn you into a victim of human trafficking" which is appearing on buses in Hanoi as well as Nghe An and Ha Tinh provinces in the next two months.
Meanwhile, a video on the issue featuring British Ambassador Gareth Ward and Miss Universe Vietnam 2017 H'hen Nie has been broadcast on VTV1, VTV3, and VTV6 from July 9 to 31.
The UK is committed to working closely with Vietnam on combatting human trafficking and modern slavery, British Ambassador affirmed./.
Hannah Nguyen