U.K's Health Secretary Test Positive For Covid-19, Increasing Anxiety About "Freedom Day"
U.K. Health Secretary Sajid Javid tested positive for Covid-19, just a few days before Prime Minister Boris Johnson's government lifting remaining virus restrictions for England.
British health minister Sajid Javid has said he tested positive for COVID-19, but that his symptoms were mild and he had had two doses of vaccine against the disease.
Javid, who has been health secretary for three weeks, has backed Prime Minister Boris Johnson's plan to fully reopenEngland's economy and scrap legal coronavirus restrictions from Monday.
"I was feeling a bit groggy last night, so I took a lateral flow test this morning and it's come out positive," he said in a video message on Twitter on Saturday.
Sajid Javid Source: WPA Pool/Getty Images
"So I'm now self-isolating at home with my family until I get the result of a PCR test. I'm grateful that I've had two jabs of the vaccine. And so far, my symptoms are very mild."
It creates a headache for the prime minister. Under test and trace rules, anybody who has been in contact with Javid in the previous 48 hours should self-isolate. Johnson is believed to have met the health secretary in Downing Street on Friday. That would leave the prime minister in the uncomfortable position of spending so-called "freedom day" stuck inside No 10.
Johnson may be able to avoid isolation if he has been taking part in a pilot system that allows people to work by taking a daily test. Last week it was revealed that staff at three government departments had signed up to the pilot scheme. However, Johnson risks being accused of double standards as the government continues to urge the public to isolate if they are told to do so.
Use of the scheme by officials also risks angering Conservative MPs opposed to the isolation rules. There have already been calls from Tories to expand the scheme, warning that allowing ministers to use it would create a perception of a "them and us" system.
Doctors and MPs said Javid's positive test, despite his double vaccination, highlighted the additional risk to the 32% of adults and all children who had not had both inoculations, The Guardian reported.
But last night the Sunday Telegraph reported that most children will not be offered a vaccine. Children aged 12 to 15 deemed vulnerable to Covid-19, or who live with adults who are vulnerable, will be eligible, it said. The Department of Health and Social Care said no decisions had yet been made.
Another 54,674 new cases of Covid-19 were announced on Saturday, confirming that numbers are back to levels last seen in January. A further 41 Covid deaths were also announced.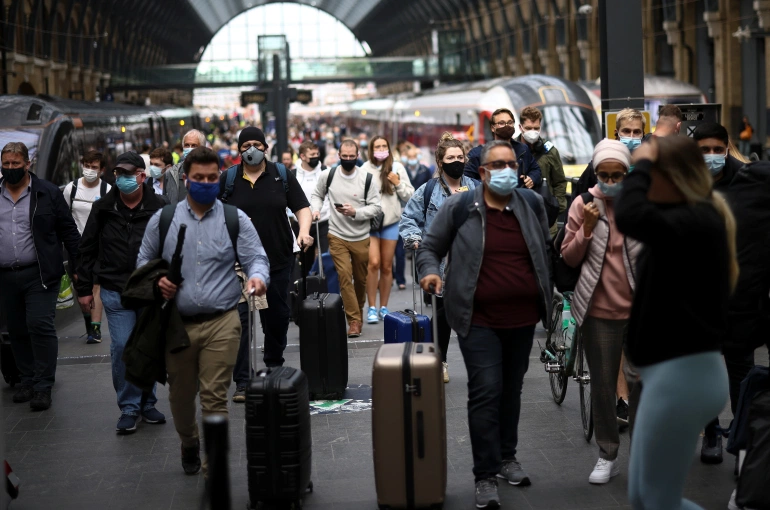 People wearing protective face masks walk along a platform at King's Cross Station, amid the coronavirus disease (COVID-19) outbreak in London [File: Henry Nicholls/Reuters]
The U.K. reported 54,674 new Covid cases on Saturday, the highest daily level in six months, as the spread of the delta variant pushes infection rates near records for the entire pandemic. Hospitalizations rose to 3,964, the most since late March, but have been rising at a slower rate.
The success of the country's vaccine drive, especially among older and more vulnerable citizens, has also limited fatalities from the latest wave. Some 41 deaths were reported Saturday, compared with more than 1,800 in a single day at the pandemic's peak in January.
Despite the surging case levels, the government plans to lift most remaining Covid-19 restrictions on Monday. It foresees cases possibly topping 100,000 by next month as the contagious delta variant, first identified in India, dominates. More than two-thirds of adults have received both Covid shots, Javid announced on Wednesday, leaving younger people, who've been last in line for inoculation, particularly vulnerable to the delta variant.
'Freedom day' of the grave risks of England end Covid-19 curbs
Dozens of the UK's leading cancer charities joined forces to make a powerful joint plea to the public to keep taking measures that will help protect those most vulnerable to the virus, according to The Guardian.
The letter from the public health experts states: "Nobody wants endless cycles of legal restrictions and lockdowns, but the idea that we should be relaxed about rising case numbers is wrong and damaging to public health."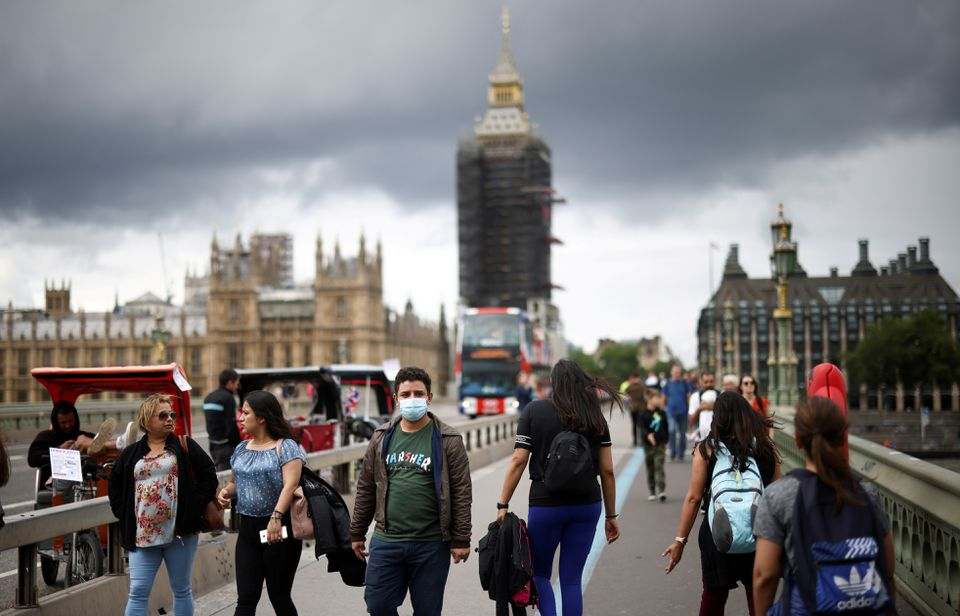 Photo: Reuters
Helping people to isolate if they have the virus is a vital tool for limiting Covid's spread, they say, as well as wearing face masks indoors, socialising outdoors in preference to indoors, working from home, opening windows and washing hands.
While guidance remains to wear masks and socially distance in hospitals, NHS chiefs are warning that staff are already being confronted by people refusing to wear masks or maintain a safe distance. Some trusts said they had been dealing with non-compliance even before the end of restrictions.
But with health minister Sajid Javid saying cases could hit 100,000 a day, more than 1,000 scientists have signed a letter to condemn government strategy as "unscientific and unethical."
Critics say the strategy will not only cause deaths but also debilitating long COVID in many, while increasing risks to the clinically vulnerable.
"Allowing infections to run amok in the country is a dangerous mistake," Stephen Griffin, an associate professor in the School of Medicine at the University of Leeds, told Reuters.
"I don't believe that our vaccines are at a sufficient level yet to allow this to happen safely."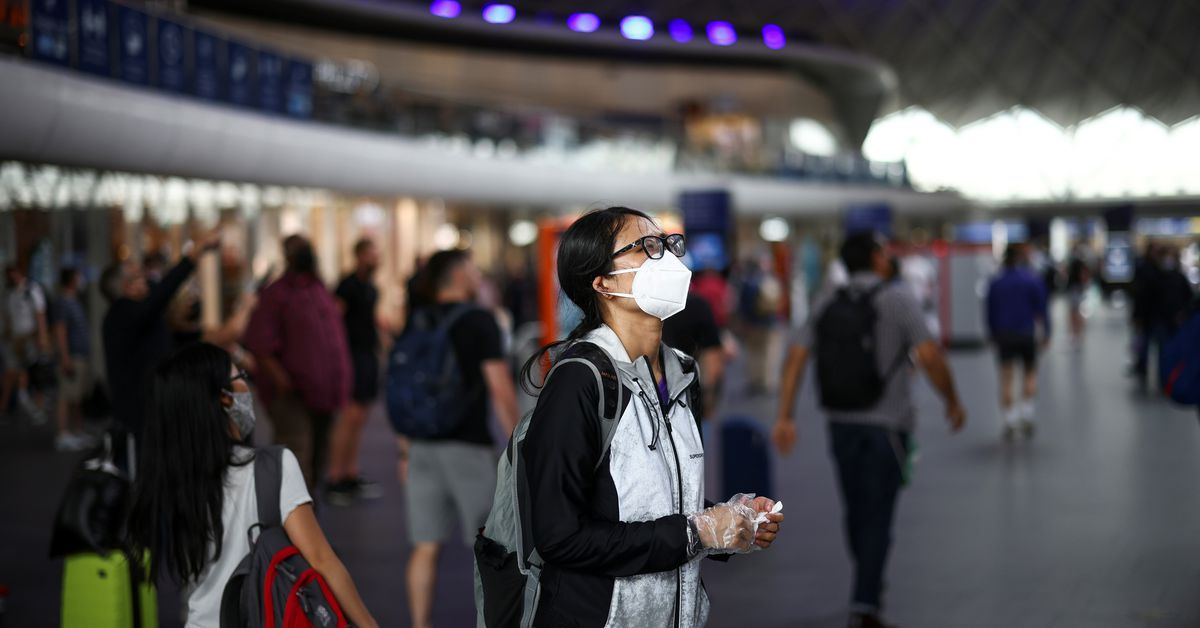 Photo: Reuters
Luke Peters, an author and double lung transplantee with cystic fibrosis, said vulnerable people were being forgotten, Reuters reported.
"It makes going into crowded spaces virtually impossible for people like me, so while everybody is looking towards Monday the 19th of July, the so-called freedom day... it's more of an anxiety day for many of us," he told Reuters.
Anxiety might be a factor saving the country from worst-case scenarios. Graham Medley, who chairs the modelling sub-group of the government's group of scientific advisors, said public behaviour was a key variable.
"That uncertainty is really almost impossible to get rid of because we just do not know the way in which people are going to behave," Medley, professor of infectious disease modelling at London School of Hygiene and Tropical Medicine, told Reuters.
Marc Baguelin, a lecturer in infectious disease at Imperial College London, whose modelling feeds into government advice, told Reuters that if people suddenly start mixing as they did before, infections could overwhelm hospitals.
"If this is more gradual and if people keep on having certain precautionary behaviour, that might be much better," he added.