Vietnam records three COVID -19 related deaths, both due to multiple comorbidities
Vietnam's second and third COVID-19 related death cases were recorded due to serious diseases. Hanoi, Ho Chi Minh City implement urgent measurement.
The second death was a 61-year-old Covid-19 patient being died of serious septic shock due to serious diseases and Covid-19.
"Patient 437", a resident of Cam Le District, Da Nang City, died Friday night, Deputy Health Minister Nguyen Truong Son said. He had been treated for chronic kidney failure, hypertension, diabetes, atrial fibrillation and gout at the Da Nang Hospital for a long time before he was found infected with Covid-19 on July 27, reported VNExpress.
This was a complicated case as the patient was suffering from last stage chronic kidney disease with a history of seven years of hemodialysis, hypertension, gout, atrial fibrillation, heart failure and pulmonary edema. After developing breathing difficulty, he was transferred to the hospital's Department of Urology.
He'd had high fever, respiratory failure since July 9 and was treated at the hospital's Department of Resuscitation on July 17.
On July 29, the patient had vascular failure, high blood pressure and was put on ECMO (Extracorporeal membrane oxygenation) support.
Vietnam reports its third COVID-19 related death, a 68-year-old woman who was being treated for cancer in Da Nang.
Vietnam's first Covid-19 fatality was "Patient 428", a 70-year- patient from central Hoi An Town with multiple co-morbidities who died Friday afternoon.
The Health Ministry said Friday afternoon that "Patient 428" had died of "myocardial infarction caused by chronic diseases of hypertension, heart failure, end-stage of chronic renal failure, complications of respiratory failure due to heart failure and Covid-19."
Both of the two first COVID-19 death in Vietnam involved in the elder and multiple comorbidities, causing difficulty in treatments.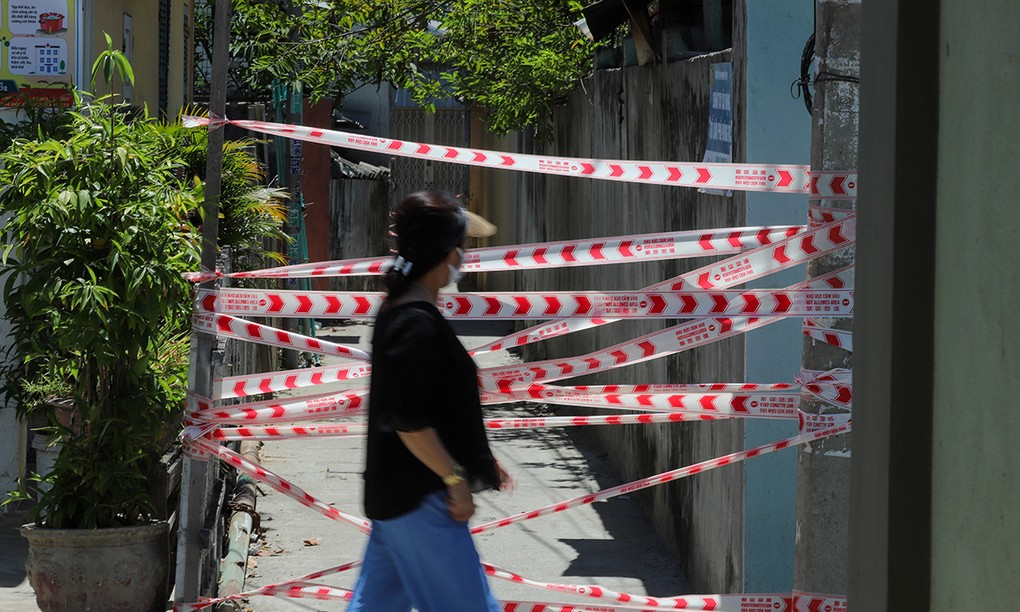 A woman walks past a residential area in Da Nang that has been cordoned off because of a Covid infection, July 28, 2020. Photo by VnExpress/Nguyen Dong.
Urgent measurement
Starting from 0 a.m, August 1, all bars, karaoke venues, and roadside stalls will have to close and large gatherings are banned in Hanoi, the city's authorities announced on July 31 morning.
According to that, restaurants and malls are still allowed to open but social distancing measures will need to be applied, Chairman of the Hanoi People's Committee Nguyen Duc Chung said during a meeting on COVID-19 prevention and control.
Chung said the risks of virus spreading in Hanoi is high as there are an estimated 54,000 people – double the figure available on July 27 – returning from the virus-hit central region since July 7.
In the last two days, Hanoi has tested 18,500 people via quick testing methods and planned to finish testing all 54,000 people by August 1, said Nhandan.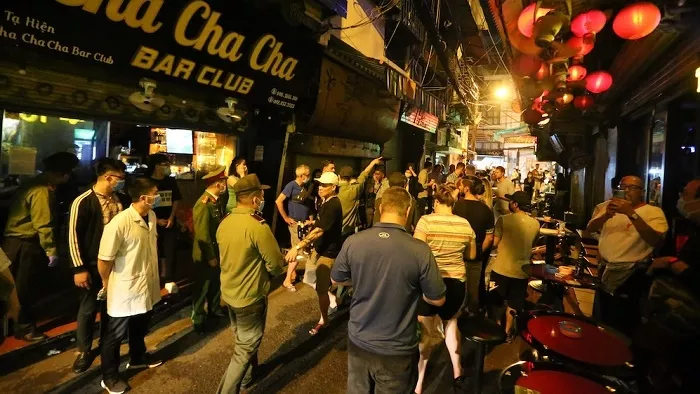 Hanoi orders closure of bars, karaoke venues and roadside stalls. Photo: Nhandan
10 tests have returned positive – two in Nam Tu Liem district, one in Hoang Mai district, six in Gia Lam district, and one in Thanh Xuan district.
Ho Chi Minh City has banned large gatherings and ordered all bars and dance clubs to close starting Friday as Covid-19 numbers rise in the country, reported VNExpress.
Specifically, the southern metropolis has banned all gatherings of more than 30 people, as also events like festivals, fairs and non-urgent conferences and meetings, the municipal People's Committee announced Thursday.
Events like weddings and funerals should not have large gatherings. Residents have been requested to wear masks in public, it said.
At meetings deemed necessary, all attendees must wear masks and wash their hands before and after the meeting, refrain from shaking hands and other close exchanges. All surfaces and objects must be disinfected.
Vietnam's Covid-19 outbreak Da Nang City reported 12 more cases, numbered 547 to 558, who are either family members or patients at Da Nang Hospital, and those that have contacted previous infections in the city.
Danang to shutdown COVID-19 hotspots

Barriers and guards were deployed to lock down four sections of streets surrounding three hospitals - the general hospital, C Hospital, and Rehabilitation and Orthopaedics hospital - which are ...