UN Applauds Vietnam's Efforts in Human Rights Protection, Promotion
UNDP commends Vietnam for undertaking the first voluntary UPR midterm report, further demonstrating its commitments to multilateralism and rule of law.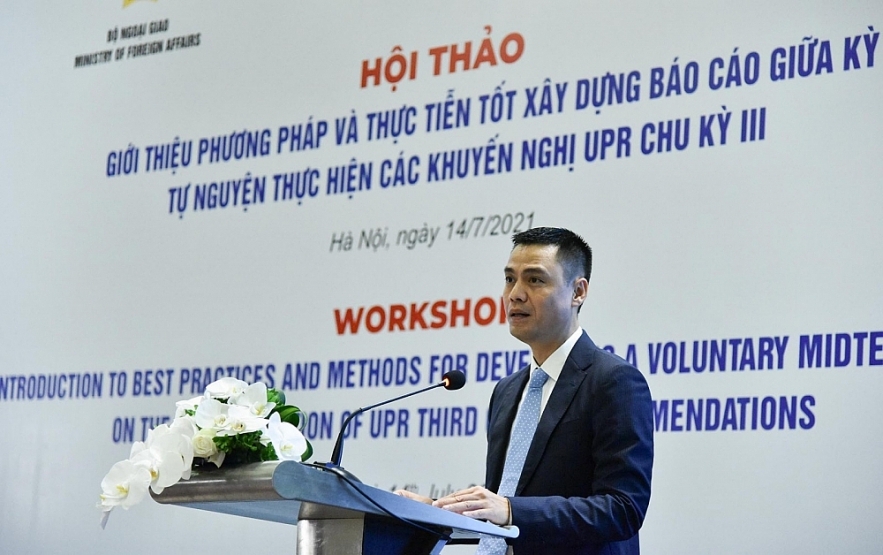 Deputy Minister of Foreign Affairs Dang Hoang Giang speaks at the workshops.
The Vietnamese Ministry of Foreign Affairs and the United Nations Development Programme (UNDP) on July 14 jointly held an international consultation workshop on "Introduction to best practices and methods for developing a voluntary midterm report on the implementation of UPR third cycle recommendations."
True, comprehensive information
In his opening remarks, Deputy Minister of Foreign Affairs Dang Hoang Giang said since Vietnam completed its third-cycle Universal Periodic Review (UPR) in 2019, there have been changes in the domestic and international situation.
In that context, the voluntary mid-term report will provide true and comprehensive information reflecting Vietnam's commitments and consistent efforts to continue maintaining socio-economic stability and ensuring human rights, especially for vulnerable groups amid the Covid-19 pandemic, Giang said.
He lauded the information sharing of the United Nations Human Rights Council (UNHRC)'s Secretariat, as well as the exchange of experience in report compilation of Thailand, Japan and the Republic of Korea (RoK).
From now till the end of this year, the ministry will organise more international workshops to collect opinions from ministries, agencies, international organisations and experts to complete the report which will be submitted to the Prime Minister for approval, and then to the UNHRC, according to the official.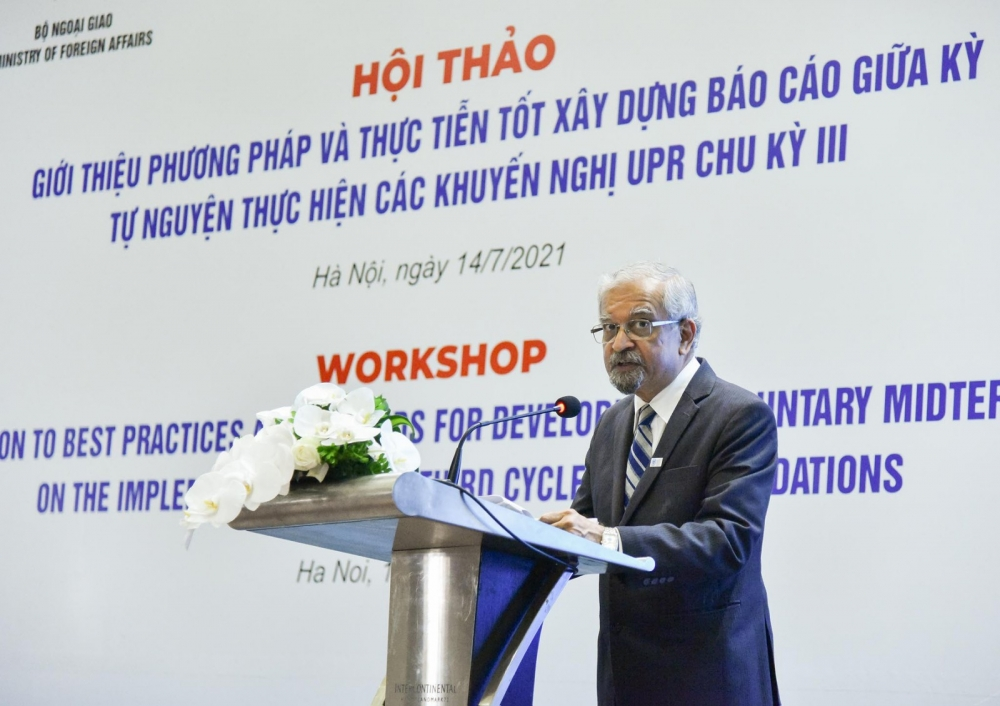 Kamal Malhotra, UN Resident Coordinator in Vietnam, welcomed Vietnam's strong commitment to multilateralism and human rights protection.
Kamal Malhotra, UN Resident Coordinator in Vietnam, welcomed Vietnam's strong commitment to multilateralism and human rights protection as seen in its decision to make a voluntary mid-term report.
The UN highly values Vietnam's proactive actions to cope with challenges in human rights protection and promotion, along with its readiness to accept and implement the recommendations in certain fields, he said, adding that UN agencies in Vietnam are proud to have jointly helped the country implement at least 75 percent of the accepted recommendations.
He also suggested Vietnam protect vulnerable groups and guarantee human rights in digital transformation, affirming UN agencies' continued enhancement of cooperation to assist the Vietnamese Government and people in this regard.
At the workshop, experts from the HRC Secretariat and the foreign ministries of Thailand, the RoK, and Japan shared experience in implementing UPR recommendations and making voluntary mid-term reports. They also gave opinions on the report compilation in Vietnam.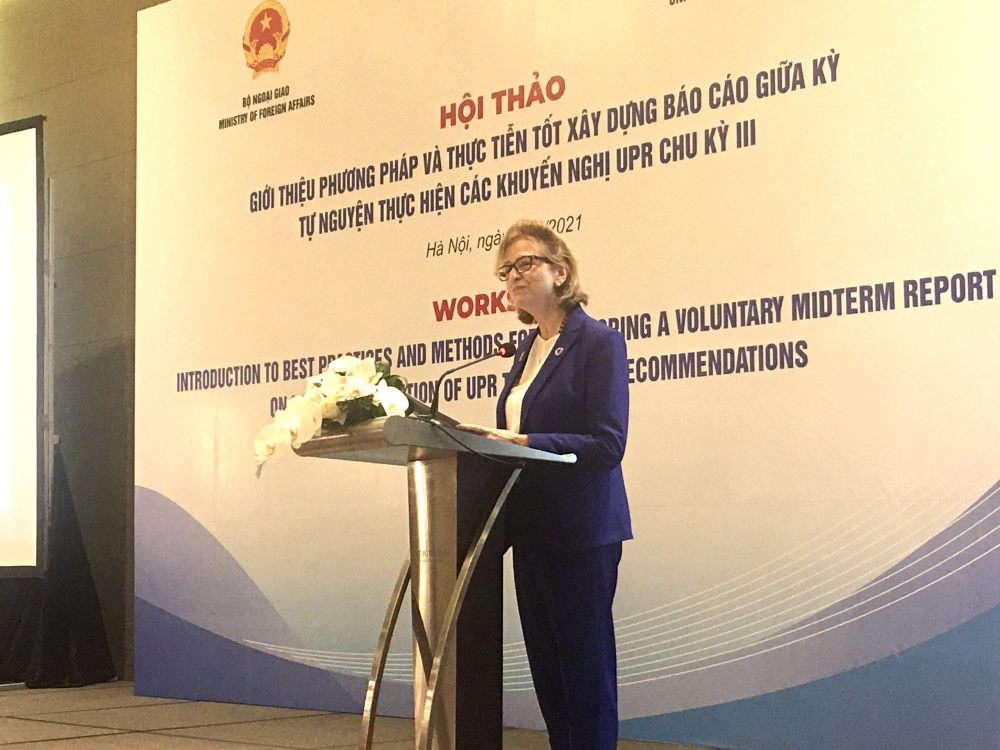 Caitlin Wiesen, Resident Representative, UNDP Vietnam, speaks at the workshop.
Addressing the event, Caitlin Wiesen, Resident Representative, UNDP Vietnam, said among many benefits that the UPR mid-term reporting mechanism can bring is the opportunity for Vietnam to look back and reflect on the progress that has been made – what has worked, as well as on where further progress is needed.
"For example, Vietnam has seen advances in economic, social and cultural rights, reflected by improvements in the Multidimensional Poverty Index. We have also observed advances in governance and the rule of law, but more work is required to ensure equal access to justice and inclusive participation of the most vulnerable, including, ethnic minorities and people with disabilities, among others – all topics featured in 3rd cycle UPR recommendations," she noted.
"The Covid-19 pandemic has presented unique challenges for the protection of human rights around the world, including in Vietnam. However, the pandemic should not put a pause in UPR implementation. On the contrary, tackling the virus and improving human rights is in line with accepted UPR recommendations and should move together hand-in-hand. We know that responses to the pandemic that respect human rights and dignity will result in better, more inclusive outcomes in battling Covid-19. It will also help to ensure healthcare for everyone while spurring inclusive, sustainable development.
In particular, the importance of leaving no one behind has been brought into even sharper relief since the beginning of the pandemic," she continued.
Mitsukuni Miyakawa from the Japanese Ministry of Foreign Affairs said the Japanese government lauds Vietnam's commitments and seriousness in implementing UPR recommendations.
Vietnam's efforts in building the voluntary mid-term report would help the country win a seat at the UNHRC for 2023-2025, he believed.
Japan will continue its support and cooperation with Vietnam in the international arena to promote human rights protection across the world, he said, noting that Japan praises Vietnam's efforts, especially in the organisation of the international workshop.
Synchronous, comprehensive implementation of third-cycle UPR recommendations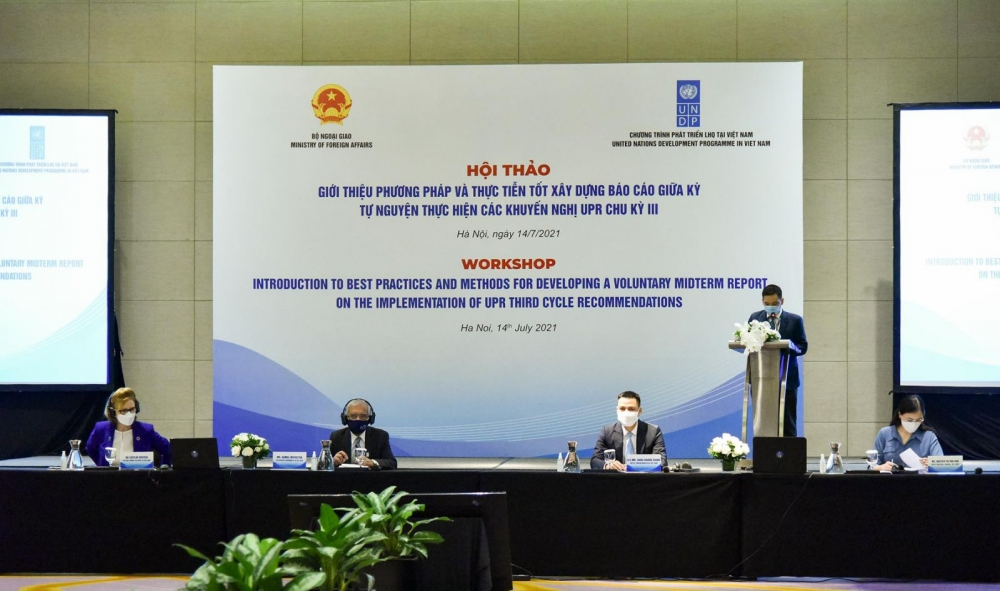 The workshop was jointly held by the Vietnamese Ministry of Foreign Affairs and the United Nations Development Programme (UNDP).
Nguyen Hai Luu, deputy head of the Department of International Organisations at the Foreign Ministry, said with its consistent policy of human rights protection and promotion, and its seriousness in realising relevant commitments and obligations defined in international treaties to which Vietnam is signatory, the country always attaches importance to the UPR mechanism during its participation and contribution to the UNHRC.
This is one of the most important mechanisms of the council, aiming to review the human rights situation in all UN member countries on the basis of dialogue, cooperation, equality, objectiveness, transparency and non-discrimination, he further explained.
Since the second-cycle UPR in 2014, Vietnam has built a master plan on the implementation of accepted recommendations, according to the official.
On that basis, many ministries and agencies have joined the implementation efforts, while devising their own plans in this regard. As a result, up to 175 out of 182 recommendations accepted in the second cycle have been materialised, helping to provide adequate and accurate statistics in service of reports of the next cycle.
Luu said the third-cycle UPR recommendations Vietnam has accepted mainly focus on completing institutions and laws on human rights; promoting policies that ensure economic, social and cultural rights; policies guaranteeing civil and political rights; policies guaranteeing rights of vulnerable groups, especially in gender equality, child rights and rights of people with disabilities and ethnic minority people; enhancing education and improving public awareness of human rights; and realising international commitments and boosting international cooperation in human rights.
Since 2019, Vietnam has passed more than 30 amended laws, notably the Labour Code, the Law on Execution of Civil Judgments, the Law on Exit and Entry of Vietnamese Citizens, the Law on Education, the revised Law on Vietnamese Guest Workers under Contract, and the Law on Dialogue and Reconciliation.
Moreover, the country has ratified Convention 98, one of the International Labour Organisation (ILO)'s core conventions that aims to promote collective bargaining, and ILO Convention 159 on Vocational Rehabilitation and Employment for Disabled Persons.
Vietnam has made a national report on the implementation of the International Covenant on Civil and Political Rights (ICCPR) in March 2019, and submitted another on the realisation of the International Convention on the Elimination of All Forms of Racial Discrimination, among others.
Luu highlighted Vietnam's constructive and responsible participation in international forums on human rights, where the country has affirmed its positive viewpoints and stance on the matter, as well as the country's efforts to promote dialogues, cooperation and equal access in this field.
The country has contributed to and been the co-author of many draft resolutions on economic, cultural and social rights, particularly those relating to rights of children and women, as well as education and the fight against drugs and crimes.
Vietnam is an author of the UNHRC's annual resolutions on human rights and climate change, he said.
Vietnamese ministries and agencies will continue implementing the accepted UPR recommendations in the time ahead to affirm the country's seriousness and responsibility for human rights protection and promotion, Luu stressed./.