UNDP, Australia, and Viet Nam Renew Cooperation for Poverty Reduced Half by 2025
The launch of the Joint UNDP-MOLISA-DFAT project: "Programme development and policy advising on multidimensional and sustainable poverty reduction, 2021 – 2023"; and signing the memorandum of understanding between UNDP and National Coordination Office for Poverty Reduction, Ministry of Labour – Invalids and Social Affairs (MOLISA), took place in Ha Noi on the afternoon of Feb 28.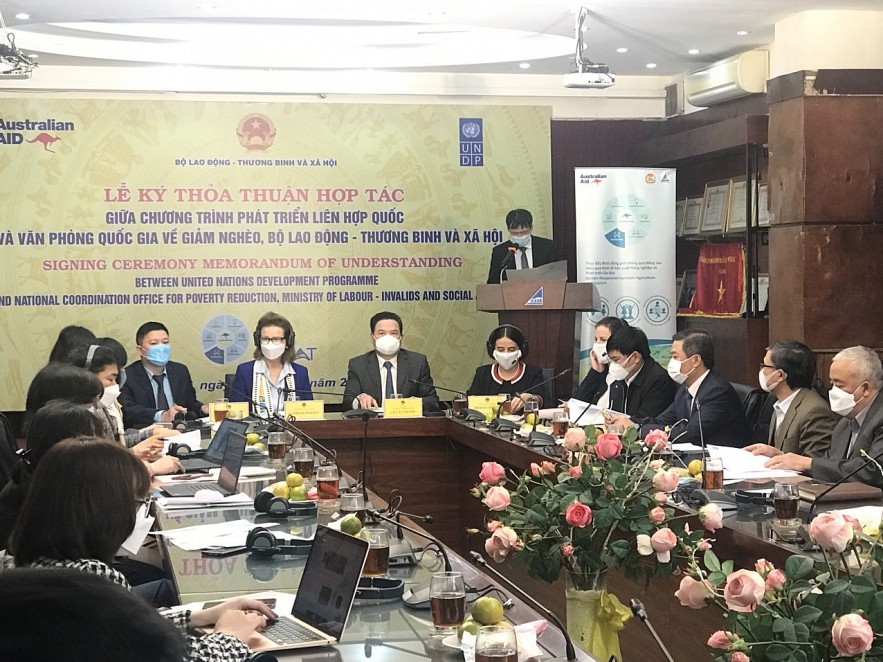 The overview of the ceremony. Photo: VNT
On February 28, the signing ceremony of cooperation agreement in poverty reduction between the United Nations Development Program (UNDP) and the National Office for Poverty Reduction, the Ministry of Labor, Invalids and Social Affairs (LOLISA) and the launch of the Joint UNDP-MOLISA-DFAT project: "Programme development and policy advising on multidimensional and sustainable poverty reduction, 2021 – 2023" took place in Hanoi.
Deputy Minister of Labor - Invalids and Social Affairs Le Van Thanh speaks at the ceremony. Photo VNT
Witnessing the signing ceremony, Vice Minister of MOLISA Le Van Thanh appreciated in the field of poverty reduction of UNDP, the Australian Department of Foreign Affairs and Trade (DFAT), and the National Office on Poverty Reduction. Vice Minister Le Van Thanh noted: "In implementation of the Prime Minister's Decision No. 90/QD-TTg approving the National Target Program on Sustainable Poverty Reduction in the 2021-2025 period, MOLISA look forward to strengthening bilateral and multilateral cooperation with international partners to successfully implement the objective of reducing multidimensional poverty in a inclusive and sustainable maner, toward reducing poverty in all dimensions, for all people, everywhere, at all time".
The Program has many more innovative core points in relative to the 2016-2020 period. The new Program applies a strategy to focus investment in people, with direct investment in developing capacity for the poor. It clearly identifies the causes of poverty in order to radically and thoroughly solve the problems of the poor and the extremely poor areas.
The Program deploys investment with focus and sustainability, focusing on poor districts and communes with special difficulties in coastal areas and islands. Priority is given to supporting poor ethnic minority households, poor households with members providing meritorious services to the Revolution, and children and women from poor households.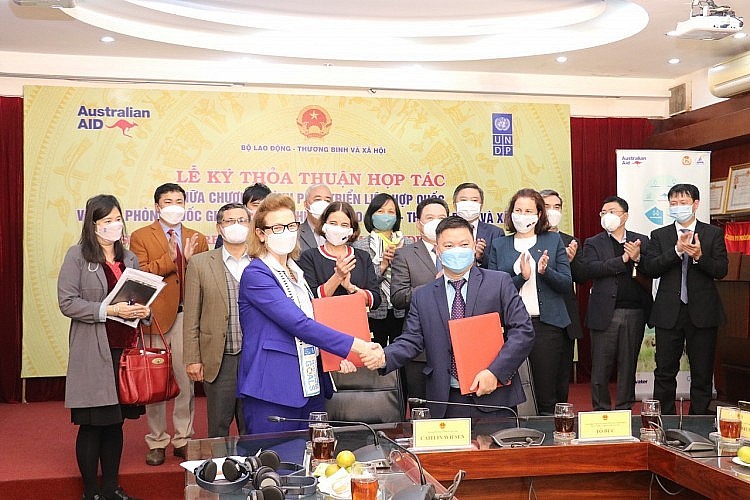 Delegates attended the signing ceremony. Photo VNT
In addition, the method of supporting the poor has also changed, moving from fragmented livelihoods support to each household to focusing on supporting poor households by connecting with the models of arranging production that are suitable to the situation of the local areas, needs of poor households by developing and replicating models and projects for poverty reduction to support the development of production, business, service, tourism, start-up, and entrepreneurship to create jobs, sustainable livelihoods, good incomes, improve life quality and adapt to climate change and epidemics for the poor; contributing to realizing the goals of economic restructuring, labor restructuring, promotion of the nation's cultural values, environmental protection, economic growth and sustainable poverty reduction goals.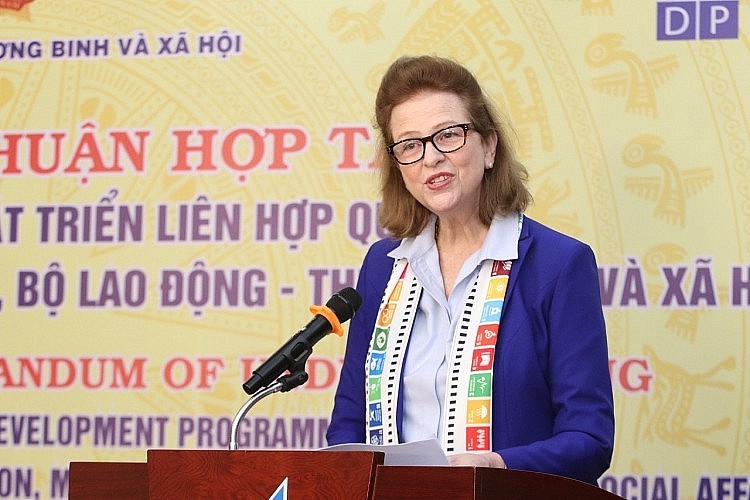 Ms. Caitlin Wiesen, UNDP Resident Representative in Vietnam welcomed Vietnam's decision to invest in the National Targeted Program. Photo VNT
Speaking at the ceremony, Ms. Caitlin Wiesen, UNDP Resident Representative in Vietnam welcomed Vietnam's decision to invest in the National Targeted Program on: (i) Sustainable Poverty Reduction (2021-2025) – NTPSPR and (ii) Socio-economic development in ethnic minority and mountainous areas (2021 - 2030) – NTPSEDEMA. Wiesen said that the pilot implementation of digital and creative solutions together with the Committee for Ethnic Minority Affairs (CEMA) and the GREAT/DFAT initiative in Lao Cai and Son La provinces have brought useful experience for the community of expansion new projects.
"This project demonstrates the commitment from UNDP to support MOLISA in their vision to deliver the National Targeted Programme on Sustainable Poverty Reduction. Our tried and tested innovative solutions will be applied more widely to help meet the NTP's objective of reducing the number of poor and near-poor households by half by 2025," said UNDP Resident Representative in Viet Nam Caitlin Wiesen.
In an interview with Vietnam Times, the UNDP Resident Representative said that the group they were working a lot for was Women and women - headed households, one of the most vulnerable ones but with great capacity to grow that need specialized effort and drastic measures of taking care of them. The UNDP is looking at ways to reach these different groups depending on their abilities or different ways they can engage, importantly for women with disabilities and ethnic minority. And the best way for any individuals to be able to access the programme and get support is through local governments. The UNDP will work closely with local governments to promote the programme, also local governments in provinces need act for groups having intended for engagement with but haven't yet to be defined.
Local governments play very important role to taking the program's effectiveness in hand and making it come true to needy people.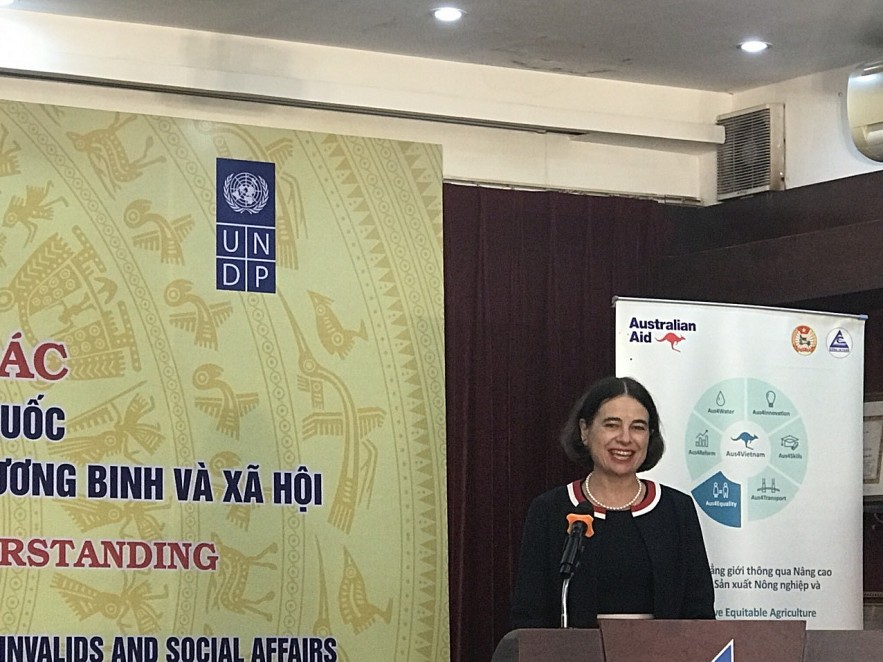 Australian Ambassador to Vietnam Robyn Mudie spoke at the ceremony. Photo VNT
The Program also focuses on supporting the poor to solve the most critical issues such as livelihoods, vocational training, employment, and stable income. It adds a number of projects, sub-projects, new components such as developing vocational education, decent work, housing, improving nutrition, communicating and replicating poverty reduction initiatives and arousing the will of poor people and poor communities to get out of poverty; applying information technology in reviewing, monitoring and managing poor and near-poor households.
"Australia is committed to supporting sustainable and inclusive growth in Vietnam. The UNDP-MOLISA partnership that is officially launched today is part of Australia's commitment. We value this partnership as it has led to innovative solutions for poverty reduction to be embedded in government programs and policies," said Australian Ambassador to Viet Nam Robyn Mudie.