UNDP, Vietnam Promote Cooperation to Build Community Resilience to Climate Change
Mangrove forest planting project carried out by the United Nations Development Programme (UNDP), the Vietnamese Government, and Green Climate Fund are helping to mitigate climate change, protect vulnerable coastal communities, and making local's lives safer and more sustainable.
During her recent visit to Vietnam, UN Assistant Secretary General and UNDP Regional Director for Asia and the Pacific Kanni Wignaraja, has participated in planting mangroves with leaders and people of Thanh Hoa province, one of the 28 coastal localities in Vietnam vulnerable to climate change impacts.
Mangrove forests are an important buffer between the sea and coastal communities. The project has helped coastal residents to stabilize their livelihoods and get involved in ecological and environmental protection.
UN Assistant Secretary General and UNDP Regional Director for Asia and the Pacific Kanni Wignaraja joins local leaders and people in planting mangrove forests, one of the most effective nature-based solutions to enhance the resilience of coastal communities to climate change. Source: baoxaydung.com.vn
Wignaraja has been on an official visit to Vietnam from July 27-31 to follow up a meeting between Prime Minister Pham Minh Chinh and UNDP Administrator Achim Steiner in New York last May, with priority given to the UNDP's support for Vietnam in the context of post-pandemic recovery and financing a sustainable climate and energy transition.
Wignaraja highly appreciates the strong commitment of Thanh Hoa Provincial People's Committee in adapting to the impacts of climate change through resilience-building initiatives. From 2017 to now, the Government of Vietnam, the Green Climate Fund (GCF), and the UNDP have revived and planted more than 337ha of mangrove forests, and built 1,403 safe houses for poor, near-poor and women-headed households.
The project "Improving resilience of vulnerable coastal communities to climate change in Vietnam" has benefited more than 8,000 people in Thanh Hoa.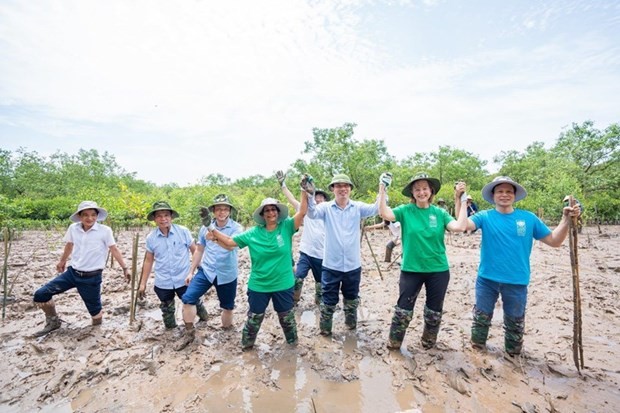 Kanni Wignaraja (fourth, left) joins local leaders and people in planting mangrove forests. Source: UNDP Vietnam
Vice Chairman of the provincial People's Committee Le Duc Giang thanked the UNDP for its support to the locality, especially in building resilience and improving people's livelihoods.
Both sides wished to further enhance cooperation to build more safe houses for the local community; regenerate mangrove forests in a way that engages the local community with livelihoods; and improve knowledge for locals in managing disaster risks.
According to Caitlin Wiesen, UNDP Resident Representative Vietnam, mangroves are one of the most effective nature-based solutions. Forests are a source of sustainable livelihoods, as in aquaculture and beekeeping, and contribute to carbon sequestration, biodiversity conservation, and the protection of lives, livelihoods and infrastructure.
Forests create a common benefit, both reducing the impact of climate change, helping people improve their livelihoods and incomes, as well as increasing forest cover in Vietnam. Mangroves help Vietnam achieve its climate ambitions and develop resiliently and sustainably, highlighted Wiesen.
In order to identify safe sites for building flood and storm-resistant safe houses, the project also implemented a series of community-based disaster risk management activities, including risk assessment. To date, over 8,000 people (with more than 50% of women participating) have benefited from these provincial training courses. These training courses have helped the community to assess risks from disasters and climate change, and help develop disaster risk maps and risk reduction plans for each specific location.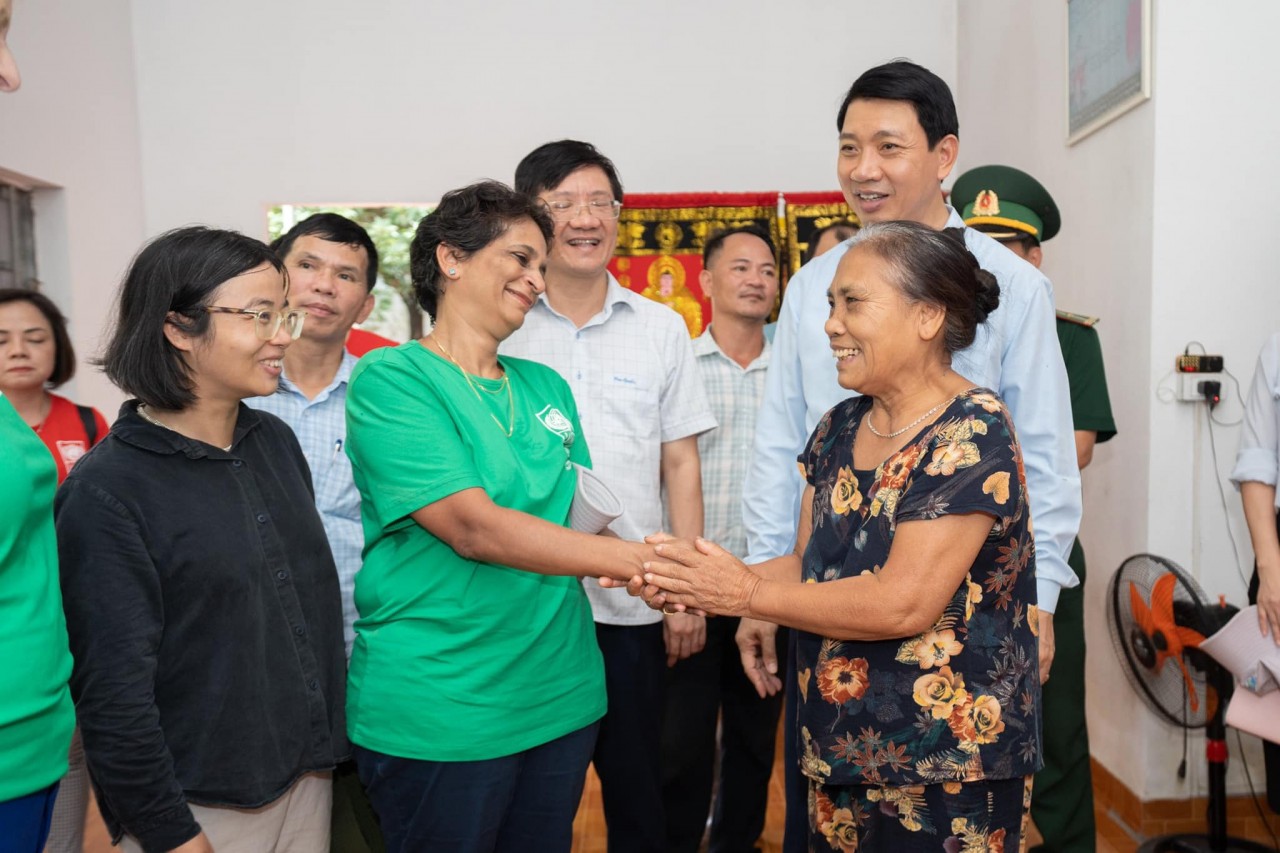 Ta Thi Bieu, Minh Tho village, Minh Loc commune, one of the households supported by the project in 2020, is happy to have a solid and safe house to withstand storms and flood. Source: UNDP Vietnam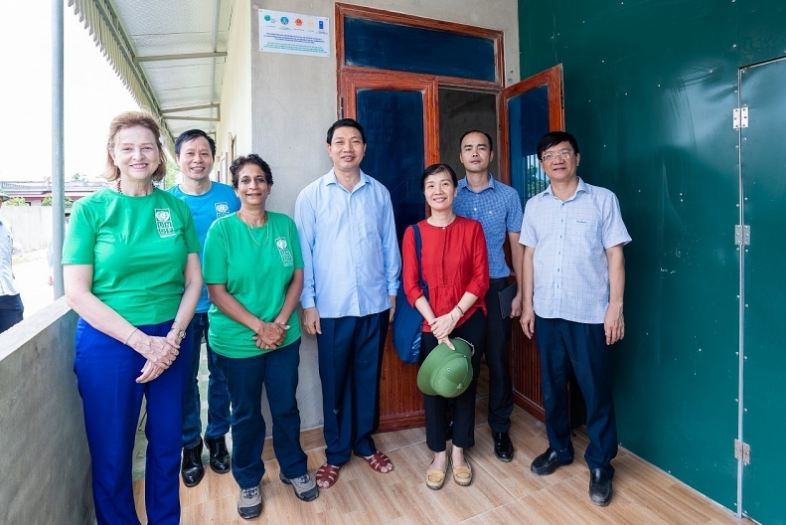 Kanni Wignaraja and the delegation visit households received support to build flood-resistant house. Source: UNDP Vietnam
According to a recent study by the UNDP and the Ministry of Construction, more than 110,000 households have the need to build safe houses in the 28 coastal provinces and cities, including 10,000 in Thanh Hoa.
More than 2,100 out of a total of 25,000 safe houses urgently required construction across the country are located in coastal households in Thanh Hoa.
The UNDP will help build an additional 100 flood-resistant houses for poor households in the north-central coastal province of Thanh Hoa in the coming time, said Wignaraja.
In addition, other projects funded by the GCF are also promoting sustainable production of bamboo forests in Nguyet An commune, Ngoc Lac district and restoring traditional red antler production for indigenous people in Muong Lat district. These projects are examples of the combination of selecting high economic value varieties with open market, using local knowledge and modern farming technology, focusing on livestock and intensive farming, with the participation and support of the local.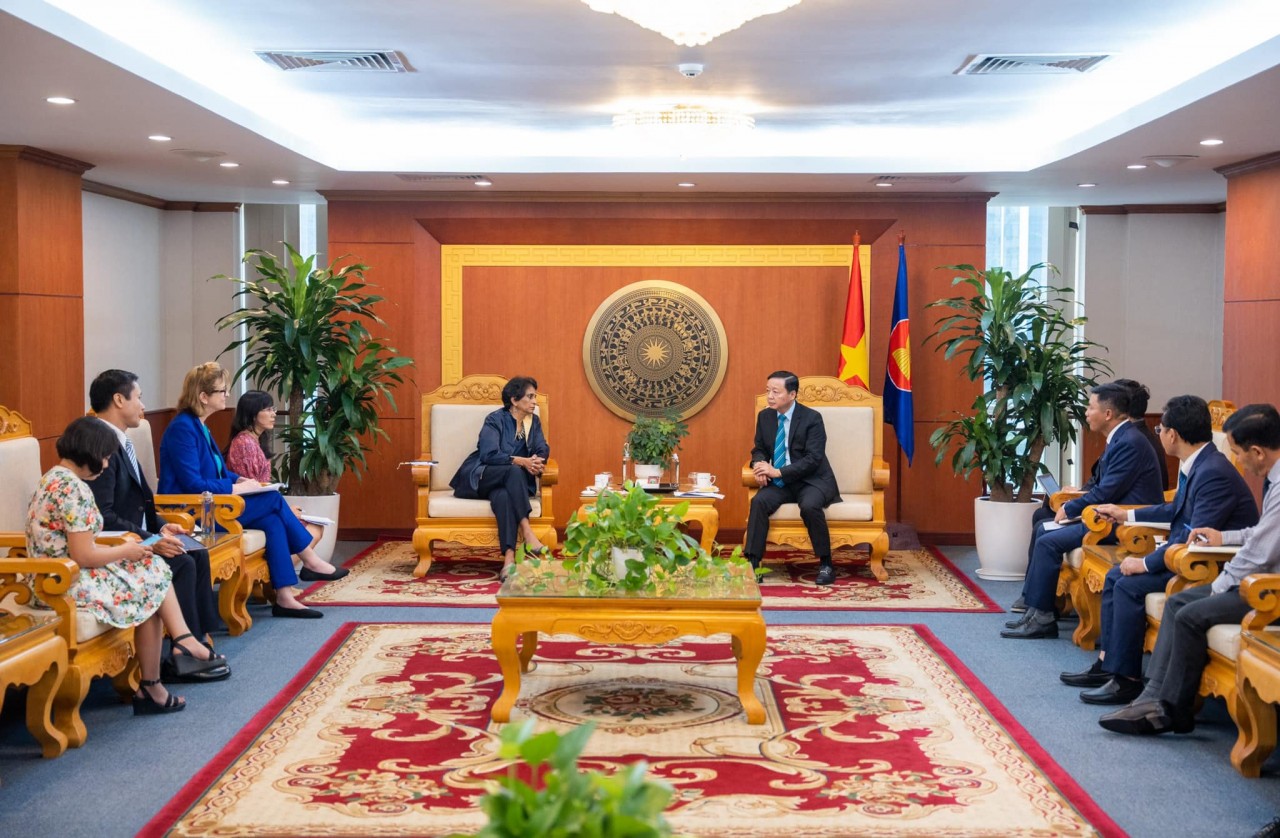 UN Assistant Secretary General and UNDP Regional Director for Asia and the Pacific Kanni Wignaraja meets Minister of Natural Resources and Environment Tran Hong Ha. Source: MONRE
Minister of Natural Resources and Environment Tran Hong Ha received Wignaraja along with UNDP's delegates.
Wignaraja said that UNDP and the ministry have had a long tradition of cooperation and in the coming time, UNDP wishes to support and cooperate with MONRE in the process of developing Vietnam's marine spatial plan for the period 2021 -2030 with a vision to 2045. Along with that is cooperation in the areas of climate change, biodiversity and the environment, especially in implementing the results of COP26, reducing net emissions to zero and developing circular economy in Vietnam.
For his part, Ha hopes that, after Wignaraja's visit, the fields and activities of cooperation between the two sides will be increasingly expanded and further promoted, especially in the development of marine spatial planning, circular economy development, energy transition, and the implementation of commitments at the 26th UN Climate Change Conference of the Parties (COP26).
The minister also wished to receive UNDP's support in negotiating just energy transition (JETP), including financial, expert and technical support to realize the energy transition, meet the target of "zero" net emissions by 2050, while at the same time ensuring ensure the goals of economic development, and social security.