UNICEF aids Vietnam refrigerators for storing vaccines
Vietnam has received 174 refrigerators for storage of vaccines, funded by the Global Alliance for Vaccines and Immunization (GAVI) and supplied by the United Nations Children's Fund (UNICEF).
The aid arrived in Ho Chi Minh City on June 8.
The refrigerators will be delivered to district health facilities in 23 provinces in the Central Highlands and Southern Vietnam where they will store vaccines, including Covid-19 vaccines.
The delivery is a part of ongoing support designed to further strengthen the health system, in particular the Expanded Immunisation Programme, contributing on this occasion to ensuring that the cold chain for vaccine storage is in place across the country so that vaccines are stored safely at exactly the right temperature.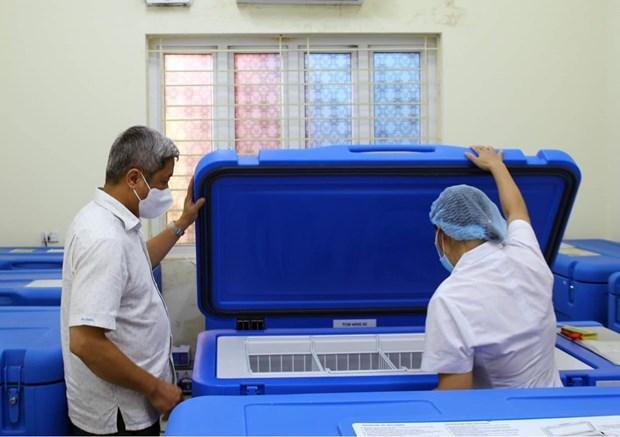 A fridge for vaccine storage. Photo: VNA
Gavi, a long-term global partner to UNICEF, works to create equal access to underused vaccines for children, especially those living in the world's poorest countries. In this pandemic era, it is a leading organisation and a crucial pillar in the COVAX facility, raising funding for and supporting the creation, production and equitable distribution of vaccines to especially the poorest countries.
"We do hope that this new set of cold chain equipment will contribute to the strengthening of the EPI programme especially in regions where we observe a lower immunisation coverage," said Véronique Maeva Fages from Gavi.
"This delivery comes at the right time to support the Covid-19 vaccine deployment efforts, noting that additional cold chain support is scheduled for later in the year, as part of dedicated COVAX funding," she added.
"UNICEF is delighted to work with Gavi beyond our shared commitment to the COVAX facility, on the provision of these fridges to the Expanded Immunisation Programme including the Covid-19 vaccination efforts in Vietnam. UNICEF has worked with the Ministry of Health to assess 'cold chain' capacity identifying where new fridges, freezers, refrigerator trucks and cold boxes are needed for the safe transportation and storage of vaccines. This is important for the safe rollout of Covid-19 vaccines as well as for the regular life-saving vaccines that are crucial for every child," said Rana Flowers, UNICEF Vietnam Representative.
This shipment brings the specially produced and environmentally-friendly vaccine refrigerator TCW 4000 AC, manufactured by B Medical in Luxembourg with green technology for very low power consumption, which can maintain cold conditions for vaccines that must be stored at a temperature range of +2˚C to +8˚C, even when a power failure occurs for up to 8 hours, Vietnamnews reported.
The majority of vaccines managed by the Expanded Immunisation Programme require this temperature range, and with a storage capacity of 240L, the refrigerators are an important contribution to district health facilities.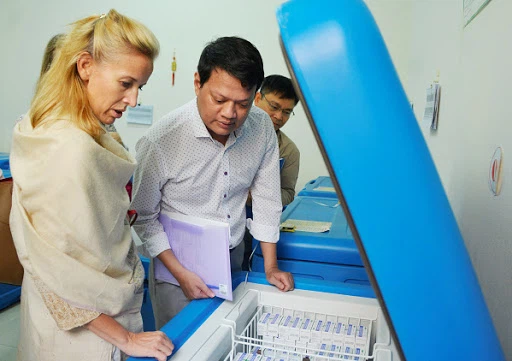 Photo: Phunuvietnam
This model is supplied with an integrated remote temperature monitoring device with real-time alerts for the continuous monitoring of sensitive vaccines. In case of a temperature deviation, it immediately sends a notification to the predefined person(s) in charge.
The temperature status can also be monitored from a distance through an online web portal. Importation steps are underway by the National Institute of Hygiene and Epidemiology, and when completed the refrigerators will be delivered to district health facilities in 23 provinces in the Central Highlands and Southern Vietnam.
"UNICEF Vietnam will provide to Vietnam a range of vaccine-related products – from more than 2,200 refrigerators of different sizes to trucks and safety boxes, to tens of millions of syringes. It is a crucial contribution and only one part of the comprehensive support that UNICEF is providing as we work across Vietnam with the Government, partners and donors to end the pandemic in this country," Flowers added.
Earlier, the Australian Embassy in Hanoi and UNICEF announced a 13.5 million AUD (US$10.4 million) package to support the introduction and delivery of Covid-19 vaccines doses in Vietnam.
The Australia-UNICEF partnership is expected to provide a unique and holistic package that will assist Vietnam across a range of areas vital to the successful delivery of a mass immunisation programme against Covid-19, according to a UNICEF press release published on April 19.
"Our support will help Vietnam purchase cold chain equipment to store and transport vaccine doses to where they are needed around the country, provide training courses and materials to ensure Vietnam's health workers and officials are ready, and assist with the development of immunisation plans in Vietnam's remote provinces to ensure equitable and uniform vaccine coverage", said Australian Ambassador to Vietnam Robyn Mudie.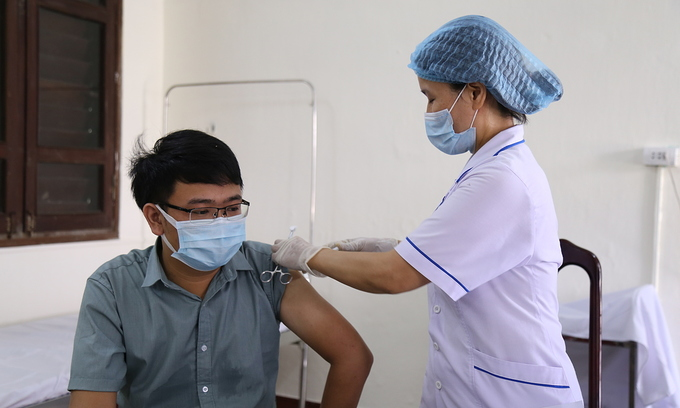 A medical worker gets a shot of the AstraZeneca vaccine in Dong Ha Town of central Quang Tri Province. Photo: VnExpress.
"Introducing a new vaccine especially for Covid-19 is a colossal task for any government with many important steps involved. Thanks to the partnership with the Government of Australia, UNICEF is committed to working with the Ministry of Health and other partners to support the introduction and rollout of Covid-19 vaccines in Vietnam," said Rana Flowers, UNICEF Representative in Vietnam.
The programme will support Vietnam to reach the prioritised 20% of the population by the end of 2022 and set the foundation necessary for immunising the remainder of the population as vaccines are rolled out nationwide.
Funding for the programme is drawn from Australia's 523.2 million AUD Regional Vaccine Access and Health Security Initiative, as well as from the nation's bilateral development cooperation programme with Vietnam.
In total, Australia has committed 40 million AUD over three years to support Vietnam's vaccine procurement and delivery efforts.
On May 16, the second batch of nearly 1.7 million doses of the AstraZeneca vaccine under the Covax facility reached Hanoi.
The shipment is part of the 4.1 million doses committed in free support for Vietnam under the Covax facility.
The batch has been used to expand vaccination coverage to more people in priority groups, and provide a second dose to those who have already got the first dose.
On April 1, the country received its first batch of the same vaccine under the Covax facility.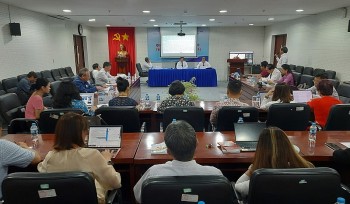 Friendship
The Vietnam - India Friendship Association's Ho Chi Minh City branch, the Ho Chi Minh City Union of Friendship Organizations (HUFO) and the Southern Institute of Social Sciences on March 21 held a scientific seminar themed "Vietnam - India relationship: tradition and present".