Australia pledges to aid Vietnam US$ 31 million to access Covid-19 vaccines
Australia has committed to providing Vietnam with 40 million AUD (US$ 31 million) to access Covid-19 vaccines, Speaker of Australia's House of Representatives Tony Smith said during phone talks with Chairman of the National Assembly (NA) Vuong Dinh Hue.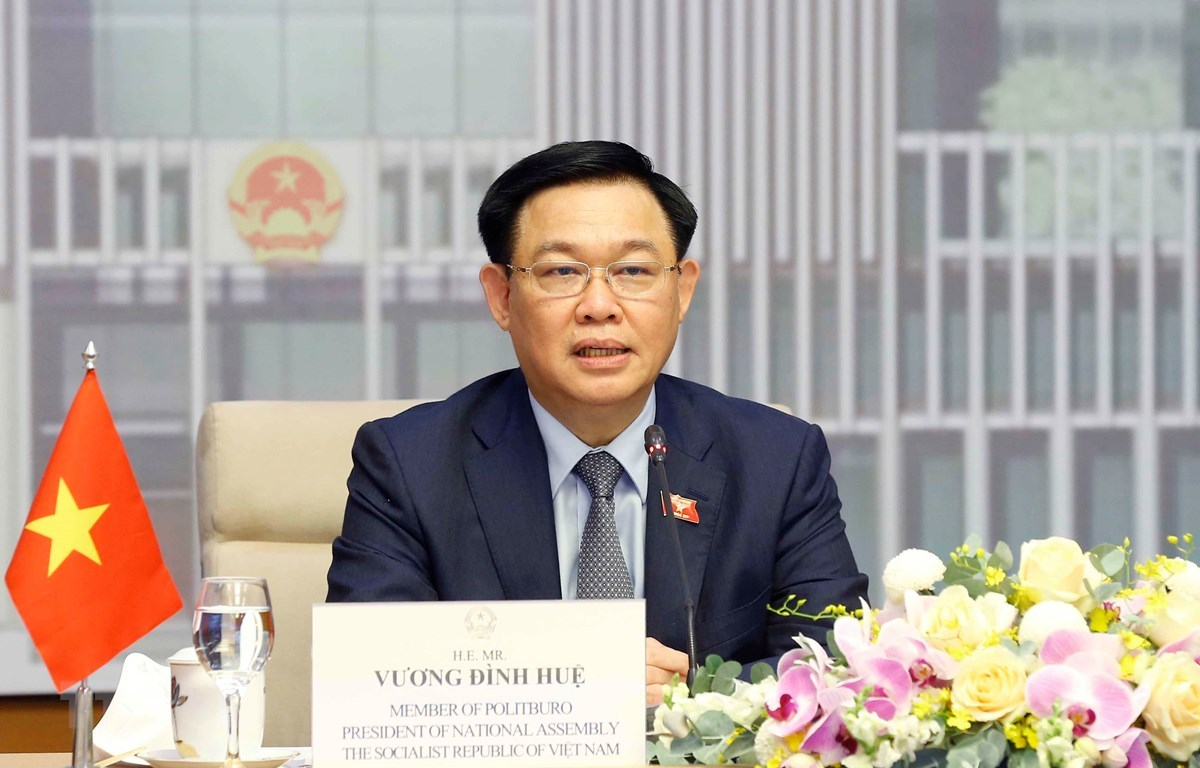 Chairman of the National Assembly Vuong Dinh Hue. Photo: VNA
Chairman of the National Assembly (NA) Vuong Dinh Hue held phone talks with the Speaker of Australia's House of Representatives Tony Smith on June 7 to boost the strategic partnership between the two countries in general and the relationship between the two parliaments in particular.
Both sides affirmed that the strategic partnership is developing in a more reliable, practical, and deeper manner. Amid the complex developments of the Covid-19 pandemic, the two have maintained regular exchanges and meetings, reflected through a phone call between Prime Ministers Pham Minh Chinh and Scott Morrison and the signing of an Action Programme to implement the Strategic Partnership for the 2020-2023 period, Vietnamplus reported.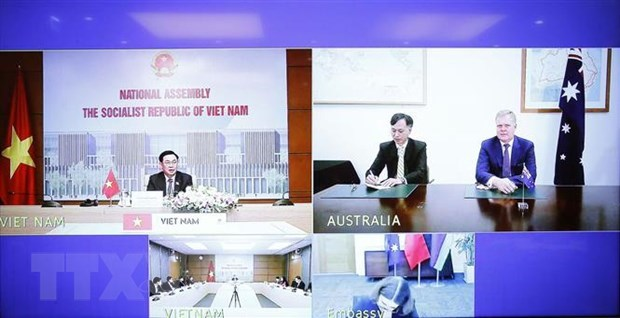 Phone talks between NA Chairman Vuong Dinh Hue and Speaker of Australia's House of Representatives Tony Smith. Photo: VNA
Bilateral trade turnover reached US$ 8.3 billion in 2020, up 5 percent year-on-year. Australia is still supporting Vietnam in the 2021-2022 fiscal year, and has increased its investment in the country in the fields of agriculture, infrastructure, and education.
Assessing Australia as a power that plays an increasingly important role in the Asia-Pacific region and the world, Hue suggested the two sides continue to maintain exchanges and meetings at all levels; intensify economic and trade cooperation; strive to quickly double current two-way trade; promote cooperation in defence, military medicine, cyber-security, and science and technology; extend the duration of stay and reduce visa costs for Vietnamese citizens; support equitable access to Covid-19 vaccines; and transfer vaccine production technology to difficult countries, including Vietnam.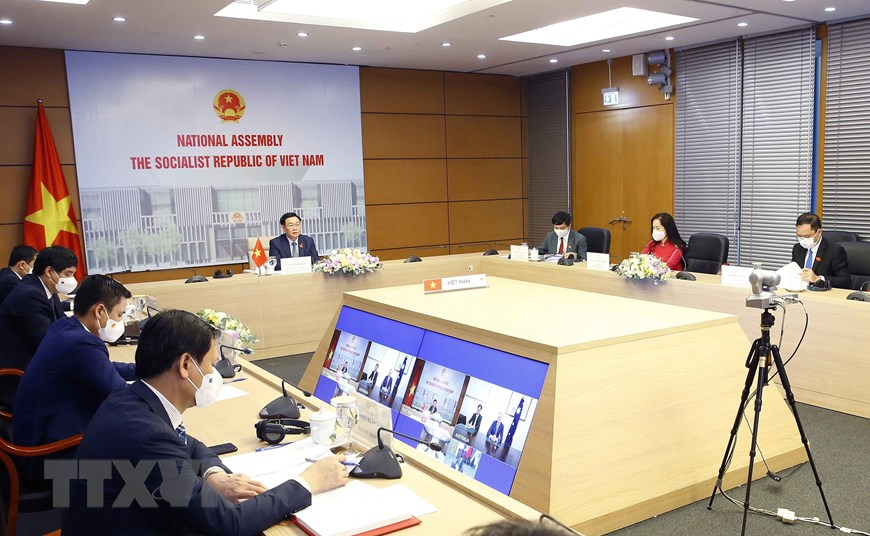 Photo: VNA
He invited Smith to pay an official visit to Vietnam shortly, and asked him to create the conditions needed for the two countries' parliamentarian groups to exchange experience in supervising important issues and improve the legislative role in developing bilateral relations.
Smith agreed with Hue's proposals, revealing that Australia has committed to providing Vietnam with 40 million AUD (US$ 30.9 million) to access Covid-19 vaccines.
He expressed his wish to visit Vietnam as soon as the two countries open their borders.
The two leaders also discussed regional and international issues of mutual concern. Regarding the South China Sea issue, they affirmed their consistent stance of maintaining peace, stability, navigation and aviation security, safety and freedom in the South China Sea, as well as peacefully settling disputes on the basis of international law, especially the 1982 United Nations Convention on the Law of the Sea (UNCLOS 1982).
Australia eyes comprehensive strategic partnership with Vietnam
Australian Prime Minister Scott Morrison expressed his wish to elevate the Vietnam-Australia strategic partnership to a comprehensive strategic partnership during an online talk with his Vietnamese counterpart Pham Minh Chinh on May 25. ​
Morrison affirmed that he attaches importance to advancing the bilateral relationship, and lauded achievements Vietnam has recorded in Covid-19 prevention and control, as well as socio-economic development and foreign affairs over the past time.
In reply, Chinh affirmed his willingness to closely coordinate with Morrison in developing the strategic partnership effectively, intensively and pragmatically.
He suggested Australia continue its technical support to Vietnam and further facilitate Vietnamese agricultural and aquatic products' access to the Australian market.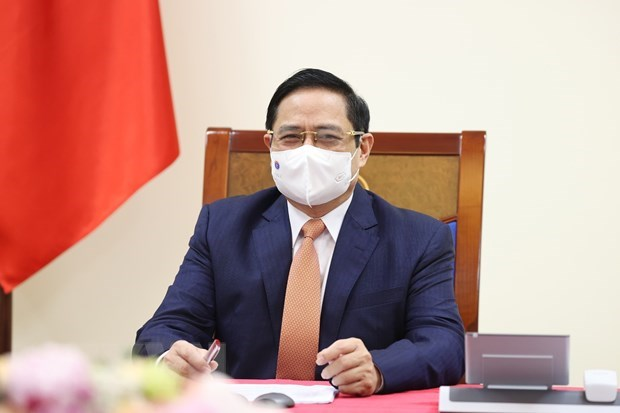 Vietnamese Prime Minister Pham Minh Chinh. Photo: VNA
The PM called on Australia to encourage its firms to step up investment in Vietnam, and funnel its official development assistance (ODA) into infrastructure projects, agricultural development, poverty reduction, climate change response and high-quality personnel training in the Southeast Asian nation.
Chinh also noted a hope for stronger collaboration in military medicine and peace-keeping operations, and proposed Australia continue to create favourable conditions for the Vietnamese community and students in the country.
He used the occasion to thank Australia for committing 40 million AUD (US$31 million) to support Vietnam's Covid-19 vaccine procurement, pledging to closely cooperate with the Australian side to fruitfully implement the aid package.
The PM appealed to Australia to help Vietnam access the AstraZeneca vaccine produced in the country as soon as possible.
The two Government leaders consented to set higher targets in investment and trade links, towards sustainable recovery after the pandemic, soon complete and sign the Vietnam-Australia Enhanced Economic Engagement Strategy, forge collaboration in science and technology, and effectively implement the Vietnam-Australia Innovation Partnership for 2022-2025.
The two countries will also strengthen their cooperation at regional and international mechanisms and forums.
Praising Australia's active role in ASEAN and Mekong Sub-region mechanisms, Chinh suggested the country implement tripartite cooperation with Laos and Cambodia, focusing on practical sectors that would improve socio-economic situation and personnel training.
Two-way trade turnover between Vietnam and Australia topped US$ 3.63 billion in the first four months of this year, a year-on-year rise of 33.85 percent, according to Vietnamese Consul General to Australia Nguyen Dang Thang.
Speaking at a business cooperation conference held by the Vietnamese Entrepreneurs Association in Sydney (VEAS) on May 21, Thang said that exports of both nations to each other's market increased in the period.
Thang called on the Australian businesses to invest more in the Vietnamese market, particularly in the fields they hold considerable experience and advantages such as processing, manufacturing, high-tech agriculture, and logistics.
Meanwhile, Chairwoman of the Export Council of Australia Dianne Tipping affirmed Vietnam and Australia have enjoyed the fastest trade growth in recent years, and the Southeast Asian country has become a more important trade partner of Australia.
Besides goods, they have seen an impressive growth in their trade in services, including fintech, health care and education, she said.
Boasting fast economic growth, expansion of middle-class population, young and dynamic workforce, stable socio-political environment, and better business climate, Vietnam is truly an ideal destination for Australia firms, she said, adding the Vietnam – Australia ties have been deepened across the fields of economy, security, defence, culture, education and people diplomacy.