Unique islands of Vietnam named after animals
Many islands around the globe derive their name from geographical formations, birds, sea creatures, holidays or other animals. Following are seven of the more popular animal named islands located in Vietnam.
(VNF) - Many islands around the globe derive their name from geographical formations, birds, sea creatures, holidays or other animals. Following are seven of the more popular animal named islands located in Vietnam.
Rua (Turtle) Island
Turtle Island, also known as Hon Tre (Bamboo Island), can be found in the central commune of Kien Hai District in Kien Giang Province. It is a small island shaped like a giant turtle.
Bai Chen, Turtle Island. (Source: Internet)
Hon Tre looks wild with imposing Rock Mountains created by the hand of nature. The beautiful landscapes of Bai Chen, Dong Dua, Duoi Ha Ba are ecotourism attractions. Especially Bai Chen - the prominent spot of Hon Tre - is a long beach with rocks that are large and round like giant bowls located next to each other, which looks very strange. The sea is quiet with gentle waves.
Bai Chen is really the ideal destination of Hon Tre. Tourists can travel by ship or on land to Bai Chen. If traveling by ship, tourists will watch the immense sky and sea, sloping cliffs, waves, which is extremely interesting. If traveling on land, tourists will visit un-bounded orchards along the mountain side with many kinds of fruit such as mangos, custard-apple, jackfruit, lon - gan... with the featuring sweet flavor of the island.
In addition, at Hon Tre, tourists can visit Dinh Ong Nam Hai (Temple of the South Sea Deity) to see the ton-weighed bone of whale, watching Cup Thien Ban, Ba Gia rock, Mieu Ba Chua Xu, Linh Son... Each place has its own look and attraction. When sunset falls, groups of ships arrive at the port subsequently. This is the most convenient time to see a different Hon Tre, which "is crowded and bustling, normal but attractive.
It's a haven for beautiful rocks that can be found everywhere, a fact most rock collectors find appealing.
Co (Stork) Island
Stork Island, comprised of two islets spanning 67 hectares, is located in the middle of An Duong Lake in the Chi Lang Nam Commune of Hai Duong province's Thanh Mien district.
The stork family here is quite various, including white stork, fiery stork, cattle egret, grey stork, and so on. Thousands of herons and rare and valuable birds can be found here such as pelicans or teals residing together.
Every year, in September of the lunar calendar when the north-east wind blows, thousands of storks, herons and birds from other places fly to the island. They often stay there until April of the following year. The island becomes a destination of tourists and an environmental education centre is there to help raise awareness about environmental protection.
The best time to visit the Stork Island is at sunrise or sunset. At these times, visitors will have a chance to behold a beautiful painting with white storks and herons flocking out of and into the lake. Tourists will enjoy a spacious and greenish space with the peaceful landscape of a rural area.
Tourists come here to capture pictures of storks and many are willing to wait for hours to get a perfect shot. (Photo: VNE)
At around six in the afternoon when the sun sets, storks come back in large flocks, which create a spectacular view.
If tourists are interested, they can visit An Duong temple, which lies right on the bank of An Duong lake. The temple is a place to worship the village's god; the locals usually come here on the first and the 15th day of the lunar month to wish for health and luck.
Ga Choi (Fighting Cock) Island
Ga Choi Island, also known as Trong Mai Islet (rock of 'the kissing cocks'), is actually a pair of limestone islets at Halong Bay.
Photo: travelin_mike
Trong Mai Islet (Cock & Hen Islet) is situated on the south-west side of Ha Long Bay, 5 km from the tourist wharf near to Dinh Huong Islet. The islets are about 10 metres above sea level. They have the shape of two roosters rising from the blue sea. According to legend dating back thousands of years, the two huge figures represent faithfulness and love.
In a somewhat large expanse of open sea, the island seems to grow up from the bottom of the deep emerald waters. At sunset, the island with the height of over 10 metres is bright red and in a somewhat tottery position.
Their tiny legs support heavy bodies, and it appears that one strong wave could throw the two stone blocks into the sea. However, hundreds of millions of years have passed, and the Trong Mai is still there.
According to legend dating back thousands of years, the two huge figures represent faithfulness and love.
Ca Voi (Whale) Island
It is one of the unspoiled and wonderful tourist attractions in Nha Trang acclaimed for its white sand beaches and clear blue water. (Photo: Internet)
Ca Voi Island, also known as Hon Ong, is a small island located in Van Phong bay in Van Ninh district, Khanh Hoa province. Hon Ong is very different from other tourist island in that there are no inhabitants. On the island, there is only a single resort that is Whale Island Resort and services on the island provided by the resort. Environmental issues are also highly respected in Hon Ong (not fishing or hunting birds).
Hon Ong is only suitable for those who love the sea, like to explore the natural wilderness, tranquility, those who want to shirk away from the noise of urban life, for newlywed couples want to enjoy the sweet honeymoon together.
Chim O (Buzzard) Island
Buzzard Island, also known as Eagle Island is one of the pristine islands, much untapped. Between the islands is Tri An lake – a clean and peaceful reservoir.
Island setting with shade tree system, the beaches will be the ideal place for tourists to take a dip, stroll, enjoy. (Photo: Mytour)
About 80 km from Ho Chi Minh City, Buzzard Island is one of the most pristine islands in the nation, widely recognized for its peaceful atmosphere and fishing, canoeing, boating and camping.
Special activities such as fishing, canoeing, boating, camping or exploring the lives of the people here will give you the feel unforgettable.
Khi (Monkey) Island
Monkey Island is a private island located from Cat Ba town. The beach here is one of the most beautiful beaches in Cat Ba Island. The sea water is so clean and emerald, the climate here is wonderful and nature are so beautiful island.
Located 2.4km off the coast of Nha Trang, Monkey Island offers an extraordinary sea and island experience. It is home to over 1,500 monkeys. (Photo: Internet)
It's a fairly large island and the employees there will tell you there are 1,500 monkeys living there, but I've never seen more than about 200 at once during mass feeding time, and more likely you'll see fewer than 100 when you visit.
There is a lovely beach with huts and chairs for guest use and a simple water slide and some other toys out in the water. There are some interesting gardens and a few shops, but the main attractions are the colony of monkeys that are free to roam anywhere on the island and the dog and monkey show that runs three times per day, conveniently timed for when the larger groups arrive at 10am, 2pm, and 3:20pm.
The 35-ha island offers visitors the chance to kayak, ride an ostrich, attend dog races, go-carting and paintballing to name only a few of the varied activities available to choose from.
Yen (Salangane) Island
Positioned 17km from Nha Trang, ‪Salangane Island is home to thousands of swallows.
It takes more than an hour by boat from Cau Da Port, tourists will come to Hon Noi – a salangane island (Yen island) in the city of Nha Trang, Khanh Hoa. The unique point of Hon Noi is the only double beach in Vietnam. Coming here, standing in the white sand, tourists also see the blue sea when turning any direction. This double beach also has a hot water side, a cold water side made by the flow, making visitors once come unforgettable.
The Island has an array of fascinating attractions including Yen Cave, marvellous coral reefs and beautiful landscapes. (Photo: zing.vn)
To go to Yen Island, tourists go to Cau Da port, Nha Trang to buy boat ticket to the island. Since this is the island under the management of Yen Sao Khanh Hoa tourism company, tourists can not go alone but have to buy tickets. Tourists can only visit during the day, for VND 400,000 per person, including breakfast, cakes, lunch and fruits./.
Compiled by VNF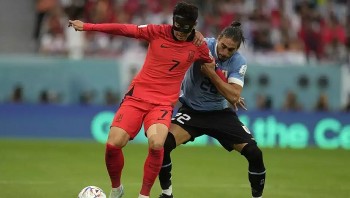 World
Both South Korea and Ghana are searching for their first wins at this year's World Cup. Ghana are facing the prospect of an early elimination from World Cup 2022 Group H when they travel to the Education City Stadium to face South Korea on Monday.