University Hospital Leipzig Fosters Cooperation with Ca Mau
The German University Hospital Leipzig wants to cooperate and support the southernmost province of Ca Mau in the medical field.
A delegation in charge of health in Leipzig city of Germany, led by Prof. Dr. Christoph Josten, director of the University Hospital Leipzig, recently has a working trip with the health sector of the Mekong Delta province of Ca Mau.
The delegation visited the departments of emergency resuscitation, cardiology, anesthesia - resuscitation, radiotherapy area, imaging diagnostics of Ca Mau Provincial General Hospital.
Prof. Dr. Christoph Josten, director of University Hospital Leipzig, appreciated the efforts in disease examination and treatment of Ca Mau Provincial General Hospital as well as the initiatives of the medical team in the treatment of patients.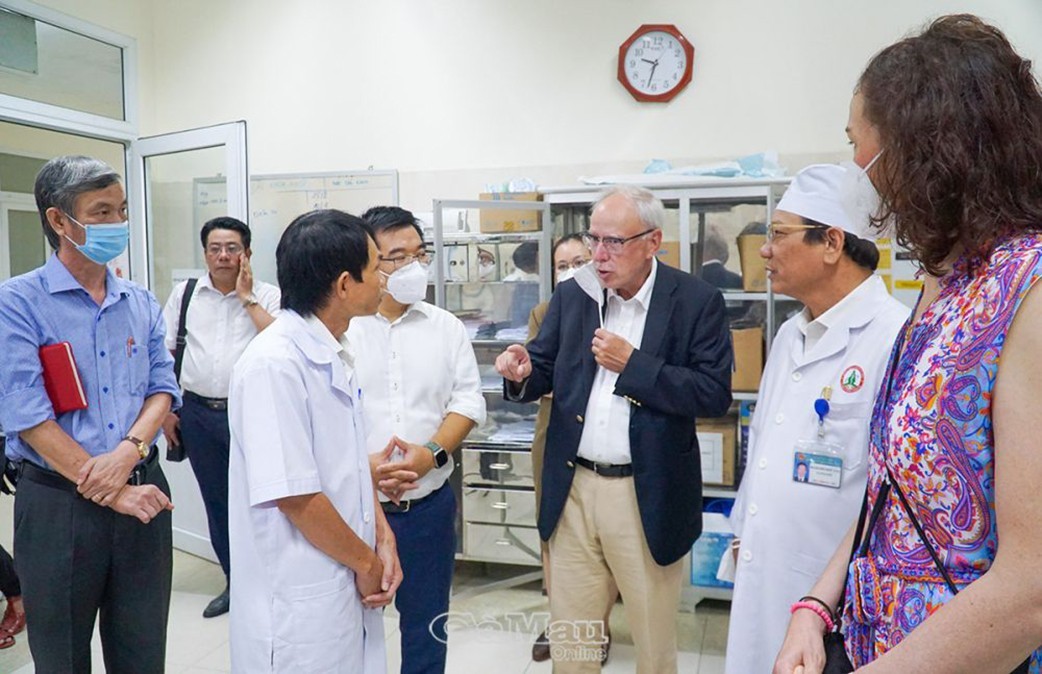 Prof. Dr. Christoph Josten (2nd from right) conducted a survey at Ca Mau Provincial General Hospital. Source: Ca Mau Newspaper
Prof. Dr. Christoph Josten also introduced the features and outstanding results of University Hospital Leipzig and Leipzig University; at the same time, proposed to cooperate with the Ca Mau health sector in training medical human resources, recruiting international students and nursing workers to study and work at University Hospital Leipzig, thereby contribute to improving the quality of local medical examination and treatment.
At the meeting, leaders of the health sector of Ca Mau province also expressed their wish to have the hospital consider sponsoring some more modern medical equipment for medical facilities in Ca Mau, as well as have a long-term cooperation plan with University Hospital Leipzig in the near future.
Leipzig is the first Germany's city to open a representative office in Vietnam. It has a wide range of cooperative activities across economic, cultural, and social aspects with Vietnam, and is housing a 3,500-strong Vietnamese community.
University Hospital Leipzig is one of the largest and oldest multidisciplinary hospitals in East Germany. This is the clinical base of the Medical Faculty of the University of Leipzig and a major research center.
In 2021, FOCUS magazine placed this clinic in 6th place in its ranking of "Best Clinics in Germany". In 2023, doctors from this clinic were included in the FOCUS Top German Doctors list in 66 out of 124 categories. Of these, 11 are professors-oncologists.
University Hospital Leipzig is known in Europe as a center of excellence in academic medicine, which uses innovative methods of treatment and the latest scientific developments in all areas of medicine.
This academic hospital provides a full range of specialized medical care, with the exception of cardiac surgery and pediatric cardiology.