Various Organizations Continue to Support Vietnamese Localities
Local people in Covid-19 hit local continue to receive support from foreign non-governmental organizations (NGOs).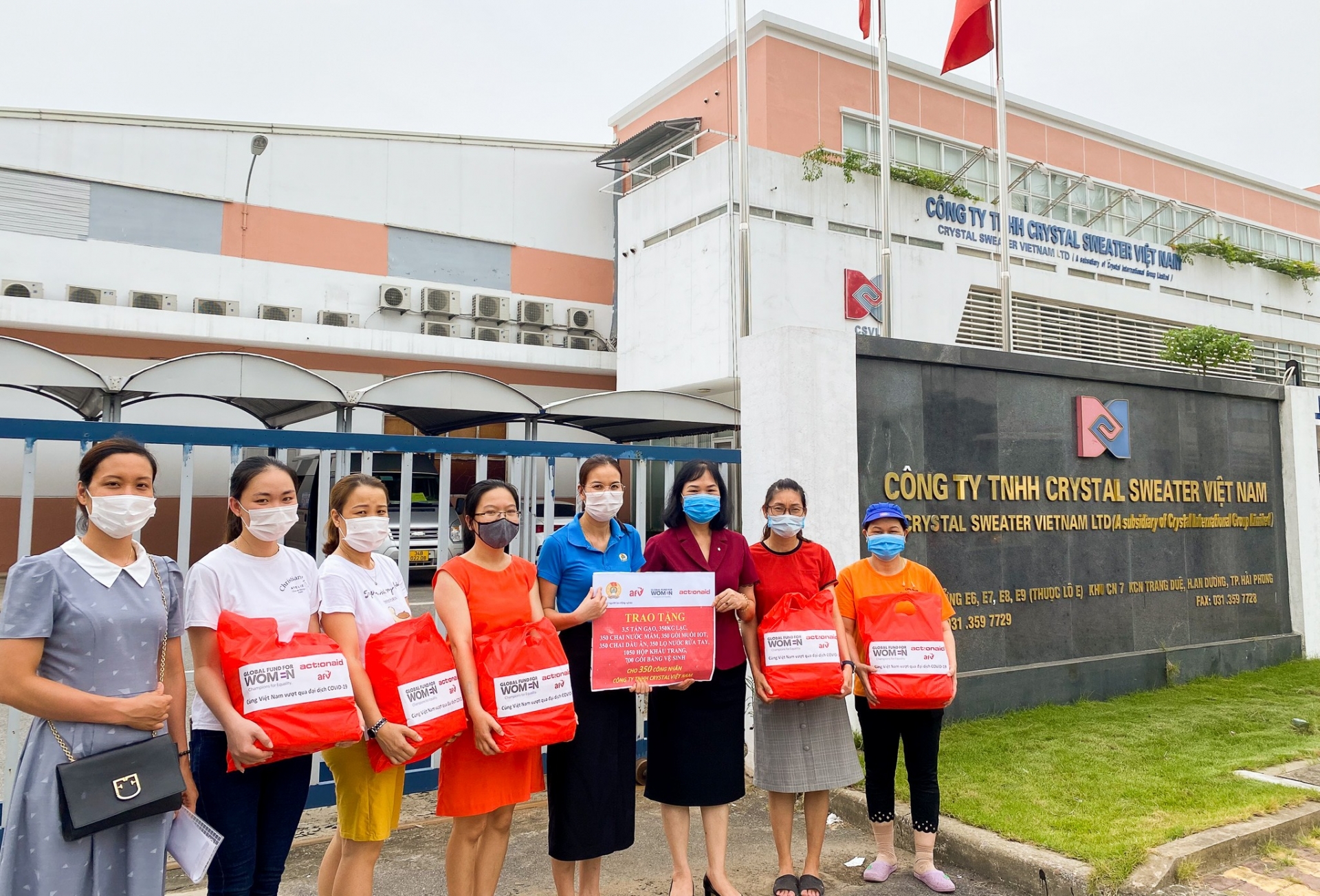 Workers of Crystal Sweater factories in Hai Phong city received support package. Source: ActionAid Vietnam
Since the end of April, the 4th wave of the Covid-19 pandemic has ravaged many provinces and cities in Vietnam. Many industries, especially garment, tourism, export and import, have borne the brunt of Covid-19's impacts. This situation has shoved many workers in job loss, less or no income.
Recently, 700 workers at Jasan and Crystal Sweater factories in Hai Phong city have received emergency support packages from ActionAid Vietnam to bounce back better from Covid-19. Each support package includes: 10kg of rice; 1kg of peanuts; one bottle of fish sauce; one bottle of vegetable oil; one pack of iodized salt; one bottle of LifeBuoy hand-wash; three boxes of face masks; and two dignity kits.
Alongside essentials and PPE supplies, ActionAid also focuses on awareness-raising initiatives for garment workers to better prepare for upcoming Covid outbreaks. Key activities include: Policy dialogues on sexual harassment prevention and a safe working environment during the pandemic, and Maintaining female worker groups via digital information-sharing platforms to promote safe communities that work together against Covid-19. Women leadership thus will be strongly fortified in the prevention and response activities.
"Covid backpack" package that saigonchildren delivers to struggling families in HCM City.
Ho Chi Minh City is now the biggest coronavirus hotspot of the country with more than 115,000 cases. The city is now under strict social distancing order.
As of Aug.7, Saigon Children's Charity (saigonchildren) has finished delivering another batch of 338 packages to six different sites in HCM City included Ward 10, Go Vap District; Ward 13, Go Vap District (An Hoi site); Ward 13, Go Vap District (Le Duc Tho site); Ward 15, Go Vap District; Ward 25, Binh Thanh District; and Ward Tan Hung Thuan, District 12.
During the first few days of this week, these packages will be distributed to impoverished families pre-listed by saigonchildren in those areas. That means, saigonchildren's "Backpacks of Resilience" campaign has distributed/is distributing a total of 2,751 aid packages to families affected by Covid-19 across Vietnam.
Each "Covid backpack" package that saigonchildren delivers to struggling families in HCM City contain essential food items to help them with nutritious meals during this time. It also has gifts for the children, to take care of their mental wellbeing when the adults around them may be consumed with worries and stress right now.
Meanwhile, St. Georg Hospital in Leipzig city of Germany's Sachsen state has decided to donate protective gears and quick test kits worth EUR 60,000 to Vietnam to support its fight against the ongoing pandemic.
This is the second time the St. Georg Hospital has presented medical equipment to Vietnam.
In a related move, the World University Service (WUS) recently announced that the second batch of relief aid including more than 203,000 quick test kits worth EUR 598,000 will be transported to Vietnam by Vietnam Airlines on August 9. They were donated by Hessen state, Messer Group and the WUS.