Unprecedented NA election in Vietnam amid Covid-19 pandemic
The country had held a National Assembly election like never before to both avoid cross-infections and ensure successful voting.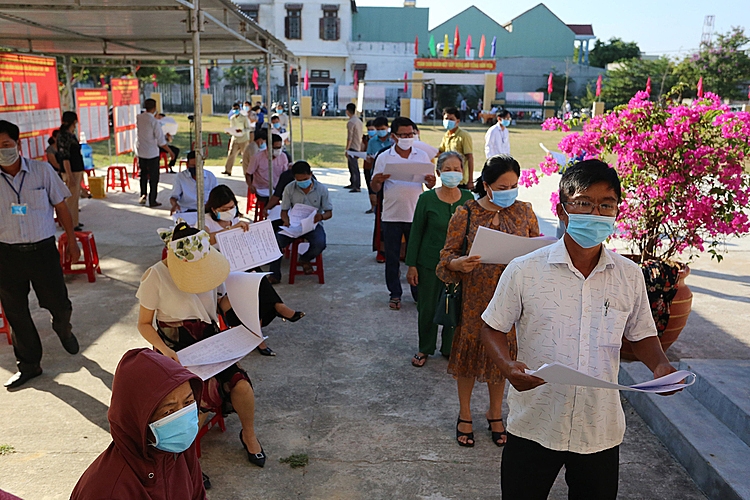 Voters in Quang Nam all wore face mask and remained socially distanced at the polling station (Photo: VNE)
Constituencies all wore face masks and remained socially distanced while casting their ballots. Polling stations located at field hospitals and quarantine centers for the first time while at coronavirus hotspots, ballot boxes were delivered to doors.
The 15th National Assembly and People's Council at all levels election in the 2021-2016 tenure took place on May 23 as the country was battling the 4th wave of pandemic, some northern provinces reported record daily new cases.
To ensure safety, authorities have deployed strict anti-pandemic measures at over 80,000 polling stations across the country. Everyone showed up at voting areas must put on face masks, disinfect their hands and keep a proper distance from others.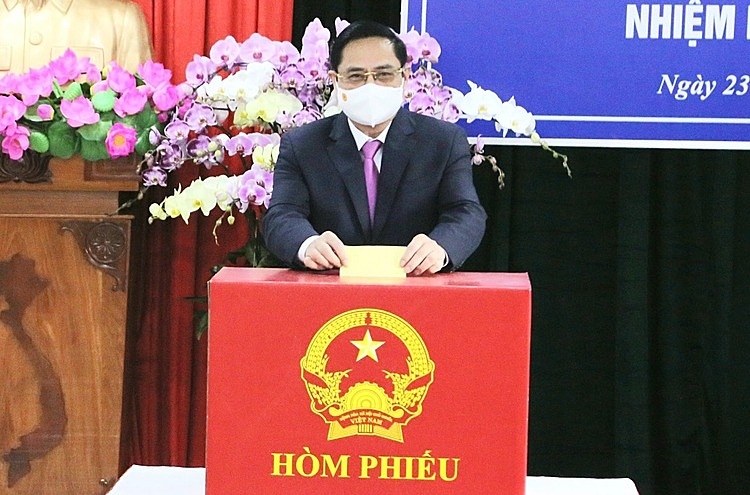 Prime Minister Pham Minh Chinh cast his votes at a polling station in Ninh Kieu District, Cai Khe Ward, Can Tho. He was wearing a face mask (Photo: VNE)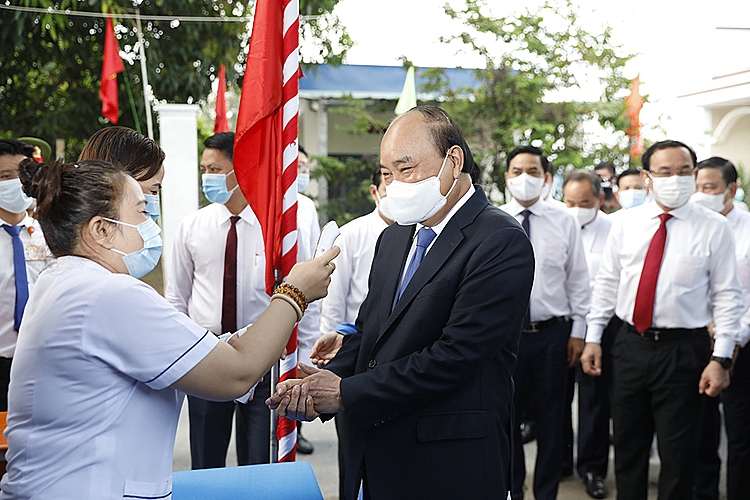 State President Nguyen Xuan Phuc had his body temperature checked and his hands sanitized prior to the voting process in Cu Chi District. (Photo: VNE)
Party General Secretary Nguyen Phu Trong cast his votes at a polling station in Nguyen Du Ward, Hai Ba Trung District. The leader also put on face mask at the polling station (Photo: VNE)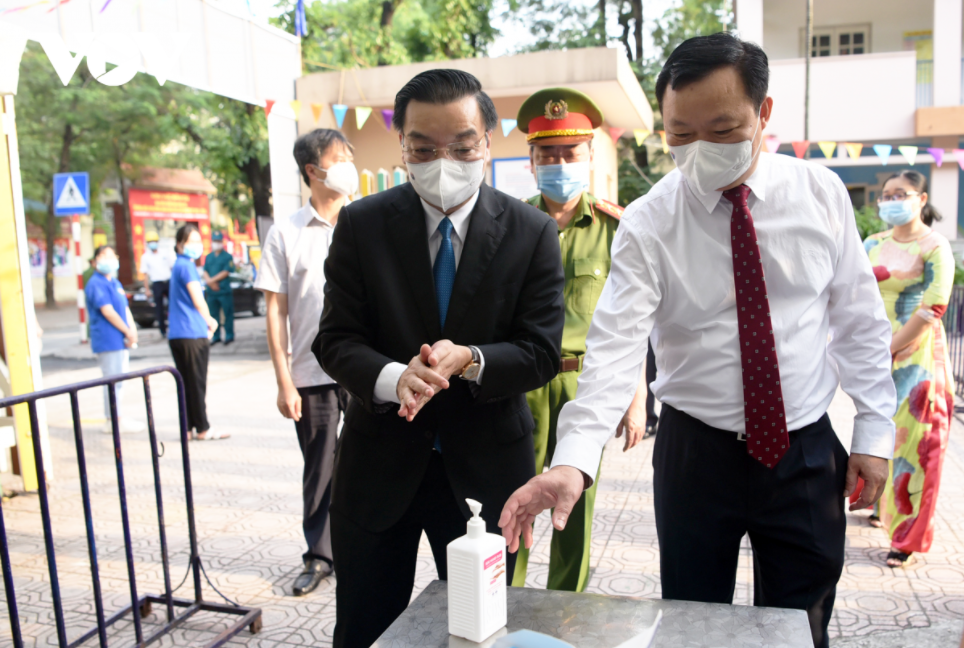 Chu Ngoc Anh, chairman of the Hanoi People's Committee, entered a polling station in Kim Lien ward at 6:45 a.m. Due to concerns regarding the novel coronavirus (COVID-19) pandemic, he thoroughly washed his hand before placing his vote into a ballot box. (Photo: VOV)
Bac Ninh province, one of the two biggest epicenters in Vietnam, held the election on May 22, a day earlier than planned. Over 3,200 constituencies including inmates, the police force, and provincial military command cast their ballots at provincial quarantine centers.
All voters were required to abide by preventive regulations, make health declarations before entering the voting areas. Voting tables were divided by partitions to reduce infection risks. Ballot boxes were covered in a plastic bag and disinfected regularly. The voting stations were kept guard by medical workers, police officers, soldiers, and other personnel.
The 112 Covid-19 patients treating at Bac Ninh's field hospital also made their votes during treatment time.
"This is my first time experiencing such a special election day. Everything took place inside the quarantine center or a Covid-19 field hospital," Nguyen Dieu Huong, head of the Covid-19 patients treatment at the makeshift facility, said. "All the medical personnel and patients strictly abide by anti-pandemic measures to have a successful election."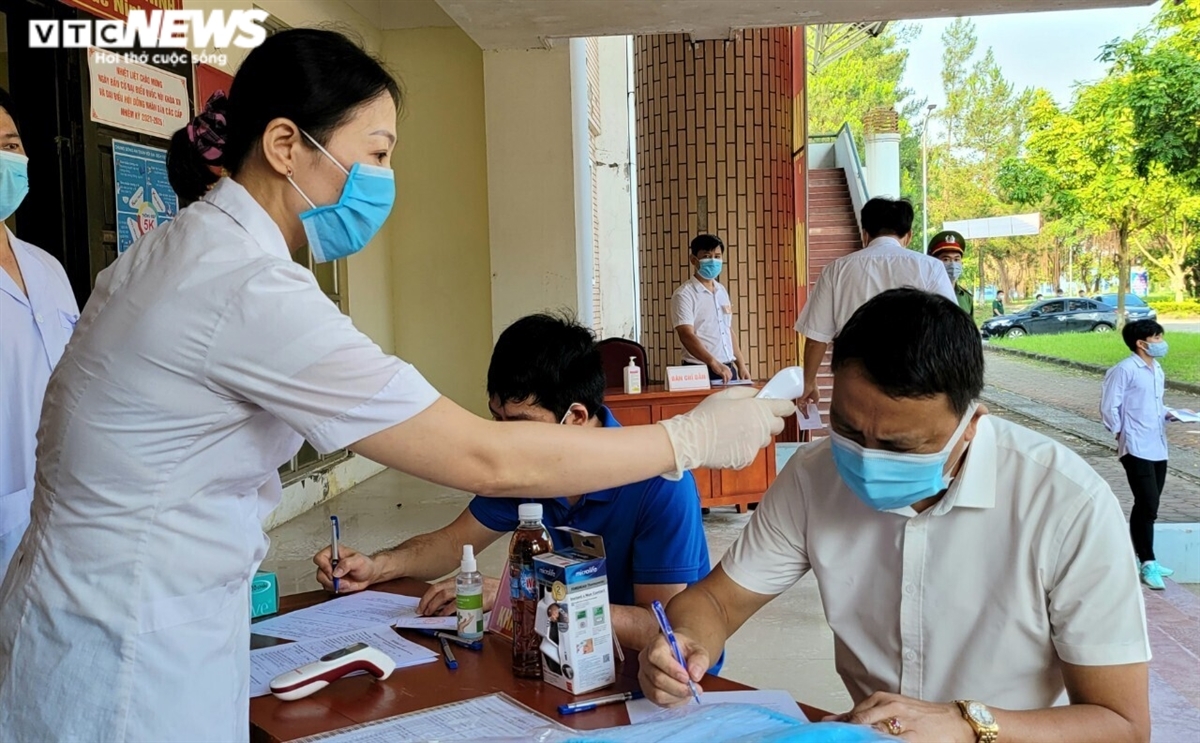 Medical staff checking voter's body temperature (Photo: VTC News)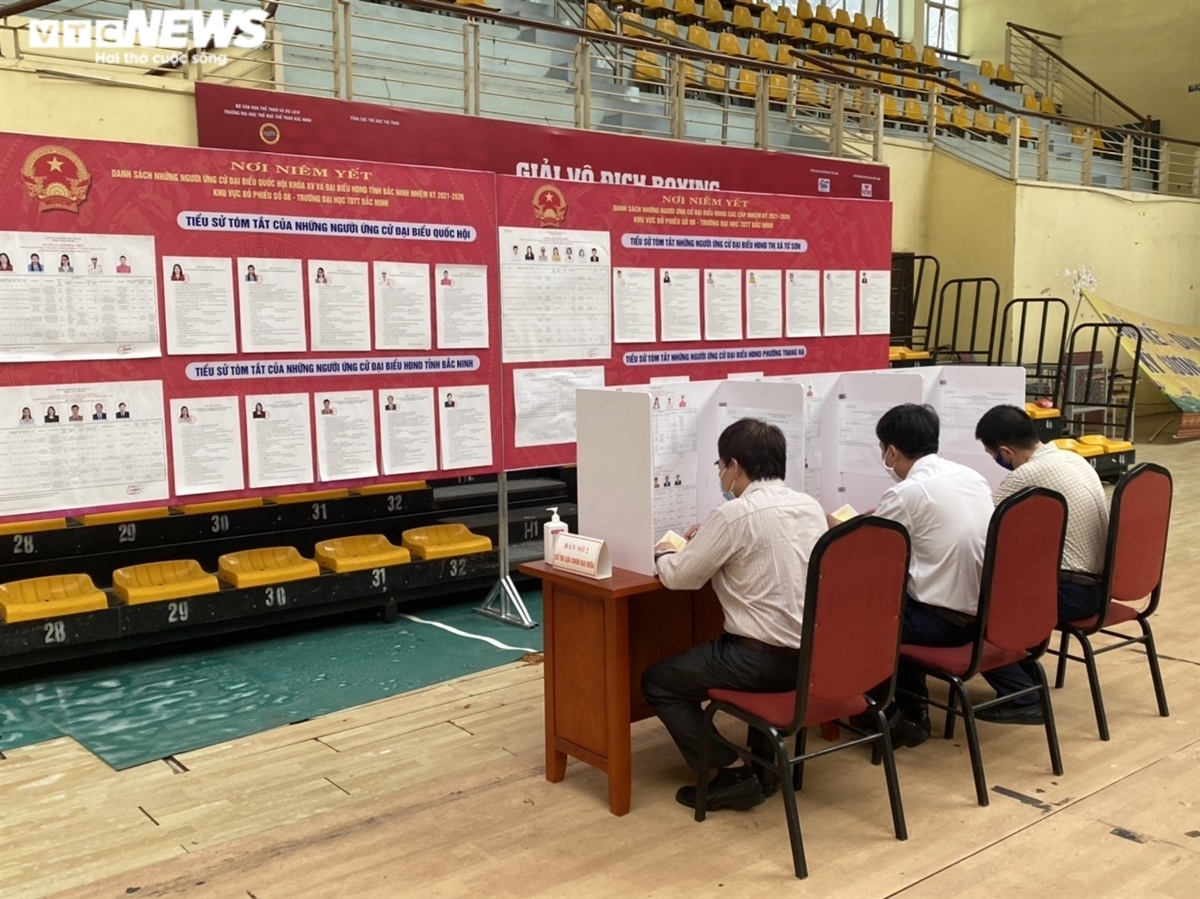 Voters chose their candidates, inside the quarantine center (Photo: VTC News)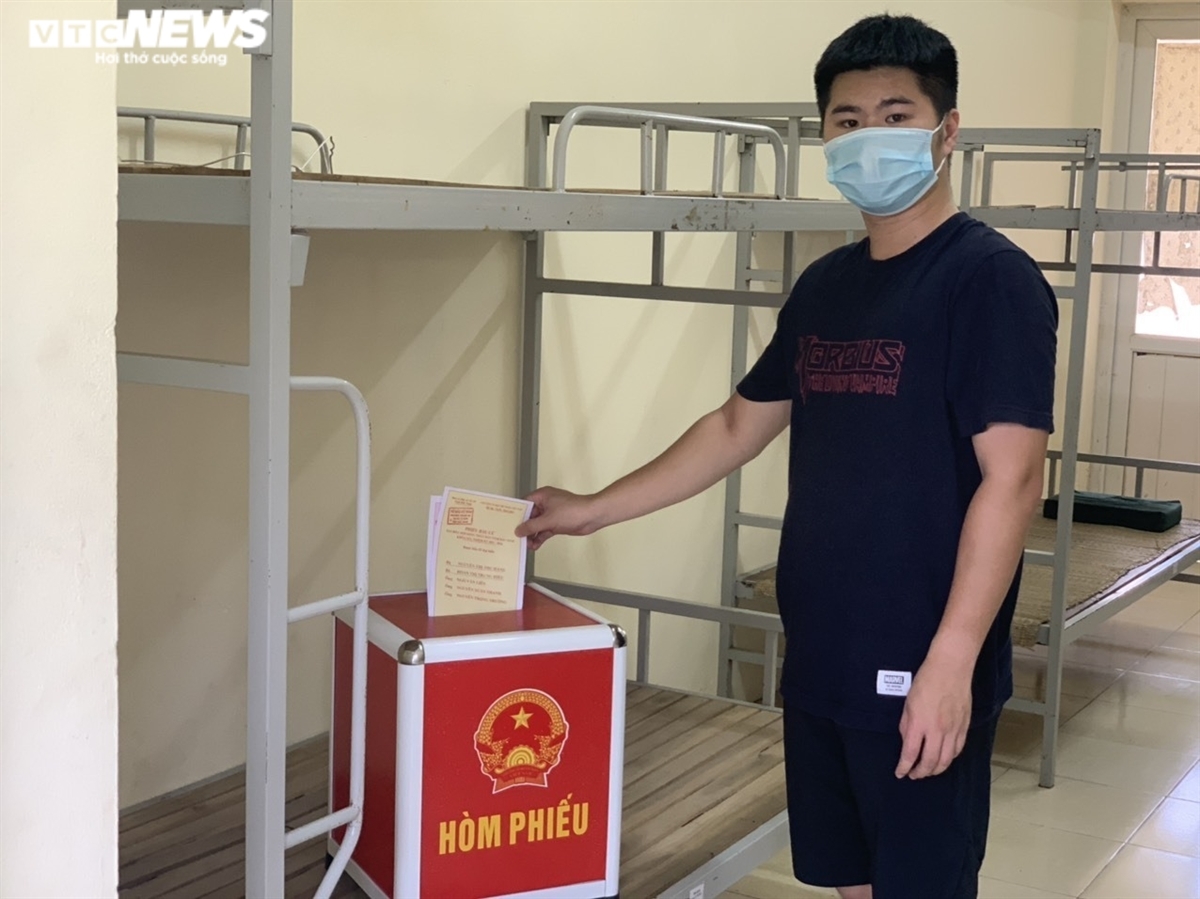 One voter in the quarantine center in Bac Ninh cast his vote (Photo: VTC News)
Bac Ninh authorities had been agreed to hold the election early in certain affiliated localities due to Covid-19 concerns. Such a move was also permitted in numbers of constituencies in other localities including Hai Phong, Can Tho, Ba Ria – Vung Tau, Ca Mau.
Nguyen Khac Dinh, member of the National Election Council and Vice Chairman of the National Assembly, said the election process in quarantined and lockdown areas is also going on smoothly. He explained that the National Election Council has issued ten documents providing detailed guidelines for the organization of elections inside quarantined sites and locked down areas.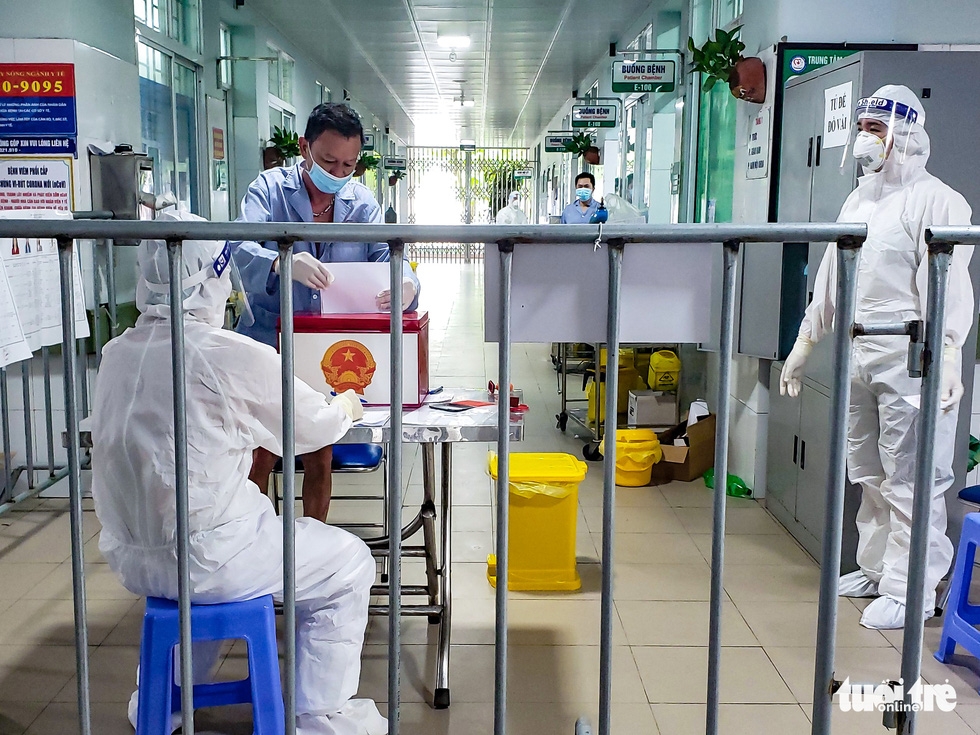 One Covid-19 patient made the vote at one field hospital in Bac Ninh (Photo: Tuoi Tre)
While inmates at quarantine centers cast their votes on-site, those under self-isolation at home voted for their trustworthy representatives right at their home. Mobile ballot boxes were delivered to their door. The rare move helps suspected patients fulfill their citizenship in the 15th National Assembly and People's Councils election.
In Mao Dien commune, Thuan Thanh city, Bac Ninh province, all inmates at quarantine centers made early votes on Saturday, a day earlier than planned. Meanwhile, individuals designated as F2 who must stay home for three weeks cast the ballots at their doorsteps today.
Nguyen Van Kien and his wife are two F2 cases in the area. The couple placed their ballot papers into the mobile boxes sent by communal officials and medical staff on May 23 morning.
"My family would normally go to the polling station to vote. This term, however, we have to do it at home. The officials knock on our doors for the election, which is really touching," Kien said. "This shows how responsible the authorities of all levels are."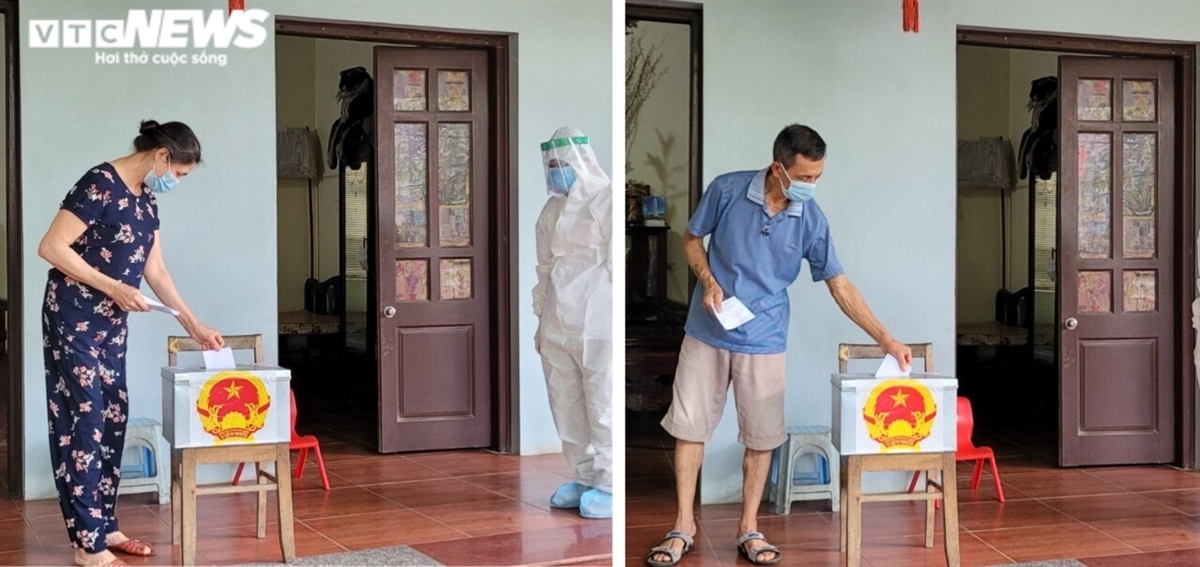 Nguyen Van Kien, one suspected patient in Mao Dien commune, Bac Ninh province and his wife cast their ballots at home. (Photo: VTC News)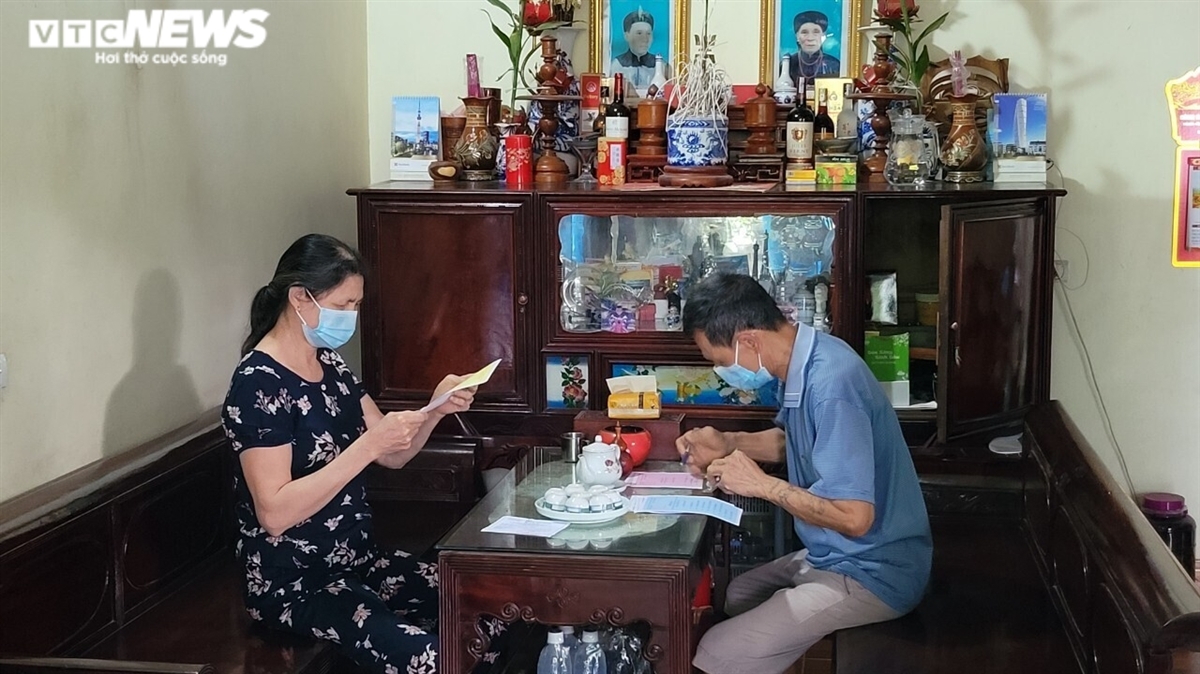 The couple filled out their personal information on the ballot papers (Photo: VTC News)
The same election method was adopted in the neighboring Bac Giang province. From the morning, members of the election board carried extra ballot boxes to every self-isolated household. They were all equipped with personal protective gear and used bicycles for transport.
A total of over 2,300 mobile ballot boxes had been prepared, all were disinfected. Constituencies had their hand washed and body temperature checked before voting.
On May 23, over 69 million voters nationwide headed to the polls to elect deputies to the 15th National Assembly (NA) and People's Councils at all levels for the 2021 to 2026 tenure.
Several electoral units recorded a voter turnout of 100%, with the elections transpiring as planned in all localities, according to Nguyen Khac Dinh, vice chairman of the National Assembly (NA) and member of the National Election Council (NEC).
Several electoral units recorded voter turnout of 100%, including 23 constituencies in Bac Lieu and 10 constituencies in Vinh Phuc. Most notably, an electoral unit of the public security force in the Mekong Delta province of Tra Vinh became the first location to complete voting, recording a 100% turnout by 6:50 a.m, Dinh said.
Reports from 63 provinces and cities nationwide indicate that the election of deputies to the 15th NA and the People's Councils at all levels are taking place as planned and are running smoothly, with the process's organization being in accordance with the law.
With roughly 70 million voters selecting 500 deputies to the 15th NA, nearly 4,000 to provincial-level People's Councils, over 20,000 to district-level People's Councils, and more than 240,000 to communal-level People's Councils, this marks the largest-ever elections, General Secretary Nguen Phu Trong affirmed.