Ballot boxes delivered to doors at Covid-19 hotspots
Citizens under self-isolation cast their ballots at home while others going to polling stations to vote for their trustworthy representatives.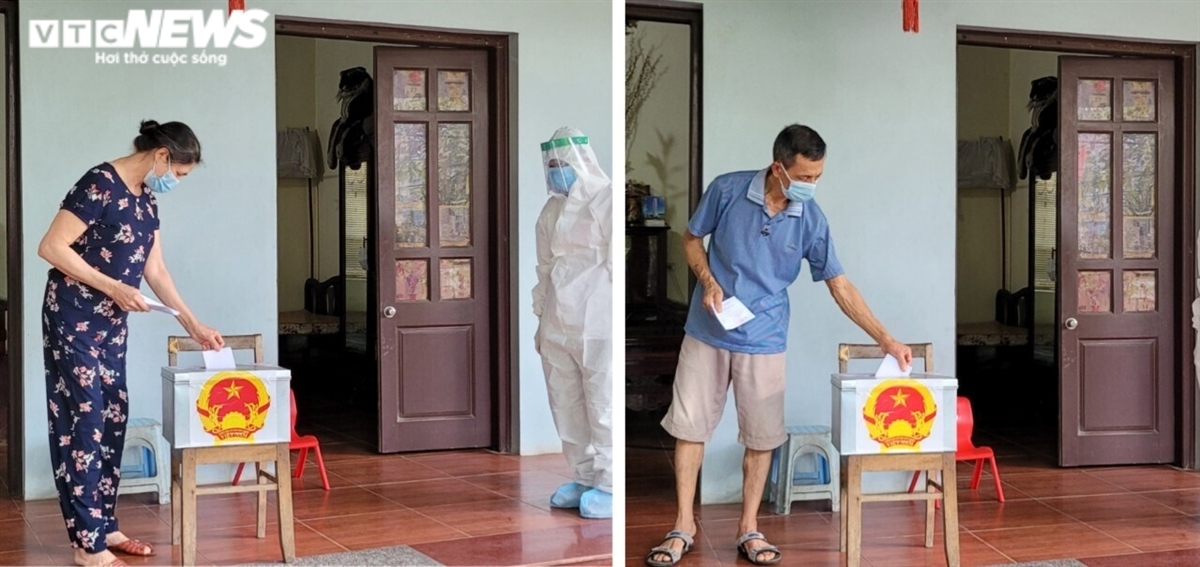 Nguyen Van Kien, one suspected patient in Mao Dien commune, Bac Ninh province and his wife casting their ballots at home. (Photo: VTC News)
Ballot boxes were brought to every household under mandatory home isolation in Vietnam's two biggest Covid-19 hotspots on May 23. The unprecedented move helps suspected patients fulfill their citizenship in the 15th National Assembly and People's Councils election.
In Mao Dien commune, Thuan Thanh city, Bac Ninh province, all inmates at quarantine centers made early votes on Saturday, a day earlier than planned. Meanwhile, individuals designated as F2 who must stay home for three weeks cast the ballots at their doorsteps today.
Nguyen Van Kien and his wife are two F2 cases in the area. The couple placed their ballot papers into the mobile boxes sent by communal officials and medical staff on May 23 morning.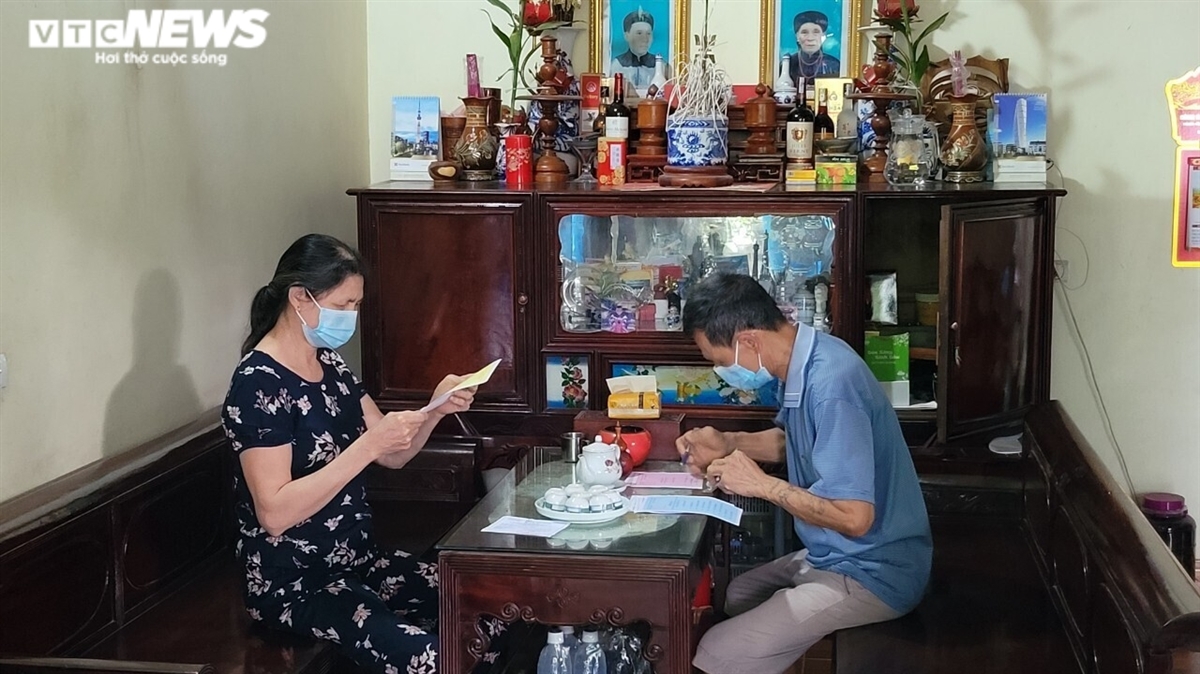 The couple filling out their personal information on the ballot papers (Photo: VTC News)
"My family would normally go to the polling station to vote. This term, however, we have to do it at home. The officials knock on our doors for the election, which is really touching," Kien said. "This shows how responsible the authorities of all levels are."
"We try to make sure 100% constituencies cast their votes," Nguyen Xuan Hieu, head of Bang village, Mao Dien commune said. "There are only a few households under isolation in our village and they are quite close to the station. We will send the boxes to their doors at a suitable time."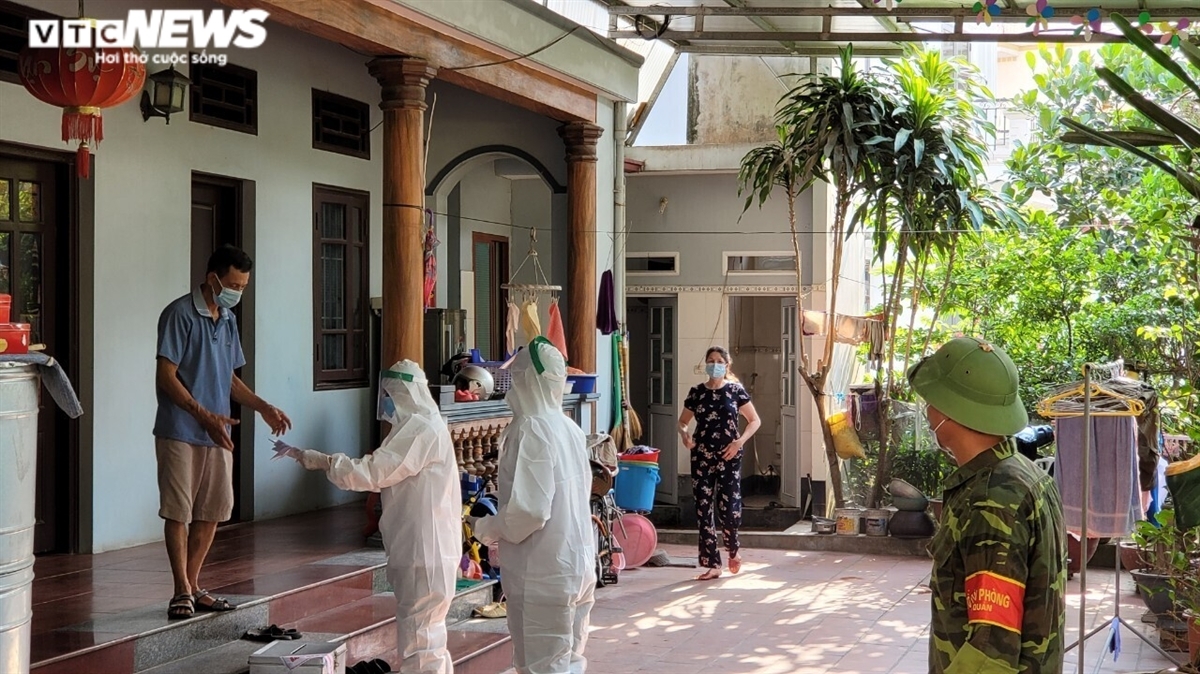 They are having their health checked before casting the votes (Photo: VTC News)
With over 300 cases, Mao Dien is now the biggest epicenter in the northern province. Over 1,000 residents, accounting for 10% of its constituencies, are under home isolation. Election processes both at home and polling stations are carried out strictly in line with anti-pandemic measures.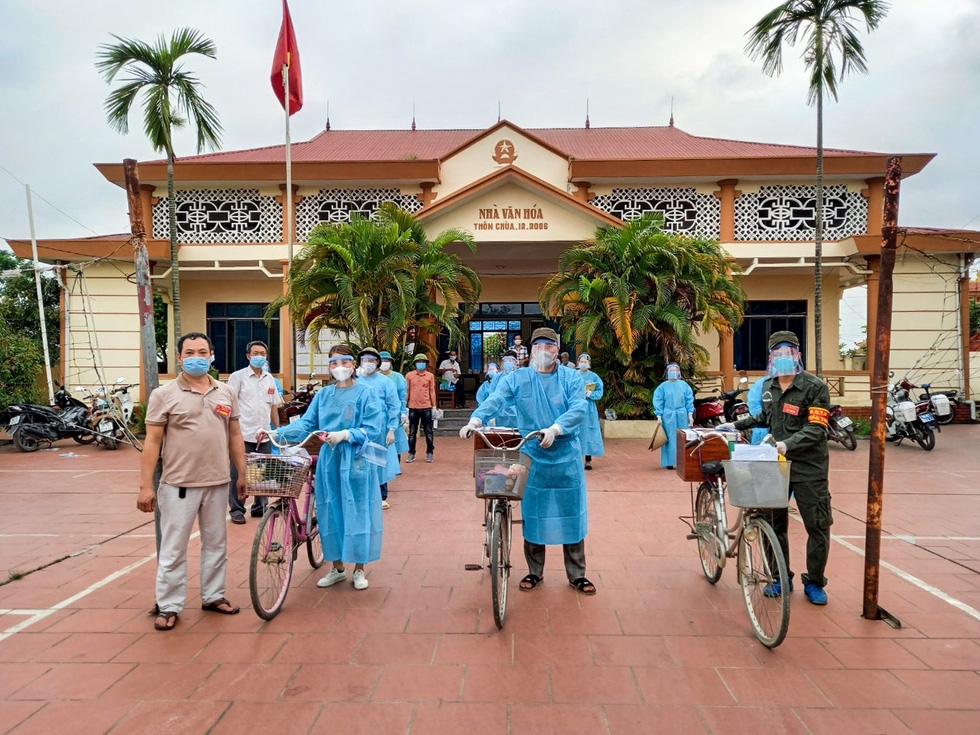 Medical staff and local officials in Bac Giang set off for the election day (Photo: Tuoi Tre)
The same election method was adopted in the neighboring Bac Giang province. From the morning, members of the election board carried extra ballot boxes to every self-isolated household. They were all equipped with personal protective gear and used bicycles for transport.
A total of over 2,300 mobile ballot boxes had been prepared, all were disinfected. Constituencies had their hand washed and body temperature checked before voting.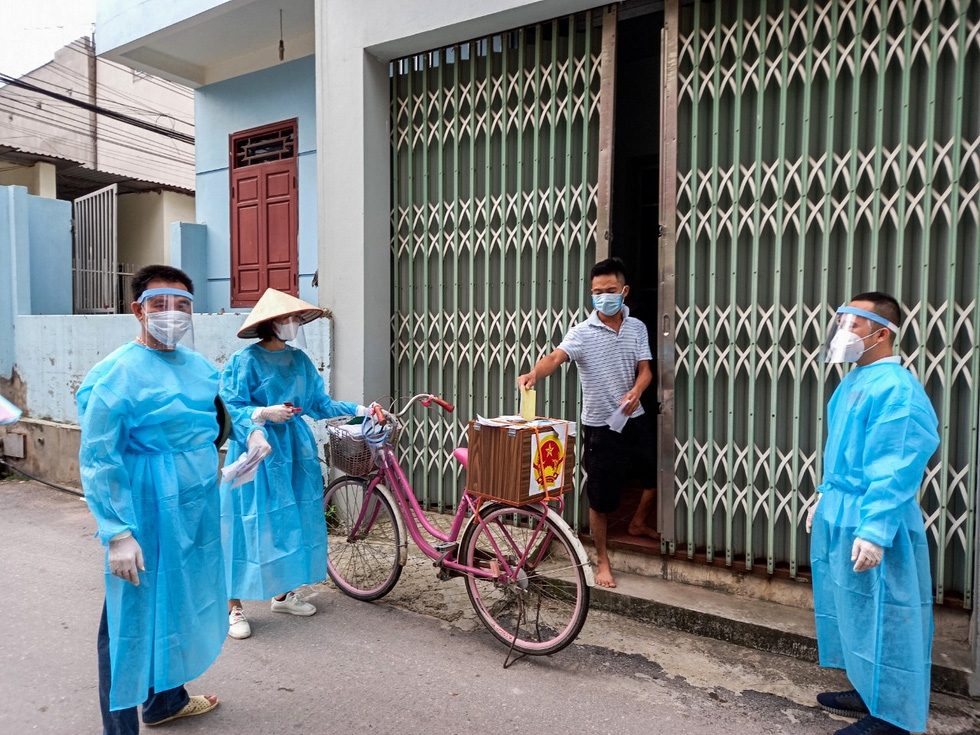 Residents in Bac Giang make the votes at their door (Photo: Tuoi Tre)
(Photo: Tuoi Tre)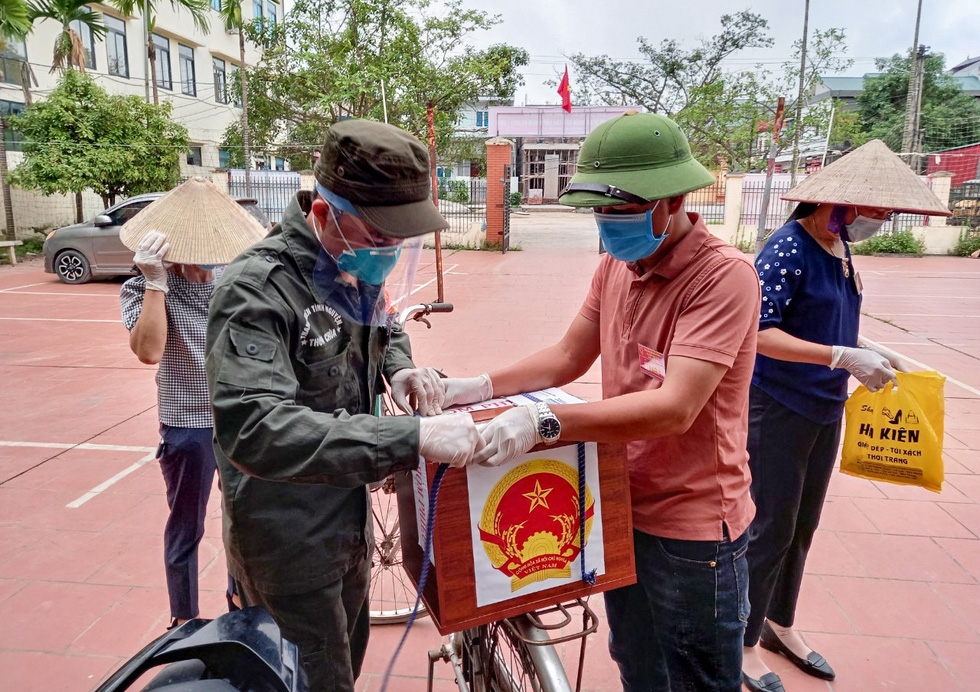 Ballot boxes were carried on bicycles (Photo: Tuoi Tre)
Since April 27 which marked the start of the 4th coronavirus wave in Vietnam, Bac Giang has reported 862 infections, the highest among the 30 provinces and cities affected. 47,072 constituencies have finished their votes at home on Sunday.
The elections of deputies to the 15th National Assembly and all-level People's Councils for the 2021-2026 tenure are slated for May 23.
Nearly 69.2 million voters nationwide will select 500 deputies to the 15th NA from 866 candidates, and 3,727 out of 6,201 candidates will be voted on to provincial-level People's Councils. The elections for People's Councils at the district and commune levels will also be held.
Such an at-home ballot casting method marks a special election season in Vietnam amid the surging pandemic.
112 Covid-19 patients treating at Bac Ninh's field hospital also made their votes for new National Assembly and People's Councils members. They were among the over 3,200 constituencies in the northern province casting the ballots on Saturday, a day earlier than planned. The Ministry of Health mandates that all infected citizens cast their ballots in a separate zone with the help of medical staff to eliminate cross-infections.
Early elections were also permitted in numbers of constituencies in other localities including Hai Phong, Can Tho, Ba Ria – Vung Tau, Ca Mau.