Upgrading of Vietnam-RoK Relations - New Milestone in Bilateral Ties
On the evening of December 6, President Nguyen Xuan Phuc and his entourage left Gyeonggi province and travelled to Seoul Military Airport to return to Vietnam, ending their state visit to the RoK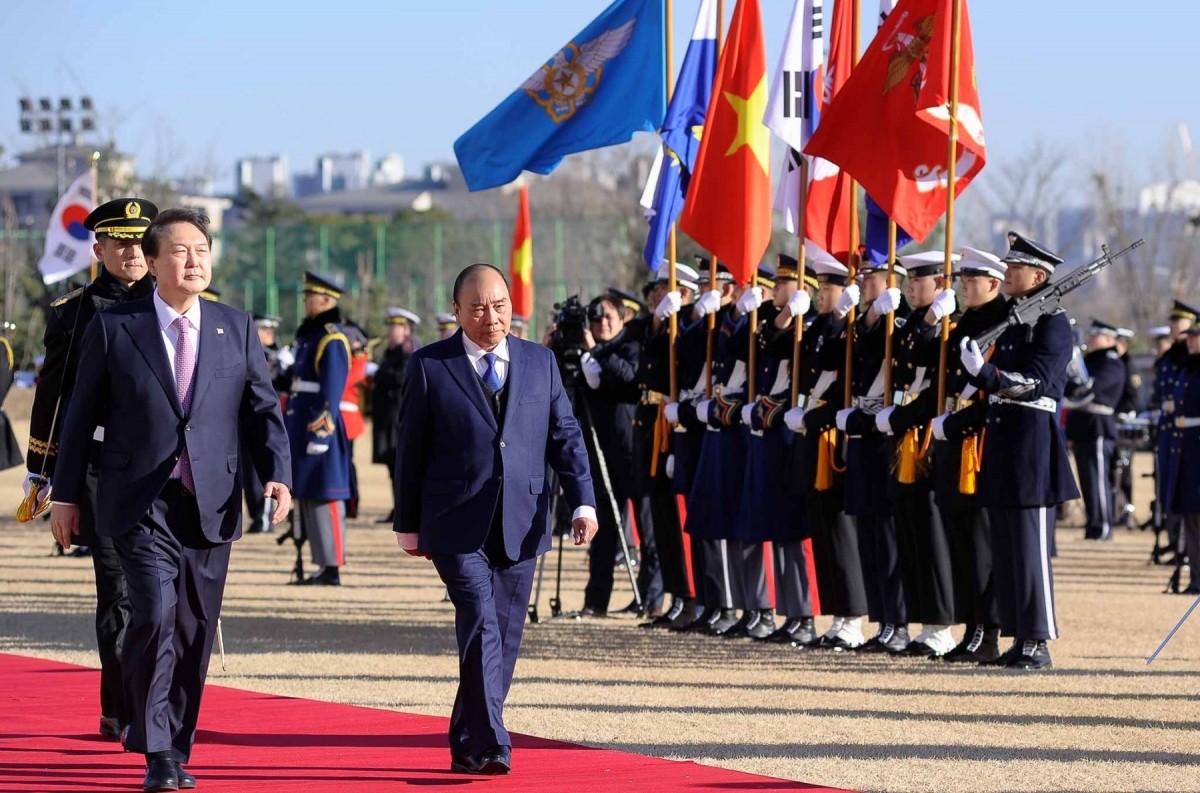 President Nguyen Xuan Phuc (left) and his Korean counterpart Yoon Suk-yeol. Photo: VGP
President Nguyen Xuan Phuc and a high-ranking delegation of Vietnam arrived in Hanoi on December 7 morning, concluding a successful State visit to the Republic of Korea (RoK) at the invitation of President Yoon Suk-yeol, VNA reported.
This was the first visit to the RoK by Phuc in his capacity as President of Vietnam, and also the first by a Vietnamese President over the past 11 years, and the highest-level visit by Vietnamese Party and State leaders to the RoK since the East Asian country had a new President.
Notably, President Phuc was the first foreign high-ranking leader to pay a State visit to the RoK since President Yoon took office in May this year.
During the visit, the two leaders agreed to issue a joint statement on upgrading the Vietnam-RoK relationship to a comprehensive strategic partnership, opening up a new chapter for the bilateral ties, with a brighter future for both countries and peoples.
They agreed to promote the bilateral trade in a stable and balanced manner, remain leading trade partners of each other, and raise the two-way trade revenue to USD 100 billion by 2023 and USD 150 billion by 2030.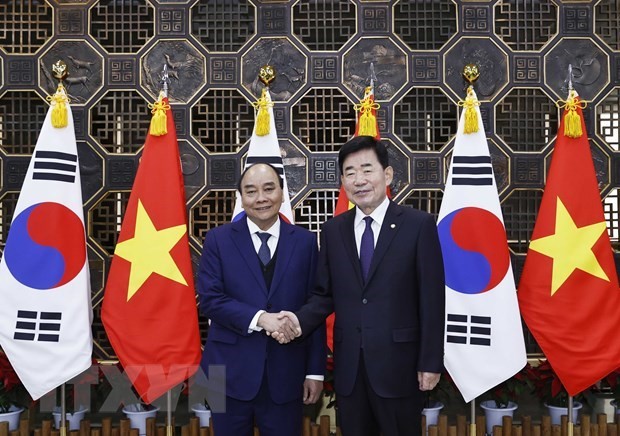 President Nguyen Xuan Phuc (left) on December 6 meets with Speaker of the Republic of Korea (RoK) National Assembly Kim Jin-pyo. Photo: VNA
They also witnessed the signing of many cooperation documents between ministries, agencies, localities and businesses of the two countries.
At the meetings with RoK Prime Minister Han Duck-soo and Speaker of the RoK National Assembly Kim Jin-pyo, the leaders compared notes on cooperation orientations within the framework of the comprehensive strategic partnership in all fields, and expressed their resolve to deepen the bilateral ties.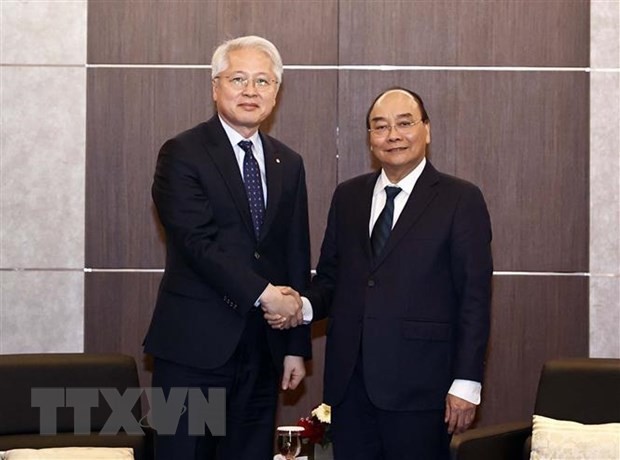 President Nguyen Xuan Phuc (R) and Vice Chairman and CEO of LG Corp. Kwon Bong-seok at their meeting on December 5. Photo: VNA
The Vietnamese President had 12 meetings with nearly 30 leaders of Korean groups, banks, financial organisations and investors that are investing tens of billions of USD in the Southeast Asian nation including Chairman and CEO of CJ Group Sohn Kyung-shik; Chairman of Lotte Group Shin Dong-bin; Vice Chairman and CEO of LG Corp. Kwon Bong-seok; Chairman of Daewoo E&C Jung Won-ju; CEO of Hyundai Motor Chang Jae-hoon; President highly valued GS E&C Corp.; President and CEO of Doosan Heavy Yeonin Jung.
The leader affirmed that the upgrading of the relationship helps to raise mutual political trust and enhance the cooperation framework, thus creating a firm platform for the two countries' enterprises to run long-term businesses on a larger scale and gain more success in the respective markets.
Also on December 5, President Phuc received a group of Saigontel's partners led by Lee Kang-hoon - President of the Korea Overseas Infrastructure and Urban Development Corporation (KIND) under the RoK's Ministry of Land, Infrastructure, and Transport, along with a group of Dat Viet/Kocham partners.
A highlight of the visit was the Vietnam-RoK business forum with the participation of more than 500 delegates and businesspeople from the two countries.
In his remarks, Phuc stressed that Vietnam always creates favorable conditions for Korean firms to operate effectively and sustainably in the country.
Apart from agreements reached earlier, as many as 15 others were officially inked at the forum. The accumulative value of the deals, along with commitments and investment proposals made during the President's visit, amounted to nearly USD 15 billion.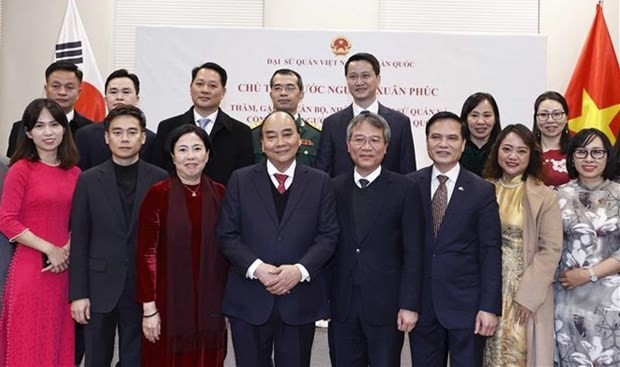 President Nguyen Xuan Phuc (fourth from left) and representatives of the Vietnamese Embassy and people in the RoK pose for a photo at the meeting on December 4. Photo: VNA
During the visit, the President met representatives of the Vietnamese community in the RoK and hosted receptions for representatives from cultural and friendship organisations that play an important role in promoting cooperation and people-to-people exchange between the two countries.
He also visited a Vietnamese-Korean multicultural family and held a working session with the authorities of Gwangju city in Gyeonggi province, among other activities.
The Vietnamese leader expressed his pleasure at visiting Gwangju city - the second hometown of about 3,000 Vietnamese people who have received much attention and support from the local government. There are 37,000 Vietnamese living in Gyeonggi province.
The President hoped that the Governor of Gyeonggi province and Mayor of Gwangju city will continue to provide favourable conditions and effective support for Vietnamese people living there, especially Vietnamese brides.
Gyeonggi is twinned with Ho Chi Minh City and Nghe An province. It has multiple cooperation deals in the fields of labour, handicrafts and ceramics with localities and enterprises of Vietnam.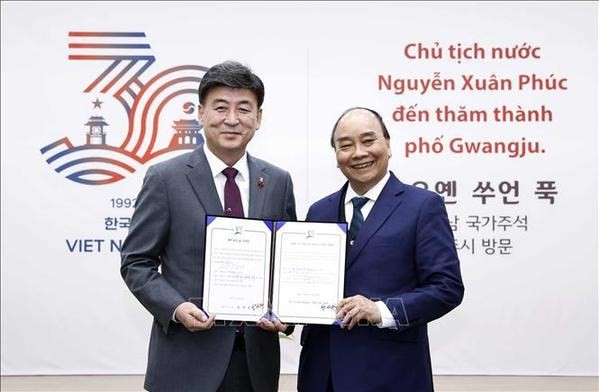 President Nguyen Xuan Phuc (right) and Mayor of Gwangju city a ceremony to announce Vietnam Day of Gwangju. Photo: VNA
The Vietnamese leader also attended a ceremony to announce Vietnam Day of Gwangju, visit the Vietnamese cultural space in the city and attend an art program to celebrate 30 years of diplomacy between Vietnam and the RoK.
The President said that the organization of Vietnam Day in Gwangju city on December 6 every year will enable the peoples of the two countries to have a better understanding of each other and open up new opportunities for cooperation and exchange between people and businesses.
With nearly 30 activities within three days, the success of the President's visit reaffirmed Vietnam's foreign policy of independence, self-reliance, peace, cooperation, development, and the diversification and multilateralisation of relations.
Vietnamese Students Study Korean in RoK

The Vietnamese Students' Association at the Chosun University of the Republic of Korea (RoK) has recently coordinated with a Korean language centre to organised a ...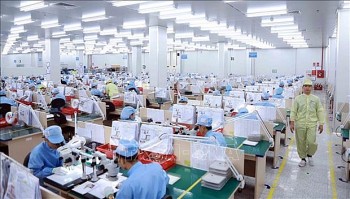 National
Vietnam News Today (Jan. 26): Vietnam - important partner of RoK; HCM City maintains growth momentum, reaps successes in 2022; Vietnam's tourism forecast to strongly rebound in five years; Many localities attract a large number of visitors during Tet.