US and Canada weather forecast today, July 11: Rare heatwave this weekend
US and Canada weather forecast today, July 11: Parts of the southwestern United States are under an excessive heat warning this weekend. Temperatures are expected to reach as high as 120 degrees Fahrenheit in some regions and officials urge people to take precautions as heat this high can turn deadly. In Canada, Montreal heatwave would be followed by heavy rainfalls, said Environment Canada forecasts.
US weather forecast
According to the National Weather Service, Death Valley, California would suffer from a high of 126 degrees Fahrenheit. Meanwhile, Phoenix, Arizona, expects a high of 117 on Sunday, and Las Vegas, Nevada, is preparing for weekend highs of 113.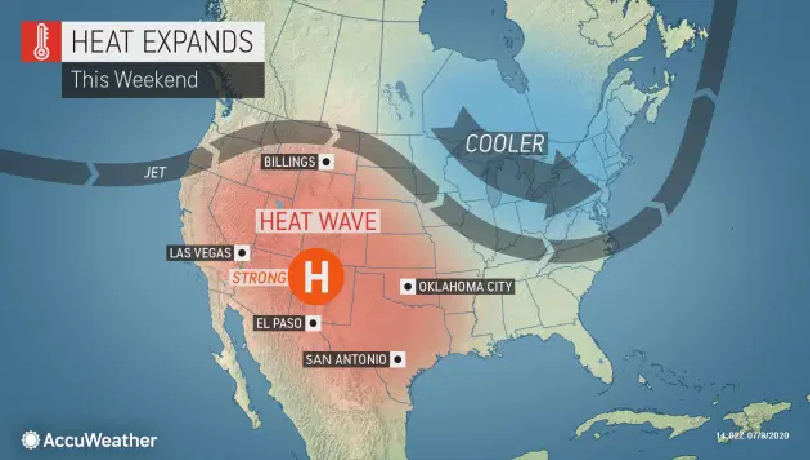 Photo: Accuweather
Heat in Phoenix this weekend could break daily records. Phoenix's expected high of 117 on Sunday would beat the daily record for July 12 of 115, set in 2009. Heat in California and Nevada will come close to records, but not quite meet them. High heat is seasonally appropriate for the region, just usually not so high for so long.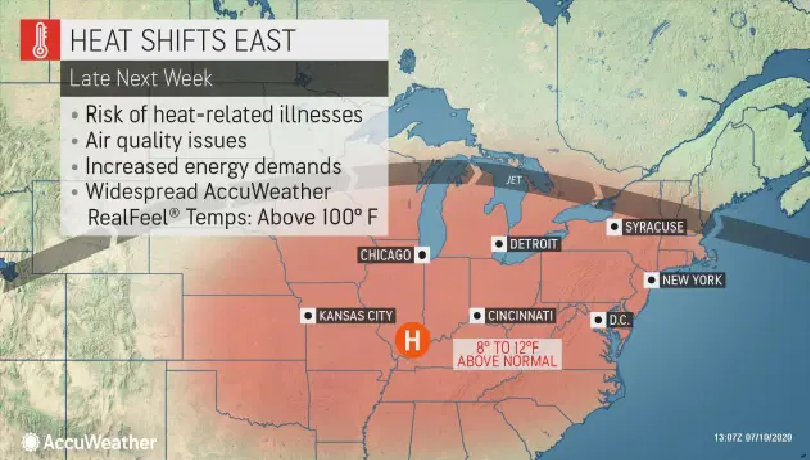 Photo: Accuweather
In the southwest, "we use what we call a heat risk," said Marvin Percha, National Weather Service meteorologist. This is different from other areas of the country where heat indexes take a bigger importance in heat warnings.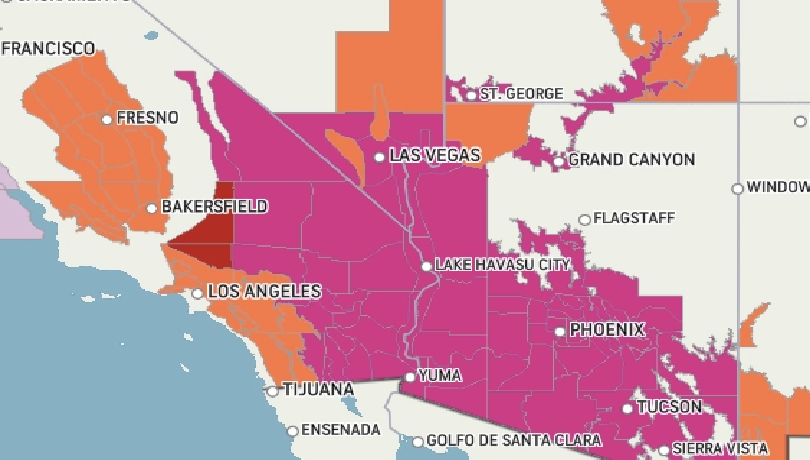 Excessive heat warnings (pink) are in effect across the Southwest. Some areas are under excessive heat advisories (orange) while a part of central California is under an excessive heat watch (dark red).
Photo: AccuWeather
As reported by CNN meteorologist Pedram Javaheri that Friday marks the 107-year anniversary of the hottest day ever recorded on earth as Death Valley hit 134 degrees Fahrenheit.
The high temperatures might be intensified in valleys and on the ground, where materials can start to melt.
Although monthly records might not be broken this weekend, the hot scorching heat is a part of the rising temperature trend. The high heat is only one of many severe weather events worsened by climate change.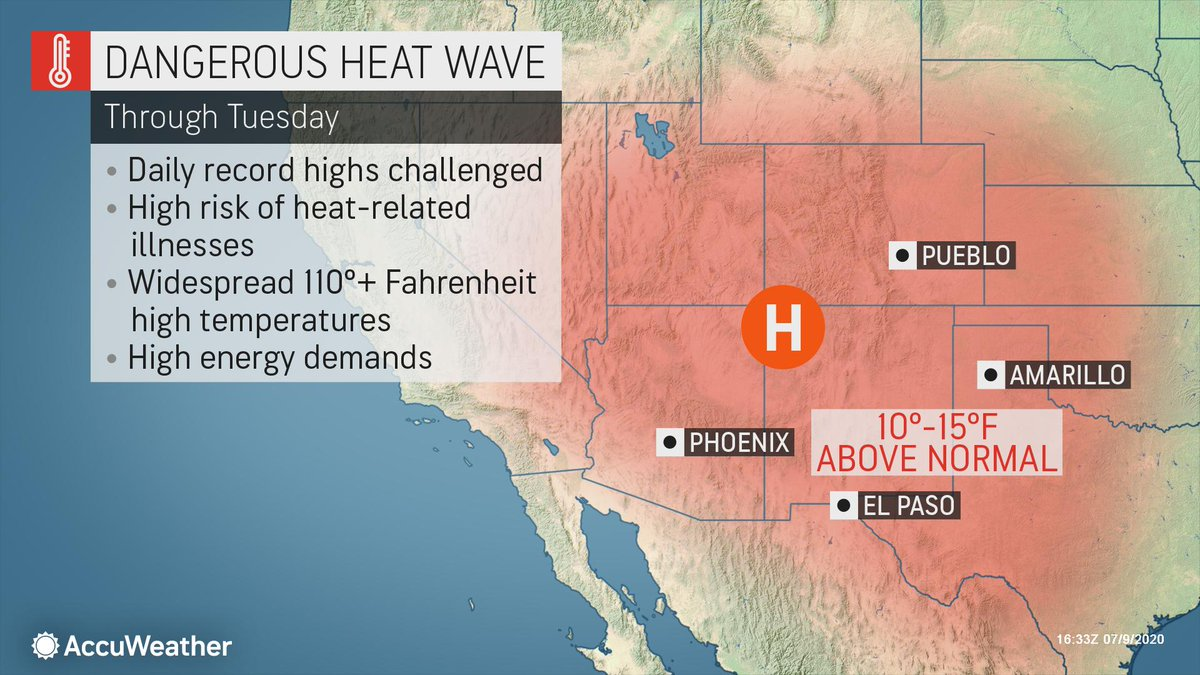 Photo: Accuweather
It is obvious that high temperatures can be extremely dangerous; therefore, people in impacted areas are urged to take safety precautions. "Anyone with heart or diabetic issues should be particularly careful about this and really do their best to really stay out of it," said Marvin Percha, National Weather Service meteorologist.
According to the Centers for Disease Control, heat-related sickness kills over 600 people per year. Some measures such as staying at home, keeping hydrated, wearing lightweight clothing as well as knowing the symptoms of heat sickness should be implemented in the hot weather like that.
"If you have to be outside, try to limit your exposure and keep yourself well hydrated," Percha said. "Seek air-conditioned cooling centers if you have to."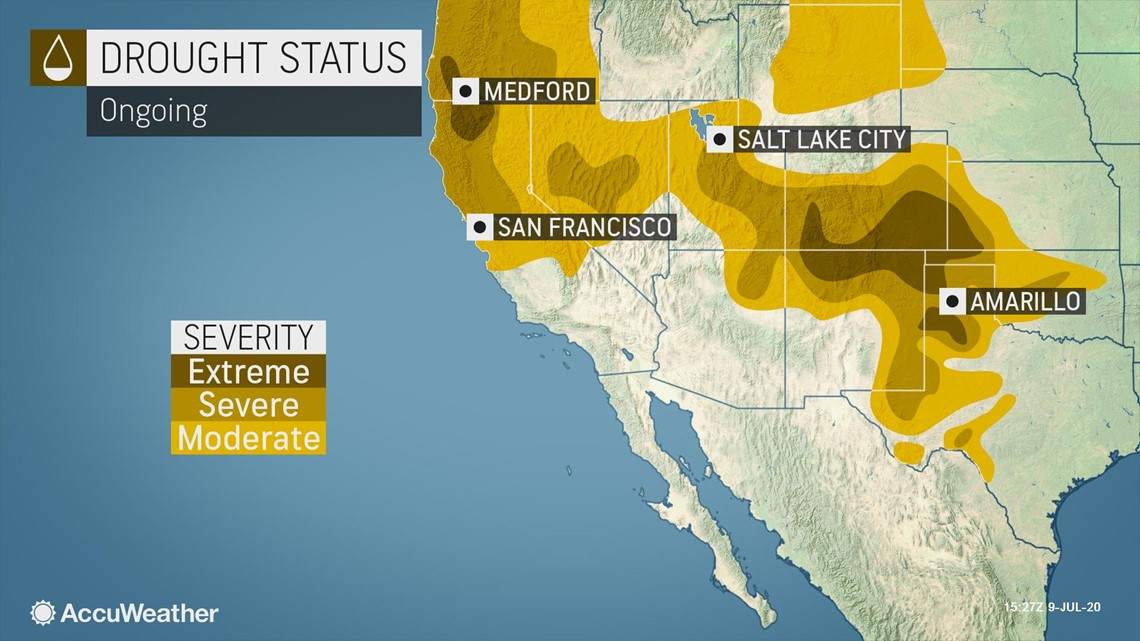 Drought status in the US Photo: Accuweather
As informed by Accu Weather that ongoing and exacerbating drought over the southwestern United States would continue to contribute to well-above-average heat into early next week, while a big surge of heat is likely to make its presence known farther to the east around the middle of July.
"As a northward bulge in the jet stream with its associated area of high pressure at most levels of the atmosphere builds this weekend, temperatures are forecast to surge to new highs this summer over the interior Southwest and portions of the central and southern Plains," AccuWeather Senior Meteorologist Brett Anderson said.
The ongoing and amplifying drought in the Southwest and parts of the Plains will play a major role as well. "The pre-existing dry soil allows most of the sun's energy to heat the ground and the air nearest the ground, rather than to evaporate moisture," according to AccuWeather Senior Meteorologist Dave Dombek.
"This is drought-heat cycle often produces extreme temperatures and allows heat waves to build," Dombek explained.
As the heat is forecast to be the hottest part of the summer, on average, and that temperatures are predicted to be 10-15 degrees Fahrenheit above normal, to say that the heat will be extreme may be an understatement, the AccuWeather added.
Canada weather forecast
The end is in sight for the extended heatwave that has gripped parts of Quebec for the last few days, and plenty of rain is now in the forecast.
Environment Canada is announcing lower temperatures in the Montreal area and a slightly lower humidex factor as of Saturday, with a high of 26 and a humidex of 37.
On Friday the agency issued a special weather statement for the region, saying that the remnants of tropical storm Fay will bring as much as 50 mm of rain to the region starting Saturday morning. From Sunday to Thursday, temperatures will range between 24 and 28 degrees Celsius. Until then, though, the heatwave remains severe in Montreal.
Environment Canada also stressed that heat warnings are issued when very high temperature or humidity conditions are expected to pose an elevated risk of heat illnesses, such as heat stroke or heat exhaustion. Young children, pregnant women, older adults, people with chronic illnesses, and people working or exercising outdoors face greater risks. Family, friends, and neighbors should check in on the elderly.

The weather forecast in the next five days in Ottawa Photo: Canadian weather
On Saturday in Ottawa, it is predicted to showers with a risk of thunderstorms. The humidex is 34 and the UV index is 3 or moderate. At night, there may be showers with a risk of thunderstorms.

The weather forecast in the next five days in Toronto Photo: Canadian weather
In Toronto, it is expected to be cloudy and 60 percent chance of showers in the morning. Showers may begin near noon. There is also the risk of a thunderstorm in the morning and afternoon. The humidex is 33 and the UV index is 4 or moderate. At night, it is forecast some showers ending near midnight then mainly cloudy with 60 percent chance of showers as well as the risk of a thunderstorm in the evening.

The weather forecast in the next five days in Vancouver Photo: Canadian weather
In Vancouver, it might be mainly cloudy. There could be showers beginning early in the afternoon and windy near the water in the afternoon. Showers will end late in the evening then partly cloudy.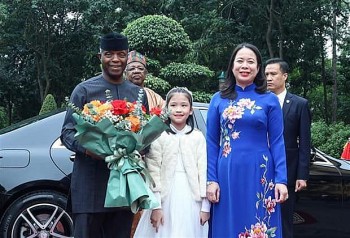 National
The two countries have strived to raise their bilateral trade to over USD 500 million and become important trade partners of each other in respective regions.