US and Canada weather forecast August 3: Tropical Storm Isaias to ride Florida's east coast, could strike Carolinas as hurricane
US and Canada weather forecast August 3: It is expected that Tropical Storm Isaias will track inland over the mid-Atlantic and New England region with high winds and heavy rain prior to the middle of this week. Meanwhile, in Canada, there are heat warnings in British Columbia, Alberta, Saskatchewan, New Brunswick, Nova Scotia, Prince Edward Island, and the Northwest region.
US weather forecast
Although tropical Storm Isaias lost some of its intensity while passing between Florida and the Bahamas this weekend, it is still a potentially dangerous and damaging tropical system and is expected to send copious amounts of moisture northward and will pack enough wind to cause problems 800 to 1,500 miles farther north.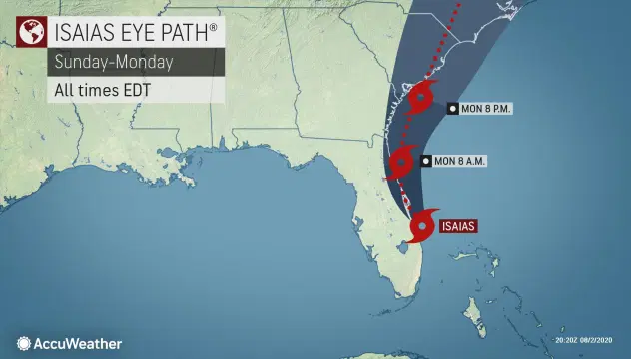 Photo: Accu weather
The National Hurricane Center issued a hurricane watch Sunday evening for parts of the Carolina coast from north of Charleston, South Carolina, to north of Wilmington, North Carolina. It said hurricane conditions were possible in the area Monday night and early Tuesday, reported CNN.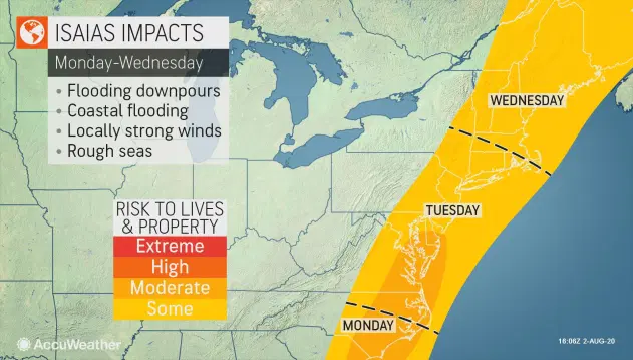 Photo: Accu weather
"Isaias is expected to be near hurricane strength when it reaches the coast of northern South Carolina and southern North Carolina Monday night, and strong tropical-storm-force winds are likely with hurricane conditions possible in the Hurricane Watch area," the National Hurricane Center said.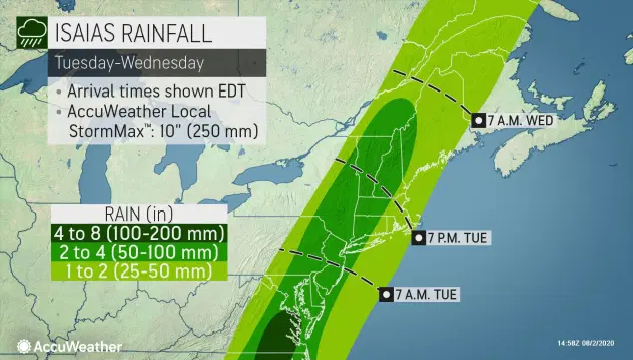 Photo: Accu weather
The center of Isaias may pass rather close to New York City, which would be the second storm of the season to do so following Tropical Storm Fay from early July.
"The last time there have been two named tropical systems pass so close in the same season was in 1985 when Gloria and Henri passed over Long Island, New York," according to AccuWeather Meteorologist Brandon Buckingham.
People should not just focus on the center of the storm and eye-tracking; however, the impact from the tropical storm will increase in the area and spread farther west as the system moves into the mid-latitudes.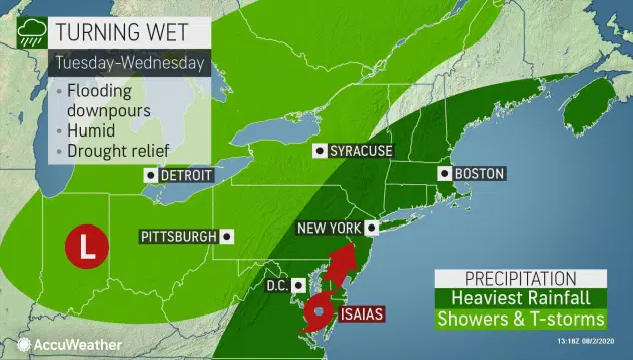 Photo: Accu weather
"Isaias is still expected to be less than one on the AccuWeather RealImpact (TM) Scale for Hurricanes in the northeastern U.S.", said AccuWeather Senior Meteorologist Rob Miller.
The main threats for the areas from Virginia to Maine will be from the torrential rain that can lead to urban and small-stream flooding.
"An increase in forwarding speed is expected to span Monday through Wednesday and the swath of heaviest rain will shift from east of the center to the northern and western part of the storm as it moves over land in the Carolinas and track through coastal areas of the Northeast states," Miller explained.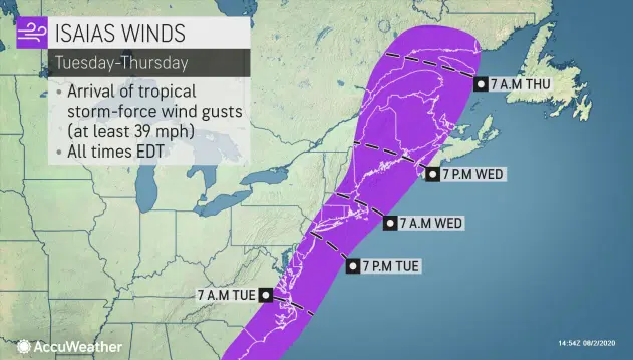 Photo: Accu weather
A general 2-4 inches of rain is forecast from the accelerating storm in the Northeast, but a swath of 4-8 inches of rain is anticipated from eastern Virginia to part of the Delmarva Peninsula, where and AccuWeather Local StormMax(TM) rainfall of 10 inches can occur.
The leading edge of the heavy rain will arrive Monday evening in southeastern Virginia and will overspread the Interstate-95 swath from Washington, D.C., to Philadelphia late Monday night and should reach the New York City area by morning rush hour on Tuesday.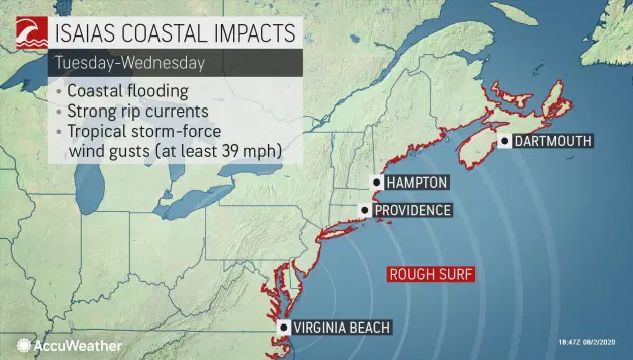 Photo: Accu weather
Rain is likely to overspread the Boston area during the midday hours on Tuesday. Winds will increase as the rain continues to fall.
Much less rain is forecast to fall with Isaias from the western parts of North Carolina and Virginia to northern New York state and northwestern New England, based on the current track. But some, moisture from a non-tropical system can become intertwined with Isaias's rain farther west.
Coastal areas will be at risk for a period of above-normal tides and storm surge flooding as the flow of air around Isaias directs ocean water westward for a time. A storm surge of 3-6 feet can occur in southeastern Virginia Monday night with 1-3 feet more likely farther to the north in coastal areas of the Northeast from Tuesday to early Wednesday.
Monday's Forecast (Green areas indicate where rain, thunderstorms are possible. Blue areas denote lower wind gusts, while pink and red areas are where higher wind gusts are possible.) Photo: The weather channel
Regarding the winds, the strongest gusts will occur east of the track of Isaias and can still reach strong tropical-storm-force along the immediate coasts of Virginia, Maryland, Delaware, New Jersey, New York state, Connecticut, Rhode Island, Massachusetts, New Hampshire, and Maine as the storm accelerates northeastward.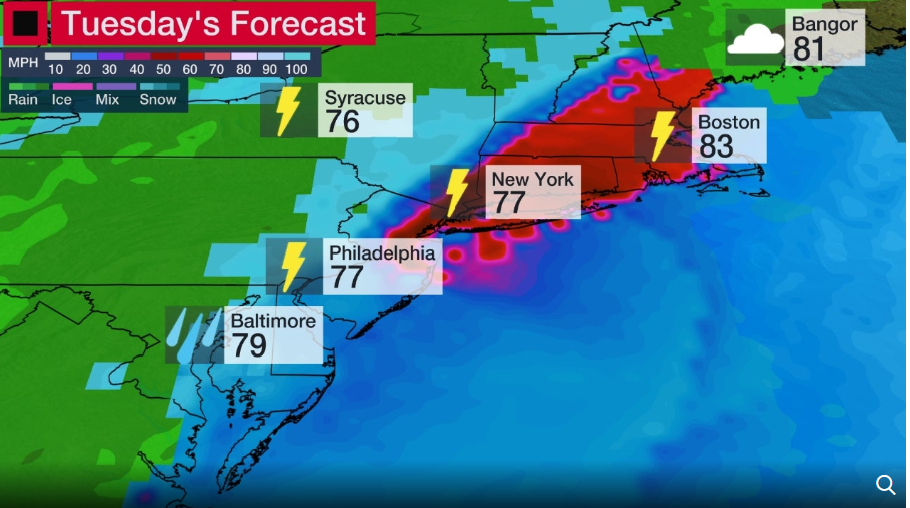 Tuesday's Forecast (Green areas indicate where rain, thunderstorms are possible. Blue areas denote lower wind gusts, while pink and red areas are where higher wind gusts are possible.) Photo: The weather channel
"Given the strong southerly surface winds and high tide coinciding around the same time, there is the potential for a 3- to 5-foot storm surge well to the north over the Chesapeake Bay during Tuesday as well," according to AccuWeather Storm Warning Meteorologist Kayla St. Germain.
Many US states have issued emergencies
New York Gov. Andrew Cuomo is calling on local governments to get ready for the possibility of Tropical Storm Isaias hitting the area Monday night into Tuesday morning, he said during a press call Sunday.
Although he says it isn't expected to be a hurricane when it hits New York, Isaias can still drop 3 inches of rain and bring 50 mph winds, informed CNN.
The storm should be over by Wednesday morning and it is expected to hit Long Island and the Hudson area, he said. The state is preparing generators and vehicles that can withstand heavy water.
Meanwhile, North Carolina and Virginia declared states of emergency, allowing officials to move resources and equipment for recovery. In Florida, the governor issued a state of emergency for several counties and encouraged all parts of the state to accept evacuees so as not to overcrowd local shelters.
North Carolina Gov. Roy Cooper authorized up to 150 members of the state's National Guard to be used if needed, his office said. The storm's center could affect the state early Tuesday.
"As we learned with Hurricane Florence, even a Category 1 storm can bring severe impacts, and we should not take this lightly," Cooper said in a statement.
In South Carolina, where the governor hasn't ordered an emergency declaration, some local governments are gearing up for what the storm could bring.
Canada weather forecast
According to Environment Canada, there are currently heat warnings in six provinces and one territory: British Columbia, Alberta, Saskatchewan, New Brunswick, Nova Scotia, Prince Edward Island and the Northwest Territories.
In Calgary, this means daytime temperatures will be near 29 degrees Celsius, with some cooler spots anticipated on Monday.

The weather forecast in Calgary in the next five days Photo: Canadian environment
The heat warnings are expected to continue on Monday and in the next few days.

The weather forecast in Charlottetown in the next five days Photo: Canadian environment
These warnings mean slightly different temperatures across the country, but one thing is true for all affected regions: the temperature will be much higher than residents are used to, reported Environment Canada.

The weather forecast in Quebec in the next five days Photo: Canadian environment
On the other side of the country, in Fredericton, N.B., temperatures of 28 C to 31 C are expected, with a humidex of 34 C to 38 C, lasting for at least the next two days.

The weather forecast in Toronto in the next five days Photo: Canadian environment
Nunavut may not be officially facing a heatwave yet, but special weather statements for several regions in the territory warn that "warm air over western Canada will work its way eastward today and remain in the area until at least Wednesday."

The weather forecast in Whitehorse in the next five days Photo: Canadian environment
Environment Canada recommends that those under a heat warning consider changing outdoor plans to indoor ones, staying hydrated, and keeping a close eye on those who are most at risk from increased heat, such as young children, people who are pregnant, older adults and those with any chronic illnesses.
Tropical storm Isaias to hit Eastern Canada by the middle of next week
Environment Canada has issued an alert that tropical storm Isaias will approach Eastern Canada Wednesday or Thursday, and could bring locally heavy rainfall and gusty winds to parts of the region Wednesday or Thursday.
The Canadian Hurricane Centre is closely monitoring the progress of Tropical Storm Isaias (pronounced ees-ah-EE-ahs), which is currently located just off of the south Florida coast. Isaias is expected to approach Eastern Canada from the New England region later Wednesday or Thursday. The most likely impacts for Canada will be the potential for heavy rainfall and gusty winds.
There is still a wide range of potential track and intensity scenarios that are possible over the next several days for Isaias, thus details on impacts are difficult to determine at this time. Interests in Eastern Canada should closely monitor forecasts for early to midweek as this situation continues to evolve.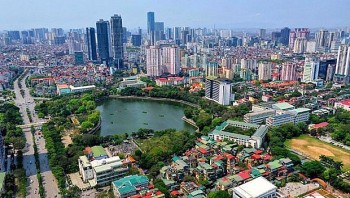 National
Vietnam News Today (Jan. 29): Quang Ninh: Cross-border trading with China resumed after Tet; Hanoi in the world's top three culinary destinations: Tripadvisor; Intertwined opportunities, challenges for Vietnam's economy in 2023; Supermarkets, traditonal markets gradually resume normal operations amid abundant supply.