US and Canada weather forecast August 5: Tropical Storm Isaias ravages US East Coast, killing at least four
US and Canada weather forecast August 5: At least four people were killed as Tropical Storm Isaias triggered tornadoes and heavy rain Tuesday along the US east coast. Meanwhile, Environment Canada has issued rainfall warnings as Isaias closes Quebec.
US weather forecast
The USA Today cited the local authorities that the tornado killed two people and injured several others at a mobile home park in Bertie County, North Carolina, adding that two others were killed by falling trees toppled by the storm in Maryland and New York City.
The latest victim was a New York man who was sitting in his car in Queens when a massive tree crashed down on the vehicle, officials said. The man, who was in his 60s, was pronounced dead at the scene.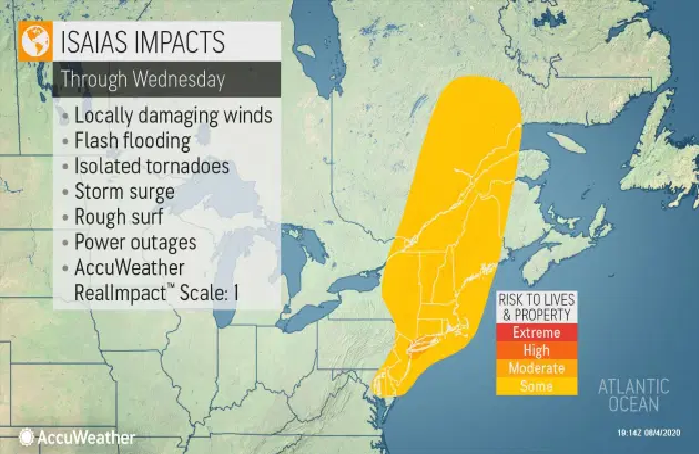 Photo: Accu weather
A similar death happened in Maryland when a tree fell onto the roof of a moving car in Mechanicsville. The driver and sole occupant of the vehicle were crushed to death, the St. Mary's County Sheriff's Office said in a statement.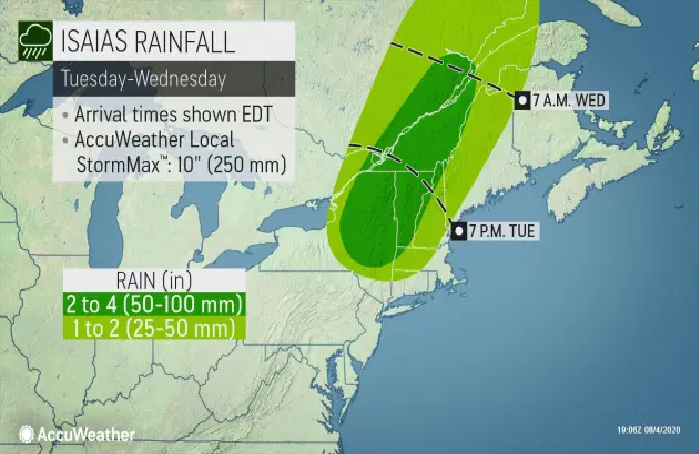 Photo: Accu weather
Bertie County Commissioner Ronald Wesson told ABC 11 another 20 people were injured in the tornado, which struck just after 1 a.m., and three more remained missing Tuesday.
At least 10 mobile homes were destroyed in the early-morning weather. Trees were downed in the area, including one that smashed into a residence, and vehicles were flipped over in the streets in wake of the tornado, said Bertie County Sheriff John Holley, who described the scene as one of the worst he has ever seen.
More than 15 hours after coming ashore, Isaias still had sustained top winds of 65mph. Mid-Tuesday afternoon, the storm's center was about 65 miles west of New York City, where winds forced the Staten Island ferry and outdoor subway lines to shut down.
Photo: Accu weather
New York City mayor Bill de Blasio issued a tornado watch through 4 pm after the hurricane center reported numerous storms throughout the mid-Atlantic region, and by 1 pm strong winds and rain were lashing New York, reported the Guardian.
Other tornadoes were reported in Virginia, Maryland, Delaware, and New Jersey, the National Weather Service's Storm Prediction Center said.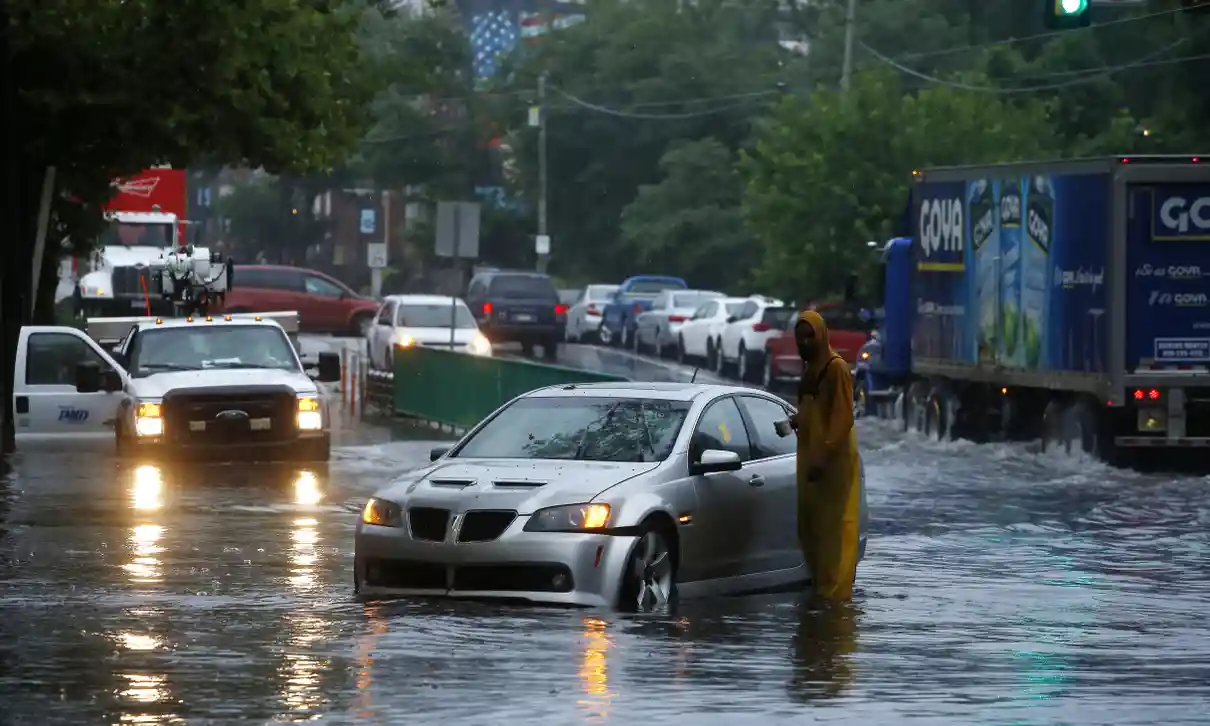 A man checks on a stranded vehicle in Philadelphia on Tuesday. Photo: Matt Slocum/AP
In Suffolk, Virginia, near the coast, multiple homes were damaged by falling trees, and city officials received reports of a possible tornado. A fire station downtown sustained damage including broken windows. A photo posted by city officials showed a pile of bricks lying next to a damaged business.
The storm set off flooding and sparked five home fires in Ocean Isle Beach, Mayor Debbie Smith told WECT-TV. The town's firefighters were battling the blaze with help from Horry county firefighters in South Carolina, Tony Casey, a spokesperson for Horry County Fire Rescue, told the Associated Press.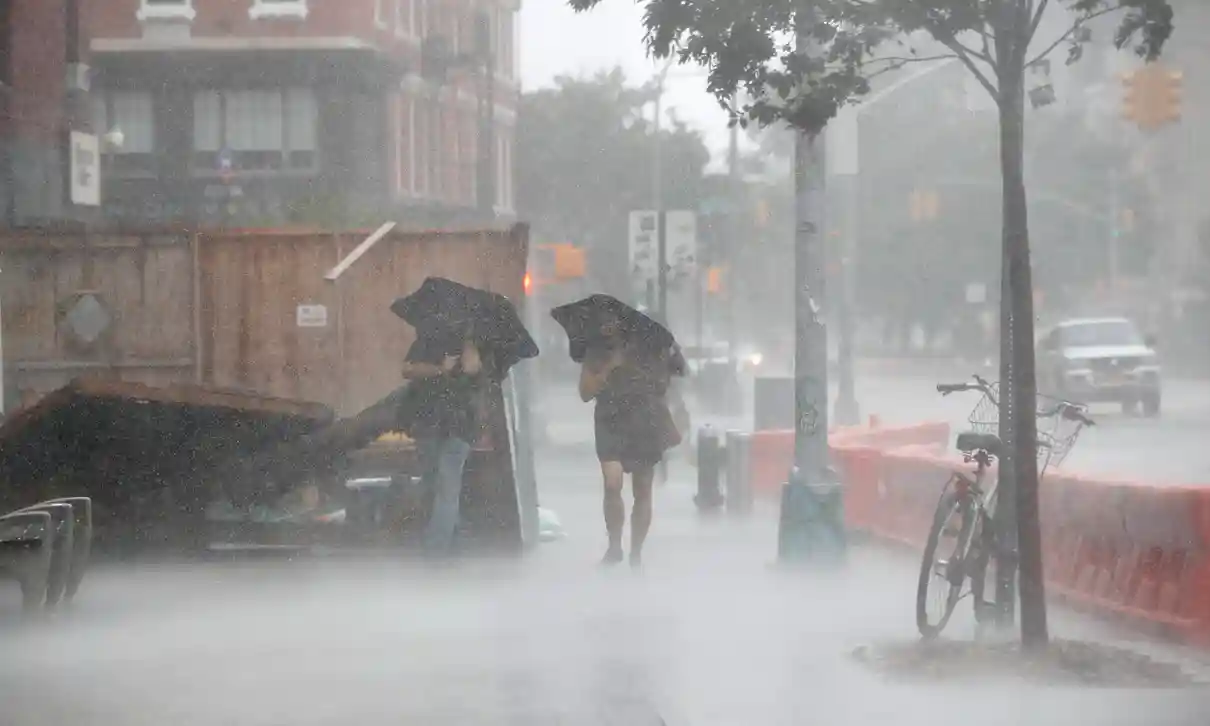 Heavy rain and wind buffets New York on Tuesday afternoon. Forecasters predicted more damage as it moved into New England later in the day. Photo: Jason Szenes/EPA
About 80 miles north of Ocean Isle Beach, about 30 people were displaced due to a fire at a condominium complex in Surf City, news outlets reported. It is not clear if the fires were connected to the storm. No injuries have been reported.
Isaias toggled between tropical storm and hurricane strength throughout its path to the US coast, killing two people in the Caribbean and trashing the Bahamas before brushing past Florida, added the Guardian.
Coastal shops and restaurants had closed early in the Carolinas, where power began to flicker at oceanfront hotels and even the most adventurous of beachgoers abandoned the sand on Monday night. The National Hurricane Center warned oceanside home dwellers to brace for storm surge up to 5ft (1.5 meters) and up to 8in (20cm) of rain in spots.
New York saw strongest wind gusts since Superstorm Sandy
New York City on Tuesday experienced wind gusts between 60 and 70 mph, as Tropical Storm Isaias raced up the East Coast. Wind speeds this high haven't been seen in New York since Superstorm Sandy, according to CNN.
Gusts recorded at JFK airport afternoon reached 70 mph, which would beat the largest gust from Superstorm Sandy at 69 mph. High winds during that storm in 2012 caused the collapse of a crane on the top of a skyscraper in Manhattan.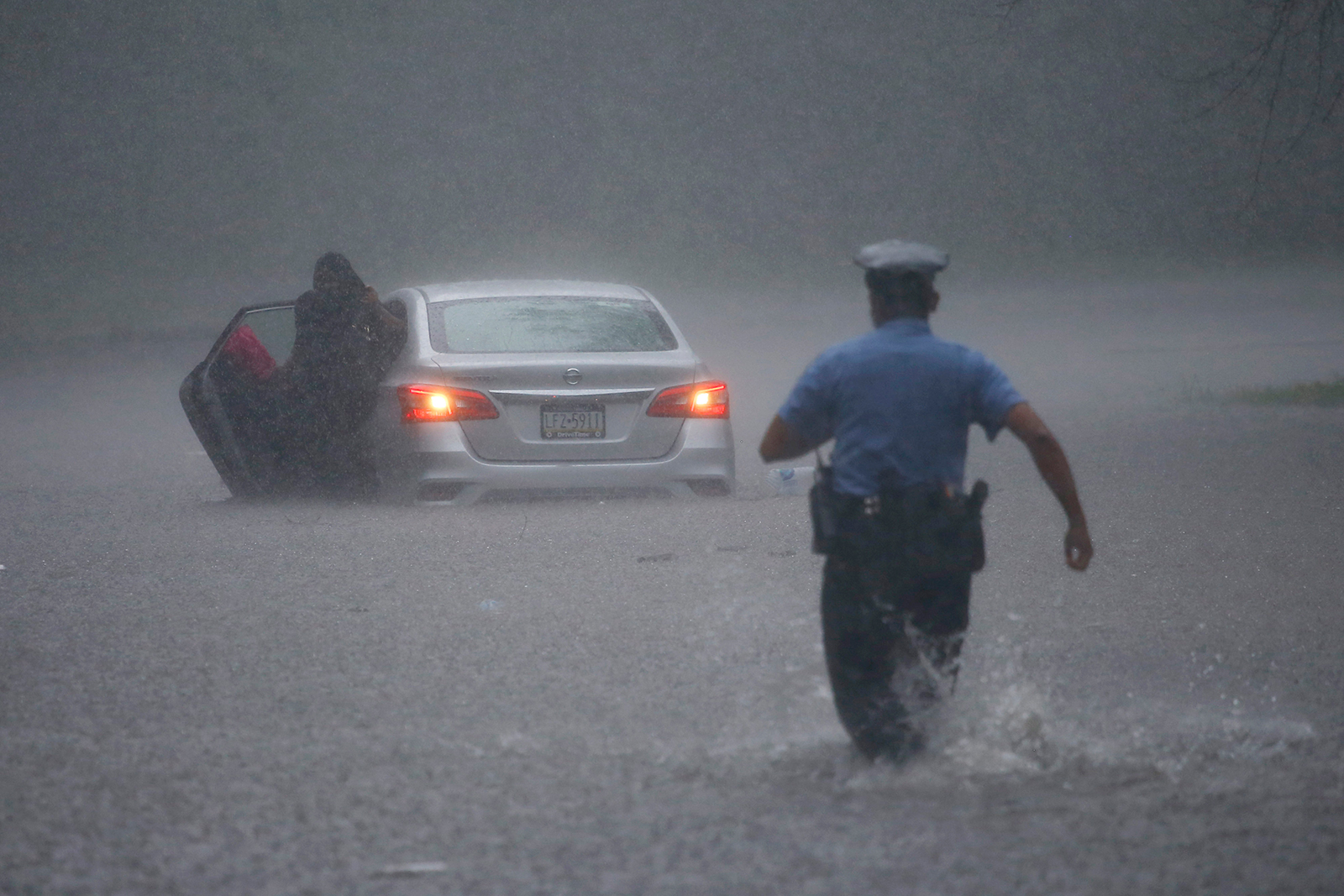 A Philadelphia police officer rushes to help a stranded motorist during Tropical Storm Isaias, on Tuesday, August 4, in Philadelphia. Matt Slocum/AP
Cranes and other tall structures are at particular risk due to their height. At 100 stories, wind gusts were much stronger.
Wind speeds increase with altitude due to an absence of friction. The higher you go in altitude, the less boundary friction is experienced by the wind, meaning that wind moves quicker.
"The tallest buildings in NYC will see about 10% higher gusts above the 60th floor," CNN meteorologist Chad Myers said before the winds came through. "This is due to the lack of friction compared to all of the buildings and trees at lower levels."
"The wind and flooding impacts from Isaias will be similar to what the city has seen from some of the strongest coastal storms," says Ross Dickman, the meteorologist-in-charge of the NWS in New York City, "but we haven't seen one this strong in many years."
More than 1.3 million power outages reported in New Jersey, governor says
New Jersey had the highest number of homes in the dark — nearly 1.4 million — according to PowerOutage.US. New York was second, with over 530,000 outages, followed by Pennsylvania and Connecticut with more than 300,000 each.
New Jersey Gov. Phil Murphy said some of the outages may last for a few days due to "the severity of the storm."
"We are working closely with the utilities to restore power as quickly and safely as possible," he tweeted.
Isaias' gusting winds forced officials to shut down service on all Metro-North Railroad, NJ Transit and Long Island Railroad lines. The MTA also suspended the above-ground subway service because multiple trees fell on subway tracks.
The storm was expected to gradually lose strength as it moves north in New England, according to the National Hurricane Center.
Canada weather forecast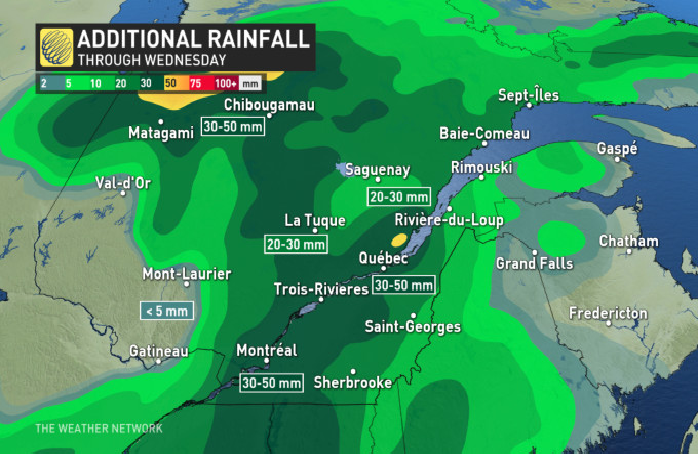 Photo: The weather network
Though expected to transition to a tropical depression by the time it reaches Canada, Isaias will still bring heavy rain to parts of Quebec especially.

The weather forecast in Quebec in the next five days Photo: Environment Canada
The center of Isaias is moving through the New England states and will approach Quebec tonight as a tropical storm. Heavy rainfall is expected in southern Quebec along the St. Lawrence River Valley up to 30-60 mm. Localized flooding is possible.
Strong winds of 60-80 km/h gusts will continue into tomorrow morning from eastern Quebec to New Brunswick, informed the Weather Network.

The weather forecast in Calgary in the next five days Photo: Environment Canada
Tropical Storm Isaias is gradually tracking northward after making landfall in the U.S. Mid-Atlantic states, bringing copious rainfall as it goes and even a slight tornado risk for much of the U.S. northeast coast.

The weather forecast in Edmonton in the next five days Photo: Environment Canada
Initial tracks did raise some possibility of a more eastward track of the storm that would have had more of an impact on New Brunswick, and there is still a tropical cyclone statement for the province, but it now looks to mostly escape the worst of the effects.

The weather forecast in Montreal in the next five days Photo: Environment Canada
Environment Canada was urging citizens across Dufferin County to "take cover immediately" if threatening weather approaches and be the lookout for a possible tornado or adverse weather conditions on Tuesday afternoon.

The weather forecast in Ottawa in the next five days Photo: Environment Canada
Environment Canada has also issued a rainfall warning for Montreal and its surrounding areas, calling for 50 mm of rain to accumulate Tuesday Wednesday morning.
"Precipitation will intensify this afternoon and evening as the remnants of hurricane Isaias approach," says the weather agency, adding that "rain, at times heavy", said Environment Canada, adding that rainfall warnings are issued when "significant and heavy" downpour is in the forecast.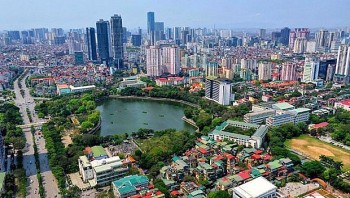 National
Vietnam News Today (Jan. 29): Quang Ninh: Cross-border trading with China resumed after Tet; Hanoi in the world's top three culinary destinations: Tripadvisor; Intertwined opportunities, challenges for Vietnam's economy in 2023; Supermarkets, traditonal markets gradually resume normal operations amid abundant supply.