Needy People Receive Support amidst Covid Surge
International friends have been jointly contributed to overcome these trying times together for the good of the community, and society.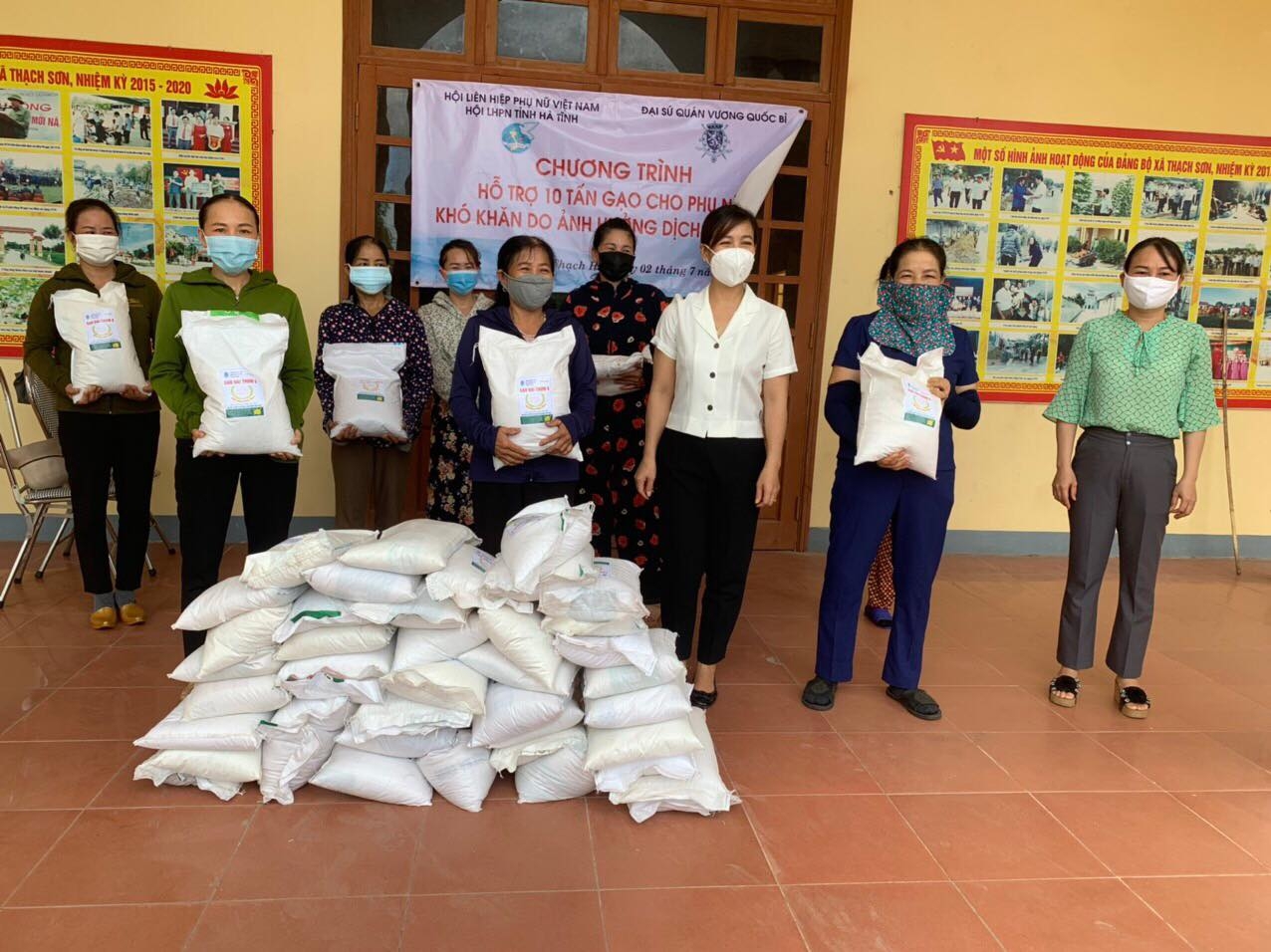 Rikolto Vietnam supports the Embassy of Belgium donating 10 tons of sustainable rice to female workers in Ha Tinh province. Source: Belgium Embassy
Over the past few days, many enterprises, groups and people, depending on their personal capacity, have voluntarily donated to the Covid-19 prevention and control fund, the vaccine fund, as well as assisted needy people affected by pandemic.
Since March 2020, Vietnam has experienced few outbreaks, which have negative impacts on its economy and society in general and especially on the lives of informal workers who lose their livelihoods and incomes. With the support from Women's Union of Ha Tinh and the Vietnam Women Union, 2.000 women in 11 communes of Ha Tinh province on July 2 received the 10 tons of rice donated by Belgium Embassy in Hanoi. This rice is coming from the Belgium-based non-governmental organisation Rikolto's project partner.
"We would like to support the vulnerable and informal female workers in Ha Tinh province in a hope that they can partly surpass their current difficulties," said Belgium Ambassador Paul Jansen.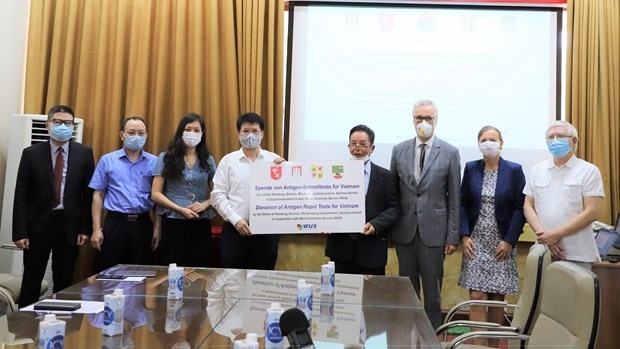 The test kit handover ceremony in Hanoi on July 2. Photo: Ministry of Health
On the same day, the Health Ministry received 190,000 Covid-19 test kits worth about USD 500,000 from German states via the World University Service of Germany (WUS).
The rapid antigen test kits are donated by the states of Hamburg, Bremen, Mecklenburg-Vorpommern, and Sachsen-Anhalt.
The test kits will be distributed to provinces and cities facing complex pandemic developments to serve the fight against Covid-19.
German Ambassador to Vietnam Guido Hildner said the test kits are part of Germany's support presented via the WUS, which will call on the administrations of German states to make more donations to provide Vietnam with about 1 million rapid test kits in the coming time.
Sainyabuli province of Laos which formed a twinning relations with the northern province of Quang Ninh, recently had supported LAK 50 million (approx. VND 113 million) for the provincial Covid-19 prevention and control fund.
Vietnamese Consulate General in Luang Prabang has received and will transfer the sum to the account of the prevention and control fund managed by the provincial Fatherland Front Committee.
Earlier, the Hanoi's Vietnam - Bulgaria and the Vietnam - France Friendship Associations on July 1 had presented VND 70 million to the Vietnam Fatherland Front's Hanoi chapter​, to support the pandemic prevention and control work.
To support the Covid-19 vaccine fund, Hitachi also plans to donate VND 839 million to the vaccine fund. VND 790 million has been committed from Hitachi and 49 million VND has been donated from its employees in Hitachi Cable Hai Duong through the trade union. Hitachi hopes that by contributing to this fund in the localities they are based in, the situation will improve swiftly, and production, and business will be resumed soon, said Kazunori Sudo, General Director of Hitachi Asia (Vietnam).
Vietnam logged 360 new Covid-19 infections, including 356 domestic and four imported cases, in the past six hours to 6pm on July 4, the Ministry of Health (MoH) announced.
On July 4 alone, the number of new cases amounted to 887, including 873 local and 14 imported infections.
The new infections brought the national tally to 19,933, including 18,075 domestic and 1,858 imported cases.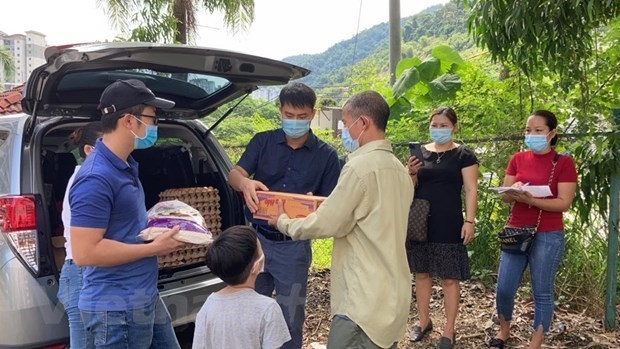 Vietnamese people in Penang state, Malaysia, receive gift packages donated by the PetroVietnam Technical Service Joint Stock Corporation. Photo: VNA
The Vietnamese Embassy in Malaysia on July 3 handed over 100 gift packages donated by the PetroVietnam to Vietnamese people in Penang state in the northwestern coast of Malaysia.
Penang is home to a large number of Vietnamese guest labourers, who are facing a lot of difficulties due to the lock-down order.
It also is one of the states hardest hit by the ongoing pandemic, with over 35,000 infections were detected here. The state recorded hundreds of new cases every day in recent times.
Presenting gift packages to the needy, Vu Duc Minh, the second secretary of the embassy, said this is just one of the embassy's activities to support Vietnamese citizens in the country.
The embassy has been and will continue to accompany donors to share difficulties with Vietnamese people living and working in Malaysia, he said.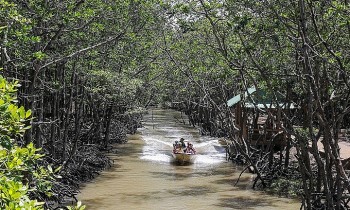 National
Vietnam News Today (September 22): Vietnam confirms 11,687 new Covid-19 cases; HCM City issues Covid safety rules to resume tourism; Vietnam Airlines completes procedures for direct flights to US; Vietnam to compete in AFF Suzuki Cup's in Group B.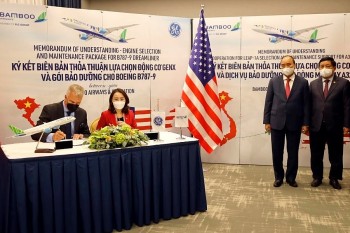 Economy
On September 21, 2021, Bamboo Airways officially introduces AVIAWORLD (AVIAREPS JV) as its official General Sales Agent in the US and launches the nonstop flight network connecting the two countries.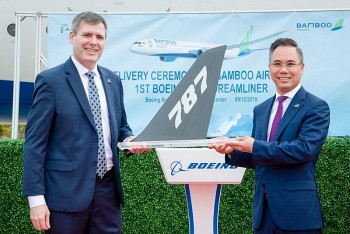 Economy
Vietnam's Bamboo Airways will sign a deal valued at nearly $2 billion with General Electric to purchase GEnx engines to power Boeing 787-9 Dreamliner aircraft, the airline said on Tuesday