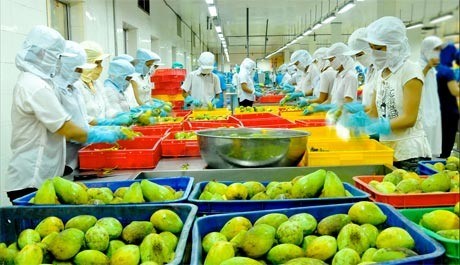 (Photo source: VNA)
According to the Ministry of Industry and Trade's Agency of Foreign Trade, in January 2020, the US became the fourth largest importer of Vietnamese fruits and vegetables, buying products worth more than US$10.93 million, albeit 12.4 percent less than the same period last year. Although Vietnam's vegetable and fruit exports decreased, the country's fruit and vegetable exports to the US soared 3.9 percent compared to January 2019.
According to data compiled by the US International Trade Administration, in the first 10 months of 2019, the US imported 175,100 tonnes of fruits, coded HS 081090, worth US$153.9 million, including tamarind, apple, cashews, jackfruit, high quality lychee, sapodilla, passion fruit, star fruit, dragon fruit and other kinds of fruit, up 4.2 percent in volume but down 0.7 percent in value compared to the same period in 2018. The drop is attributed to the 4.7 percent fall of import prices (down to US$879 per tonne).
Vietnam's dragon fruit exports to the US increased twelve-fold, from 100 tonnes in 2008 (the first year Vietnam exported this fruit to the US) to 1,200 tonnes in 2012.
Although Vietnam's fruit exports to the US have grown steadily, they accounted for a small percentage of that market's demand. The Agency of Foreign Trade said Vietnamese businesses have opportunities to increase fruit exports to the US.
Fruits from Vietnam's northern provinces must be transported to Ho Chi Minh City for irradiation before being exported to the US. This increases northern fruit exporters' costs and prolongs export time. At a meeting with Gregg Doud, Chief Agricultural Negotiator in the Office of the US Trade Representative, Deputy Minister of Agriculture and Rural Development Le Quoc Doanh proposed that the US Animal and Plant Health Inspection Service (APHIS) recognize the Hanoi Irradiation Center and Toan Phat Irradiation Co., Ltd., allowing Vietnam to supplement the treatment of hot steam (VHT) for fresh fruits exported to the US (besides irradiation) and complete the risk assessment procedures for Vietnam's grapefruit exports to the US.
Ted A. Mc Kinney, Deputy Secretary of Commerce and Foreign Affairs in the US Department of Agriculture said Vietnam would receive training in the fields of biotechnology, food hygiene and safety in laboratories, animal and plant quarantine, especially risk assessment and disease prevention related to animals and plants.
The US has become the second biggest importer of Vietnamese fruits and vegetables after China. In 2019, Vietnam exported vegetables and fruits worth US$150 million to the US, up 7.2 percent from 2018.
Vietnam Economics News