US weather forecast
According to the Meteorologist April Loveland, Skies will be partly cloudy overnight with lows in the low 70s. Another hot one will continue on Tuesday with highs in the low 90s. An afternoon isolated storm is possible. An area of low pressure will approach from the southwest and move toward the northeast Wednesday through Friday. This will give us a soggy stretch of weather.
The humidity will continue to rise into the weekend with dew points near 75 degrees. This will make for some uncomfortable conditions. Highs will climb to the low 90s over the weekend but will feel closer to the triple digits.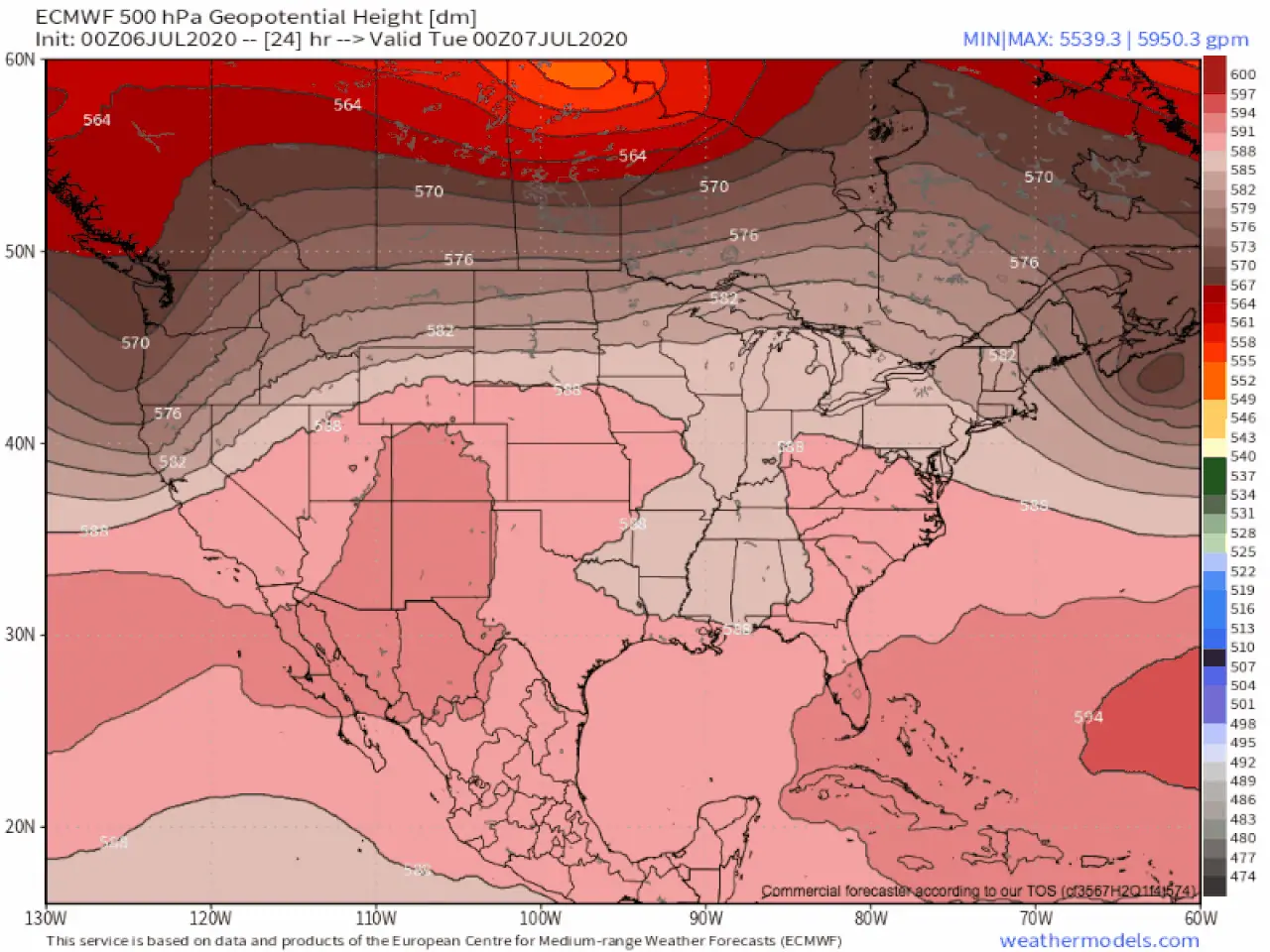 US weather forecast Source: Mlive
As reported by Obx Today, there is potential for unsettled weather later this week for eastern North Carolina, as a low-pressure system moves up the southeastern U.S. coast that could possibly take on tropical characteristics.
The National Weather Service Newport/Morehead City office said Monday morning that circulation around the area of low pressure will draw deeper moisture north into the area.
On Tuesday day, there is a slight chance of showers and thunderstorms before 9 am, then a slight chance of showers and thunderstorms after 2 pm. All-day is mostly sunny, with a high near 87. Southeast wind 5 to 10 mph, with gusts as high as 15 mph. The chance of precipitation is 20%. While, on Tuesday night, there is a chance of showers and thunderstorms, mainly after 2 am; mostly cloudy, with a low around 76. South wind 7 to 9 mph. The chance of precipitation is 40%. New rainfall amounts of less than a tenth of an inch, except higher amounts possible in thunderstorms.That will enhance the coverage and intensity of showers and thunderstorms, especially in the afternoon on Wednesday and Thursday. Total rainfall amounts could range from between up to 2.5 to 3.5 inches along the immediate coast through Thursday.
Tropical updates
Post-tropical cyclone Edouard is moving quickly toward the northeast near 38 mph and this general motion is expected to continue for the next day or so. Maximum sustained winds are near 45 mph with higher gusts. No significant change in strength is forecast before Edouard is absorbed into a larger frontal boundary on Tuesday.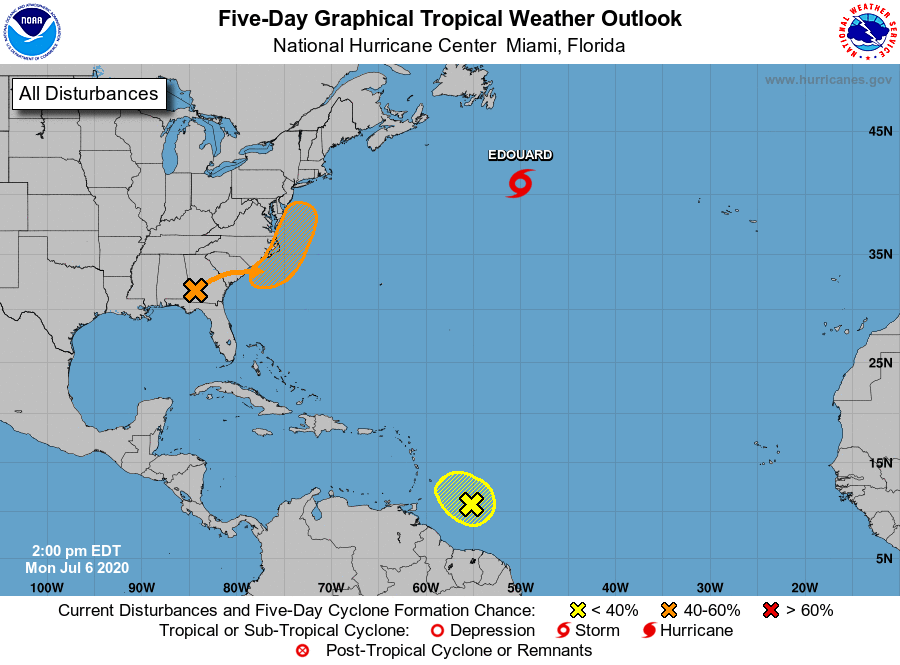 Tropical update Source: Mlive
A low-pressure system is centered inland over southern Georgia. The low is forecast to move northeastward, near the coast of the Carolinas and the mid-Atlantic during the next few days. No development is expected while the low remains over land, however, some development will be possible if the system moves over water later this week. Regardless of development, the low is forecast to produce locally heavy rainfall that could cause flash flooding across portions of the southeast U.S. during the next couple of days, informed 3WTKR.
"The water temperatures in the Gulf of Mexico off the Florida Panhandle range from 83 to 85 and that very warm water will enhance the humidity in the air that is flowing onshore with this low," says CNN meteorologist Chad Myers. "The increased humidity will bring the threat of very heavy rainfall and possible flooding for Florida, Georgia, and the Carolinas over the next few days."
Canada weather forecast
A period of hot weather will begin Tuesday. Daytime high temperatures in excess of 30 degrees Celsius, with humidex values in the high 30s to low 40s, are expected this week. Overnight lows near 20 degrees Celsius are also expected through this period, providing little relief from the heat. A slightly cooler airmass may move into the area this weekend, however, there is considerable uncertainty.
Heat warnings are also in effect for many parts of eastern Ontario, including areas to the south and east of the capital. High temperatures in the low 30s are expected to continue throughout the week, with overnight lows in the low 20s. There is a chance of showers later in the week.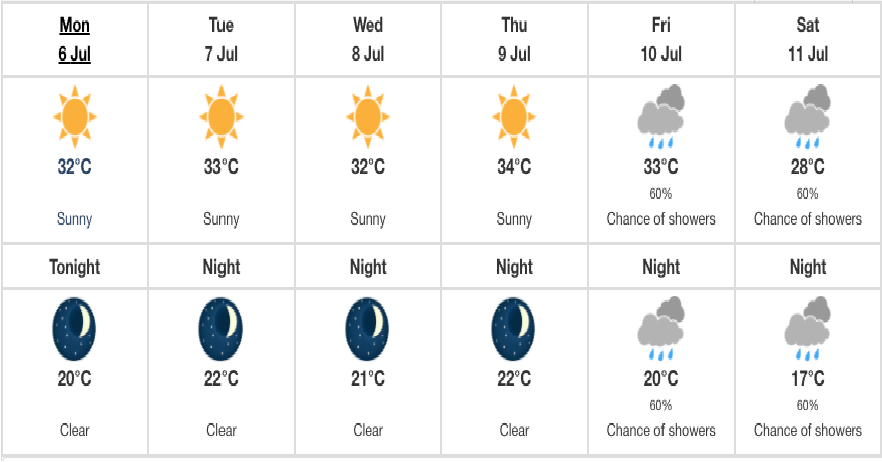 Source: Environment Canada
The weather agency adds, hot and humid air can bring deteriorating air quality. The risks are greater for young children, pregnant women, older adults, people with chronic illnesses, and people working or exercising outdoors.
It urges residents not to leave people or pets inside a parked vehicle during a heatwave and to check on their older family, friends, and neighbors.
According to the Daily Hive, Tuesday is at 33°C that should feel like 39°C. Wednesday, Thursday, and Friday call for 32°C, 34°C, and 33°C respectively.
Malie Nguyen