U.S market offers ample room for Vietnamese craft, wood enterprises
The US market of handicrafts and woodwork products is predicted to grow well and offer extensive room for Vietnamese firms to increase their share in it, heard an online conference held on March 5.
Organized by the Industry the Handicrafts and Wood Industry Association of HCM City (HAWA), the conference discussed opportunities for exports of Vietnamese companies in the sector to the US this year, according to Vietnamplus.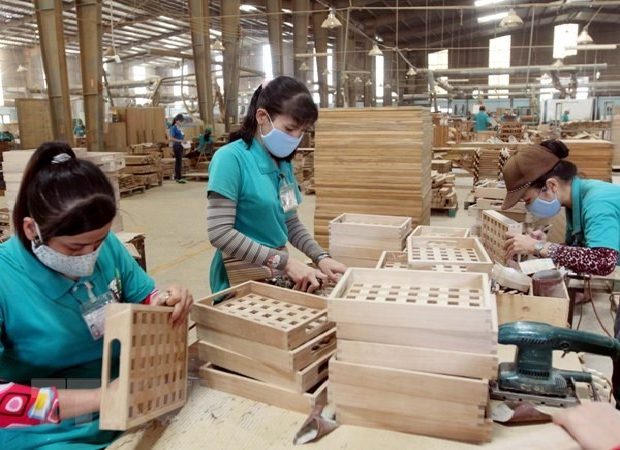 The US market of handicrafts and woodwork products is predicted to grow well and offer extensive room for Vietnamese firms to increase their share in it. Photo: VNA
Nguyen Hoai Bao, a member of the HAWA executive board, said last year, despite COVID-19, Vietnam's wood and woodwork industry reeled in export revenue of over 13 billion USD, of which more than 7 billion USD was from the US. This means the US is now a top market of the country's wood and handicrafts sector.
The US is among demanding markets in terms of product origin and legality, he noted, advising Vietnamese companies to frequently update on related laws and regulations to meet requirements and avoid commercial risks.
Julie Hundersmarck, a specialist at the US Forest Service International Programs, said the US importers have a preference for suppliers from Asia, including Vietnam.
The US Forest Service is developing equipment for wood verification and will support Vietnam in better controlling the origin and legality of wood products exported to the country in the coming time, she unveiled.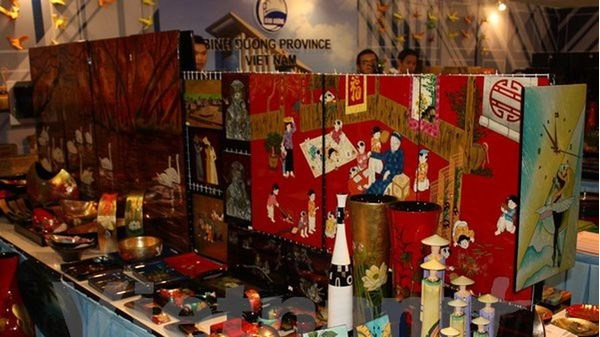 Vietnamese handicrafts. Photo: VNA
Tom Russell, the Senior Editor at US magazine Furniture Today, said according to experts, demand in the US woodwork and furniture market will recover significantly in 2021 and following years.
In addition to basic furniture, home decoration products and handicrafts are also consumed strongly due to the increasing demand for living space decoration amid the pandemic.
The sales of furniture products in the US, which reached 115 billion USD last year, is forecasted to hit 143 billion USD in the next five years.
Experts have also pointed out that the level of consumer spending on furniture products is projected to increase moving forward, despite the outbreak of COVID-19, noting that local manufacturing firms must be sensitive when selecting investments. As such, they should regularly be introducing fresh products and developing additional trade channels in order to attract customers in an effective manner.
Handicrafts need a stronger export strategy to reach $5billion export value by 2025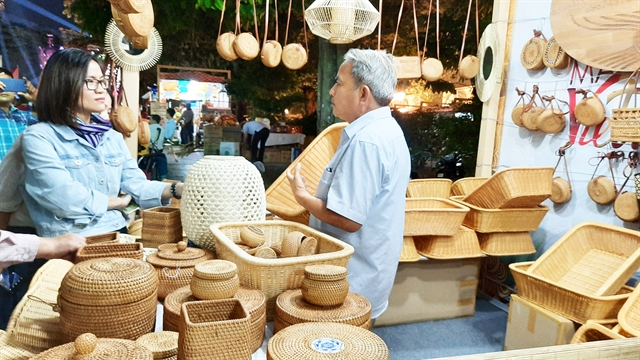 Bamboo products are sold at a trade fair in Hà Nội. Photo: VNS
Việt Nam's handicraft export is forecast to grow more than12 percent per year with turnover reaching $5 billion by 2025, Vietnamnews reported.
Greater opportunities are also opening up from the important free trade deals that the country has joined or signed recently such as CPTPP and EU-Việt Nam Free Trade Agreement (EVFTA). In addition, Việt Nam is emerging as a safe destination after the Government has successfully controlled the disease.
However, despite huge potential, the domestic handicraft industry still faces many problems, including fragmented production, a weak link between actors in the value chain, limited technology, and poor innovative design ideas and new product development.
According to Filip Graovac, deputy chief representative of Asia Fund in Vietnam, Việt Nam has great potential to export handicrafts and agricultural products but the key issue is how Vietnamese handicraft manufacturers present their good products and prove they are responsible manufacturers to foreign customers.
Consumers are increasingly concerned about environmental and social issues, especially issues related to the origin and legality of raw materials used, labor practices, clean and green production, and fair trade market.
Graovac said Vietnamese enterprises had not applied well the traceability of their goods.
Lê Bá Ngọc, vice chairman of the Vietnam Handicraft Exporters Association, admitted traceability was one challenge to the growth of the industry. He recommended local businesses learn more about the basic business and market requirements, including traceability.
To reach the world further, Ngọc said the handicraft industry needed to build the export strategy for the next five years.
The Ministry of Industry and Trade said in the future, it would focus on improving the value chain of Việt Nam's handicrafts, prioritizing the products with high competitive advantages, increasing product value and standards to meet different market segments, especially middle and high-end market segments.
Economy
Vietnam has a fast-increasing semiconductor ecosystem and possibilities to improve its position in the global supply chain. In the joint announcement of the US-Vietnam Comprehensive Strategic Partnership, the two countries acknowledged Vietnam's significant potential to become a key nation in the semiconductor industry, adding they "are supportive of the rapid growth of the semiconductor ecosystem in Vietnam."
September 22, 2023 | 09:22