US Peace Council welcomed in Hanoi
Nguyen Phuong Nga, President of the Vietnam Union of Friendship Organizations (VUFO) recently had a meeting with representatives of the US Peace Council (USPC) in Hanoi.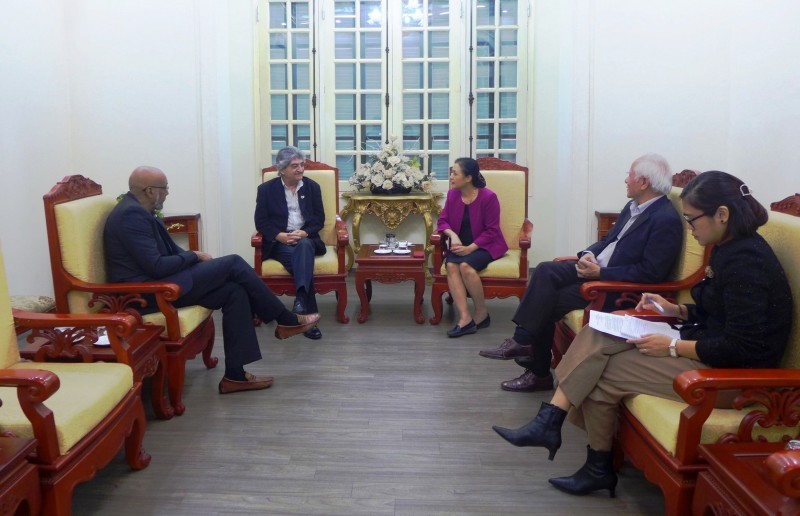 At the meeting on November 28. Photo: VNF
It was the first time a USPC's delegation visit Vietnam. Two delegation consisted of two representatives: Bahman Asad, member of the Board of Directors and Organizational Secretary of the USPC and Ajamu Baraka, member of the Executive Board of the USPC and National Coordinator of Black Alliance for Peace.
The US Peace Council was founded in 1979 and affiliated with the World Peace Council, the world's largest peace organization and an NGO member of the United Nations.
At the meeting, they thanked VUFO President Nguyen Phuong Nga and the Vietnam Peace Committee (VPC) for their thoughtful reception. They also shared their good impressions about Hanoi.
For her part, Nga briefed the delegates on VUFO's activities in people-to-people diplomacy as well as peace movements of the peoples in two countries.
Two sides also had in-depth discussions on maritime challenges, including those relevant to the East Sea, and affirmed the importance of the maintenance of peace and stability in the waters to regional and global security.
According to Nga, countries in the region need to uphold responsibility and together effectively deal with differences and prevent issues from becoming conflicts. She also underlined the need to adhere to international law; bring into play community responsibilities, especially by superpowers; and promote existing bilateral and multilateral cooperation mechanisms in the region.
Peace in the East Sea is not only the benefit for the parties directly concerned but also the common benefit for the region and the world, Nga added.
The VUFO President also reiterated Vietnam's consistent policy of solving the East Sea issue by peaceful means on the basis of international law, and that relevant parties must respect one another's legitimate and legal interests stipulated in the 1982 UN Convention on the Law of the Sea (UNCLOS) and steer clear of actions that may complicate the situation or elevate tensions.
Two USPC's representatives stressed the need to respect international law, including the 1982 UNCLOS, and expressed the hope that territorial disputes and other disputes concerning the East Sea will be settled through peaceful negotiations following the principles of equality, mutual understanding, and respect for international law./.