Vietnamese peacekeepers make barren Bentiu greener
Just over a year ago, the station where Vietnamese military doctors are based as part of the UN Peacekeeping Mission in South Sudan was surrounded by barren land.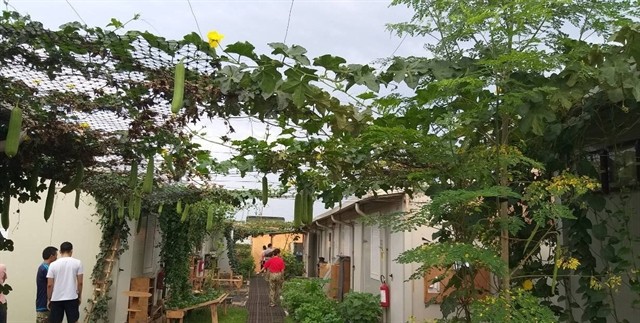 Trees and plants have been planted by Vietnamese doctors at their station at the UN Peacekeeping Mission in South Sudan. — Photos courtesy of the Vietnam Department of Peacekeeping Operations
Temperatures in the northern town of Bentiu, one of the driest areas in South Sudan, range from 45-50 degrees Celsius, and only desert plants like shrubs and wild grasses could survive.
But now the area has become greener with trees and flowers planted by military doctors of the Việt Nam's Level-2 Field Hospital No 2.
Việt Nam dispatched its first doctors to the UN mission in South Sudan in October 2018.
"When we landed in Bentiu, everybody was very shocked by the severe weather conditions here. That was the dry season with scorching sun and high temperatures. The land was barren," said Commanding Officer of the hospital, Lieutenant Colonel Bùi Đức Thành.
"We came up with a plan to cover this dry area with trees and flowers with seeds brought from Việt Nam," he said.
"We learnt from Vietnamese officers who had joined UN peacekeeping forces in Africa that South Sudan is a desert, so the land is very dry and barren and only shrubs can grow. We were advised to bring seeds of some varieties of trees and vegetables from Việt Nam to make this place greener while supplementing our diets with vegetables as most of the food provided by the UN is canned with very few vegetables," he said.
"But the weather was so hot and dry; beyond our imagination. The severe weather conditions together with the scarce rainfall made all of us doubt about the success of the plan," Thành said.
Challenges
Thành recalls that there was seriously short of vegetables in the first months. They used to eat canned meat and lose their appetites, adversely impacting on their health.
"In the first two months, the hot weather together with the shortage of vegetables made us lose out appetites. We were also sweating all the time, making us feel tired and lose weight. Our skin also become darker and drier," he said.
The lack of trees around the station also meant there was no shade, he added.
"However, we did not allow the unfavourable conditions to dampen our enthusiasm and determination. All the hospital's staff agreed to help with the plan with the hope of covering barren Bentiu with trees and flowers," he added.
"And it also meant we would have a sufficient supply of vegetables," he said.
Then they started using the land surrounding the station to grow vegetables. As director of the hospital, Thành pioneered the tree planting.
"But we weren't sure which sort of vegetables to try and grow first? This was important because if our first efforts failed, it would have hit staff morale," Thành said.
With his own experience and studies, Thành decided to try luffa seeds because he thought they had the highest chance of survival.
"I didn't know whether they would bear fruit or not, but even they didn't they would provide shade for us. That was my rationale," he said.
Thành started by soaking seven seeds in a bowl of warm water for four hours, and then incubated them in wet toilet paper. He watered and checked the seeds every day.
Luckily, the seeds started to germinate on the third day.
Thành was very happy and showed the results to the staff. However, difficulties remained as they were not sure the vegetables could survive outside in the baking weather, or where they could find soil for cultivation.
To solve the problem, they asked UN infantry soldiers from other units to collect soil for them whenever they went out on patrol. A small bag each day gradually piled up and soon they were ready to start planting.
Bearing fruits
Their efforts were rewarded. The plants gradually grew and bore fruits in spite of the hot weather, mush to the joy of the staff.
Besides luffa, other varieties of vegetables and flowers have been grown around the station, including jutes, water morning glory, gourds, malabar spinach and sunflowers thanks to the doctors' hard work and care.
They often spend an hour and a half each day tending the trees as part of their free time after work, normally after 5pm.
The total area of cultivation had increased from the first one square metre to over 200sq.m, according to Thành.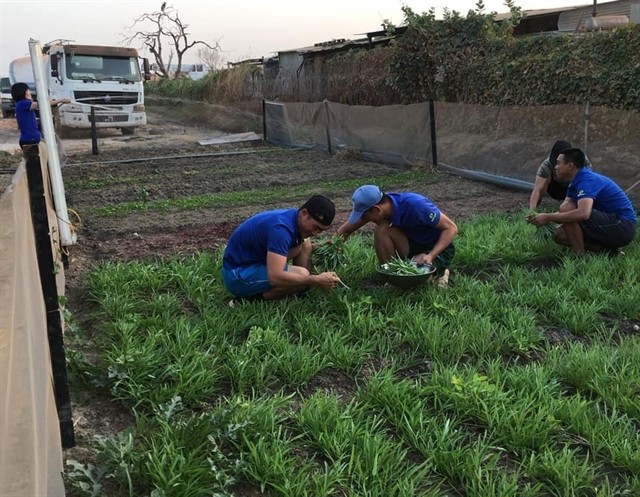 Vietnamese doctors harvest morning glory planted outside their station in South Sudan.
These simple steps in this severe African land have helped the doctors feel like they are at home.
Lieutenant Sa Minh Ngọc said she often helped others to tend the flowers to help relieve the stress and pressure of work.
"Apart from sunflowers, dahlia flowers and chrysanthemums, the ten-o'clock flowers are the most common as they are strong, grow fast and bear many flowers," she said.
The Vietnamese doctors now have a regular supply of vegetables and enough left-over to offer soldiers and officers from other units, including those from the UK, Mongolia and Ghana. They've also shared their experience and provided seeds for other units to help them grow vegetables.
The 63 members of the first level-two field hospital will return next month to Việt Nam after completing their duties in South Sudan.
Officers and soldiers have carried out their mission to ensure the health of UN peacekeepers in South Sudan. They have also offered medical care to locals.
"This is not just an honour for us, it is an honour for the Vietnamese people to be part of a peacekeeping mission. We've received a lot of support from the Government, army and Vietnamese people," said Thành.
Since last October, when they first left for South Sudan, the field hospital has offered treatment for nearly 1,800 patients, with many life-saving surgeries successfully conducted.
An official ceremony to welcome and honour the returning peacekeepers is scheduled to be held on December 2 at Military Hospital 175 in HCM City.
The doctors are going to return but what they have planted will remain, contributing to turning barren Bentiu into a greener land.
VNS