US Secretary of State rebukes China for aggressive behaviour on Sino-India border and East Sea
US Secretary of State Mike Pompeo accused China of using 'tactical situation' to threaten others on the Sino-India border and the South China Sea which Vietnam calls the East Sea (Bien Dong Sea).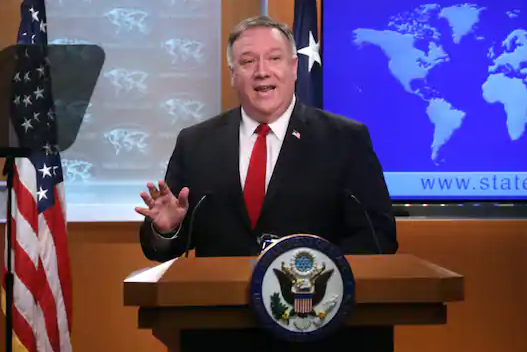 U.S. Secretary of State Mike Pompeo addresses a news conference at the State Department in Washington, U.S., April 7, 2020. REUTERS/Leah Millis/Pool
Pompeo, responding to a question on the aggressive Chinese behaviour on the Sino-India border and the South China Sea during a recent interview with Fox News.
"The Chinese Communist Party has been on this effort, on this march, for an awfully long time. They'll certainly use a tactical situation on the ground to their advantage. But each of the problems that you identified there are threats that they have been making for an awfully long time," he said.
"General Secretary Xi (Jinping) is intent on building out his military capabilities. Our Department of Defence is doing everything it can to make sure it understands this threat,'' he said.
Currently there are more than 60 bills in Congress, a majority of whom are bipartisan, against China, Pompeo said.
"This is something that I think people all across the political spectrum understand is a real risk. I don't know which of those will make it to the President's desk.
"This is a Chinese Communist Party that has come to view itself as intent upon the destruction of Western ideas, Western democracies, Western values. It puts Americans at risk.
Pompeo was referring to Trump's remarks from the White House rose garden on May 29, in which he called out China for a variety of actions that he said were against US interests, including allegedly covering up details surrounding the coronavirus outbreak, stealing intellectual property, and actions in the South China Sea.
The list of actions from the Chinese Communist Party is long, he said.
"The list is long, whether it's stealing American intellectual property, destroying hundreds and millions of jobs here in the US, or their efforts to put at risk sea lanes in the South China Sea, denying commercial traffic the opportunity to move through, armed encampments in places that China has no right to be," Pompeo said.
China is engaged in both the South China Sea and the East China Sea. Beijing has built up and militarised many of the islands and reefs it controls in the region. Both areas are stated to be rich in minerals, oil and other natural resources and are vital to global trade.
"They (the Chinese Communist Party) have become more aggressive in their efforts to do disinformation campaigns like we saw when the coronavirus was moving around the world, when they closed down their own province but allowed travel around the world, infecting hundreds of thousands of people. We saw the disinformation of that campaign trying to deflect attention," he alleged.
Thousands of Indian and Chinese troops have faced each other for weeks at three or four locations in the western Himalayas after Beijing's forces intruded into Indian territory, Reuters reported citing Indian security officials and local media.
China denies it breached the "Line of Actual Control" and says there is stability in the area near the Galwan River and Pangong Tso lake in the remote snow deserts of India's Ladakh region.
Also, in comments released by the State Department, Pompeo told the American Enterprise Institute thinktank, according to Reuters, China's moving of troops to the line of control echoed similarly heavy-handed behaviour over the coronavirus, the South China Sea...
"These are the kinds of actions that authoritarian regimes take," he said.
Along with Pompeo, a senior congressional leader have reprimanded China for bullying behaviour towards India during a military standoff on their disputed border.
The chairman of the US House Committee on Foreign Affairs, Eliot Engel, said China should respect norms and use diplomacy to settle the border issue with India.
"I am extremely concerned by the ongoing Chinese aggression along the Line of Actual Control," he said.
"China is demonstrating once again that it is willing to bully its neighbours rather than resolve conflicts according to international law," he added in a statement on May 1./.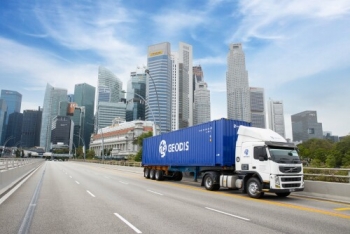 Economy
GEODIS, a global leading transport and logistics services provider, has expanded its road network in Southeast Asia to Vietnam; another step towards its ambition to develop a scheduled road service connecting Singapore to China.