US Secretary of State accuses China of pushing territorial ambitions during pandemic
US Secretary of State Mike Pompeo in the online Special ASEAN-US Foreign Ministers' Meeting on COVID-19 warned China against taking advantage of the coronavirus pandemic to further its claims in the the East Sea (internationally referred to as the South China Sea).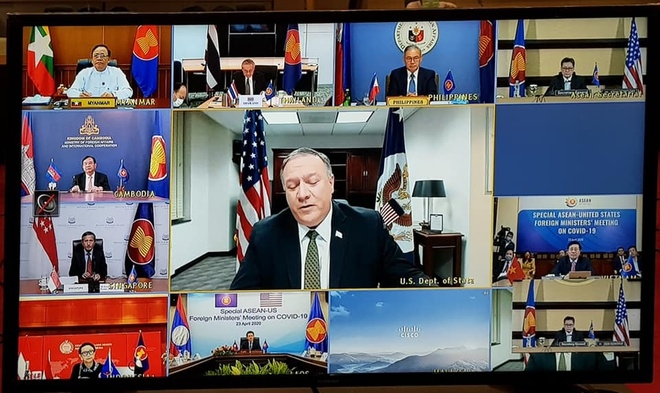 US Secretary of State Mike Pompeo at the Videoconference for the ASEAN-US Special Foreign Ministers' Meeting on COVID-19.
"Beijing has moved to take advantage of the distraction, from China's new unilateral announcement of administrative districts over disputed islands and maritime areas in the South China Sea, its sinking of a Vietnamese fishing vessel earlier this month, and its 'research stations' on Fiery Cross Reef and Subi Reef," Pompeo said.
He also accused China of deploying militarized ships to intimidate other claimant countries from developing offshore gas and oil projects.
Most other participants focused in their statements on health, economic and social problems resulting from COVID-19, the disease caused by the virus.
"The US strongly opposes China's bullying and we hope other nations will hold them to account too," he added.
Pompeo urged the ASEAN countries to call out China's aggressive behavior in the maritime region.
"It is important to highlight how the Chinese Communist Party (CCP) is exploiting the world's focus on the COVID-19 crisis by continuing its provocative behavior. The CCP is exerting military pressure and coercing its neighbors in the SCS," Pompeo said.
Pompeo thanked Vietnam, Malaysia and Cambodia for their material aid in fighting the outbreak and noted US financial assistance.
"To date, the United States has released more than $35.3 million in emergency health funding to help ASEAN countries fight the virus, building on the $3.5 billion in public health assistance provided across ASEAN over the last twenty years," he said, announcing also a new project to promote ASEAN health security through research, public health and training.
Pompeo also called on China to close its wildlife markets. It is generally believed the coronavirus originated at one such "wet market" in Wuhan in China, though blame for the epidemic has become a hot debate between Beijing and Washington.
Pompeo said the US was also concerned by a recent scientific report "showing that Beijing's upstream dam operations have unilaterally altered flows of the Mekong," endangering the livelihoods of tens of millions of people living downstream in Laos, Thailand, Cambodia and Vietnam.
Just recently, China recently establishing two administrative districts on Hoang Sa (Paracel) and Truong Sa (Spratly) – the two archipelagoes that belong to Vietnam in East Sea. Beijing said the new districts were placed under the control of the Chinese city of Sansha in Hainan province.
Following this, it named 80 features in the maritime area which violated other Southeast Asian countries' sovereignty and international law.
In March, a Chinese ship also sank a Vietnamese fishing vessel with eight crew members on board in the East Sea, and established two research stations on the Fiery Cross Reef and Subi Reef.
The Philippines on April 22 has lodged two diplomatic protests against China's aggression in the East Sea, accusing China of violating international law and Philippine sovereignty.
According to Deputy spokesperson for the Ministry of Foreign Affairs of Vietnam Ngo Toan Thang, Vietnam sent a note to the United Nations slamming China's sovereign claims over the Hoang Sa (Paracel) and Truong Sa (Spratly) archipelagoes in the East Sea on March 30, 2020, Thang said adding that Vietnam also had an exchange of views with China to reaffirm its consistent stance towards the matter.
Vietnam also circulated the note on April 10, 2020 to defend its firm position on the East Sea issue with other parties concerned./.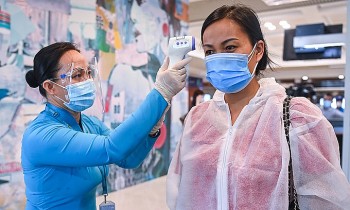 National
Vietnam News Today (October 20): Vietnam adds 3,034 Covid-19 cases to national infection tally; HCM City enhances cooperation with China's Shanghai; Thirty-two localities declare Covid-19 risk levels; Transport ministry mulls letting the unvaccinated fly.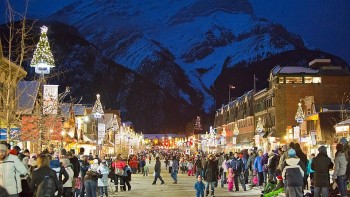 Travel
If you are looking to celebrate your Christmas somewhere else outside the country, then Canada can be the perfect choice for you with these 10 best and most idyllic places to have a wonderful Christmas holiday with your friends and families.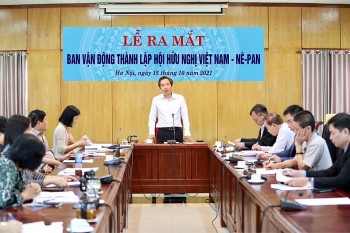 Friendship
The Advocacy Committee for the establishment of the Vietnam - Nepal Friendship Association was officially launched.