US Secretary of State to make stop in Vietnam during Asia tour
US Secretary of State Mike Pompeo will visit Vietnam on October 29-30 as part of his tour of Asia, announced the Vietnamese Ministry of Foreign Affairs (MOFA).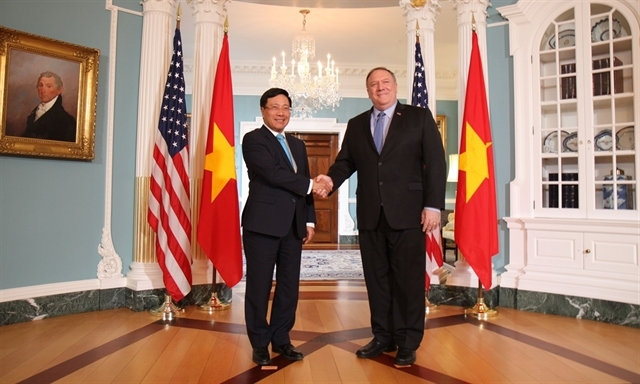 Vietnamese Deputy Prime Minister and Minister of Foreign Affairs Pham Binh Minh (left) shakes hands with his US counterpart Mike Pompeo during his trip to the US in May last year. VNA/VNS Photo Dang Huyen
The two-day trip is made at the invitation of Vietnamese Deputy Prime Minister and Minister of Foreign Affairs Pham Binh Minh, as the two countries this year celebrate the 25th anniversary of the normalisation of bilateral ties (July 11, 1995 – July 11, 2020), VNS reported, citing the statement from MOFA.
No details of the visit have been disclosed so far.
The US is currently Vietnam's fourth-largest trade partner, with bilateral trade increasing 170-fold since 1995 to an estimated figure of USD 80 billion for 2020.
Pompeo is the fourth foreign minister to visit Vietnam after the Covid-19 pandemic broke out in Vietnam this year after South Korean Foreign Minister Kang Kyung Wha, UK Foreign Secretary Dominic Raab, and Hungary's Minister of Foreign Affairs and Trade Szijjártó Péter, rare exceptions to the country's strict border restrictions in place to prevent the spread of COVID-19.
In an earlier announcement by the US Department of State, Pompeo is on his Asia tour from October 25 to October 30 to four countries namely India, Sri Lanka, Maldives and Indonesia.
The Vietnam visit was not included in the announcement.
With US Defence Secretary Mark Esper in his entourage, the tour is aimed to promote the US's free and open Indo-Pacific and reinforce the relations between Washington and each country.
Foreign media reported that Pompeo's visit to Vietnam is a surprise and the two sides have only three days to prepare for it.
According to Reuters, Pompeo arrived in the Maldives on Wednesday after visits to Sri Lanka and India and is due to hold meetings in Indonesia on Thursday./.