Australian police seize 13,300 cannabis plants worth estimated USD 40 million
Australian police just seized and destroyed a major cannabis haul at three properties near Taree, at Minimbah, Melinga and Moorland, New South Wales.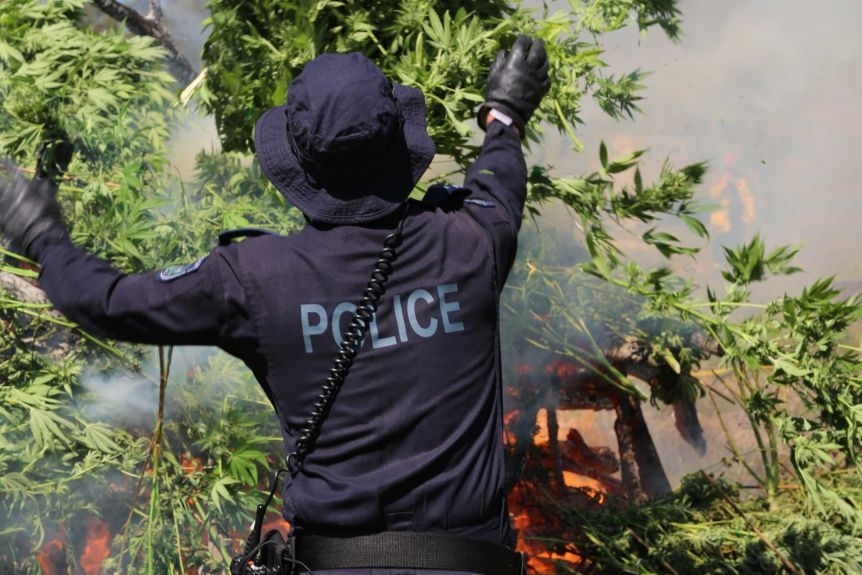 The cannabis seized last week has been destroyed. Supplied: New South Wales Police
According to ABC Mid North Coast, the seizure of 13,353 cannabis plants on the New South Wales Mid North Coast is one of the largest ever seen by police.
All 14 people arrested in connection with the grow houses are Vietnamese nationals.
New South WalesPolice said the plants had an estimated potential street value of more than USD 40 million.
Drug and Firearms Squad Commander Detective Superintendent John Watson said the seizure was one of the country's largest.
"As far as cannabis seizures go, we have not seen one of this size since the 1970s," he said.
"The biggest difference is that in 1975 outdoor crops were seasonal, so criminal groups were restricted to one crop a year, whereas these grow houses are weather-controlled enabling the harvest of new plants every 12 weeks or so."
Assistant Commissioner Smith said the land used for the grow houses may have been acquired from struggling farmers.
"In the last 12 months we have never seen this kind of activity in grow houses in New South Wales," he said.
"They are there for a reason. They are there to hide amongst fruit and veggie growers across New South Wales.
"The land is easily acquired, with obviously a lot of farmers under stress, responding to an individual buying a property or a parcel of land with a bag of cash."
Police said all 14 men arrested across the two-day operation are Vietnamese nationals with some permanent residents, others on student or bridging visas and others in the country unlawfully.
They range in age from 22 to 44.
The matter of each man's visa status has been referred to the Department of Home Affairs.
They are each face charges relating to the cultivation of prohibited plants, supplying prohibited drugs and participating in criminal groups contributing to criminal activity.
They have been refused bail and will appear in Taree Local Court next year.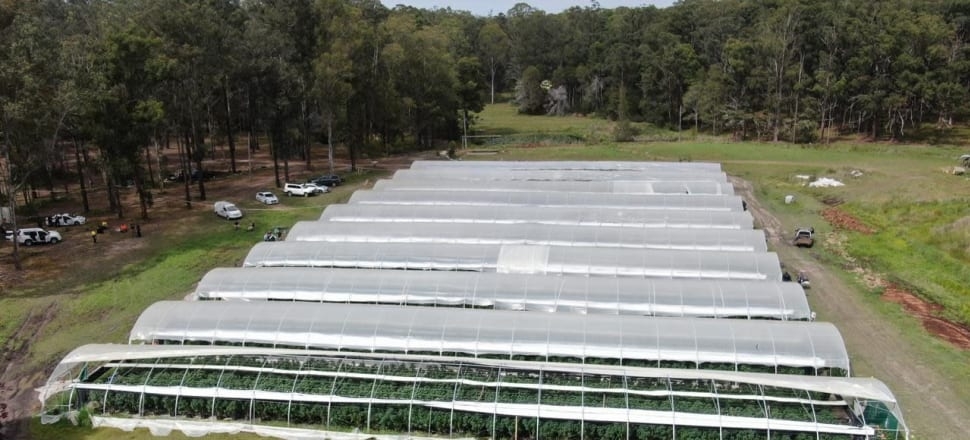 A large cannabis crop at Minibah, New South Wales, part of a USD 40 million drug bust. Photo: AAP
Last Thursday detectives began two days' of raids at three properties in the Taree, finding nearly 6000 cannabis plants and 18kg of dried cannabis, worth USD 16.9 million, at one farm, AAP reported.
Police arrested six Vietnamese men there, including a 31-year-old permanent resident, a 41-year-old who is unlawfully in Australia, a 23-year-old and 27-year-old both on student visas and a 38-year-old and 44-year-old both on bridging visas.
They were all charged with cultivating a commercial quantity of prohibited plant, supplying prohibited drug and participating in a criminal group.
On Friday police raided properties at Melinga and Moorland, seizing 7760 cannabis plants.
Another eight Vietnamese men were arrested including a 31-year-old permanent resident, three men who are unlawfully in Australia aged 24, 23 and 22, two men on student visas aged 22 and 27 and two men on bridging visas aged 24 and 23.
All the men were refused bail and appeared at Taree Local Court where they were refused bail to reappear at the same court on January 19.
Each man's visa status has been referred to the Department of Home Affairs.
Cultivating prohibited plants is an offence under section 23 of the Drug Misuse and Trafficking Act 1985.
Adult-use remains illegal in most provinces, with the notable exception of the Australian Capital Territory (ACT), which includes the capital Canberra. The ACT legalized recreational marijuana on September 25, 2019. In the territory, residents over age 18 may possess up to 50 grams of marijuana, grow two plants per person or four plants per household at any given time, and use cannabis in their home.
Medical marijuana became legal when the country's parliament passed the Narcotic Drugs Amendment in 2016. There is no list of qualifying conditions, but the Department of Health is reviewing existing studies of marijuana for chronic pain, epilepsy, nausea and vomiting from chemotherapy, palliative care, and multiple sclerosis./.