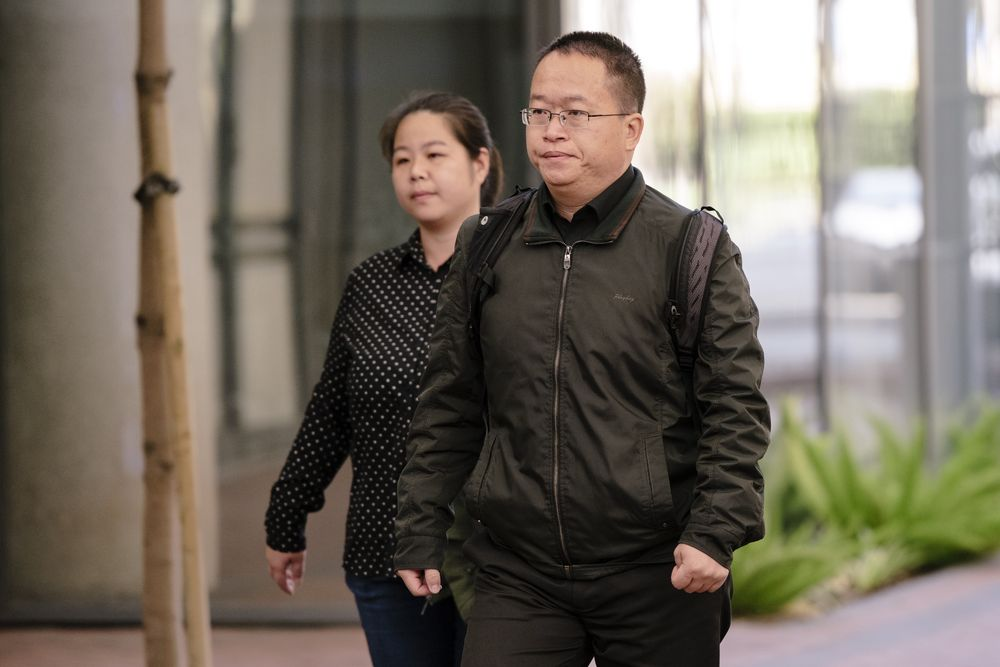 Hao Zhang, right, arrives at federal court in San Jose, Calif., on Oct. 2, 2019. Photo: Bloomberg
Hao Zhang, a Chinese professor was sentenced on August 31 to 18 months in prison and ordered to pay USD476,835 in restitution following his conviction at trial on charges of economic espionage, theft of trade secrets, and conspiring to commit both offenses, according to the US Department of Justice.
"I am gratified by a sentence that recognizes the seriousness of the offense," said US Attorney David L. Anderson for the Northern District of California.
"Command-and-control countries cannot match the innovation of a free nation, and inevitably resort to theft. We will protect Silicon Valley. We will protect our intellectual property."
"Hao Zhang committed these acts to benefit himself, his co-conspirators, and the government of China. This is not competition – this is economic espionage, theft, and conspiracy," said FBI Special Agent in Charge Bennett.
"The FBI will not allow American research and development to be stolen. We encourage companies to come to us both proactively and when suspicious activity is observed so that we can work together to protect American businesses and ensure our national economic security."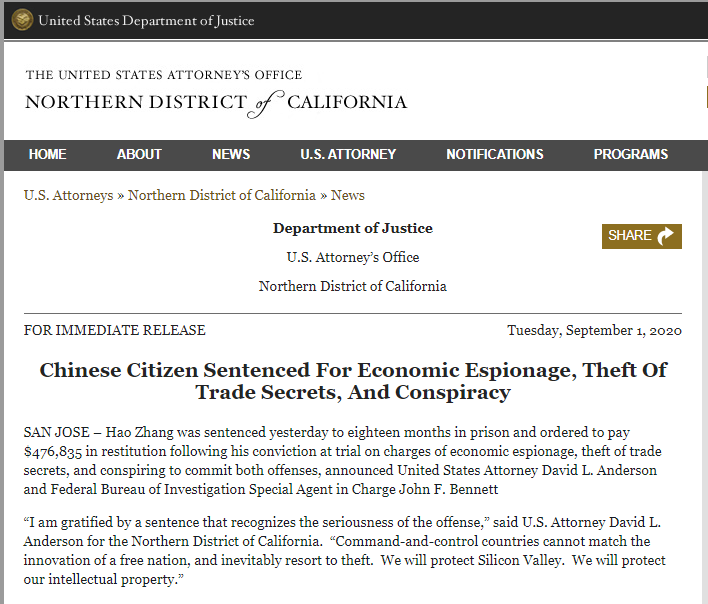 Hao Zhang faces the charges of economic espionage, theft of trade secrets, and conspiring to commit both offenses.
Evidence admitted during the bench trial demonstrated that, from 2010 to 2015, Zhang conspired to and did steal trade secrets relating to Surface Acoustic Wave ("SAW") and Bulk Acoustic Wave ("BAW") filters, including Film Bulk Acoustic Resonators ("FBAR"), one type of BAW filter.
These filters are commonly used as radio frequency ("RF") filters for mobile phones and other devices for consumer and military applications.
Zhang and his co-conspirator Wei Pang stole the trade secrets from two companies: Avago, a designer, developer, and global supplier of a broad range of analog, digital, mixed signal and optoelectronics components and subsystems with a focus in semiconductor design and processing, headquartered in San Jose, California, and Singapore; and Skyworks, an innovator of high performance analog semiconductors headquartered in Woburn, Massachusetts.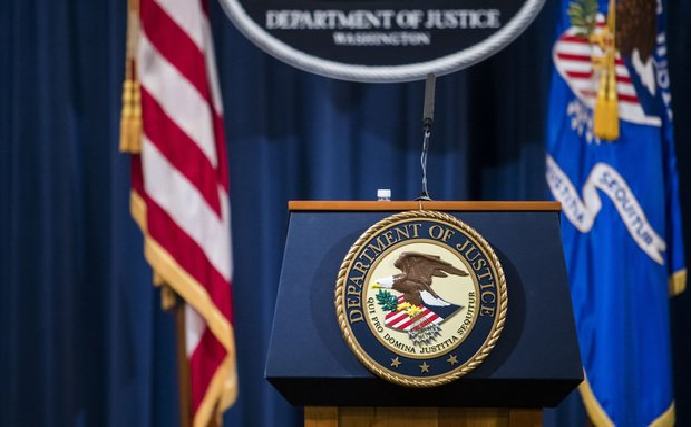 U.S. Department of Justice building in Washington, D.C. Photo: law.com
Judge Edward J. US District Davila found that Zhang committed economic espionage because he intended to start a new business in China using the stolen information and knew that the business would benefit instrumentalities of the People's Republic of China, including Tianjin University ("TJU").
Evidence introduced at trial further showed that, by October 2006, Zhang and his co-conspirators were formulating the plan to start a business in China to compete with Avago and Skyworks.
In 2006, Zhang had graduated with a Ph.D. from the University of Southern California and taken a job at Skyworks while co-conspirator Wei Pang started working at Avago. Zhang and Pang illicitly shared trade secrets with each other and with co-conspirators in China while they worked for the US companies. In 2009, Zhang and Pang obtained professorships at TJU based on their academic and professional experience and their commitment to start a Micro-Electro-Mechanical Systems ("MEMS") lab at the university.
TJU was aware of the trade secrets the defendants brought. With guidance from TJU, the defendants filed Chinese patent requests and created a shell company in the Cayman Islands they called Novana. Novana and a TJU subsidiary called MNMT created the new company, ROFS, as a joint venture to manufacture product realized from use of the trade secrets. Along the way, Zhang also obtained US patents in his own name using trade secret information he knew was stolen from Avago.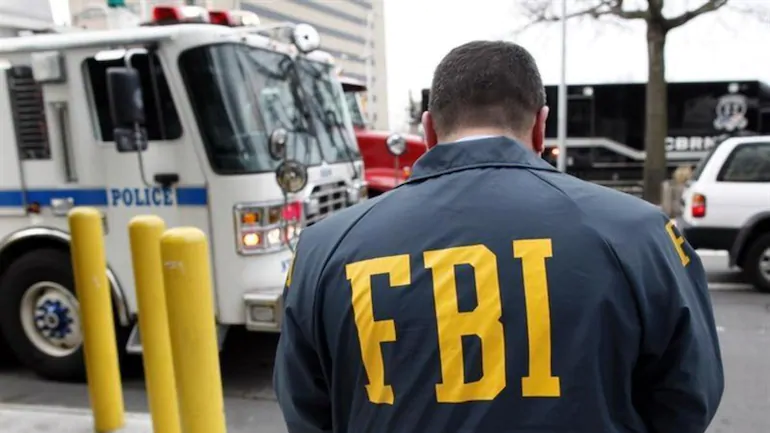 The prosecution is the result of an investigation by the FBI. Photo: Reuters
Zhang, 41, of China, was charged in a superseding indictment by a federal grand jury on April 1, 2015.
The sentence was handed down by The Honorable Edward J. Davila, US District Court Judge.
Judge Davila also sentenced the defendant to a three-year period of supervised release and ordered him to pay restitution to Avago and Skyworks. Zhang consented to the court-ordered forfeiture of the US patents obtained with stolen Avago technology. The defendant will begin serving the sentence on October 22, 2020.
Michelle J. Kane and Susan Knight are the Assistant U.S. Attorneys who are prosecuting the case with the assistance of Jessica Rodriguez Gonzalez, Susan Kreider, and Laurie Worthen. The prosecution is the result of an investigation by the FBI./.
A number of researchers have been arrested recently for concealing their ties to China's Thousand Talents programme while receiving US government grants, Washington Examiner said.
Earlier, US authorities also arrested a Chinese a researcher at the University of Virginia (UVA), on charges of theft of trade secrets and computer intrusion after he attempted to board a flight to China.
According to court documents, investigators first became aware of Haizhou Hu, 34, who is in the US conducting research studying bio-mimics and fluid dynamics at the University of Virginia, on August 25 when he attempted to board a flight to China at Chicago's O'Hare International Airport.
According to Reuters, the US Justice Department said on August 29 that Guan Lei, a 29-year-old Chinese researcher at the University of California, Los Angeles, was arrested after he was seen throwing a damaged hard drive into a dumpster outside his apartment in July.
Guan made an initial court appearance on August 29 and an arraignment was scheduled for September 17. The felony offense of destruction of evidence carries a maximum sentence of 20 years in federal prison.
Rosy Huong