On July 21, Danang police confirmed the arrest of three people, including two Vietnamese and one Chinese, to conduct investigations of Chinese's illegal entry to the region. Criminal Investigation Division of the municipal Police Department confirmed to have prosecuted the case of human smuggling under Article 348 of the Criminal Code of Vietnam and conducted an investigation according to the law.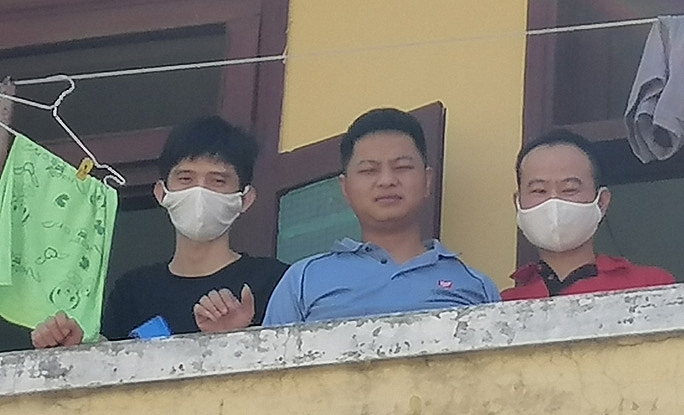 Chinese nationals who have illegally entered Quang Nam being quarantined. Photo: NLD.
Earlier the police had founded groups of Chinese natives sneaking into Vietnam. Specifically, on July 11, a group of 4 Chinese was found and put under quarantine at the 199 Ministry of Public Security hospital. One week later, on July 18, another group of 27 Chinese caught staying illegally in Da Nang has been quarantined at a hotel in Son Tra district.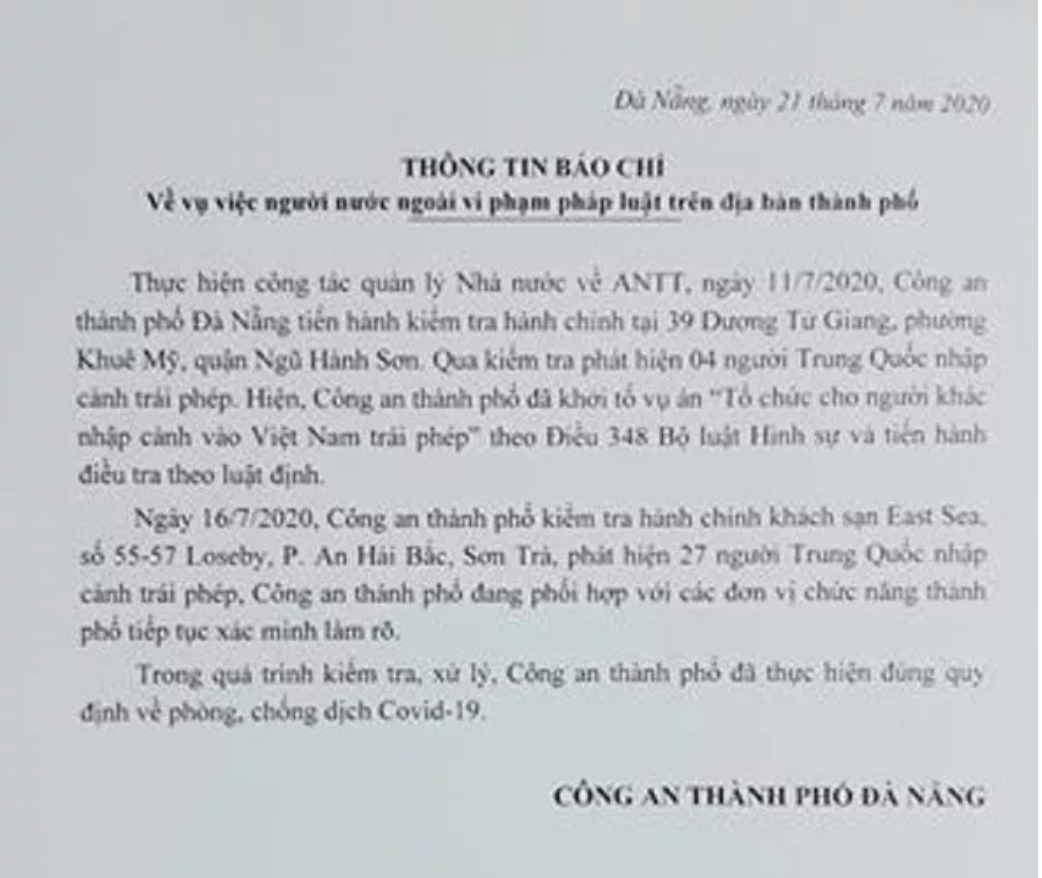 Da Nang Police's press release regarding the case.
Another case of 21 Chinese nationals' illegal stay at an accommodation in Dien Duong Ward, Dien Ban Town, Quang Nam was reported by the locals on July 18th. These people fled as the police arrived.
The functional forces searched and arrested 21 people, who were later put under quarantine. The leader of Da Nang and Quang Nam Centre for Disease Control and Prevention confirmed that the group tested negative with COVID-19. These people will be quarantined for 14 days before handing over to the police agency for legal handling.
Vietnam's Covid-19 prevention protocol requires all people entering the country from abroad to stay in mandatory quarantine for 14 days, during which they will be tested for the virus several times. The quarantining and testing are free for both locals and foreigners.

Vietnam has gone more than three months without detecting Covid-19 infections in the community. Border guard forces are remaining at border gates, trails and openings to prevent foreigners from illegally entering Vietnam to prevent epidemic spread.

Of the 383 Covid-19 cases recorded so far, 26 are active patients as 357 have recovered. A majority of the cases, 243, have been imported – patients who returned or came to the country from foreign countries.
Amy Nguyen