U.S. Supports Vietnam Screening for Tuberculosis at Covid Vaccination Sites in HCM City
The U.S. Government supports Vietnam in introducing integration of tuberculosis screening into Covid-19 vaccination Ssites in Ho Chi Minh City.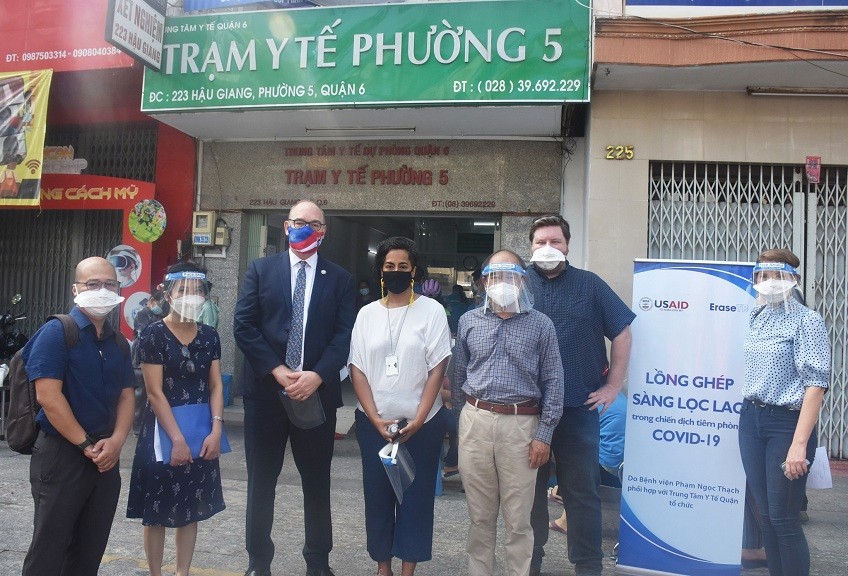 Acting U.S. Consul General Robert Greenan visited a Covid-19 vaccination site at Commune Health Station of Ward 5 in District 6 to observe the integration of TB screening performed with on-site mobile chest X-rays and rapid tests. Source: US embassy
Tuberculosis remains a key health priority in Vietnam, even during the times of Covid-19. The United States Agency for International Development (USAID) has developed an innovative way to integrate testing and care for both infectious diseases. It is especially critical in the context of the Covid-19 pandemic that has put the end TB progress at risk.
U.S. Acting Consul General Robert Greenan has visited a COVID-19 vaccination site at Commune Health Station of Ward 5 in District 6 to observe the integration of tuberculosis (TB) screening with the national Covid-19 vaccination campaign.
Integrated TB screening is endorsed by the National TB Program, and with USAID assistance, Vietnam first deployed this integrated approach at Covid-19 vaccination sites in Hanoi last month with plans to expand it to Tien Giang and Can Tho provinces as well.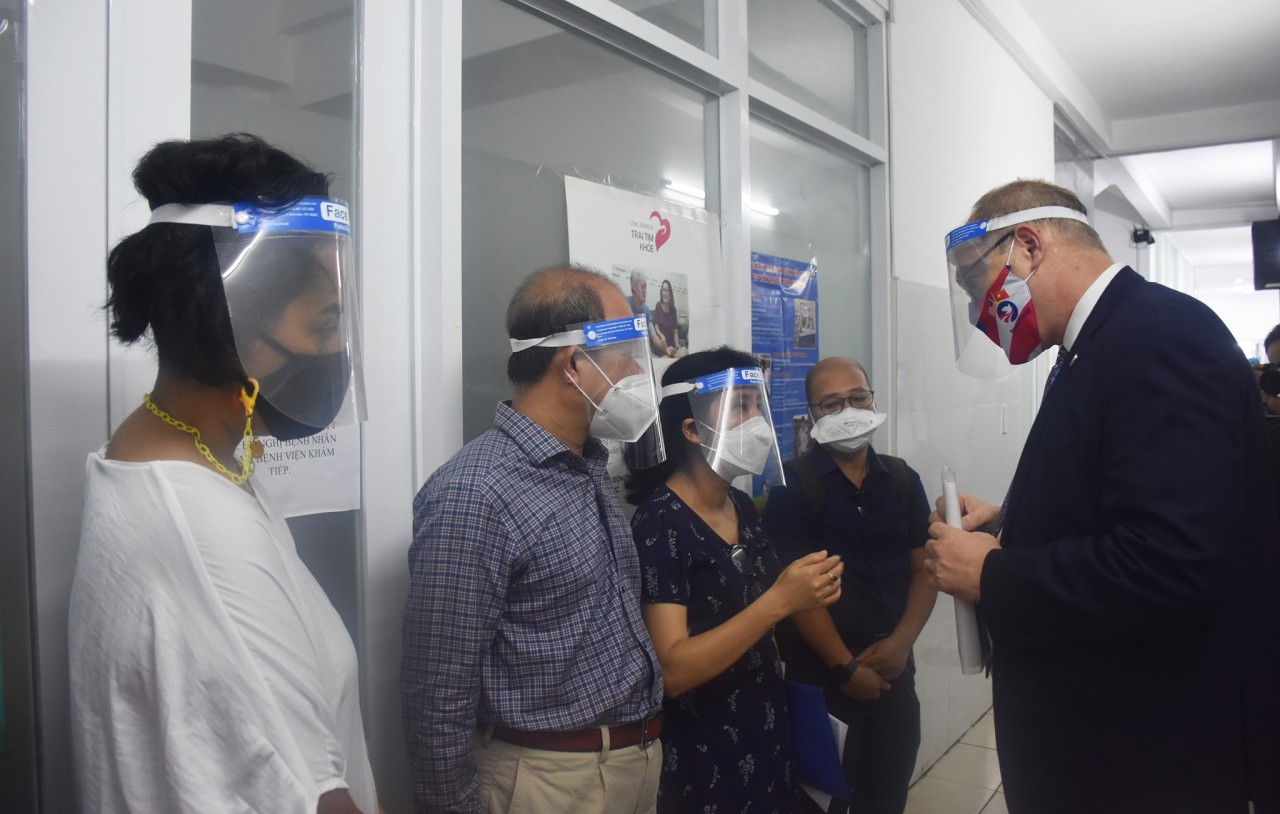 TB screening performed with on-site mobile chest X-rays and rapid tests, supported by USAID, is a model for the world in fighting deadly airborne infectious diseases like TB and Covid-19. Source: US embassy
According to the World Health Organisation, TB remains the world's deadliest infectious killer. Each day, over 4,000 people lose their lives to TB and close to 30,000 people fall ill with this preventable and curable disease.
According to a WTO report in 2020, about 170,000 new cases are detected in Vietnam each year, of whom 70% are in working age.
Last year, the number of new cases detected decreased by 3.1% year-on-year.
Although the figure is quite small compared with the decrease rate of 20% globally, Vietnamese people are more aware of the prevention and control of respiratory infectious diseases.
At the event, community members from District 6 received their Covid-19 vaccine, and all of those who were 55 years or older were provided with a free chest X-ray taken on an ultra-portable, hand-held X-ray device that detects signs of TB. After laboratory analysis, all patients will receive their test results over the next three days and be referred to appropriate treatment if needed.
This service is supported by USAID's Erase TB project, a US$2 million, three-year initiative to increase TB detection and access to care in Ho Chi Minh City and Hanoi. The integrated screenings are in partnership with the HCM City Department of Health, Pham Ngoc Thach Hospital, the District 6 People's Committee, and local health workers.
"While the Covid-19 pandemic has created many challenges in detecting and treating TB, USAID's Erase TB project is showing that there are also new opportunities to provide integrated health screening services and to preserve the progress Vietnam has made in the fight to end TB," said Greenan during the visit.
USAID's Erase TB project is responding to the dual pandemics of TB and Covid through a unique model of integrating TB screening with Covid vaccinations. Through USAID support, Vietnam is one of a few countries integrating TB and Covid approaches and the Government of Vietnam is finding existing opportunities in the fight against Covid-19 for TB screening that can be replicated and shared globally as a best practice.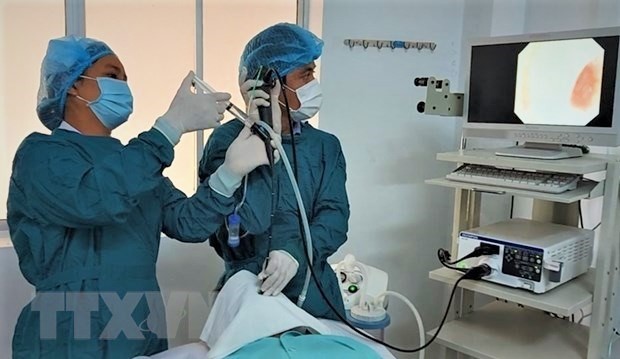 Doctors examine a patient with tuberculosis in Vietnam. Photo: VNA
TB is one of the most common communicable diseases in the country. It is both preventable and curable, but every year in Vietnam 170,000 people develop TB and more than 11,000 people die from TB, putting Vietnam among the top 30 countries with the highest TB burden in the world.
The impacts of Covid-19 have severely reduced TB care and services, and during the most recent Covid outbreak, TB detection in Vietnam decreased by 80% between June and September.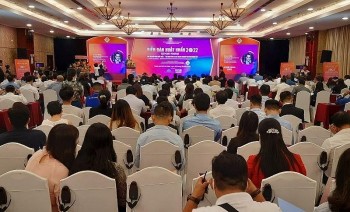 Focus
Vietnam News Today (Dec. 9): Vietnam - Singapore innovation centre helps firms transform production; HCM City among most searched destinations by travelers; Vietnamese digital technology industry's revenue estimated at 148 billion USD in 2022; Two Vietnamese films up for consideration at Oscars.