USAID Helps Vietnam Improve Tuberculosis Diagnosis and Treatment
The rapid diagnostic machines, can perform on-the-spot detection of TB and drug-resistant TB in less than two hours.
In support of Vietnam's goal to end tuberculosis (TB) by 2030, the U.S. Agency for International Development (USAID) on Feb.16 delivered new TB detection tools and treatment medications worth about US$3 million to the National Lung Hospital.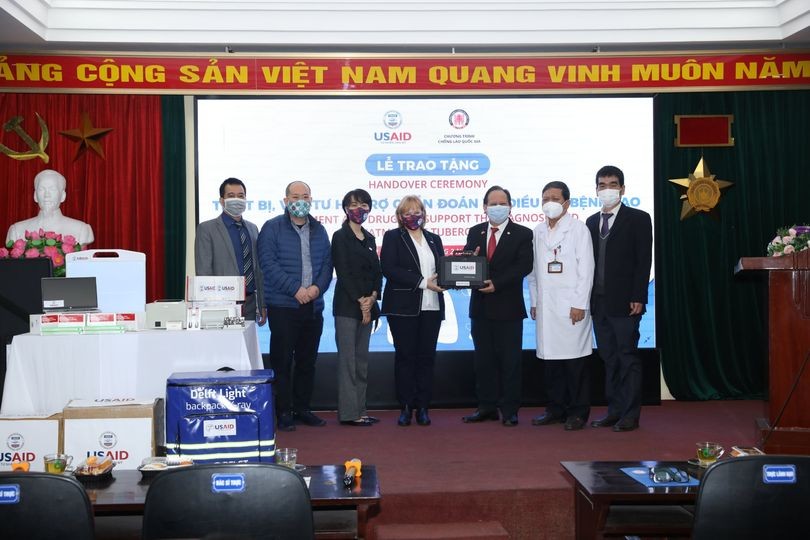 At the handover ceremony.
USAID Vietnam Mission Director Ann Marie Yastishock and National Lung Hospital Director Dr. Nguyen Viet Nhung attended a ceremony held at the hospital.
Nhung shared that the donated rapid TB diagnostic machines and digital X-ray machines are designed to be able to operate in remote and isolated areas.
The donation includes 38 rapid diagnostic machines with 90,000 compatible test kits and 10 digital X-ray devices to be distributed to district health facilities across the country, including in the remote provinces of Nghe An, Lai Chau, An Giang, and Dong Thap, which have high burden of TB and multidrug-resistant TB.
Both the rapid diagnostic machines and the X-ray devices are designed to operate in hard-to-reach areas.
The rapid diagnostic machines, called Truenat, can perform on-the-spot detection of TB and drug-resistant TB in less than two hours and are battery powered.
The digital X-ray devices are ultra-portable, with computer-aided TB detection software to assist in areas where radiologists may not be present. The donation also includes drugs to treat 15,000 patients with latent TB infection for three months, to be distributed nationwide.
"Therefore, receiving modern equipment donated by USAID will help districts, even remote communes, to be able to use it without the need for technicians," said Nhung.
In addition, USAID is funding a tailored package of training curricula and technical support to the National Tuberculosis Program, health facility staff and local partners. This will help ensure greater sustainability of efforts to enhance Vietnam's active case detection, ensure accurate and timely diagnosis, and support linkages to treatment of active and latent TB.
According to the World Health Organization (WHO), TB remains the world's deadliest infectious killer. Each day, over 4,000 people lose their lives to TB and close to 30,000 people fall ill with this preventable and curable disease.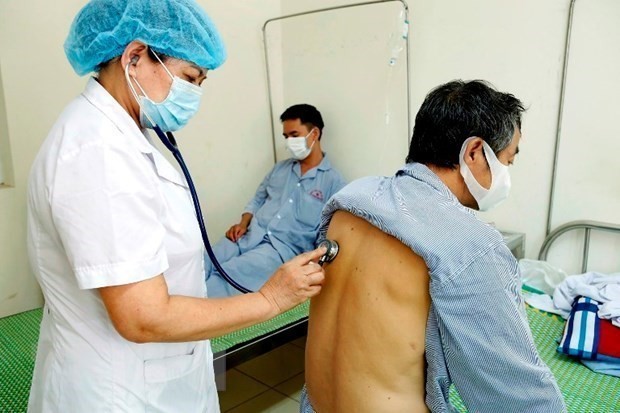 Treating TB patients in Vietnam. Photo: VNA
A WTO report in 2020 confirmed that about 170,000 new cases are detected in Vietnam each year, of whom 70% are in working age. In which, approximately 40% of new TB cases go undetected and untreated every year.
Nhung said that Covid-19 has reduced the number of TB cases detected by 23.5%. This is a very strong decrease compared to the world average.
In many localities and provinces, the health sectors have assigned specialized hospitals to treat lung diseases to treat Covid patients, in some places the whole hospital is dedicated to treating Covid-19. "So where do TB patients go to be detected and treated?" - Assoc. He said that, if there is no quick change, in the near future, tuberculosis will return. By then, a lot of financial resources will be needed to control TB.
The new diagnostic equipment and treatment medications will directly support the National Tuberculosis Program's "Double X" strategy to improve TB case detection and increase uptake of TB preventive therapy in our joint effort to end TB in Vietnam.
Double X is a detection method named for its use of both chest X-rays and state-of-the-art, rapid diagnostic technology called GeneXpert. The high-yield procedure successfully detects more TB cases - and detects them earlier in their onset. Earlier detection both prevents further spread of the disease and can be life-saving.
TB is preventable and curable. Yet every year in Vietnam, more than 10,000 people die from TB, placing Vietnam among the top 30 countries with the highest TB burden in the world.
The impacts of Covid-19 have severely reduced TB care and services, with TB detection in Vietnam decreasing by 23.5% in the first 10 months of 2021.
To address this, USAID is also supporting the integration of TB screening within the Government of Vietnam's Covid vaccination campaigns.
USAID Vietnam Mission Director Ann Marie Yastishock affirmed that this support is part of a long-term partnership between USAID and Vietnam's National Tuberculosis Program.
Yastishock hopes this equipment will help increase the number of people diagnosed and treated for TB. This donation complements USAID's technical assistance activities through its partners to assist Vietnam in achieving its goal of ending TB by 2030 through improved TB surveillance, prevention, detection and treatment.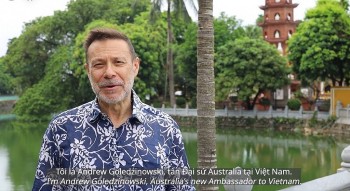 Friendship
According to newly appointed Australian Ambassador to Vietnam, Andrew Goledznowski, Australians are interested in visiting Vietnam now that the country is open again for business.